Kabbage is an online line of credit provider for small businesses. In this article, we'll review Kabbage business loans and help you figure out whether or not you should get a loan from them. This review provides an in-depth analysis of how Kabbage works, the pros and cons, and how much its lines of credit cost.
Kabbage Loans Review
Kabbage accepts both brick-and-mortar and online businesses with little to no assets and doesn't base approval on credit scores. Kabbage's lending platform is fully automated and able to assess the creditworthiness of the smallest of companies. Even micro-companies that operate exclusively on platforms like eBay are welcome.
One of the primary sources of friction with small businesses is a lack of cash flow. Cash flow is the lifeblood of any business, but this is particularly true for small and micro-businesses. Small companies usually don't have large cash reserves or long-standing credit relationships with providers. So when a client doesn't pay on time, business is slow, or they need to increase their inventory or staff, finding cash is a problem. What makes things worse is that traditional lenders, banks, and credit unions, don't even consider small companies, particularly if their credit is sketchy and they don't have the assets to back a loan. Even when they do, the application process can take weeks. Kabbage solves this source of friction by providing businesses with a fast pool of cash they can dip into (or not) whenever needed.
How Do Kabbage Loans Work?
Unlike traditional lenders, Kabbage will consider all businesses, regardless of their credit score. In principle, as long as you can prove your company has been in business for a year and that it generates more than $4,200 a month in revenue or $50,000 a year, you could potentially qualify for a line of credit. Once a company gets approved for a line of credit, borrowers can draw—up to the credit limit— as much or as little they need. Borrowers only pay fees on the amount they withdraw.
Kabbage has a fast and easy to complete application process. If you have all the necessary information (more on that later), you can complete the entire process in a few minutes. It all depends on how fast you can type. Kabbage's underwriting platform can then link with regular business accounts and the major payment processing services, such as Amazon, eBay, Etsy, Paypal, Sage, Square, Intuit QuickBooks, Authorize.Net, Yahoo, and Xero. With this live data, Kabbage determines on the spot whether you meet its eligibility criteria and how much money you can afford to borrow. If you choose the right method (such as PayPal), Kabbage can deposit your funds within seconds of completing your application. Other funding methods, such as a bank transfer, may take a couple of days to complete.
The catch is that Kabbage's fees are not cheap. They are competitive when compared to the other options available to small businesses, but they're certainly not cheap.
So is Kabbage a good deal for companies looking for a business loan?
It can be, particularly if you fit Kabbage's target audience. However, if you're an established business with an excellent credit history and plenty of assets on your balance sheet, you can get better terms from a bank, a prime online lender, or a business credit card. However, you will probably have to wait for a little to access your cash if you use those methods. Speed and simplicity are the big advantages Kabbage has over other sources of credit.
This review will take an in-depth and unbiased look at the rates and terms offered by Kabbage. Then you can decide whether it is a good option for your business. We will also take a detailed, step-by-step look at Kabbage's application process; so you know what to expect if you do decide to apply.
What Type of Business Should Apply for a Kabbage Loan?
Small-dollar loans tend to be unprofitable for traditional lenders with their expensive overheads and labor-intensive underwriting procedures. While medium-sized and large companies have no problems finding a loan, small businesses have it much harder. Kabbage targets this funding gap by lending to small companies and micro-businesses, particularly those that work with online banking and online payment platforms.
To qualify for a Kabbage loan a business must:
Generate over $50,000 a year.
Be in business for at least one year.
Those are the minimum requirements. Kabbage then looks at a wide variety of factors, such as business transactions, sales volume, ratings on social networks, and credit history, to determine the borrower's overall credit risk.
What Are Kabbage's Rates and Terms for Small Businesses?
Kabbage offers lines of credit, ranging from $2,000 to $150,000. After you apply, Kabbage will inform you if your loan request qualifies for a six-month term or an optional 12-month term. A minimum loan of $10,000 is required for a 12-month term loan.
The fee ranges between 1.5% and 10% of the loan amount, depending on the credit history and business performance data of the borrower. The actual fee varies depending on the credit profile of borrowers and how long they take to repay the loan.
For example, a six-month loan has fees ranging from 1% to 10% of the selected amount in the first two months and between 1% and 2% for each of the remaining four months. For a 12-month loan, fees are 1% to 7% of the selected amount for the first six months and between 1% and 2% for each of the remaining six months.
Borrowers can repay their loans in either six or twelve months, but there are no early payment fees. The total loan amount is divided into either six or twelve payments, depending on the length of the term.
Check Kabbage's profile on SuperMoney's for the latest rates and terms.
Kabbage's Backstory
In 2008, Rob Frohwein–now CEO of Kabbage—noticed the growth of small businesses using online marketplaces, such as eBay, and using online payment methods, such as PayPal. These companies had little in the way of assets, and even successful businesses struggled to meet the credit requirements of traditional lenders. Frohwein also realized that online marketplace transactions could be accessed using software that was already in place. This level of real-time access to a business' accounts is useful to a lender trying to assess the financial health and creditworthiness of a borrower, particularly when it's a small business that operates mainly online.
Frohwein shared his business idea with Kathryn Petralia, former Vice President of Strategy for Revolution Money, and Marc Gorlin, a veteran entrepreneur with contacts in venture capital. By 2009, Frohwein, Petralia, and Gorlin founded Kabbage.
As of July 2017, Kabbage has processed over $3 billion in loans to more than 100,000 small businesses. All Kabbage business loans are issued by Celtic Bank, an industrial bank based in Utah. Kabbage has its headquarters in Atlanta, GA.
Kabbage has gone through five rounds of venture funding and has received a total of $525 million in venture capital. Now, Kabbage has started to invest its capital in the loans.
What Is Kabbage's Application Process Like?
Kabbage's application process is as simple as it gets in business loans. It's where Kabbage has an edge on traditional lenders with their long forms and weeks of waiting to get a response. With Kabbage, there are no faxes, no scanning, no hassle. Here is a breakdown of Kabbage's loan application workflow.
1. Basic Business Information
Submit your company name, its ownership structure (whether it's a sole proprietorship, partnership or a limited liability corporation), the business's address, and the date it was established.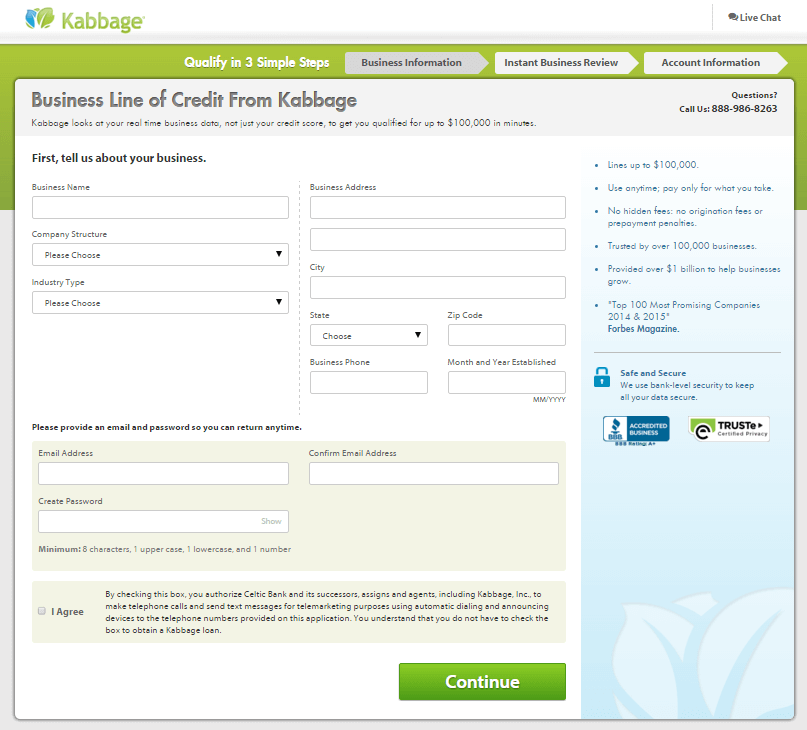 2. Financial Review
Select the bank or payment service you use to process your business transactions. Start with the service you use to transfer the most revenue. If you use more than one service, you can add them later. The more revenue you can prove, the higher your line of credit will be.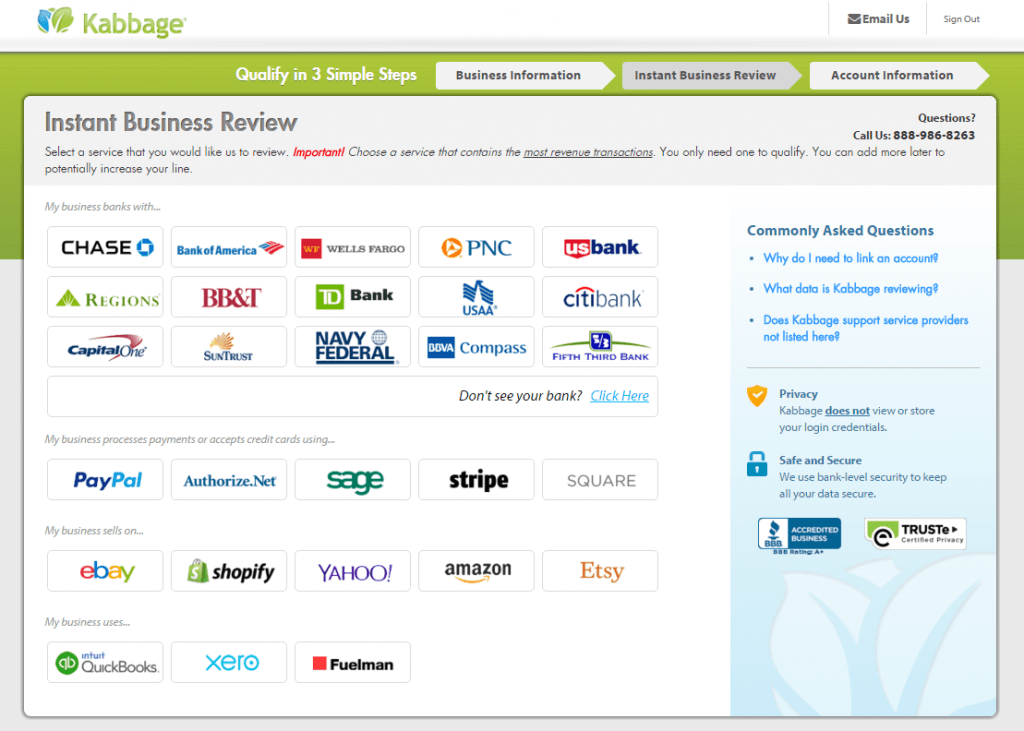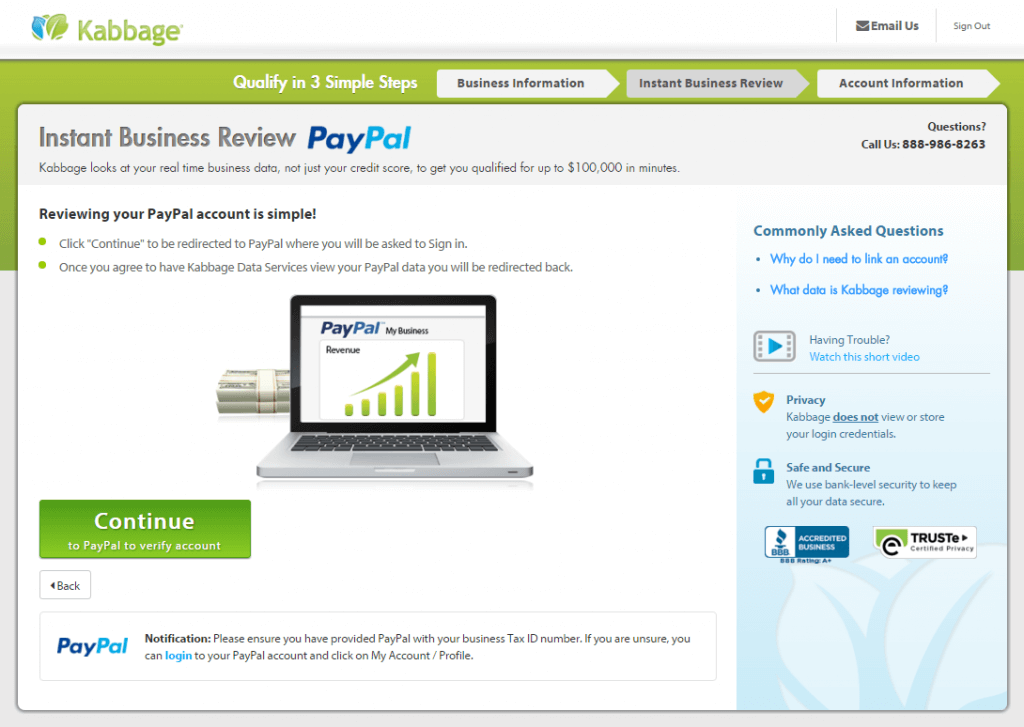 3. Personal Information
Provide your full name, address, phone number, and Social Security Number. Kabbage uses this to confirm your identity and to perform a soft pull on your credit.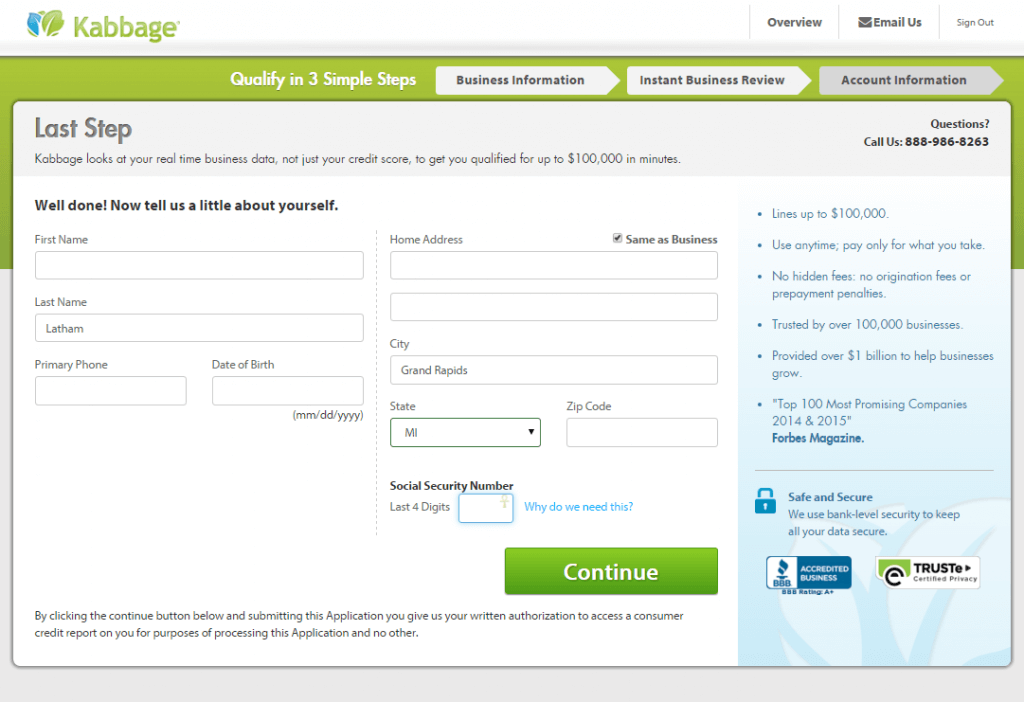 4. Check Your Line Of Credit
Kabbage provides a credit decision on the spot. If you are successful, you will get to see how much cash you have available in your line of credit.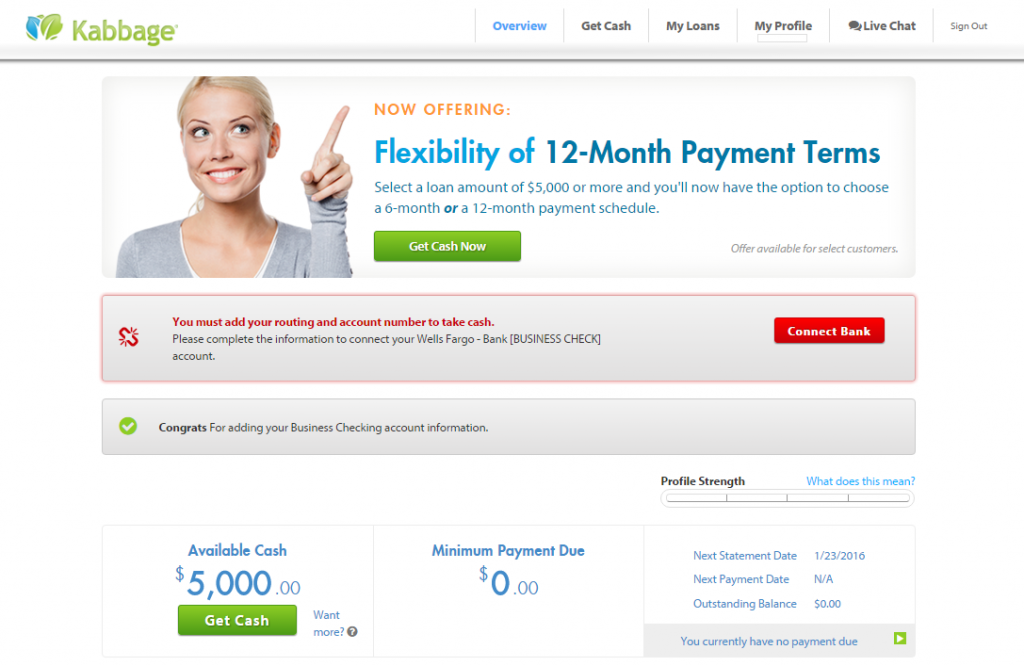 6. Select Term And Rates
Every time you withdraw money from your line of credit (you can do it up to once a day), choose what term you want (six or twelve months), and where you would like the funds transferred. The length of the loan will affect the APR of the loan. Keep in mind that not all approved applications are eligible for a 12-month term. Kabbage will inform you if your loan request qualifies for a six-month term or an optional 12-month term.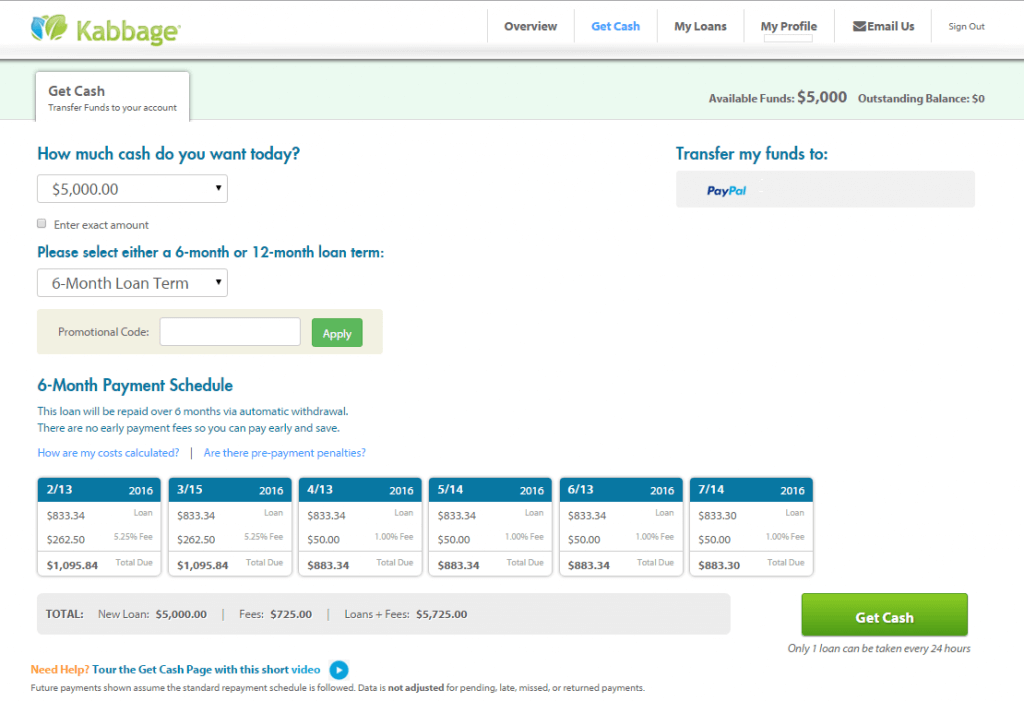 Kabbage Loans Review & Summary
Kabbage's line of credit can be a useful tool for small businesses that can't qualify for traditional loans, prime online loans, or a low-interest business credit card. Compared to the other options available to small businesses without excellent credit, Kabbage is a great deal. Even companies that could potentially qualify for a lower interest rate may choose to go with Kabbage because of how easy and fast it is to get funds.
Andrew is the managing editor for SuperMoney and a certified personal finance counselor. He loves to geek out on financial data and translate it into actionable insights everyone can understand. His work is often cited by major publications and institutions, such as Forbes, U.S. News, Fox Business, SFGate, Realtor, Deloitte, and Business Insider.