Are you thinking of buying out of your lease? There are a few reasons to do so. Maybe you are facing some serious fees for going over your mileage or having excessive wear-and-tear. On the other hand, you may have equity in the vehicle that you don't want to lose. Or, perhaps, you've simply fallen in love with the car and want to keep it. Whatever the reason may be, you should get an understanding of lease buyout loan with bad credit or not.
Regardless of the reason, unless you have access to cash for the balloon payment, you will need to get a loan. However, getting a lease buyout loan with bad credit is not easy. If you're worried that bad credit may hold you back, here are four steps that can help you find a financing solution.
1. Find out if you really have "bad" credit
First, what is considered "bad credit?'" Here is the breakdown according to MyFICO: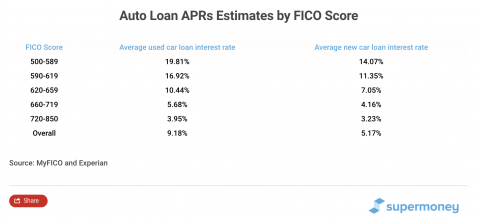 Look up your credit report to see where you currently stand. If you fall into the "bad" or "poor" credit category, you may be wondering, "Can I still buy out my lease with bad credit?" It will depend on the cost of your lease buyout and if you can find the right lender.
Discover 4 ways to build excellent credit
2. Determine your lease buyout costs
The next step is to find out how much it will cost to purchase your leased vehicle. The costs can include:
The buyout price: The residual price in your lease contract states how much your car will be worth at the end of the lease contract. This will be your buyout price.
State taxes: Taxes imposed by some states on the buyout price of the car.
Registration fees: Fees to register the vehicle.
Purchase fees: Most leasing contracts include a fee for choosing to purchase the vehicle.
Early termination fees (if your contract is not up): In the case that you want to buy out of a lease before the contract is up, you will often have to pay an extra fee for breaking your lease contract.
Contact your leasing company to find out the total buyout cost. Note, you may be able to negotiate your buyout price. Once you have your total buyout cost settled, it's time to research your financing options.
Here's everything you need to know about buyout negotiations
3. Find lenders for bad credit auto lease buyout loans
If you have bad credit, there are three things you'll need to look for in a lender.
Low credit score requirements
Loan amount limits high enough to cover the lease buyout
Allows lease buyout loans
Finding a lender that ticks all three of these boxes can be challenging. Here's why:
Some auto loan lenders specifically exclude lease buyout loans from their lineup of auto loan products.
Other personal loan lenders, like OppLoans and Rise, specialize in helping people with bad credit get loans for whatever they need. However, the maximum loan amounts are often too low for a lease buyout (ranging from $2,000 to $5,000).
Lastly, some lenders simply require a fair-to-good credit score to qualify.
It may be a bit more difficult to find a lender in this situation, but it's certainly not impossible.For example, MyAutoLoan is an internet-based financing marketplace where borrowers with credit scores as low as 500 can find auto and motorcycle loans. The lenders below all consider borrowers interested in a lease purchase.
Also, the dealer that initiated your lease may be willing to offer you a buyout loan if you have established a good track record.
Learn more about how to get a car loan with bad credit.
4. Compare quotes
Once you find a short list of lenders that fit the criteria, apply with the best of them and compare the quotes you receive.
Expert tip: Auto loan rates and terms can vary greatly from one lender to the next. In fact, a recent study found that borrowers who end up with the best rate available to them get quotes from at least three different lending companies.
So, performing some research pays off.
Find your best lease buyout loan
It's not always easy finding lenders that finance lease buyouts and accept poor credit. Many don't advertise these details boldly, and it can take days to get answers from customer service representatives.
However, SuperMoney has a solution to optimize the process: our personalized auto loan engine.
After answering a few questions, you can get personalized rates from multiple leading lenders side-by-side. It's quick, free, and doesn't hurt your credit score.
Jessica Walrack is a personal finance writer at SuperMoney, The Simple Dollar, Interest.com, Commonbond, Bankrate, NextAdvisor, Guardian, Personalloans.org and many others. She specializes in taking personal finance topics like loans, credit cards, and budgeting, and making them accessible and fun.