Getting a mortgage is one of the most complicated processes the average consumer will face in his or her lifetime. Some states even go so far as to require an attorney be present at the closing meeting to review the documents.
Lenda, an online mortgage lender, is working hard to simplify the mortgage application process, making it possible to get an approval in just hours rather than days.
And with no origination fees, it has an appealing offer for first-time and repeats homebuyers alike.
Who are Lenda mortgages designed for?
Whether you're planning to buy a home or looking to refinance your current mortgage loan, Lenda can quickly get you pre-qualified, approved, and closed.
The only drawback is that, as of 2020, the online lender only operates in 12 states:
Arizona
California
Colorado
Florida
Georgia
Illinois
Michigan
Oregon
Pennsylvania
Texas
Virginia
Washington
If you live in one of those states, be sure to compare Lenda with other mortgage companies on your list.
About Lenda
Founded in 2011 by Jason van den Brand and Elijah Murray, Lenda was originally called GoRefi. The company offers a digital mortgage experience that provides transparency to borrowers that they can't get from traditional mortgage lenders.
Because of its online nature, the company manages to keep fees and interest rates fairly low. "Online mortgage lenders can be faster and, on average, cheaper," says Michael Lai, CEO and founder of Sitejabber, a website that helps customers find ratings and reviews of businesses.
"This is because they don't have to deal with the overhead associated with offline mortgage brokers and tend to be more aggressive with competitive rates," he continues.
Lenda is a great choice for tech-savvy homebuyers with average to excellent credit.
Lenda: Mortgage loans and refinancing
Lenda's online platform eliminates middleman. You can complete your loan application, get a free credit check, upload and e-sign your documents, and track the progress of your loan all in one place. This means that you don't have to pay someone to manually analyze all the information, and there's also no broker involved.
With Lenda, you can get 10-, 15-, 20-, and 30-year fixed loans.
What are Lenda's rates and fees?
Like all mortgage lenders, your interest rate will be determined by several of factors, including your:
Credit history
Income
Other debt
Loan amount
Down payment
Job stability
Market rates
The good news is that you can get pre-qualified quickly through their website; you don't have to meet with a broker or loan officer in person.
There are some closing fees with Lenda, but what stands out are the fees that you won't have: broker commissions and an origination fee.
This is because the lender's digital system does all the work that a loan officer would typically do manually. As such, you'll typically pay less at closing with Lenda than with a traditional lender.
What are Lenda's eligibility criteria?
You must live in one of the five states Lenda currently operates in to be eligible for a loan. The lender has a 620 minimum credit score requirement, but there's no public minimum income threshold you have to meet.
How to apply for a Lenda mortgage loan
Lenda provides a simple five-step process to getting your mortgage loan:
Get pre-qualified
Get pre-approved
Shop and compare rates
Lock your rate
Fund your loan
1: Getting pre-qualified takes three minutes, according to its website. You'll start by sharing when you plan to purchase your new home: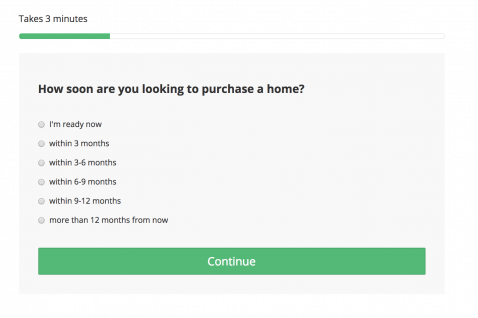 Next, you'll share more information about the home, including the purchase price (you can guess this if you don't already have one in mind), your down payment amount, and where you're looking. You'll also share information about your credit score, income, and debt.
Once you complete this preliminary questionnaire, you'll get an immediate response as to whether or not you're pre-qualified. At that point, you can move onto the actual loan application to get pre-approved.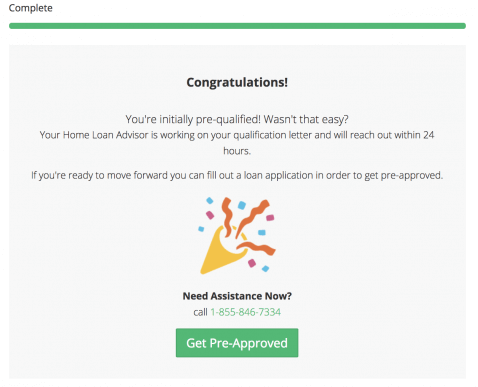 2: The pre-approval process takes longer than the pre-qualification process, so be prepared with extra time. The good news is that Lenda's application is easy to understand. You'll start out by sharing information about yourself: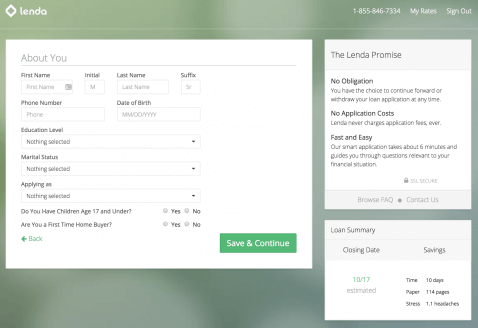 Next, you'll enter more detailed information about your employment, income, and general financial picture. You'll also be asked to upload several financial documents, including bank statements, W-2 forms, tax returns, and paystubs. This is to help the lender assess the risk of lending to you.
At any time, you can click on "My Rates" at the top right of the page to get an idea of the rates and fees that you can expect to pay.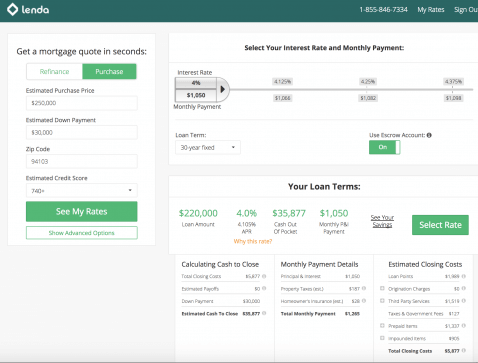 Once you finish the process, Lenda will let you know within an hour whether or not you've been pre-approved for the loan.
3: Once you get to that point, you can use Lenda's rate tool to see how changing the terms of the loan affects your interest rate. You can also get pre-approved with other lenders to see what kind of rates they offer you. A Lenda representative will call you to determine if you want to lock the rate.
4: If, after comparing rates from several lenders, you want to go with Lenda, either let the Lenda representative know when they call or call them later when you're sure. You'll then receive confirmation within 24 hours that the rate is locked. Rates are usually locked for 45 days, so don't worry if you don't already have a house under contract.
5: The whole process from start to finish typically takes less than 30 days, according to Lenda. If you have any questions during that time, you can reach out to Lenda's customer support team at 1-855-846-7334.
Is a Lenda mortgage or refinance right for you?
The most important thing to consider when getting a mortgage loan is to make sure you're dealing with a reputable company, says Lai. "There are so many scams out in the online mortgage space that charge extra fees, steal your information, or steal your money."
The online mortgage process can also make it harder to get a better understanding of the process, terms and conditions, and fees, he says.
To make sure that Lenda is best for you, compare it to other top mortgage companies to make sure you're getting the best deal. Even if you're paying less in closing costs, that doesn't mean you won't pay more over the life of the loan.
Shopping around is the best way to get the most information and the best rates.
Ben Luthi is a personal finance writer and a credit cards expert who loves helping consumers and business owners make better financial decisions. His work has been featured in Time, MarketWatch, Yahoo! Finance, U.S. News & World Report, CNBC, Success Magazine, USA Today, The Huffington Post and many more.