The future of new businesses is disrupting old businesses. Jason Hogg and Nick Gould, founders of Lending.com, feel the business of lending is ripe for the picking and that they are the people to disrupt it. Hogg and Gould see personal and business lending as fragmented, complacent, inefficient and ready to be challenged. They have plans to improve things.
Ventures like Uber, Square, Google and Amazon didn't necessarily succeed because they were the first to provide a service or sell a product, but because they saw new ways to improve on existing business models that had grown stagnant. The question is whether Lending.com can do for personal and business loans what Uber, Airbnb, Google and Amazon did for transportation, small business payments, search engines and online shopping.
There is no arguing that the business of lending could do with a make-over. Jason Hogg and Nick Gould made this point on the pre-launch landing page of Lending.com when they highlighted that satisfaction with traditional forms of financing remains abysmal. To illustrate, according to a recent survey, only 3 percent of consumers would recommend their bank to a friend.
Over the past few years, new financial technology companies like Prosper, LendingClub and Funding Circle have introduced even greater levels of sophistication and technological wizardry to the lending business to fix its many shortcomings. There has been progress. Loan applications now take minutes to complete instead of hours and credit approval waiting times can take less than a minute instead of weeks. LendingClub and Prosper, the two leading marketplace lending platforms, which not long ago were quaint novelties, have made a total of $16 billion in loans. Online alternative business loan providers are still small, but they are growing fast. According to FDIC data, online options for business loans increased by +175% in 2014.
Lending.com founders say this is only the beginning. They feel there is yet to be a transformative technology platform that can provide a faster, fairer, and lower-friction lending experience for businesses, entrepreneurs, and consumers. That is the role Lending.com is designed to play.
Does Lending.com have the innovations, experience, and financial backing to disrupt an industry as competitive as consumer and business lending?
Who Is Behind Lending.com?
Lending.com is a re-branding of B2R Holdings, the parent company of B2R Finance and its division Dwell Finance. B2R Finance was launched in 2013 to address the specific financing needs of rental property investors. The company gives people who buy property to rent— and who already own a rental property— the ability to invest in further rental properties by leveraging their existing investments. The terms and rates B2R Finance offers are attractive. Loan amounts range from the single-property Dwell Finance Foundation Loan at $25,000 to upwards of $25 million; interest rates are fixed and competitive, and investors can qualify for loans of up to 75 percent of property value. How have things worked out for B2R Finance? In two years, the platform has originated a billion dollars in loans with zero delinquencies. Enough said.
Both Nick Gould and Jason Hogg have already been at the forefront of companies that have taken advantage of fragmented and complacent industries. Nick has 30 years' experience in real estate and founded Dallas,TX-based Invitation Homes, a leader in the single-family home rental industry with a portfolio of 45,000 rental homes in 14 of America's most popular metro areas. Jason Hogg is the founder of Revolution Money, an alternative payment company that was acquired by American Express®. Jason was also the president of American Express® Serve Enterprise, Medsite Inc and HorizonLive. Not to mention he was a Special Agent with the FBI and currently teaches entrepreneurship and innovation at Cornell's Johnson Graduate School of Management.
It's not just that Lending.com is managed by entrepreneurs with impressive resumes. It also is backed by Blackstone, a premier global investment firm with $336 billion in assets under management.
How Do Lending.com's Loans Work?
Lending.com will not be competing for individual borrowers with the likes of Prosper and LendingClub. Instead of acting as a retail lender, Lending.com is partnering with other companies that already have a distribution infrastructure in place. It is looking to be the warehouse provider for major businesses that already have a high volume of consumers. They act as a business to business platform that provides lending as a service.
For example, they could provide large business, such as T-Mobile's finance unit, with a turnkey lending platform. There is also talk about Lending.com partnering with merchant processors to market its business loans. This does not mean Lending.com will be offering merchant cash advances, as Jason Hogg has stated they will not be in the merchant cash advance business. Instead, Lending.com would originate regular business loans and would use merchant processors to get first-hand data on the financial performance of borrowers.
The goal of Lending.com is to use its wildly successful real estate lending business as a base from which to move into new finance sectors. The platform is based on five essential components:
Origination engine
Underwriting
Servicing
Balance sheet
Capital Markets
This platform has been thoroughly tested with rental property investment loans and can be scaled to new verticals, such as consumer loans and small business loans.
How Is Lending.com Better Than Other Lenders?
Lending.com acts as a B2B lending platform. Instead of playing the competitive and expensive game of finding individual borrowers, Lending.com is partnering with large corporations that already have an established audience and who are willing to partner with Lending.com to benefit from its stable finance platform.
Time will tell if Lending.com will be the great market disruptor it hopes to be. However, we are excited and hopeful about the innovations Lending.com can bring to the table. They have people who have already disrupted financial, medical and real estate sectors successfully, and they have deep pockets funding their ambitious goals.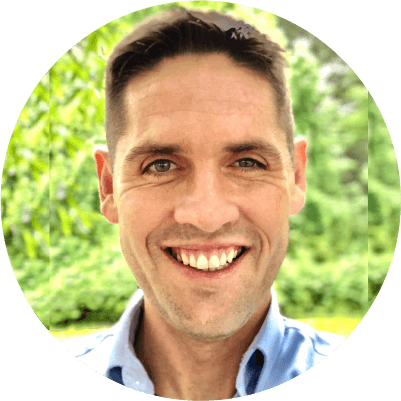 Andrew is the Content Director for SuperMoney, a Certified Financial Planner®, and a Certified Personal Finance Counselor. He loves to geek out on financial data and translate it into actionable insights everyone can understand. His work is often cited by major publications and institutions, such as Forbes, U.S. News, Fox Business, SFGate, Realtor, Deloitte, and Business Insider.