Whether you're looking for private student loans to fund your college education or to refinance existing student loans, LendKey offers competitive interest rates and other great features. Its key to success lies in its partnerships with more than 300 credit unions, community banks, and other financial institutions.
By refinancing your loans, you're obtaining a new rate that will lower the interest charged over time on your loans"
This community-focused network allows LendKey to offer more personalized customer service. Not everyone can do business with LendKey, though. This review will walk you through the lender's eligibility requirements, features, and application process.
Who are LendKey's student loans designed for?
LendKey is not quite as strict as other student lenders when it comes to credit and income. It requires at least a 680 credit score and an annual income of $24,000. Other eligibility requirements will differ depending on the community lender you choose to work with through LendKey.
LendKey's network consists of several hundred credit unions, so you may need to be a member of the credit union before you can apply.
About LendKey
LendKey was founded in 2007 as Fynanz and is based in New York City. The company originally functioned as a peer-to-peer (P2P) loan platform for student loans. In 2013, however, it rebranded as LendKey and replaced the P2P platform with a marketplace for credit unions and community banks.
This setup allows borrowers to compare rates and terms from hundreds of low-cost lenders who LendKey believes prioritize people over profits. LendKey also offers home improvement loans to homeowners and contractors. The company has an A+ rating with the Better Business Bureau. In all, it has lent more than $1 billion to consumers.
LendKey: Student Loan Refinancing
While LendKey also offers private student loans and home improvement loans, its best known for its student loan refinancing.
Rather than making individual loan payments for each loan you took out and keeping track of them all, refinancing reduces them all to just one loan, making it easy to keep track of your payments."
"By refinancing your loans, you're obtaining a new rate that will lower the interest charged over time on your loans," says Devin Hughes, director of business development at LendKey.
Hughes also points out that refinancing can simplify your repayment program. "Rather than making individual loan payments for each loan you took out and keeping track of them all," he says, "refinancing reduces them all to just one loan, making it easy to keep track of your payments."
As with any student loan refinancing lender, you're more likely to qualify for a lower interest rate if you apply with a cosigner who has excellent credit.
What are LendKey's student loan refinance interest rates and terms?
Your interest rate will depend on your credit score, whether you have a cosigner and the lender you choose.
See our LendKey review page for current rates.
Some of LendKey's terms include:
No origination fees.
No prepayment penalties or fees.
Current repayment periods of five years, seven years, 10 years, 15 years, or 20 years.
You can currently refinance between $7,500 and $125,000 for undergraduate degrees and up to $175,000 for graduate degree refinances.
What is LendKey's student loan refinancing eligibility criteria?
LendKey borrowers must have an annual income of $24,000 and a credit score of 680. Your best bet for getting approved with a favorable interest rate is to have a low debt-to-income ratio and excellent credit (or have a cosigner with excellent credit).
What extra features does LendKey offer?
Refinancing your student loans isn't all about the interest rate. There are other benefits you'll want to look out for. Specifically, LendKey offers generous forbearance terms and a cosigner release.
Forbearance is an option some student loan lenders offer when you're experiencing economic hardship. If you're struggling to repay your loans for any reason, you can simply fill out a forbearance request.
If your specific lender agrees to the terms, LendKey can offer up to 18 months of forbearance in six-month increments. That's generous compared to some other refinancing lenders.
Cosigner release becomes available after 12 months for all lenders on Lendkey. This process usually requires that you meet certain credit and income requirements on your own and that you make a certain number of consecutive, on-time payments.
LendKey also offers great customer service. With community banks and credit unions as its partners, you can count on getting more personalized service than you would with a big national lender. LendKey's service maintains a 97% satisfaction rating among borrowers.
How does LendKey's student loan refinancing application process work?
There are four steps to the application process with LendKey. This section will walk you through each step-by-step.
1: Fill out your personal information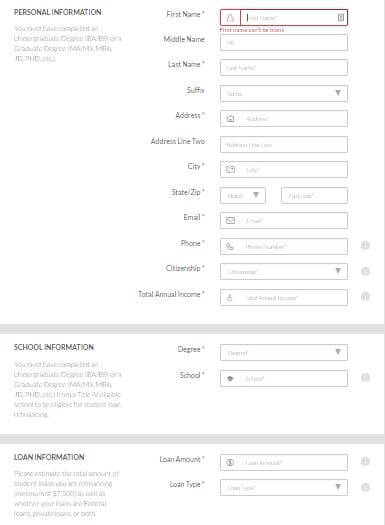 To get a basic idea of what you would qualify for, LendKey asks for some information upfront. You'll need to share your name, address, phone number, citizenship status, and annual income. You'll also need to share information about your school and degree, as well as the student loans you're looking to refinance.
After you submit this information, LendKey will run a soft credit check on you to give you some offers to consider. Soft inquiries do not impact your credit score in any way.
2: Review your offers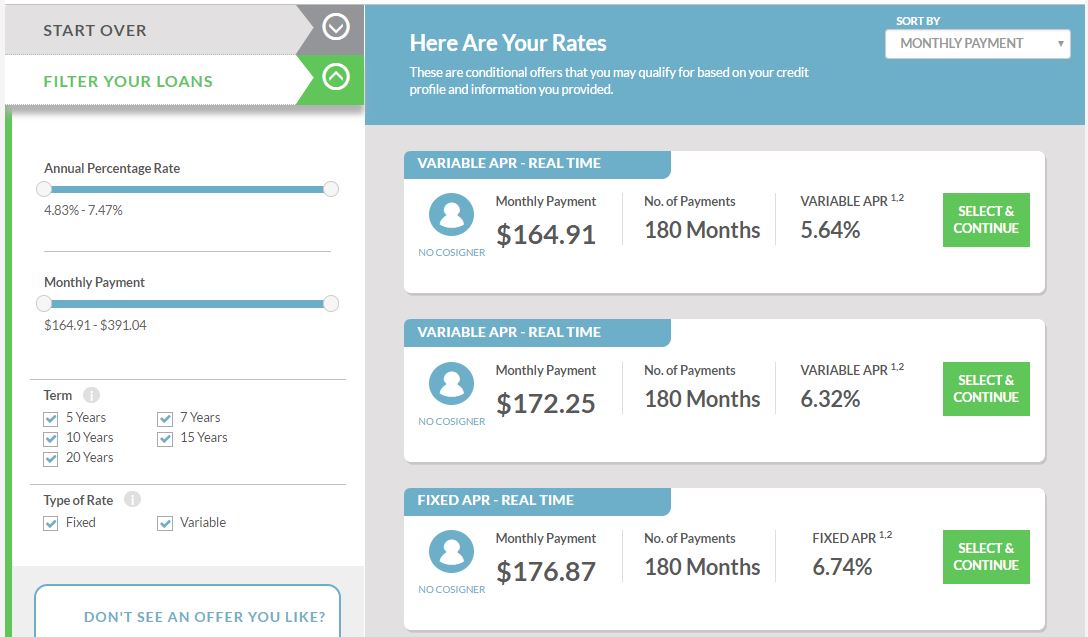 Here, you'll be able to review some of the rates offered to you based on the soft credit inquiry. Keep in mind these are not final or binding offers; they'll run a full credit check on you before giving you those.
On this page, you'll be able to sort the offers by monthly payment, APR, and number of monthly payments. You'll also be able to set filters based on your preferences for different loan features like APR, monthly payment, repayment term, and type of rate (fixed or variable).
If the interest rates you see aren't favorable, you can also add a cosigner to see how that would help your chances.
Step 3: Choose your offer
Once you find an offer you like, click on the "Select & Continue" button to see which lender you'll have. If you want another lender for some reason, you can go back to the previous page. Otherwise, click the "Confirm" button to start the official application.
Step 4: Create an account and submit to a hard credit inquiry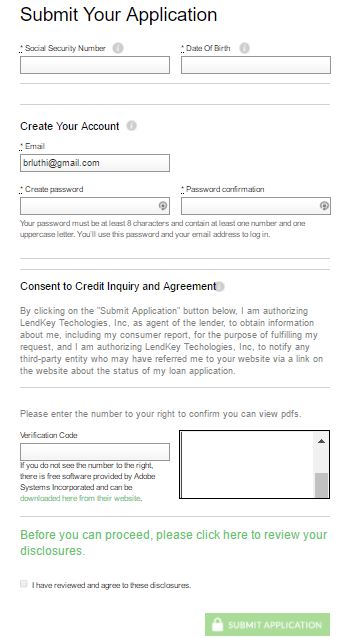 With this step, you'll share your Social Security Number and create an account with LendKey. You'll then consent to a credit inquiry (this one may ding your credit score). Click a link to review some disclosures and note that you agree to them. Then, submit your application.
After you've submitted your application, LendKey will require you — as most lenders do — to send documentation of income, loan payoff balance, and repayment history.
Should you refinance your student loans?
One thing to consider before refinancing your student loans is that you may lose some benefits and protections, especially if you have federal loans.
"Many of these programs, including income-driven payment programs, reduce monthly payments by stretching loans over a longer period of time," says Hughes. As such, they can be a lifeline if you're financially strapped.
One drawback, says Hughes, is that they may ultimately increase your total debt cost in the long run.
Federal student loans also offer student loan forgiveness. You likely won't find either of these benefits with one of LendKey's lenders — or any other student loan refinancing lender for that matter.
Refinancing can be a great way to lower your interest rate, monthly payment, or both. But double check with your current lender to see what you'll be giving up if you choose to move your student loans elsewhere.
LendKey student loans and summary
If you're looking for a customer-driven lender and competitive interest rates, you're likely to find it with LendKey. Qualifying isn't easy for everyone, but LendKey's cosigner release option makes it easier to convince someone to cosign and improve your chances at getting a low rate.
Also, the process of checking rate offers and applying is straightforward. There's also no commitment just to look at the rate offers. This feature, alone, makes it worth checking. Because LendKey won't be your actual lender, be sure to read all the fine print with the lender you choose to make sure the terms are favorable.
Before choosing any student loan refinancing lender, shop around. Hughes suggests making sure there aren't any origination fees or prepayment penalties. It's also important to refinance with a lender with good customer service. You'll never know when you're going to need an understanding ear.
Fortunately, LendKey makes the shopping around process easier, but also check out lenders not featured on LendKey's marketplace. For example, SoFi and CommonBond both offer solid options for student loan refinancing.
As you're looking at your options, consider applying with one of LendKey's community lenders. Its no-strings-attached approach makes it a perfect place to start your search for the best loan.
Ben Luthi is a personal finance writer and a credit cards expert who loves helping consumers and business owners make better financial decisions. His work has been featured in Time, MarketWatch, Yahoo! Finance, U.S. News & World Report, CNBC, Success Magazine, USA Today, The Huffington Post and many more.