M&T Bank is a bank holding company that offers mortgage, banking, investment, and loan services. It serves customers through 800 plus branches in Delaware, Maryland, Connecticut, New Jersey, New York, Pennsylvania, Virginia, Washington D.C., and West Virginia. With more than 160 years in business and $120 billion in assets, this company is one of the largest commercial bank holding companies with their headquarters in the U.S. Learn more about using the company to finance a vehicle in this in-depth M&T bank auto loan review.
M&T Bank Auto loans: What's Available?
M&T offers loans for new and used cars or trucks.
You can use the funds to buy from a dealer or a private party. The minimum loan amount is $2,000 and, according to M&T Bank's customer service representative, "There is no maximum. The vehicle just needs to hold the value of the loan amount."
As for the costs. There are no upfront fees to get either type of loan. "The interest is a fixed rate and term, and the loan is secured by the car," says the M & T Bank representative.
She adds, "Terms are available up to 84 months, but the term you get will depend on the car you finance. Vehicles can be up to 12 years old, but only new cars will qualify for the 84-month term."
To find out what term is available for your car of interest, you can use the Loan Finder. Here's how.
Navigate the M&T website and click "Loan Finder." Then, select "Auto Loan."

Select your needs.

Share a bit about your finances.
Get your loan terms.
If you want to find out what interest rate you qualify for, you'll need to apply.
M&T Bank auto loan application process
The loan process starts with you applying online. The application is quick and easy. You visit the M&T Bank website and navigate to the auto loan page. Then, click "Apply Online."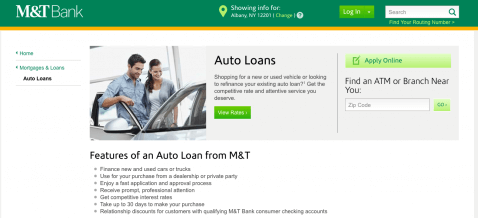 Next, enter your state of residency.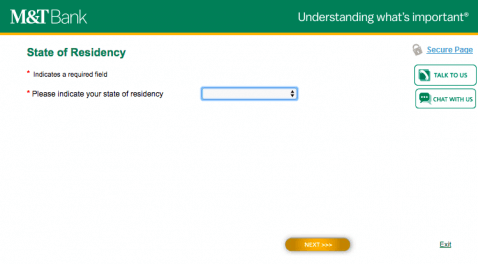 You will then see the 'Welcome page' which gives you a brief overview of the application process. You will need to be prepared to provide your valid U.S. social security number, income information, employment information, assets, liabilities, e-mail address, and the information about the vehicle you want to purchase.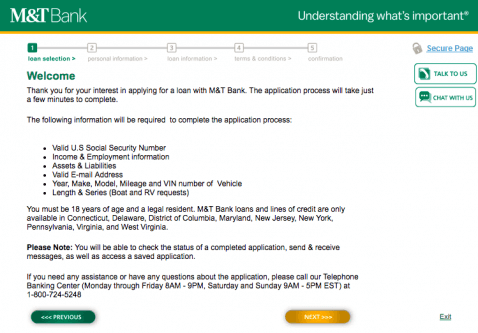 Then, choose the loan you want. In this case, it is the "Auto Loan."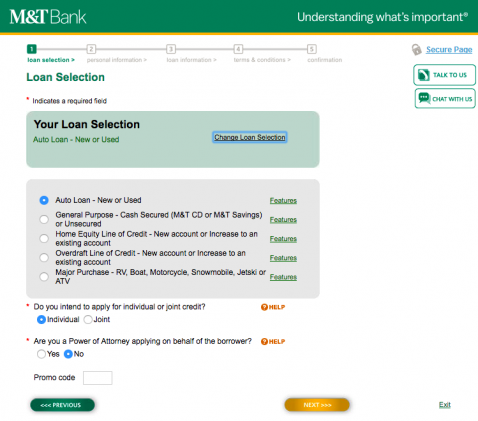 Next, enter your personal information.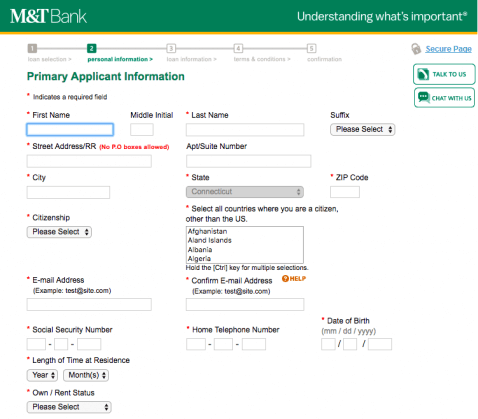 Lastly, you'll enter the loan information and agree to the terms and conditions. After the application submission, you will receive a notification telling you whether you are approved or not. Upon approval, you will receive the funds and can purchase your vehicle.
If you are approved, M & T's customer support will become important. Here's a look at its customer service, account management, and repayment assistance options.
Customer service
When it comes to customer service, M&T offers a plethora of options. The M&T Bank phone number customer service is 1-800-724-2440. You can call Monday through Friday 6 am to 9 pm ET and on weekends from 9 am to 5 pm ET. Dedicated numbers are also available for the departments that specialize in online and mobile banking, business, commercial service team, mortgage, and mortgage transfers.
Additionally, you can access resources online, visit a branch, send an email, or live chat with a representative on the website.
Account management
How do you manage your loan? You can create an online account with M&T where you can view your balance and make payments from an external account.
If you want to pay off your balance early, you can do so by making a written request to M&T Bank.
What is the M&T bank auto loan payoff address?
M&T Bank
P.O. Box 1288
Buffalo, NY 14240
Fax: 1-866-409-2653
Repayment assistance
Nobody wants to get into a position where they can't afford their car payment but, unfortunately, it happens. M&T Bank offers loan payment extensions, the Payment Promise program, and the Loan Workout program.
Payment extensions allow you to move one or more monthly payments to the end of your loan.
The Payment Promise program allows you to make a payment arrangement to catch up on a past due loan.
The Loan Workout program is for those experiencing an extended hardship. It allows you to make a request to M&T Bank to rewrite your existing loan in an attempt to lower your payment.
All of these can help you get back on track in hard times.
FAQ on M&T Bank auto loan
Does M&T Bank do auto loans?
M&T Bank Auto Loans has auto loans with a maximum term of 84 months. Having the option of longer terms allows borrowers to take on larger loan amounts while keeping monthly payments more affordable. However, the longer the term of your auto loan, the more interest you will pay.
How do I qualify for a M&T auto loan?
M&T Bank doesn't offer any eligibility criteria on its site, so to find out whether you qualify for an auto loan with M&T Bank, you'll need to go through its application process.
What types of car loans does M&T Bank offer?
M&T Bank offers financing for cars and trucks from both dealerships and private sellers. These include:
New car loans

Used car loans

Private party financing
What are the benefits of M&T Bank auto loans?
Here are the benefits of M&T Bank auto loans
Fast approval

APR discount for M&T customers

Buy from a dealer or individual

Repayment assistance
What are the required documents for M&T auto loan?
Social Security number

A valid email address

Income and employment information

Available assets and liabilities

The year, make, model, mileage and VIN number of the vehicle you'd like to purchase

M&T certificate of deposit or savings account number, if applicable
M&T Bank auto loan review and summary
M&T Bank is a reputable lender that has been around for a long time. Being one of the largest in the U.S., you can rely on it for stability. The main drawback is that its service area is still rather small; only serving a limited number of states. However, if you are a resident of the service area, it's worth considering.
The auto loan process is convenient, you can apply online in a matter of minutes, and the rates are competitive. However, note that you are limited to fixed-rate loans. If you prefer a variable interest rate, you will have to look elsewhere. It's nice there are no fees, the customer support is comprehensive, and several repayment assistance plans are in place just in case you need them.
Overall, it's an option worth considering for those in the service area.
To learn more about M & T Bank or to apply, click here.
Jessica Walrack is a personal finance writer at SuperMoney, The Simple Dollar, Interest.com, Commonbond, Bankrate, NextAdvisor, Guardian, Personalloans.org and many others. She specializes in taking personal finance topics like loans, credit cards, and budgeting, and making them accessible and fun.