Mambu is a new banking software company that is behind the most significant disruption in mobile banking you've never heard about. The niche Mambu operates in didn't even exist a few years ago but is now set to change the way banks do business.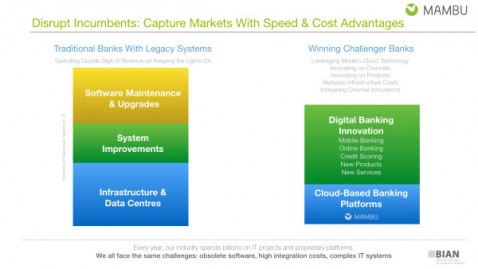 Banking Is an Expensive Business…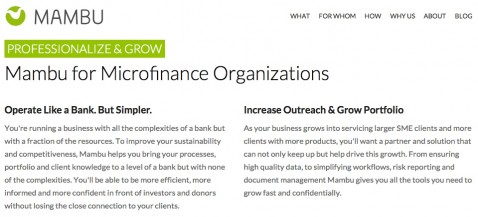 How? By lowering the overhead of banks and other financial institutions. You don't need to be told that banking is an expensive business–we all hate banking fees. But the truth is that managing loans and bank accounts do not come cheap.
Banks have to keep the lights on, cover payroll and all the other overhead costs that large financial organizations require. According to a report by the American Bankers Association, the annual fee to maintain a checking account is between $250 and $400.
Where Does Mambu Come In?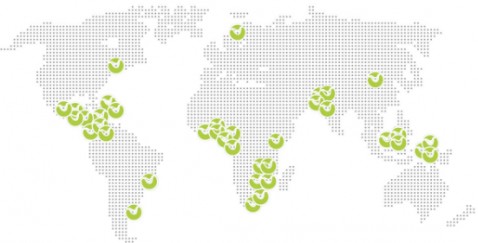 Mambu is a software company that provides cloud-based banking solutions to financial institutions. As of now, Mambu is not servicing banks in the western world. Instead, it focuses on small loan providers, mainly in developing countries. But it is growing steadily and is set to be a force to be reckoned with in mobile banking. The words disruptive technology and paradigm change are often used in the same sentence as Mambu.
How Does It Work?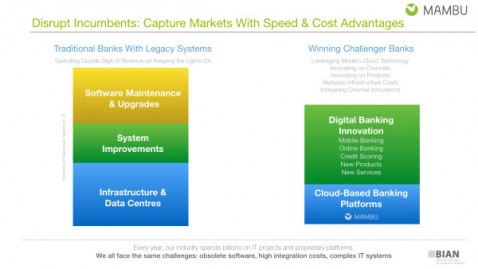 Mambu offers financial institutions a range of application programming interfaces, generally called APIs, which provides them with a turn-key platform to manage their clients' accounts. Instead of using expensive, high-maintenance, old-school systems, Mambu provides lenders in developing countries access to state of the art software that allows them to take deposits, manage clients, account for funds, grant mobile access to borrowers, approve over-draft requests, and even run entire branches.
Mambu's pricing system is "universally affordable," and based on the revenues its clients actually earn. This makes it an option for any organization's budget.
It's similar to how Microsoft and Adobe have turned their big software juggernauts Office and Photoshop/Lightroom into a subscription service. Just as home users and small businesses don't need to spend hundreds or thousands of dollars upfront on software licenses, financial institutions can spread the cost of their brand new account management software over the life of the account; plus they can expect to receive ongoing client support and upgrades.
How Did Mambu Start?

Mambu's co-founder and CEO, Eugene Danilkis, was previously a lead software engineer for the robot control software on the International Space Station. Mr. Danilkis seems an unlikely candidate for the entrepreneur behind a new mobile banking platform provider. Until that is, he tells you about the year he spent in Africa with a micro-banking research project before founding Mambu.
Mr. Danilikis and his team of programmers and bankers saw an opportunity in the large population of people in developing countries who don't have access to banks and the valuable financial services they offer. The smaller financial institutions that do work in those countries often don't have the platforms, infrastructure, or technology to service remote areas. Mambu provides even the most modest organizations access to world-class banking technology that is designed to be delivered and used via the cloud.
JN Small Business Loans, a subsidiary of Jamaica National Building Society, is one of Mambu's latest clients and an excellent example of the type of institutions that benefit from its software. The Jamaican lender hopes to expand its market share among potential customers who do not have easy access to credit and would benefit from online and mobile banking financing solutions.
A Million Accounts and Growing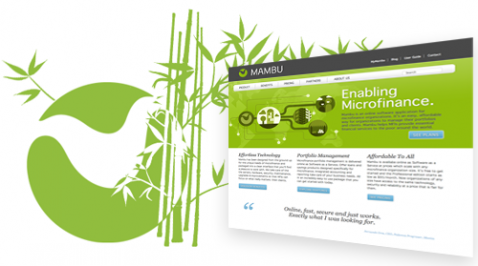 Since 2011, over 100 financial institutions in nearly 30 countries have started using Mambu's software, which manages almost a million accounts worldwide. Big names in the international micro-financing business, such as Yale's Elmeseed Enterprise Fund, Opportunity International and Mentors International, are also using Mambu to run their lending programs.
Mambu's cloud-based software provides them with real-time transparency, something both donors and borrowers appreciate. It also allows organizations to spend more time on their core mission and less time on the maintenance of accounts.
The big question is whether Mambu can jump from being a useful platform for small financial institutions and international micro-lending organizations to competing with legacy banks in more economically developed countries.
Find more Mambu reviews here.
Andrew is the managing editor for SuperMoney and a certified personal finance counselor. He loves to geek out on financial data and translate it into actionable insights everyone can understand. His work is often cited by major publications and institutions, such as Forbes, U.S. News, Fox Business, SFGate, Realtor, Deloitte, and Business Insider.