Article Summary:
It's no secret that Millennials are not the biggest fans of banking institutions. However, financial technology companies, such as Douugh, SoFi, and Chime, are joining forces with traditional banks to change the way Millennials (and everyone else) bank.
Millennials have trust issues when it comes to large banking institutions. Here are three statistics that illustrate the problem.
Millennials are more likely to be unbanked (e.g., not having a savings or checking account) than any other generation — 6.9% vs. 5.1% for Generation Xers and 3.3% for Boomers.
43% of Millennials (18 to 37-year-olds) used alternative financial services (e.g., payday loans, auto title loans, and pawn shops).
In a 2021 survey by EY, 49% of Millennials named a fintech company as their most trusted financial brand. Only 26% named a national bank.
It's not just Millennials. In the EY survey, 37% of all consumers named a fintech as their most trusted financial brand.
Banks can't afford to ignore Millennials
So how can banks handle this crisis of trust? The jury is still out on that question, but what's for sure is that banks cannot afford to lose their business.
Millennials are now the largest generation alive — they overtook Baby Boomers in 2019, and they have been the largest generation in the workforce since 2016.
Generation Y, another label for Millennials, is also the most highly educated in U.S. history. They are also the fastest-growing generation — primarily because of a large influx of young immigrants.
37% of homebuyers in 2020 were Millennials. Boomers made up 32%, and Generation Xers made up 24%.
How are smart banks building trust?
The personal banking world is changing faster than at any other time in history. The digital revolution is creating new opportunities for financial institutions to change how they interact with their customers and build trust. Here are three examples. We will use Douugh, a fintech company (a.k.a smart bank) that was launched in 2016, as an example of how fintech companies are rebuilding trust in financial institutions by making them more relevant to Millennials. Douugh was founded by Andy Taylor, who was also the co-founder of SocietyOne –Australia's largest peer-to-peer lending platform.
Convenience and simplicity through digital transformation
Financial technology companies can meet Millennials where they are online and use the channels they prefer.
Typically, Millennials prefer to communicate with their primary financial provider via a mobile app or online instead of visiting a branch. According to one study, Millennials are more likely to interact with their financial provider with their smartwatch than visit a branch or through a call center.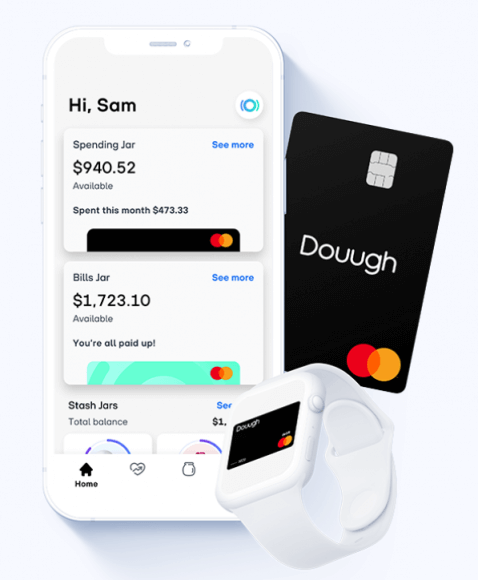 You can't greet your customers with a warm smile or ask about their children when they only interact by logging into an app. So, providing consistently positive customer service is crucial. People expect Amazon-level customer service from all their online interactions, financial providers included. According to a Gallup study, seven out of ten Millenials prefer a strong digital experience with their bank over a personal one. However, that doesn't mean Millennials don't appreciate a personal touch. According to a study by Forrester, Millennial customers were 1.6 times more likely to purchase something when the company's communication appeared "human."
Converting legacy platforms to a digital-first experience can be a monumental task. This gives digital banking startups, which are really software development companies, an edge. Douugh, for instance, uses a traditional bank — Choice Financial Group — to handle the account deposits and issue debit cards and focuses on using technology to provide a smart online-only banking experience. This win-win partnership gives Douugh clients the protection of FDIC insurance and the convenience of world-class digital banking.
Douugh users can create a budget, set up dedicated savings jars, track their financial goals, get access to an instant virtual card, create unlimited Portfolio Jars, and set up automated money management systems. Setting up their account and gaining access to these services takes as little as 2 minutes.
Transparent pricing models
Banks used to be bastions of consumer trust. However, dubious subprime loans, discriminatory lending practices, and confusing terms and pricing squandered much of the goodwill built over generations.
Financial companies can only build trust if they communicate clearly what services they offer, how much they will cost, and how they benefit the client. Today's banking consumers demand that all the essential information they require is provided in plain English so they can have all the tools they need to make an educated decision.
The subscription model has had excellent results in consumer industries, such as food, music, video streaming, and books, and it is also getting traction in the financial services industry. But, of course, it's not just Millennials. Subscription models are now popular among all generations, but they are particularly successful with Millennials. According to a study by Vantiv and Socratic Technologies, 9 out of 10 Millennials pay for at least one type of subscription service. In the case of Douugh, they consolidate all their services (and most of their fees) into a $4.99 financial fitness membership or subscription fee, which helps users know exactly what they are paying for and avoid unexpected fees.
Leverage technology to be consumer-centric
The banking industry is shifting from being product-centric to consumer-centric. Product-centric companies focus on building the best possible products in their niche, regardless of whether there is a current need for it. This was the initial strategy of Apple under Steve Jobs, who famously said that "people don't know what they want until you show it to them."
A product-centric bank, for example, might focus on creating the best possible credit card rewards program or providing a savings account with the highest possible APY. However, if it's not also consumer-centric, the bank might send a mail offer for the rewards credit card to all its customers regardless of whether they are interested in a credit card or can qualify for it, which can convert a great product into spam.
Consumer-centric companies focus on determining the current needs of their target audience, matching them to the right product, and creating the best possible user experience.
Douugh, for example, focuses on providing a hyper-personalized customer experience by gradually educating consumers and helping them make smarter financial decisions. Users can pay their bills, manage their budget, deposit money into savings accounts, invest in the stock market, and receive personalized financial advice with the same app.
Key takeaways
Millennials have completely changed the path of multiple traditional industries (think transportation, payment methods, video streaming).
They demand excellent customer service that is fast, easy, customizable, and affordable. Many industries have responded well, but traditional banks have a checkered record.
Smart banks, such as Douugh, are meeting this demand by creating a digital-first experience that is consumer-centric and offers a transparent pricing model.
These articles are brought to you by SuperMoney sponsors. Learn more about content sponsorship opportunities with SuperMoney.