OnDeck is a marketplace lending platform that specializes in business loans. OnDeck has business financing that is tailored for today's small businesses, with fast access to capital, a streamlined and efficient application process, and service customers rave about. Their goal is to be the first choice lender for small businesses. Since 2007, they have issued billions in loans and served more than 700 industries throughout the US, Canada, and Australia.
This is one of the biggest players in the alternative lending industry. It's also one of the few alternative business loan providers that is publicly traded (New York Stock Exchange as ONDK).
So it's big and successful, but is OnDeck a good deal for small businesses?
This comprehensive review of OnDeck looks into their rates, terms, loan amounts and application process, and compares them with the other big players in small business financing. By the end of this article, you will have all the information you need to determine whether OnDeck has the right loan for your business.
Who Are OnDeck´s Business Loans Designed For?
OnDeck is a good choice for businesses with poor to good (but not great) credit who want a fast and easy business loan. Borrowers can apply for a loan online or over the phone. Like Prosper and LendingClub, OnDeck is a marketplace platform, not a direct lender. However, this is no peer-to-peer platform where borrowers have to wait for days if not weeks to see if enough private investors are willing to fund their loan. OnDeck provides approvals (or denials) within minutes and the money can be in a business's bank account by the next business day.
OnDeck is also an attractive option for businesses that don´t have much in the way of collateral and want to build up their credit. Traditional lenders often require businesses to provide valuable assets, such as property or equipment, as a security in case borrowers default on their loans. Particularly in the case of newer businesses and companies with poor or "okay" credit. OnDeck, however, does not require any type of collateral. It also reports payment activity to Equifax, Experian, and Paynet. This can help businesses who are regular and on-time with their payments to improve their credit.
How Do OnDeck's Business Loans Work?
OnDeck offers two credit products: term loans and lines of credit. Don´t worry about deciding which one you want. They both have the same application form and OnDeck will decide which products you qualify for based on your business´s characteristics. OnDeck performs a soft credit check when assessing your eligibility. So there is no downside to checking what loan amounts and interest rates you qualify for.
OnDeck's term loans are what most people think of when they think of a business loan. They are business loans of a specific amount to meet a specific financing need. Unlike lines of credit, term loans are paid on a fixed schedule of payments. Term loans can be secured or unsecured, but in OnDeck's case, they are always unsecured.
OnDeck's line of credit is not set for a specific amount. Instead, borrowers are offered a maximum loan balance, similar to how a credit card works. The borrower can then draw on the line of credit at any time as long as they don't exceed the maximum amount agreed upon.
Payments for OnDeck's term loans and lines of credit are structured as a fixed, daily payment from the business's account on a daily or weekly basis. This is different than the monthly or bi-monthly payments many borrowers are used to. According to OnDeck, daily or weekly payments help make payments more affordable and prevent the snowball effect that larger payments can cause.
What Are OnDeck's Interest Rates and Terms?
Rates vary widely. They start at 9.99% for term loans and 13.99% APR for lines of credit. Your rate will depend on your credit, business characteristics, loan amount, and term. OnDeck doesn't have a maximum rate but the average APR for a term loan is 49.7% and the average APR for a line of credit is 34.1%.
OnDeck charges a 2.5% to 4% origination fee. This fee is deducted from your loan amount before it is deposited in your account. For example, if you borrow $100,000, OnDeck will deduct $2,500 and deposit $97,500 in your account.
On average, OnDeck's rates are 15% of the total loan amount. If you borrow $10,000, expect to pay around $1,500 in interest and fees.
OnDeck's interest rates are not cheap. Companies with excellent credit or that have assets to place as collateral can probably find better deals with prime lenders like SoFi, Funding Circle or Dealstruck. However, its rates are lower than the rates of many online lenders that also target businesses with subprime credit profiles. Another point to consider is that OnDeck has a maximum loan term of 2 years. Loans with lower interest rates often have longer terms as well.
How Much Can You Borrow From OnDeck?
OnDeck offers loan amounts ranging from $5,000 to $500,000 with terms ranging from 3 to 24 months.
What are OnDeck's Loan Requirements?
OnDeck's eligibility requirements are simple:
• At least 12 months in business. This is not a lender for startups.
• A minimum annual revenue of $100k.
• The business owner must have a FICO score of 500+. This is low. Most lenders (Funding Circle, Dealstruck, SoFi) require credit scores of 600 and above.
Of course, borrowers with a high-risk credit profile will only qualify for high interest loans. As well as those basic requirements, OnDeck also requires applicants to provide the following documents:
• Business Tax ID
• Bank and Credit Card statements for the last three months.
• Social Security number for the business owners.
• Driver's license number and state of issue.
What is OnDeck's Application Process Like?
1. Basic Requirements
Provide your business name, address, years in business and business structure.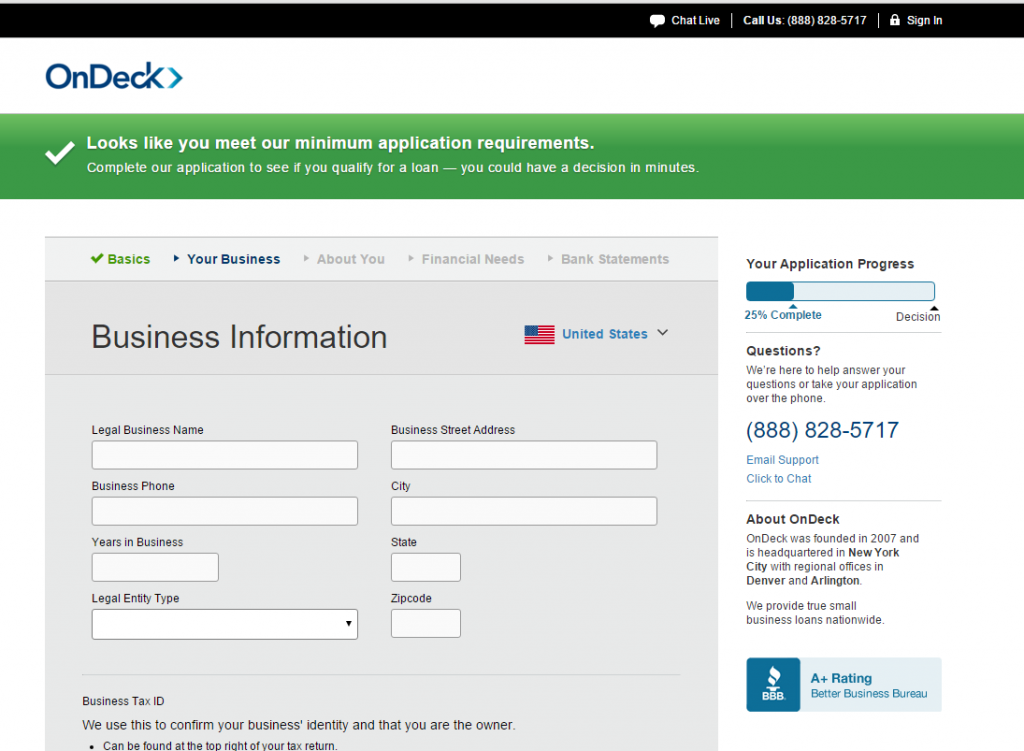 2. Your Business Information
The form requests business information, such as your Tax ID, your average account balance, and full address.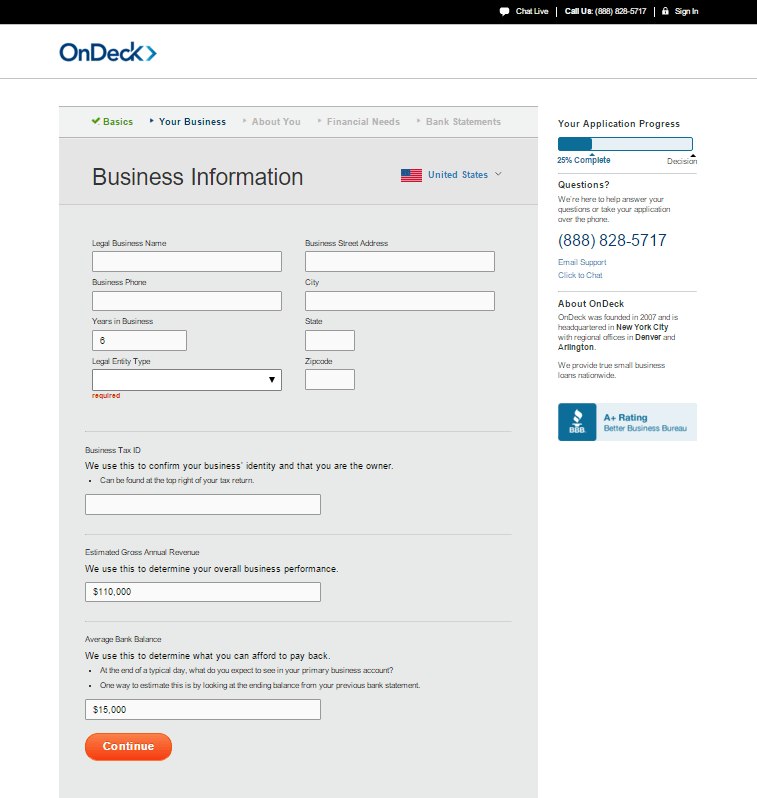 3. Personal Information
This step requests personal information, such as full name of the owner, address and Social Security number.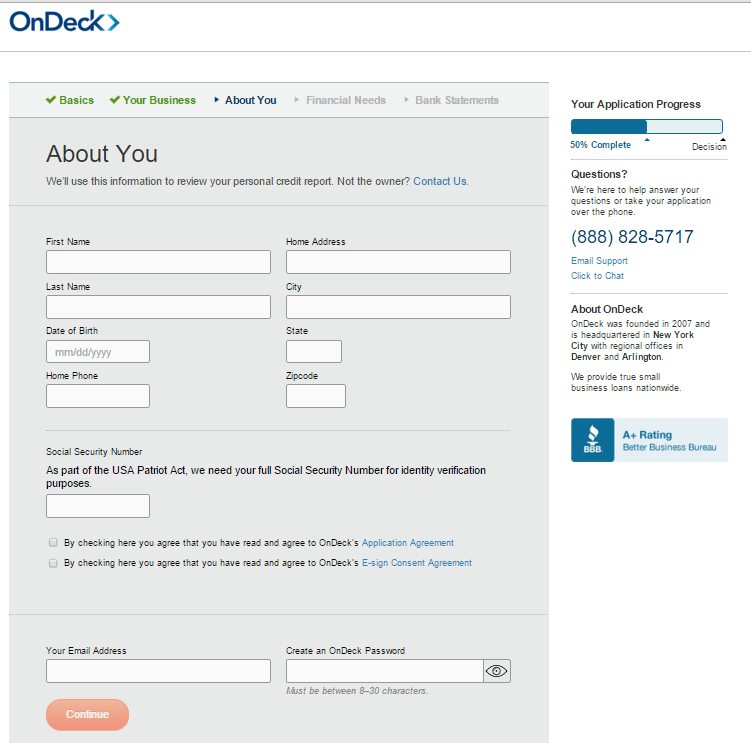 4. Financial Needs
Tell OnDeck how much you need and the purpose of the loan. For instance, will you use the funds to buy equipment, hire employees or purchase inventory? You also must estimate the additional revenue your investment will generate.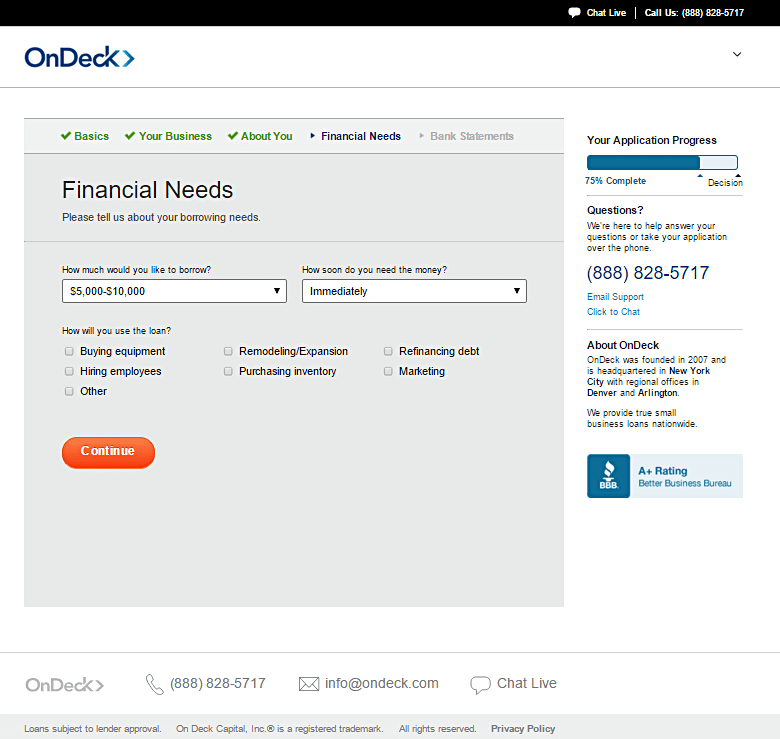 5. Verify Information
OnDeck requires access to your bank and credit card statements for the last three months to verify the information provided. You can either authorize your bank to send OnDeck your statements or send them yourself by fax or email. Sending statements is slower because an OnDeck employee has to review them by hand.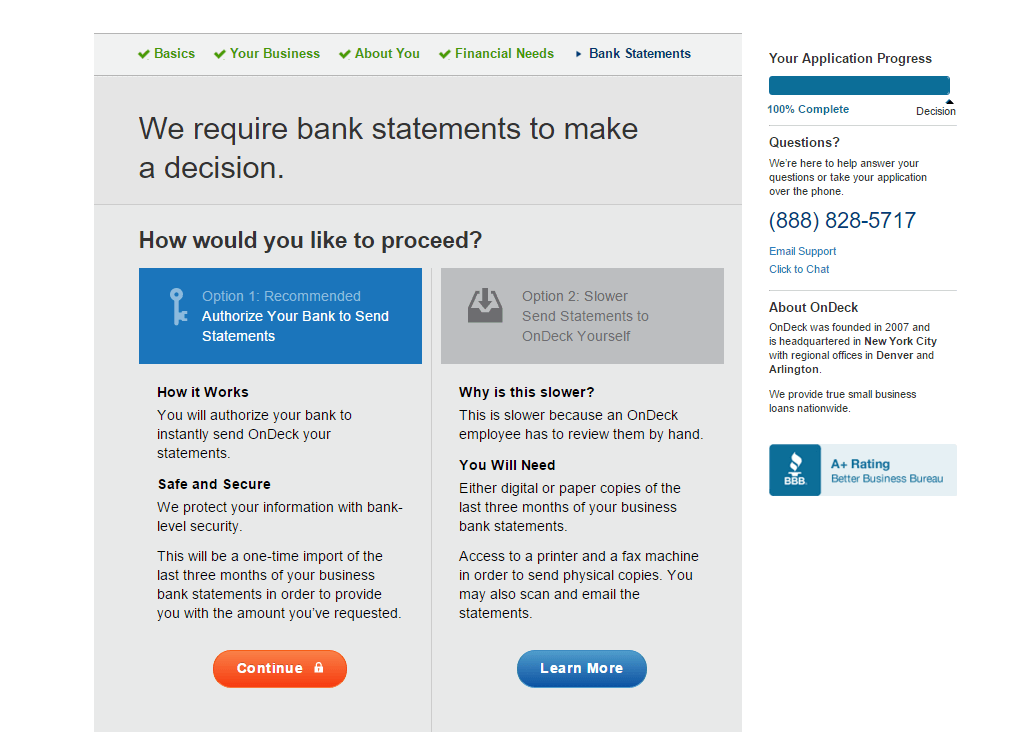 6. Application Decision
In a matter of minutes, OnDeck provides a decision on the application. If you are approved, funds will be disbursed directly to the business's bank account.
How Is OnDeck Better Than Other Lenders?
OnDeck may not have the lowest interest rates, but it makes up for it in customer service and its streamlined application process. It's the difference between sending a parcel by Fedex or regular post. If cost is your main concern, forget Fedex. Just don't expect it to arrive by the next business day.
These are OndDeck's best features:
Fast loans. Simple and short application form.
An immediate decision on applications. Forget about waiting for weeks to see whether a lender approves your loan.
High loan amounts. Borrowers can apply for up to $500,000.
Competitive rates starting at 9.99% APR. Although there are lenders with much lower rates, they are also pickier with who they lend money to.
OnDeck reports to three credit reporting bureaus.
Checking what rates you qualify for will not hurt your credit score. OnDeck performs a soft credit check.
No collateral required.
Andrew is the managing editor for SuperMoney and a certified personal finance counselor. He loves to geek out on financial data and translate it into actionable insights everyone can understand. His work is often cited by major publications and institutions, such as Forbes, U.S. News, Fox Business, SFGate, Realtor, Deloitte, and Business Insider.