If you're in the market for a personal loan, you are probably focusing on a combination of three things: price, speed, and availability. OneMain Financial doesn't have the lowest APRs, full nationwide coverage, or the easiest approval criteria, but they are fast with decisions and processing funds.
OneMain Financial is a particularly attractive choice for borrowers with less than perfect credit scores. It is also a good option for borrowers appreciate the convenience of applying for a loan online but appreciate having the option of driving to a brick-and-mortar branch and talking with a loan officer if necessary.
Here are the main advantages of OneMain Financial:
Easy to complete application. Just one-page online application.
Fast approvals. It is possible to get funded within the same day if approved by noon**.
Fixed rates and easy to understand terms.
Online and branch access.
No prepayment penalties. Larger loan options available if you reapply with a cosigner and/or with collateral of sufficient value.
Flexible Loan Purposes: Loans can be used for anything from a vacation to debt consolidation or pay for medical costs.
Nevertheless, there are disadvantages to consider when shopping for a personal loan with OneMain Financial. This in-depth review will spell out the rates, terms, pros, and cons of doing business with OneMain Financial.
Who Are OneMain Financial Loans Designed For?
With so many online lenders to choose from, it's a good idea to start by determining the target audience of the lender you're considering. For instance, if you're a super-prime borrower with perfect credit and an impressive paycheck, you will want to take a closer look at lenders like SoFi, LendingClub, LightStream, and Prosper. If your credit needs some help, you may need to go with a lender that considers borrowers with poor credit, such as NetCredit.
OneMain Financial is designed for borrowers with fair to good credit who want cash fast. It is particularly suited for borrowers who enjoy dealing with real people when signing a loan. Unlike other online lenders, OneMain Financial still has loan officers who call each potential borrower before approving a loan. OneMain Financial is also a good fit for borrowers who prefer doing business with a lender that has a long history and a nationwide network of branches.
Interest Rates and Terms
Unlike most online lenders, OneMain Financial does not provide a range of APRs on its website. Borrowers must fill out an application form and talk to a loan specialist before getting an offer with details on the interest rates and loan fees. Remember to ask for all fees, expenses, and your interest rates when speaking to the loan specialist.
You need to know this about OneMain Financial's loans
Interest rates vary depending on your credit score, payment history, and income. However, you can expect your rate to fall between 25% and 36% APR. Check out SuperMoney's company profile on OneMain Financial for the latest rates and terms.
Borrowers can opt for terms of up to 60 months (5 years). The terms of a OneMain Financial loan are set when you talk to a loan officer.
OneMain Financial charges an origination fee that varies by state. Origination fees are included in the cost of a loan when its APR is calculated. However, the fee is deducted from the loan amount before it is deposited in the borrower's account. For example, if you borrow $9,000 and have to pay a 5% origination fee, you will only receive $8,550 in your account but you still have to pay interest on the entire amount.
Who Qualifies For a OneMain Financial Loan?
Although it's easier to qualify for a loan with OneMain Financial than with other lenders who exclusively cater to superprime borrowers, it still has strict credit approval criteria.
OneMain Financial borrowers must:
Be residents of the United States. As of February 2016, borrowers who live in Alaska, Arkansas, Connecticut, Massachusetts, Nevada, Rhode Island, Vermont and Washington D.C. cannot apply for a loan.
Be 18 years or older (19 if you live in Nebraska or Alabama).
Not have filed for bankruptcy within the last year.
Have some credit history and a credit score of at least 600. There are exceptions when borrowers with a credit score of less than 600 are accepted, but it's rare, and they can expect to pay high interest rates for the privilege. Although you don't need to have 10 years of credit history, you are unlikely to be approved if you've never had a credit card, loan, or utility bill to your name.
Be able to afford loan repayments. OneMain Financial really makes sure you can afford it before approving a loan. Expect detailed questions from the loan officer about your income, fixed expenses, and your monthly budget.
How Does OneMain Financial Work?
To get the ball rolling, borrowers must complete an online form. The online application is a one-page form you can complete in a few minutes. See below for screenshots so you know what to expect.
If you meet OneMain Financial's credit requirements, your application is sent to your local OneMain Financial branch. A loan officer will then call you to discuss your loan options. It is only at this time that borrowers receive specific rates and terms on their loans.
What Is OneMain Financial's Application Process Like?
OneMain now offers the option to check for a prequalified offer, which will not affect your credit score. We recommend you do this before submitting an application.
1. Your Loan Information
Just three questions to answer in this section. Will you be using a co-applicant (which is an option if you don't meet OneMain Financial's credit criteria)? How much do you want to borrow? And what will you be using the money for?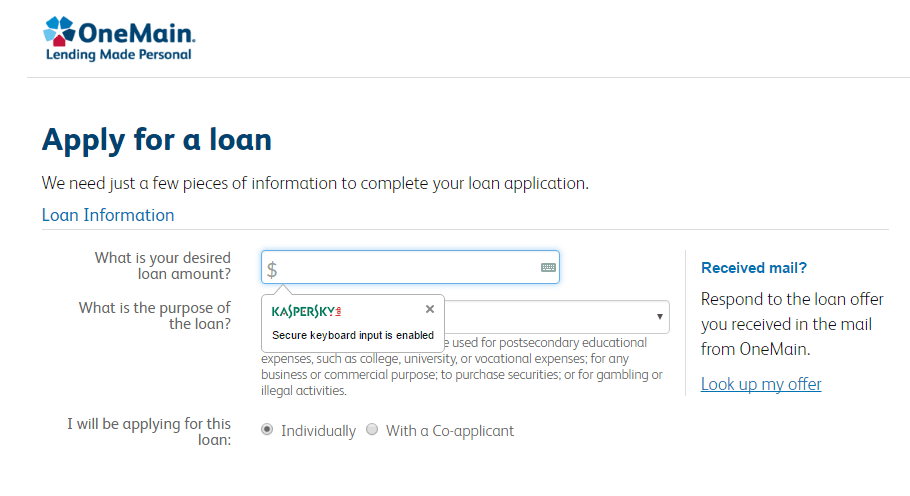 2. Provide Your Personal Information
Enter your full name, address, phone number, SSN, and date of birth. OneMain Financial will run your credit at this point, which will affect your credit score. Remember that checking for a prequalified offer will not hurt your credit score.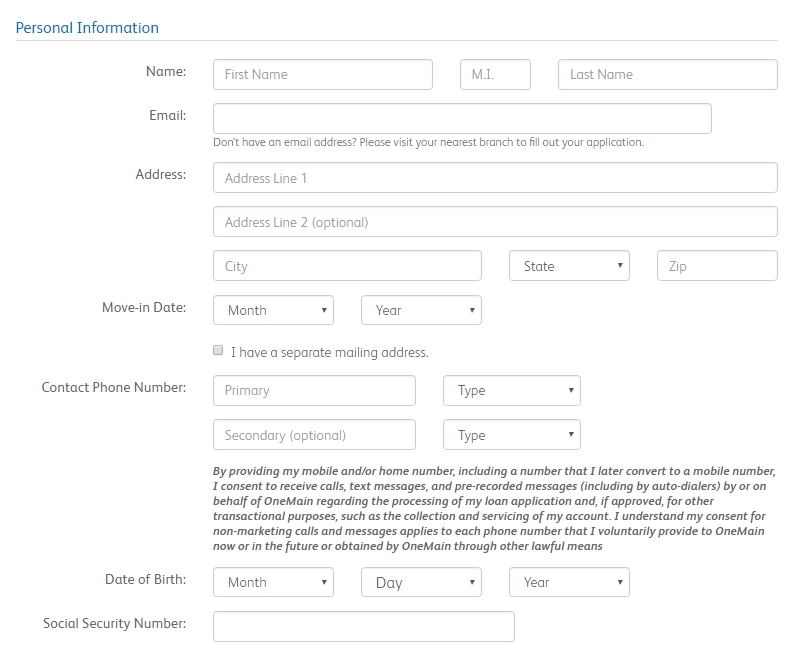 3. Provide Your Employment And Financial Information
Nothing too involved here. Just your job position, the name of your employer, your work phone, the date you started working, and your annual income.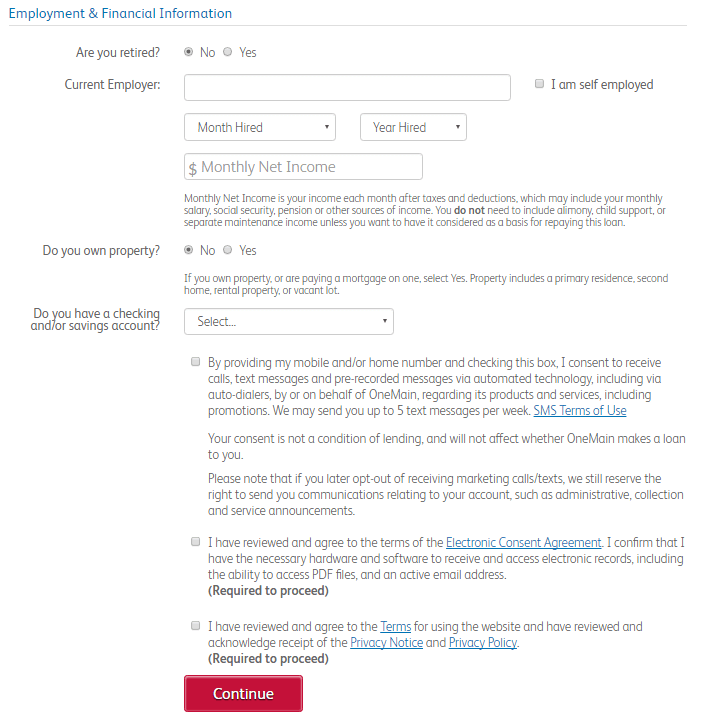 That's it. Once you submit your application, sit tight and wait for OneMain Financial's call.
OneMain Financial's Backstory
OneMain Financial's history goes all the way back to 1912 when Alexander Duncan founded Commercial Credit in Baltimore. Commercial Credit was a pioneer in the consumer finance industry that provided working capital to manufacturers and building contractors.
Commercial Credit opened branches throughout the United States and added new financial services and products. By 1998, Commercial Credit was known as Travelers Group and had merged with Citicorp to become Citigroup. In 1999 the company had 1,200 branches and changed its name again to CitiFinancial.
Fast-forward to 2011, CitiFinancial changed its name to OneMain Financial. In 2015, CitiGroup sold OneMain Financial to Springleaf. OneMain and Springleaf have merged under the OneMain name.
How Is OneMain Financial Better Than Other Lenders?
OneMain Financial is a solid choice for borrowers looking for a fast loan at reasonable interest rates. That is not to say OneMain Financial should be your first option. If your credit is good, there are lenders with better interest rates and terms you should consider first, such as LendingClub, Light Stream, and SoFi. The maximum loan amount of $15,000 may also be an issue for borrowers who need more cash. If you do decide to go ahead, make sure you check the cost of origination fees before signing. These fees are deducted from the loan amount before it is deposited. Keep this in mind when deciding how much you need to borrow.
However, there are things to like about OneMain Financial:
OneMain Financial is a direct lender with more than 1,800 branches nationwide.
Their rates are reasonable for a lender that approves credit scores as low as 600.
OneMain Financial has fixed interest rates, so you know how much your loan payments will be every month.
They offer fast funding options. Apply before 12:00 pm, and you could get your money within the same day of applying.
You have the option of driving to your local branch to deal with a loan officer in person.
Borrowers who don't meet OneMain Financial's credit criteria are not out of options. There are other lenders who may be willing to approve borrowers with poor, or 'just okay', credit. Here are two you can start with: NetCredit and LendUp.
**Funding Options; Availability of Funds: Loan proceeds may be disbursed by check or Automated Clearing House (ACH) deposit. ACH disbursements can take approximately 1 to 2 business days depending on the time of loan closing.
Andrew is the managing editor for SuperMoney and a certified personal finance counselor. He loves to geek out on financial data and translate it into actionable insights everyone can understand. His work is often cited by major publications and institutions, such as Forbes, U.S. News, Fox Business, SFGate, Realtor, Deloitte, and Business Insider.