Optima Tax Relief is a tax resolution firm based in Santa Ana, California that offers tax relief services nationwide. This review provides an in-depth look at the pros and cons of hiring Optima Tax to represent you.
Every year, millions of taxpayers slip into overwhelming debt with the IRS. According to the latest estimate, tax debt in the United States increases by $71 billion a year (source). That's just another shocking statistic until you're the one at the business end of a tax lien notice. When you're facing the most powerful debt collecting agency in the world, you want a team of experienced tax attorneys negotiating on your behalf.
Optima Tax Relief is certainly the largest tax relief company around. But is it the best? This review takes an in-depth look at the advantages and disadvantages of Optima Tax Relief so you can make up your own mind.
Optima Tax Relief at a glance
Optima Tax Relief was launched in 2011 by Wharton Business School graduates Harry Langenberg and Jesse Stockwell. It has a staff of +400 that includes 16 enrolled agents, 36 tax preparers certified by the California Tax Education Council (CTEC), and 12 tax attorneys with a background in economics, taxation, and business management.
Optima Tax Relief uses a proprietary two-step tax relief process to assess and resolve tax cases. Due to its focus on customer care and experienced tax professionals, Optima Tax Relief is now the largest firm in the business. Since 2011, it has resolved the tax issues of over 10,000 clients. In 2015, Inc. 500 accredited Optima Tax Relief as #1 fastest growing financial services company.
What tax services does Optima Tax Relief offer?
Optima Tax Relief has a large team of tax attorneys and enrolled agents on staff. This allows it to provide tax services in-house that most tax relief companies don't offer. These services include:
IRS audit defense.
Tax negotiation and settlement.
Tax preparation and compliance assessment.
Resolution of tax liens and levies.
Penalty and interest abatement programs.
Payroll tax negotiation.
State tax issues.
Tax liability investigation and resolution proposal.
Optima Tax Relief's ability to help customers with IRS audits and state tax collections internally sets it apart from other tax relief companies that don't have the resources or staff to deal with complex tax cases.
IRS audits
In 2015, the IRS performed 1.4 million audits that resulted in a $7.4 billion increase in tax debt for taxpayers. However, IRS audits don't have to be a financial kiss of death. You can beat the IRS if you have the right representation. In 2015, almost 40,000 audits resulted in the taxpayer paying less tax: a total saving of $1.1 billion. (source).
State taxes
Each state tax collection agency has different policies and regulations. They are not restricted by federal regulations and can be even more aggressive than the IRS. You need the representation of tax attorneys and enrolled agents that are familiar with the rules and policies of your state.
SuperMoney tip: Only hire tax relief companies that employ licensed attorneys with a background in tax and accounting.
What additional services does Optima Tax Relief offer?
Optima Tax Relief also provides clients with an additional protection plan once they are compliant with the IRS and state collection authorities.
The protection plan is a three-tier program that costs from $99 to $249, depending on what services you need. These services include:
IRS collection monitoring.
Tax return preparation.
Identity theft protection.
$1 million in identity theft insurance.
Audit guidance and assistance.
You don't have to purchase a protection plan to join OTR's tax relief program. However, they can provide you with the peace of mind of knowing you have a team of tax professionals ready to handle any future tax problems.
What tax negotiation methods does Optima Tax Relief use?
Optima Tax Relief's team of enrolled agents and tax attorneys allows it to provide a full range of tax resolution services in-house. These tax resolution methods include:
Offer in compromise.
Tax lien withdrawal.
Tax lien subordination.
Penalty abatement.
Installment agreement.
Partial pay installment agreement.
Wage garnishment release.
Administrative appeals.
Bank levy release.
Collection appeal.
Innocent spouse relief.
Currently Not-Collectible (CNC) status.
Statute of limitations.
Having tax attorneys with specialized training in taxation, economics, and business management who can negotiate directly with the IRS is an important differentiator when comparing tax relief companies.
SuperMoney tip: Avoid companies that are sales fronts that generate leads for other firms. These companies just take a commission and sell your account to the highest bidder.
How does Optima Tax Relief work?
Optima Tax Relief uses a two-phase program with all its clients.

Phase 1: investigation
The first step is to get in touch with the IRS or state tax collection agency and get a full picture of the customer's tax situation. Tax professionals then review the facts and present a plan of action that specifies the options available. This stage can take two to four weeks to complete.
Phase 2: resolution
Finally, the resolution phase focuses on making sure the client is compliant with IRS or state tax rules and obtain the best tax resolution possible. This step may take three to nine months depending on the complexity of the case.
Systems and technology
Another key differentiator of Optima Tax Relief is that it invests heavily in customer management systems and technology. Clients feel empowered when they can access their account at any time, communicate with their case manager, and check the progress of their settlement. A good example of using technology to provide clients with a better experience is Optima Tax Relief's Client Portal.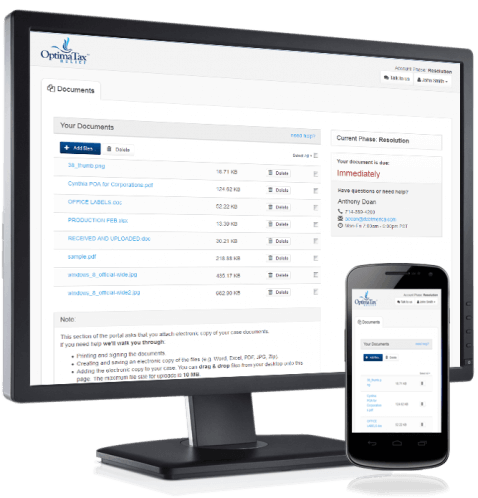 Optima Tax Relief's client portal allows users to:
Check the status of their account.
Upload the documents OTR tax professionals need.
Manage payments.
Submit customer service requests.
And also communicate with their case manager.
What accreditations does Optima Tax Relief have?
Optima Tax Relief's tax attorneys are licensed by the IRS to represent taxpayers in all 50 states.
OTR is also accredited as a continuing education provider for the IRS. That means its attorneys are authorized to provide official IRS education programs to other tax professionals.
Named the fastest-growing financial services company in the U.S. by Inc. Magazine in 2015.
Member of the National Association of Enrolled Agents.
Optima Tax Relief is a member of the National Association of Tax Professionals.
It also has an A+ rating with the Business Consumer Alliance.
How much does Optima Tax Relief charge for its services?
Optima Tax Relief's fees vary depending on the type and complexity of the services required. The cost of hiring Optima Tax Relief ranges from $1,900 to $9,995. Although competitive, these prices are not the lowest you will find. Of course, this is a firm that has a staff of 400 employees, 12 tax lawyers, and 16 enrolled agents. So you would expect its fees to be higher than a "tax expert" with a website working from home.
Another advantage of Optima Tax Relief is that it allows customers to pay for its services in manageable installments without charging any financing fees. A typical payment plan will range from four to nine months. This allows taxpayers to pay for their representation fees without having to take on a loan or worrying about financing costs.
What is Optima Tax Relief's refund policy?
Optima Tax Relief offers a 15-day money back satisfaction guarantee. The money-back guarantee is another feature that sets OTR apart from the crowd of tax relief companies. However, it is important you understand the terms of the guarantee. First of all, the guarantee is for 15 calendar days (not business days). Also, the money-back guarantee only applies to the initial investigation phase. Therefore, if you ask OTR to put an immediate action on your case, you will not qualify for the money-back guarantee.
How is Optima Tax Relief better than other tax relief companies?
Optima Tax Relief has tax attorneys on staff who are licensed by the IRS in all 50 states. Although other companies claim to have tax lawyers, they rarely list their names and credentials. And if they do, it is usually just one or two lawyers who rent out their name to provide a veneer of respectability. Optima Tax lists the names and resumes of 10 of their tax attorneys and eight of their enrolled agents, so you can check their credentials.
OTR offers a 15-day money back guarantee.
Flexible installment payments with no financing costs.
Accredited by the National Association of Enrolled Agents (NAEA) and the National Association of Tax Professionals (NATP).
A large team (+400) of tax professionals that can help with an audit, negotiate a tax settlement, help you prepare your taxes and protect you from further tax problems once you're tax debt free.
Inc. 500 named OTR the fastest growing financial services company in 2015.
Customer portal that allows taxpayers to check their account status, upload documents and communicate with a dedicated tax professional.
Over five years experience.
Has resolved the tax issues of more than 10,000 taxpayers.
What are the disadvantages of choosing Optima Tax Relief?
There are cheaper tax relief firms. Although OTR's rates are competitive, there are companies with lower prices.
The money back guarantee could be longer. Although Optima Tax is one of the few tax relief firms to even offer a money back guarantee, it would be nice if it gave taxpayers a longer period to claim it. After all, the investigation phase takes two to four weeks and the money back guarantee only applies to the first 15 calendar days.
The bottom line
The bottom line is that Optima Tax Relief has the resources and expertise to deal with the most complex tax problems. If you're looking for a reliable and professional tax relief company, Optima Tax Relief is a sound choice. While it isn't the cheapest firm you'll find, its fees are competitive, particularly when you consider it has attorneys on staff with J.D. and LL.M. degrees in Taxation who have practiced law before the United States Tax Court and Supreme Court of California.
Even if you're on a tight budget and price is an important factor, don't automatically conclude you can't afford the representation of a high-end firm. You may be surprised at how affordable the fees are when you break them down into interest-free installment payments. Check out what are the best tax relief options you have available. Get a free consultation and ask for an estimate.
Andrew is the managing editor for SuperMoney and a certified personal finance counselor. He loves to geek out on financial data and translate it into actionable insights everyone can understand. His work is often cited by major publications and institutions, such as Forbes, U.S. News, Fox Business, SFGate, Realtor, Deloitte, and Business Insider.