Lackluster or non-existent organizational skills can be just as dangerous to your financial health as being short on cash.
Related article: The Complete Guide to Setting Financial Goals and How to Achieve Them

Clutter and confusion can make it hard to keep track of balances and payment due dates. And losing sight of those key items can deflate your credit score and cost you unnecessary fees and/or interest charges.
To spare your wallet and prevent a financial headache, we've got the top 10 ways to stay on top of your bills and accounts and organize your financial life once and for all.
1. Always Start out with a Budget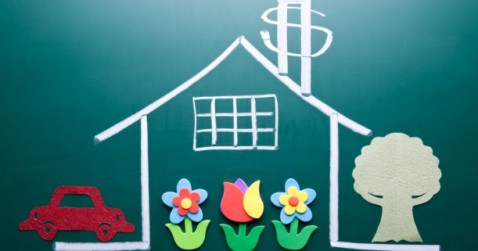 This is the most important step but also the most daunting. It's important to understand where you spend every penny in order to know where you can trim costs. But it can be challenging to figure out how and where to track your expenses and what exactly you should be tracking. That's where technology shows up to save the day.
In the old days (you know…way back in the 1990's) your parents had to crunch numbers using things like paper and pens or pencils. And an actual calculator! But a host of cool tools and apps can help you tally up expenses fast.
YNAB ($60). The acronym stands for You Need a Budget, and is a wildly helpful desktop application that's well suited for beginners who need to get out of debt or stop living paycheck-to-paycheck.
Mint.com (free). The mobile app links directly to most accounts including checking and savings to credit cards and loans, to show you your real-time net worth. It will also help you set up a personalized budget and track expenditures made by credit or debit cards. Although you have to manually enter cash transactions, Mint automatically categorizes transactions made with cards. As an added bonus, it alerts you when you're about to go over budget, and when bills are due.
Adaptu Wallet (free). Great for entry-level to semi-experienced budgeting enthusiasts, this app is more a virtual wallet than just a ledger of your accounts. It allows you to track loyalty and reward programs, create spending forecasts, and store photos of business cards, insurance cards, or anything else you like to jam in your purse or wallet.
2. Designate a Financial "Spot" for Bill Paying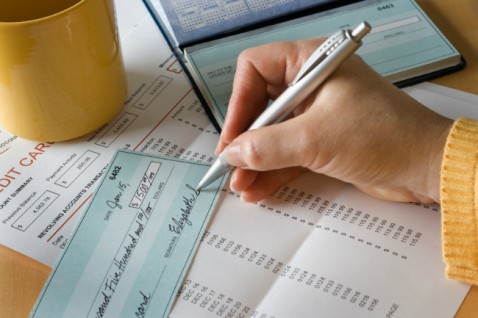 Whether you pay your bills online or the "old-fashioned way" with checks and snail mail, it's important to have one spot for your checkbook and bills that arrive by mail to call home.
That way you're less likely to lose a bill and wind up paying late fees. You will also have a place in your home that 'feels' financial where you can go to conduct online banking, etc.
3. Set a Weekly Date for All Things Finance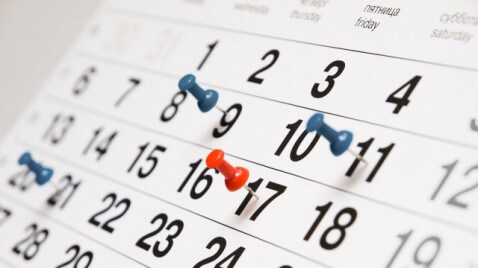 It's easy to put off reviewing a budget, your bank account balances, credit report or credit card balances. But setting a weekly date to perform financial tasks can help keep you on track towards your financial goals.
Carve a regular time out of every week to address financial issues like current balances and upcoming payments. You can also use this time to review the manageability of your budget and financial goals like saving for a vacation. Can't pick a good time? Try a 10 minute review session on Sunday evenings after everyone has gone to bed.
4. Open All Mail Immediately for Sorting
Procrastination is one of the biggest budget killers. Tossing un-opened bills, statements and other finance-related mail aside "until tomorrow" can have you forgetting about (or subconsciously ignoring) your responsibilities. And that can trigger a string of late payments that hurt your credit score and fees that wound your wallet.
As soon as you get the mail, grab everything that has to do you with your money and bring it to the financial spot in your house. If it has to do with money, even if it's one in a million credit card offers, bring it there for further sorting, shredding, or scanning.
5. Get Organized by Scanning Your Receipts and Bills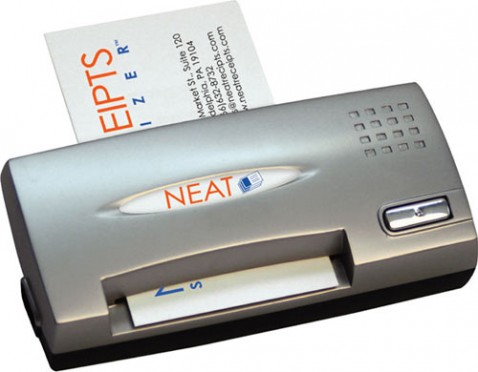 It's hard to find a budget – let alone stick to it – if your financial "spot" is buried under mountains of paperwork.
Desktop scanners like NeatDesk or the Brother ADS-1000w desktop scanner are pricey, they range from $250 to $400 and up. But a few months' worth of late charges and over-the-limit fees can be just as costly.
Bills, credit card offers, account updates, etc. tend to show up even if you choose to go paperless. A few weeks' worth of mail could mean missing a due date, or forgetting to update information with this or that company. Clear up the paperwork clutter with a scanner and save your wallet and your credit score.
Already have a system for bills? Then pay attention to the piles of grocery receipts on your kitchen counter. You can use a receipt-scanning smartphone app to save receipts before tossing. Some great apps: Receipts by Wave (free), Smart Receipts ($2.99) or NeatMobile (from $5.99 per month).
6. Set up Automatic Bill Pay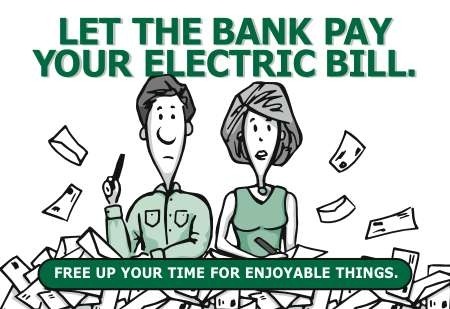 Setting up auto-payments can help prevent late fees if you forget about a bill's due date. It also saves you a few bucks by eliminating the need to slog to the post office to buy stamps and mail checks.
Many mortgage lenders, banks that hold car loans and credit cards offer automated bill pay services that allow you to schedule a payment amount and a date the money will be deducted from your checking or savings account. And if you want to rack up airline miles or other rewards, you may even be able to pay some bills with automatic credit card payments.
7. Set Monthly/Weekly Payment Reminders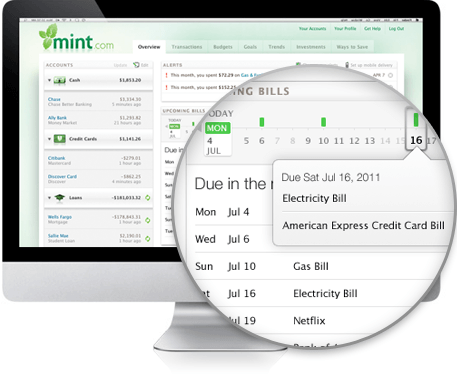 If automatic payments aren't an option (or you're just not quite comfortable with that notion) set a recurring monthly reminder on your smartphone or through an app like Mint or Check.me. You'll get alerted when it's time to drop the check in the mail or hit submit on an online payment.
8. Learn the Ebb and Flow of Your Cashflow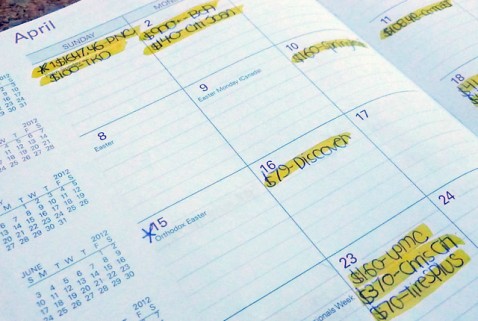 It sounds like a no-brainer, but spending money today from the direct deposit paycheck you'll receive tomorrow can get you into financial hot water. There could be a processing glitch that delays your paycheck and results in you paying overdraft fees. Or you could overspend and not have enough to cover automatic payments when your paycheck arrives.
Get a calendar for the previous month and highlight the dates that bills were due (write out how much you paid), as well as your paydays (write out how much you earned). Then, check your transactions online to pinpoint the days you went grocery shopping and got gas for the car. If there are any other regular necessities or expenditures, add those too. Make a note on the calendar for each instance, including how much was spent.
Review the calendar for patterns and ask yourself a few questions:
How much do you earn and spend each week?
What is your "Survival Number"*?
How much do you save each month towards your goals?
Where can you simplify your bill payments?
When do you usually run low on money?
The most important part of this process, and for the purpose of organization, is to see where things can be combined, or shifted. Can you move all of your bill due dates to one or two days each month? Are there any extra costs, like a weekly $15 Pilates class, that you can pay for once at the beginning of the month? Can you only buy groceries on Tuesdays?
If your cashflow calendar is a mess of dates, and highlights and extras, this process of simplifying will help tremendously. And most companies, even utility and credit card companies, will allow you to choose your own payment date. Lump them all together,  shortly after a payday, and you'll have fewer things to keep track of!
*Your "survival number" is how much your most important financial obligations (rent, utilities, and groceries) cost each month, divided by 30. A daily limit of $40 comes in handy when budgeting and getting organized. Learn more here: 16 Psychological Tricks to Play on Yourself That'll Help You Save More Money.
9. Have a "Bill Paying" Bank Account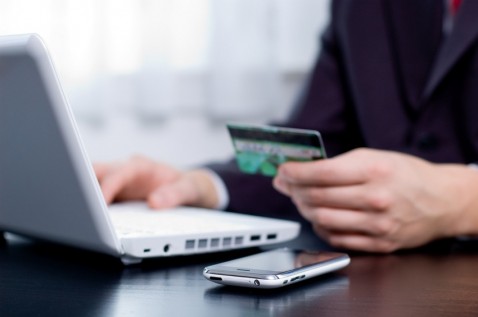 If you're constantly struggling with the temptation to blow the rent money on a new TV, long weekend or other impulse purchases, open a second bank account.
Keep your primary one strictly for paying bills, buying groceries, and getting paycheck deposits and tax refunds. Once the important things are covered, and your savings is added to, anything leftover can go into your "fun" money account.
10. Put a Bill Checklist Somewhere Visible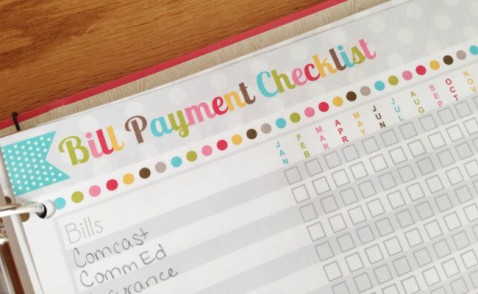 In a perfect world neither snail nor email would ever get lost. But reality is that neither option is perfect or fail-proof. That's why setting up a monthly bill/payment checklist or calendar will help you stay on track.
This doesn't have to be in your financial spot, but can be on your fridge, or on a sticky note at your desk. Cross each bill off the list as they're paid throughout the month, and pay attention to what's coming up next.
You don't have to be a Type A personality to come up with a good system for handling your finances, nor do you need a bunch of apps or equipment. But if you tend to forget due dates, send in late checks, or miss incoming mail due to clutter, take our advice and get organized!
Frequent contributor of health and caregiving, personal finance, mortgage, and insurance articles, as well as celebrity interviews and Q&As to MSN, Realtor.com, Credit Sesame, Fortune, USA Today, Women's Health, Family Circle, Essence, Lifescript, Health Monitor Network, and more. Gina's work has been featured on the covers of numerous titles including Glamour, Live Happy, Neurology Now, and many other national and international publications.