Payoff Inc. is an online lender that provides loans for one purpose: paying off credit cards. If the latest debt statistics are anything to go by, Payoff won't be running out clients anytime soon. As of the third quarter of 2015, the total credit card debt owed by U.S. consumers was $712 billion. The average indebted U.S. household carried a credit card debt of $15,355. By volume alone, credit card debt is a drop in the ocean compared to the total debt owed by U.S. consumers: $11.91 trillion. However, high-interest rates make credit card a toxic form of debt that should be paid off before more benign types of debt, such as auto loans and mortgages.
Payoff focuses exclusively on financing credit card debt. Its goal is to help people pay off their high-interest-rate credit cards as soon as possible. But it still sells loans. Is the cure any better than the disease? What are Payoff's rates and terms? And how do they compare with other online lenders? This review provides an in-depth review of Payoff loans so you can make up your mind.
Who Can Benefit From Payoff Loans?
If you have credit card debt, you're in good company. Over 50% of Americans have credit card debt. On average, consumers pay $2,630 per year in credit card interest alone, and the average U.S. household carries $5,746.92 in credit card debt. As of December 2015, the average interest rate for credit cards was 15.79%. However, credit card interest rates can be much higher. First Premier's credit card, for instance, has a 36% APR.
Payoff can be a good option for people who are paying high interest on credit card debt. In fact, these are the only borrowers Payoff will consider. Borrowers who don't have credit card debt, will not qualify for a loan with Payoff, regardless of how good their credit is.
What Are Payoff's Rates and Terms?
Payoff provides fixed rates ranging from 5.99% APR to 24.99% APR. Although these rates are nothing special, they are much better than the rates many consumers with credit card debt are paying. Especially when you consider how flexible Payoff's credit requirements are. An APR of 8% is nearly half the average credit card APR and less than a fourth the APR high-interest credit cards charge.
Payoff offers loan amounts ranging from $5,000 to $25,000. Loans have a minimum duration of 2 years and a maximum term of 5 years.
Instead of having a long list of loan fees and charges, Payoff consolidates all fees into a single origination fee of 0% to 5% of the loan amount. The cost varies depending on the length of the loan. This fee is deducted from loan balance deposited in borrowers' accounts. For instance, if you borrow $20,000, and you are charged a 5% origination fee, you will receive a deposit of $19,000 in your bank.
Unlike most online lenders, Payoff does not charge a late fee or a personal check fee. It does, however, charge a $15 fee for insufficient funds on an automatic payment.
Check SuperMoney's company profile on Payoff for the latest rates and terms.
How Much Can You Save By Consolidating Your Credit Card Debt With A Payoff Loan?
Savings vary depending on your credit card balance and your current interest rates. To illustrate, let's say you have a credit card balance of $5,000 with a 20% APR. If you pay $150 a month, you'll take four years and two months to pay the $5,000 plus the $2,359.09 in total interest. Pretty depressing figures for what is, when compared to the average indebted household, a small credit card balance.
However, if Payoff manages to drop that 20% interest rate by just 5 points to 15%, you can save $850 in interest and pay the credit card debt off six months earlier. If the rate drops to 10%, you will save $1,477 in interest, and pay it off ten months earlier.
Who Qualifies For a Payoff Loan?
Unlike many lenders, Payoff is transparent with its credit requirements. Borrowers must meet the following standards to be eligible for a Payoff loan:
A credit score of at least 640. Note that even FICO credit scores can vary from one credit bureau to another. Payoff uses TransUnion.
A minimum annual income of $25,000
A credit history of at least three years
A debt-to-income ratio of 50% or less. In other words, your income must be at least double your debt payments. For instance, if you have a $3,000 monthly income, your total debt payments cannot exceed $1,500.
Borrowers must have credit card debt. If you don't, Payoff will deny the application because "the use of the loan is inconsistent with the Payoff Loan program.
Payoff's Backstory
Payoff Inc. has its headquarters in Costa Mesa, California. It was founded in 2009 by Scott Saunders and Eden Warner. Scott Sounders is still the CEO of Payoff. Before Payoff, Scott was a lead investor and entrepreneur for Walz Group and Eden was the CFO and co-founder of Fandango. The big idea behind Payoff is to use behavioral science to help people have the mentality of an investor instead of that of a borrower.
How Does Payoff Work?
Payoff provides loans to pay off credit cards through a bank partner: First Electronic Bank, which ultimately originates the loans. First Electronic Bank is state-chartered industrial bank based in Sandy, Utah, that offers companies, such as Payoff, private-label banking services.
Payoff's underwriting differs from other lenders in that it takes into consideration the motivation of borrowers. Instead of trying to sell borrowers a string of loans, Payoff will only sell them one loan to consolidate their credit card debt. The goal is to transform borrowers into investors.
The underwriting process is designed to establish borrowers' willingness to get out of debt. Paying high-interest loans first is the best investment borrowers can make.
An essential element of Payoff's application process is to start with a financial personality test that was designed by Galen Buckwalter, the former chief scientist of the online dating site eHarmony. Having a better understanding of their financial personality is supposed to help borrowers make better financial decisions in the future.
Payoff is certainly not a charity. Its goal is to make a profit, but its appeal to clients is that it will help them improve their finances and their financial literacy along the way. Payoff offers borrowers complimentary access to their FICO credit scores. Also, customers who don't meet Payoff's credit standards are provided free access to Payoff's Lift program. Lift is a suite of tools and financial education materials designed to help consumers improve their credit and overall financial health. Lift helps people understand what makes up their credit score and provides tricks on how to cut spending. It also includes a free financial personality test that gives insight on what you can improve on to take control of your finances.
Of course, Payoff can only help if the rates it offers are lower than your current rate. Which is why Payoff allows borrowers to check their rates without hurting their credit. Payoff only performs a soft credit pull during the application process. The hard credit pull is only done once the client signs the loan contract.
What Is Payoff's Application Process Like?
Payoff's application process only takes a few minutes to complete, and you receive an immediate approval response. Here is a step by step walkthrough of Payoff's application process:
1. Check the cost. Checking your rates will not hurt your credit, so there is no harm in checking your rates.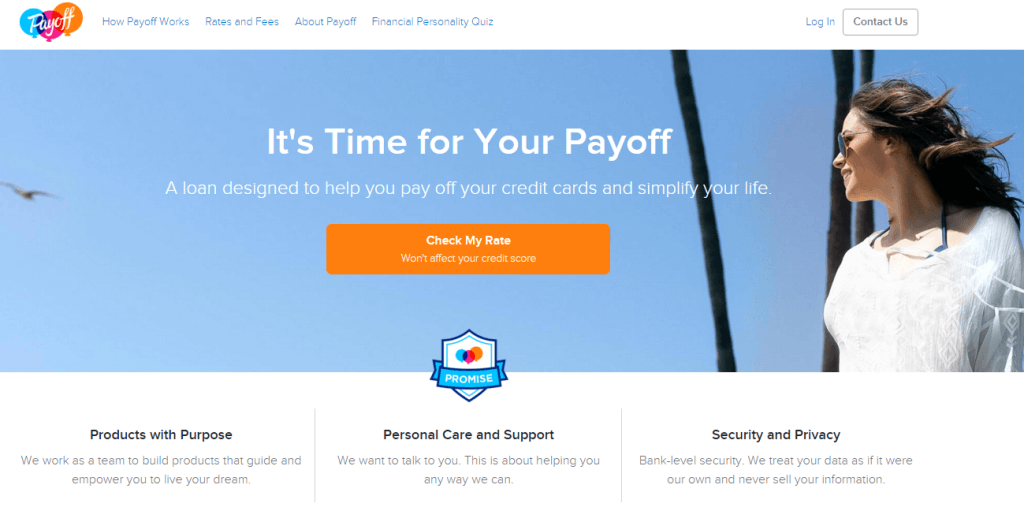 2. Provide your personal details. Payoff needs your name, address, and phone number.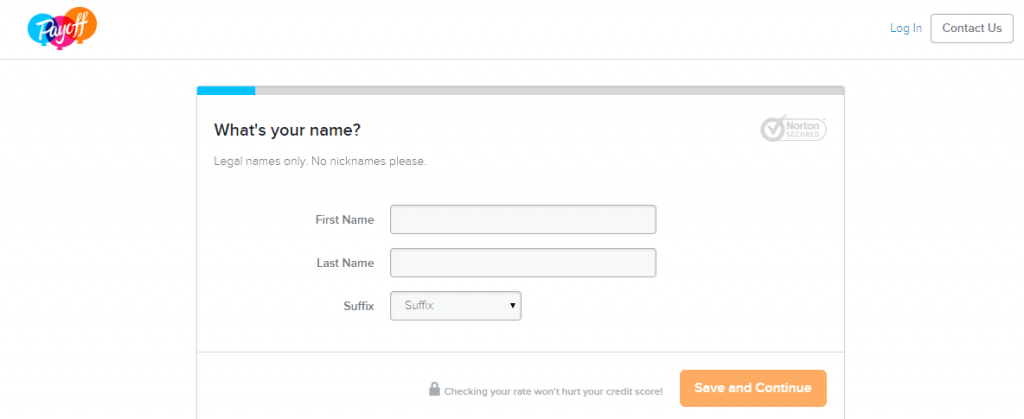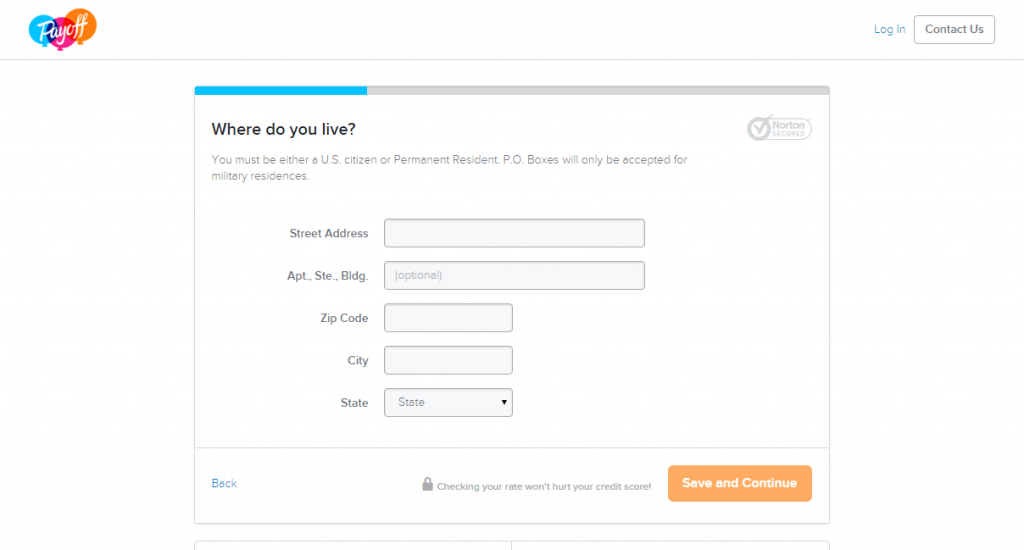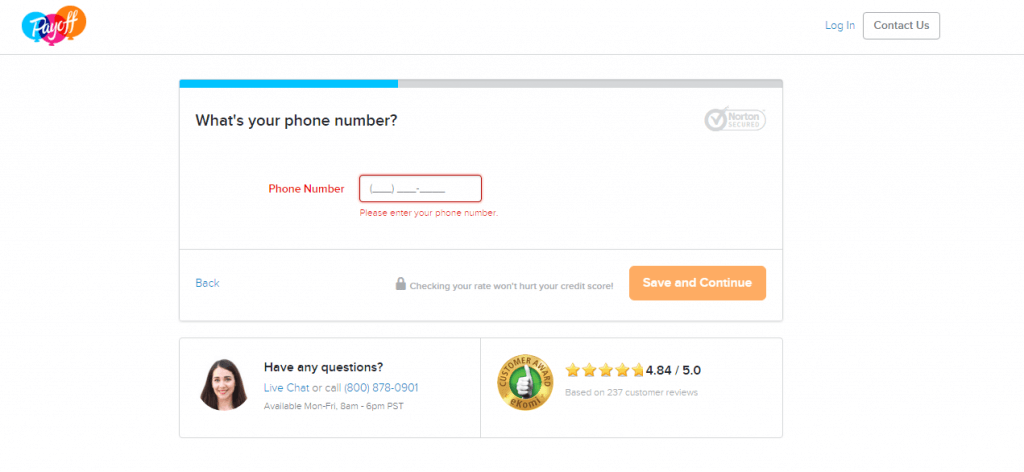 3. Provide some financial information, such as whether you rent or own your home, your housing expenses, and your annual income.



4. Payoff will check your credit card debt and tell you how much you owe. Specify how much credit card debt you want to pay off. If you have less than $5,000 in credit card debt, you may not qualify.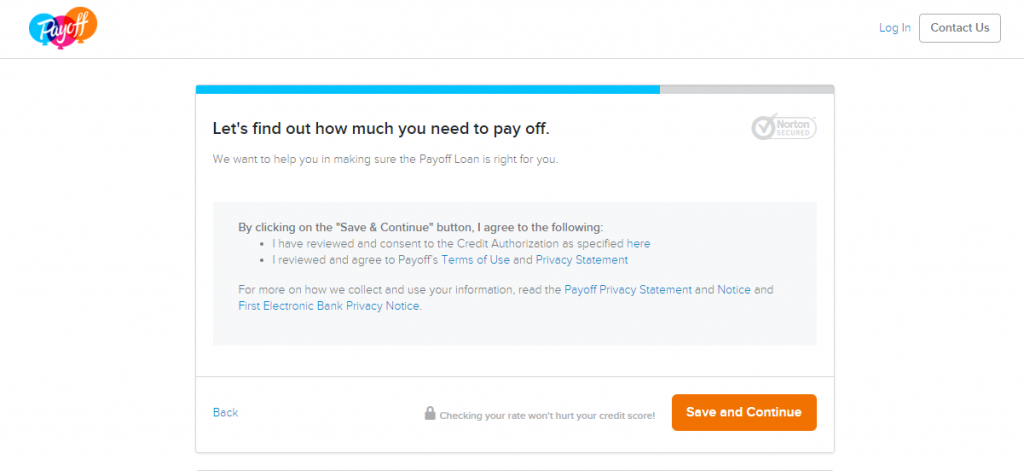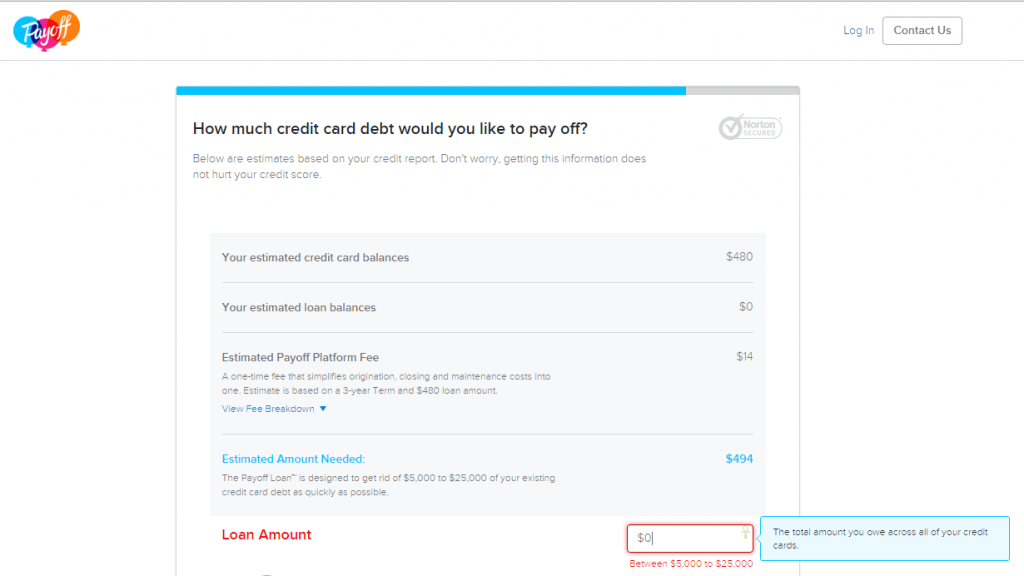 5. Create an account with Payoff. You will need to provide your email and choose a password.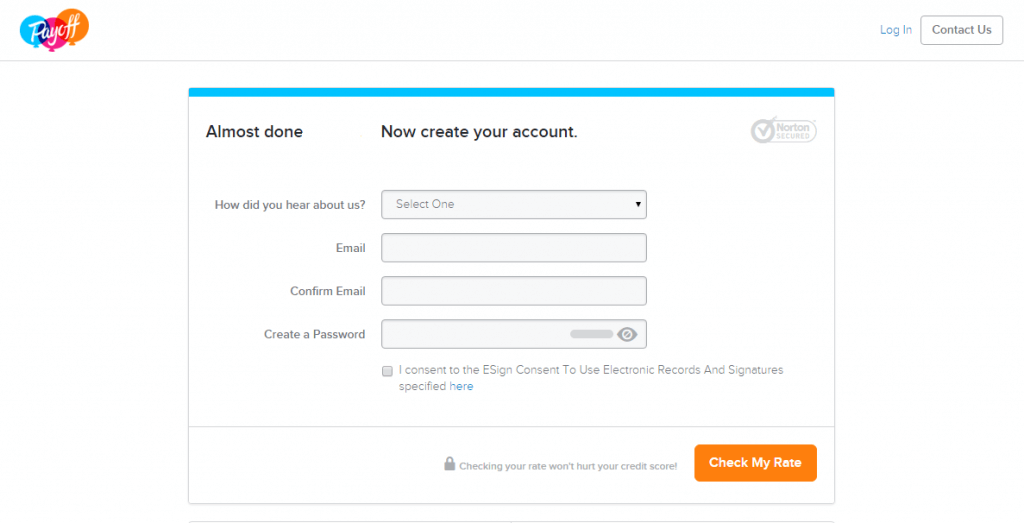 6. Decide whether you want to choose your loan based on monthly payments or APR, and check your loan offers.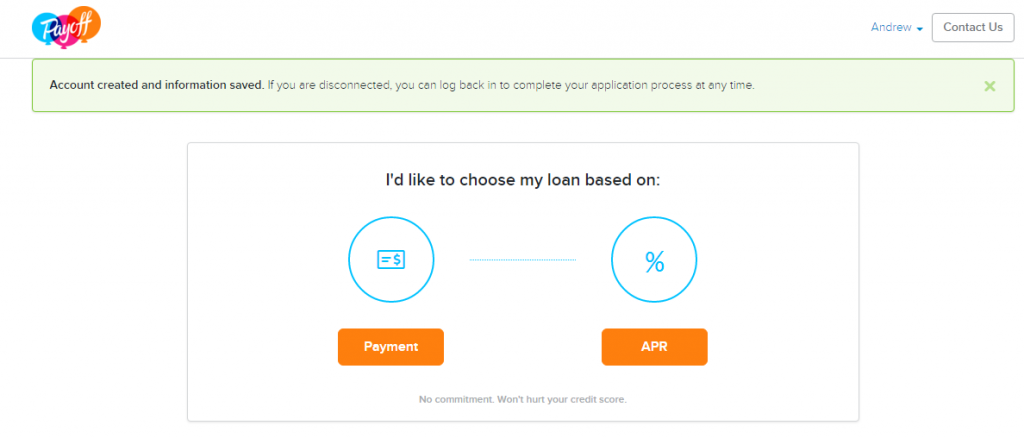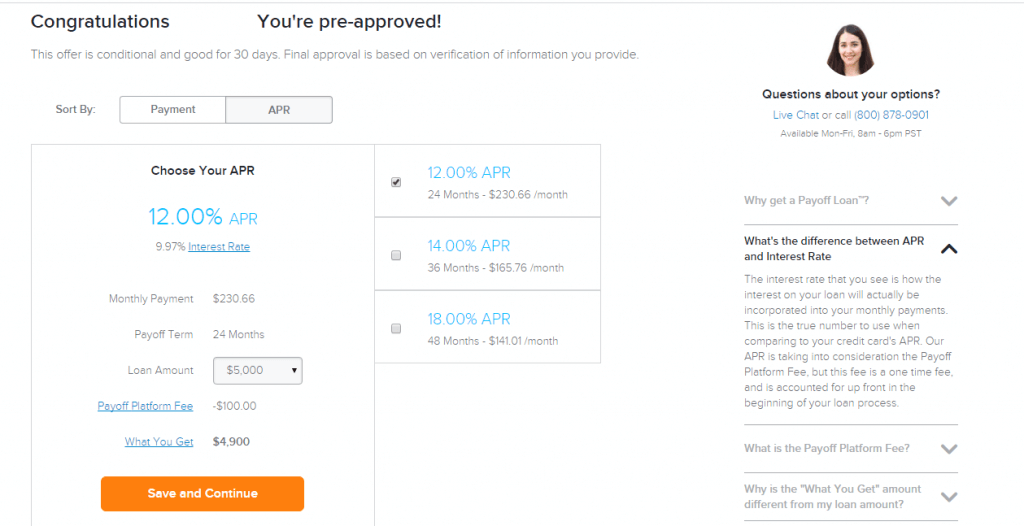 7. Provide your Social Security Number and additional information on your employment or business.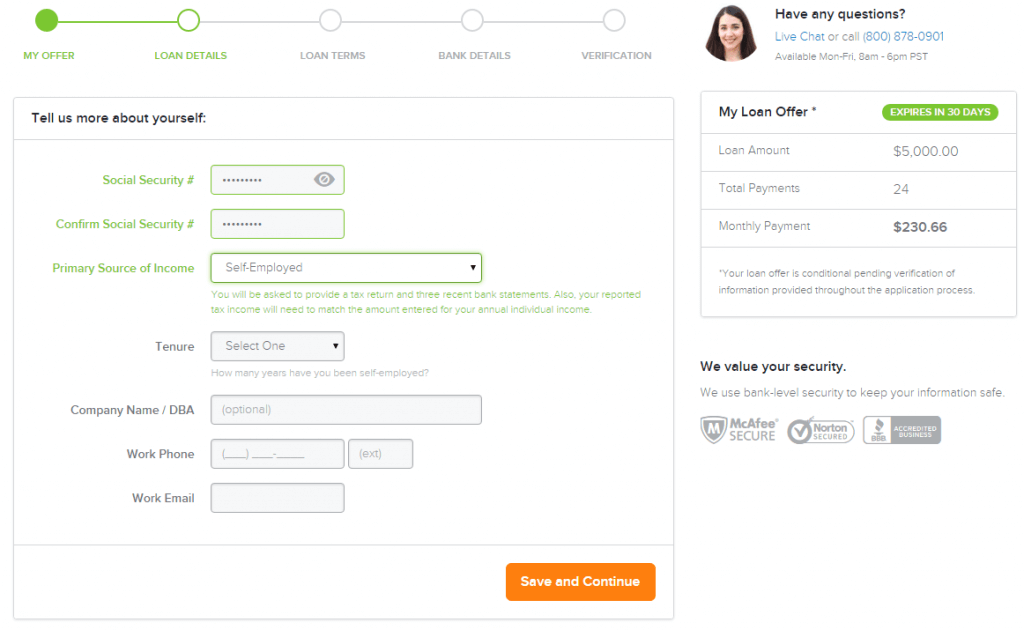 8. Review the terms of your loan contract and sign.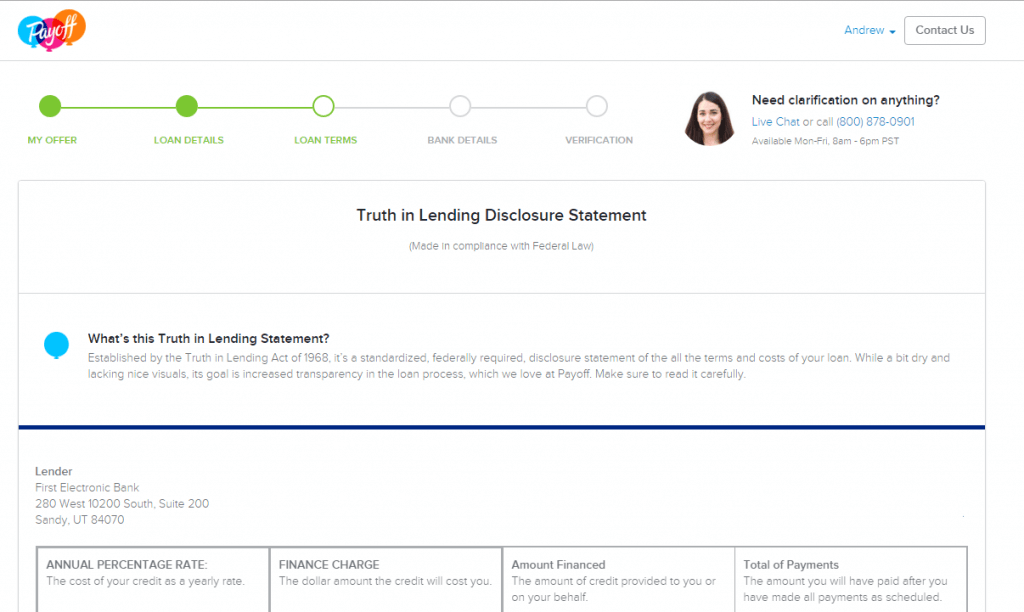 What Are The Advantages of Payoff Loans?
Payoff does not provide the lowest rates, and there are companies with lower credit standards. Prosper, SoFi, LendingClub, UpStart and LightStream, for instance, all have cheaper loans than Payoff. However, Payoff has easier to meet credit requirements and provides an excellent debt management tool for people who are burdened with credit card debt and want to consolidate it in one reasonably-priced installment loan.
These are the main advantages of Payoff's loan program:
Fast loans
Competitive interest rates
Simple loan application process
Allows you to pay off credit card debt faster
Lowers your interest rates
Helps you improve your credit score. Freeing up maxed-out credit cards and making regular payments on an installment loan can help increase your credit score
No hidden fees. Payoff does not charge prepayment fees, late fees or application fees. Payoff only charges two fees: a 2% to 5% origination fee and a returned payment fee of $15
Excellent customer care
Free access to your Payoff's Lift program
Andrew is the managing editor for SuperMoney and a certified personal finance counselor. He loves to geek out on financial data and translate it into actionable insights everyone can understand. His work is often cited by major publications and institutions, such as Forbes, U.S. News, Fox Business, SFGate, Realtor, Deloitte, and Business Insider.