PayPal Working Capital gives businesses fast and easy access to the capital they need to grow. Since it was launched in 2013, PayPal Working Capital has lent more than $1 billion to over 60,000 small businesses in the United States, United Kingdom, and Australia.
Why We Love PayPal
PayPal Working Capital addresses one of the biggest problems small businesses face: access to credit without the painfully slow application process. Many other lenders offer fast business loans. PayPal manages to do it while still keeping rates and terms reasonable. Here are our favorite features:
The terms and rates offered by PayPal are among the best in the business.
There is no fixed maturity date and no interest to pay.
Just one fixed-fee that varies depending on how quickly you decide to pay it back.
When your business goes through a slow patch, the payments drop accordingly.
Did we mention there is no credit check and no minimum credit score to get approved?
Now we have your attention, here is the catch. PayPal Working Capital is only available to businesses that already process payments with PayPal. This is because PayPal uses your PayPal account´s payment history to determine whether or not you qualify.
Even if you don't currently have an account with PayPal or you barely use it to accept payments, read on. It doesn't take much to build up your history with PayPal and qualify for prime rates, regardless of your personal credit.
This article will take an in-depth look at PayPal Working Capital. We will spell out its terms and rates, and the requirements you must meet to qualify. We will also walk you through the application process so you know what to expect.
PayPal Working Capital Backstory
The PayPal Story
PayPal was founded in 1998 as a revolutionary way of making and accepting payments. In 2002, one year after its IPO, PayPal was purchased by eBay for $1.5 billion. In 2015, PayPal was spun off by eBay as a separate publicly traded company.
Today, PayPal is one of the largest internet payment companies in the world. As of November 2015, it has 173 million active customers spread throughout 203 countries who do business in more than 100 currencies. In 2014, PayPal processed 4 billion payments ($235 billion), of which 1 billion ($46 billion) were payments made from a mobile device. Its total revenue in 2014 was $8.01 billion
PayPal Working Capital
In 2013, PayPal launched PayPal Working Capital as a small but important part of PayPal's strategy to strengthen its payment system. At first it was setup as an invitation only service that PayPal offered to pre-approved businesses. Now, PayPal Working Capital is open to all that meet its simple eligibility requirements.
How Do PayPal Working Capital Business Loans Work?
PayPal Working Capital´s business loans are provided by the aptly named WebBank: a bank that also funds loans for Prosper, LendingClub and Avant, among others. Its loans work in a similar way to merchant advance loans. However, the terms are simpler and the rates are much lower.
These are the key points you need to know:
Loans have a single, fixed fee.
Once a business chooses the loan amount it requires, it also must choose the percentage of future daily sales that will go to repay the loan (10%, 15%, 20%, 25% or 30%). The higher the percentage, the lower the fee.
Payments are automatically taken from the business account as a percentage of daily sales.The loan is deposited immediately in the company´s bank account.
Instead of charging monthly payments, PayPal collects daily payments from the business's PayPal account until the loan is repaid. When businesses have a great day of sales, their payments will be higher. If a business doesn´t sell anything one day, its loan payment will also be zero. There is one caveat though. Borrowers are required to pay at least 10% of the total loan every 90 days, regardless of sales volume.
Companies can also repay the loan earlier without penalty but this won't reduce their fee. If a business spends or transfers its PayPal balance before the daily loan payment is taken, PayPal will take catch-up payments until the account is current again. There is no late fee for catch-up payments.
What Are PayPal Working Capital's Interest Rates and Terms?
Calculating the equivalent APR of PayPal Working Capital's business loans is tricky. You see, PayPal Working Capital does not charge interest in the way traditional lenders do. There is just one fixed fee. No hidden fees, no late fees and no periodic interest.
PayPal Working Capital´s fee is determined by:
How much your borrow
What percentage of your sales are used to repay the loan
Your PayPal sales history
The larger the percentage of your daily sales you dedicate to repaying the loan, the smaller the fee. Businesses with a solid payment history also receive preferential rates. However, the fee remains the same whether you take one month or one year to repay it. We estimate PayPal Working Capital loans have an average APR between 15% and 40%. Yet, your personal rate could be much higher.
One of the reasons for this is that your APR depends on how quickly you repay the loan. For example if you borrow $8,000 and you promise to use 30% of your daily sales to repaying the loan, you may qualify for a $294 loan fee. If you only dedicate 10% of your sales to repay PayPal, you could pay a $949 fee. If it is paid in 30 days, the equivalent APR for a loan with these terms would be 44.71% to 144.32% respectively. Assuming it´s repaid in three months, the APR range would be 14.9% to 48.10% APR.
As you can see, this represents a wide APR range. Another thing to consider is that businesses don't have much control over how fast they repay the loan. Once a business agrees to a percentage of daily sales, the payments are automatic. Unless, of course, a business decides to stop using PayPal as a payment method. Sneaky. Although as you probably guessed, that is where PayPal´s nifty minimum payment clause comes in. As mentioned above, borrowers must pay a minimum of 10% of the total loan amount every 90 days. The minimum payment must be made regardless of sales volume.
How Much Can You Borrow From PayPal Working Capital?
Your PayPal sales history determines your maximum loan amount. Typically, businesses qualify for 15% of their annual sales, up to a maximum of $85,000. For example, if your company made $100,000 in sales, you may qualify for a loan of up to $15,000.
What Is PayPal Working Capital's Application Process Like?
One of the best features of PayPal Working Capital´s loans is how fast, easy and painless it is to apply. No credit check required – soft or otherwise. Completing an application form takes less than 5 minutes, and qualified borrowers receive their cash instantly in their PayPal account.
PayPal Working Capital Requirements
Have a business or premier PayPal account for at least 3 months
Process between $20,000 and $10 million within the last 12 months
PayPal Working Capital Application Workflow
1. Confirm Your Info
Provide some personal and financial information about you and your business. This is a one-page form that asks for your address, business structure and industry, time in business, authorized representatives and date of birth. This information helps the lender determine your eligibility.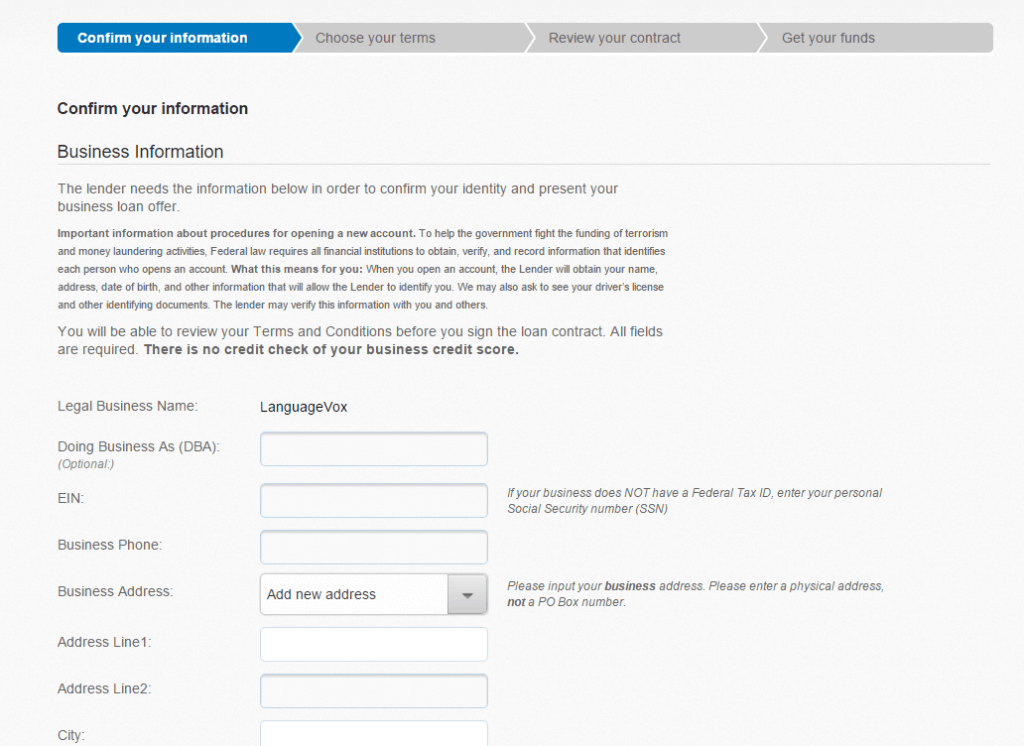 2. Choose Your Terms
One minute and PayPal determines whether you qualify for a loan. Choose a loan amount and a daily repayment percentage. Review the terms and agree to the loan.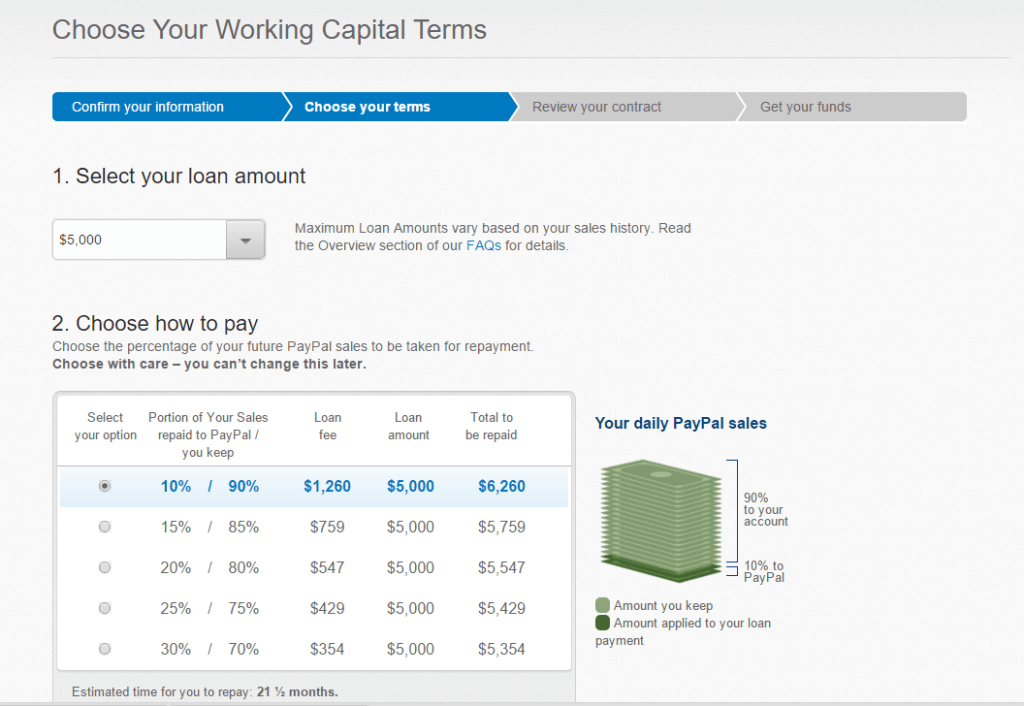 3. Pick up Your Money
As soon as your loan is approved, funds are automatically disbursed to your PayPal account.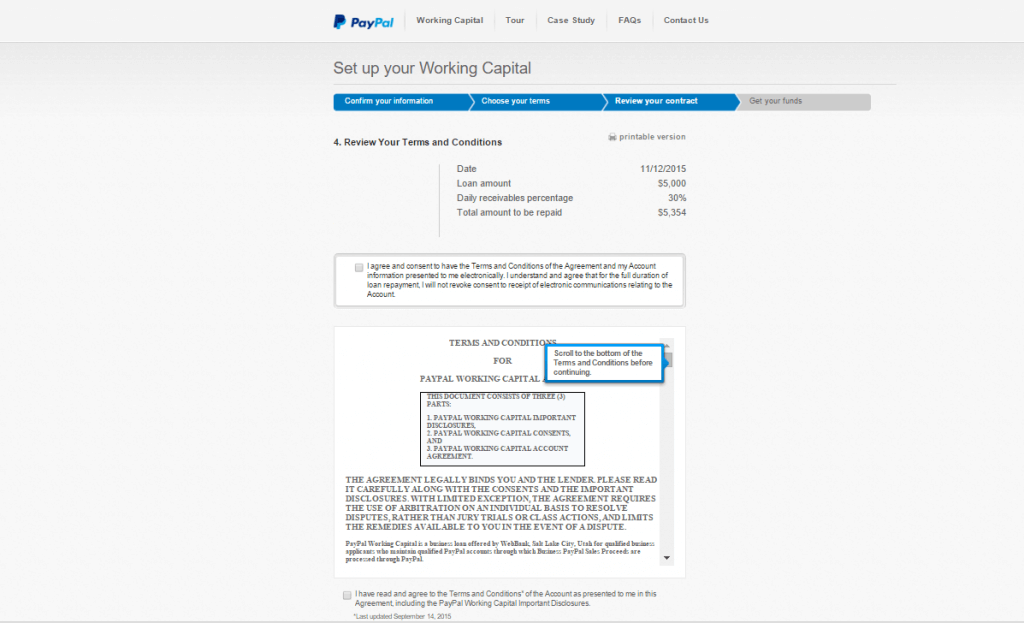 What Are The Advantages and Disadvantages Of PayPal Working Capital?
PayPal Working Capital is a great option for small businesses that do business with PayPal, particularly for retail businesses. The big catch is that only businesses that use PayPal as a payment method can qualify. Here are the main advantages of PayPal Working Capital´s business loans:
They are fast. The application takes 5 minutes to complete. If you´re approved the funds are deposited directly into your PayPal account.
Simple and transparent eligibility requirements.
Flexible payments that are based on your daily sales. Just don´t forget about the minimum payment of 10% of the loan amount every 90 days.
No pre-payment penalty, hidden fees or late fees.
No credit check or credit score requirements. PayPal Working Capital will not hurt your personal or business credit scores.
A single, fixed fee that has a lower APR than most online business lenders.
Andrew is the managing editor for SuperMoney and a certified personal finance counselor. He loves to geek out on financial data and translate it into actionable insights everyone can understand. His work is often cited by major publications and institutions, such as Forbes, U.S. News, Fox Business, SFGate, Realtor, Deloitte, and Business Insider.