Buying a house is the largest purchase most of us will ever make. With so much hanging on one decision, it pays to ask yourself: what determines property value?
To answer that question, I interviewed property investment experts across the United States. I also took a deep dive into the differences in price per square foot by state, county, and even neighborhood to help highlight what property buyers should focus on when shopping for a new house.
Here are four critical factors that determine the price per square foot of a property.
1. Location
As you would expect, location should be a prime concern when shopping for a property. But everyone is looking for a good location, so how do you find a place with a good location that isn't overpriced? How do you spot a property that is likely to increase in value with time?
One thing becomes immediately clear when you study property prices: value varies widely by location, and the distance between a great location and a mediocre — or even bad — one can be surprisingly small.
How does property value vary by city?
All thing being equal, larger cities have higher average rents and higher property prices. Why? "This is due to greater distances and higher rural-to-urban transport costs," explains Yulia Kozhevnikova, real estate expert and analyst at Tranio.com.
"Neighborhoods with lower crime rates, less pollution, and more amenities are more sought-after and more densely populated, so property prices are higher there. Also, city centers are more expensive because land in central locations is scarcer than in non-central ones."
This is well-illustrated by the Chicago real estate market. In Chicago, moving just two to three blocks within the same neighborhood can make a huge difference in price per square foot.
"A classic example is the 400 Block of North Wabash Avenue in the River North neighborhood," says Ryan Hardy, a luxury real estate broker for Gold Coast Realty Chicago.Ryan Hardy, a luxury real estate broker for Gold Coast Realty Chicago.
"Units at 405 N Wabash typically sell around $350/ft. Units right next door at 401 N Wabash routinely sell for around $1000/ft. The two buildings are approximately 100 yards apart, but there is a $600/ft price difference!"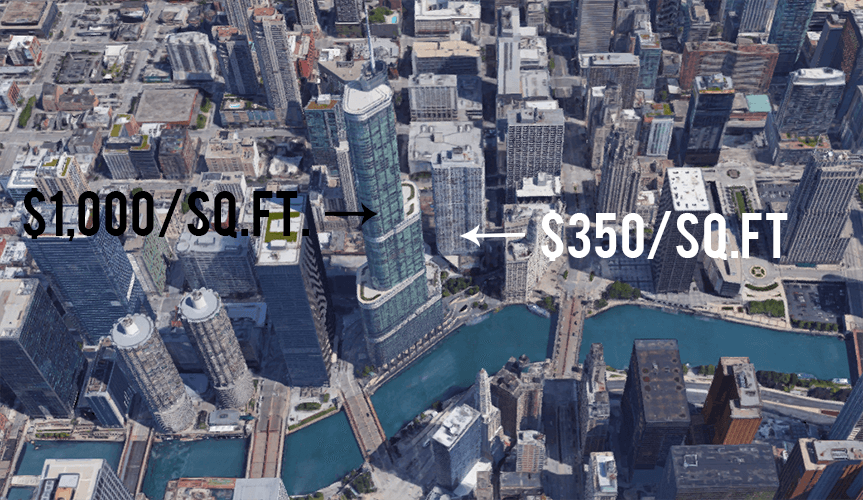 Seattle is another market with a wide range of prices. A recent report by NeighborhoodX found that the price per square foot ranged from $185 to $2,408.
"Location is everything everywhere, but particularly in Seattle," says Austin Schneider, a real estate broker for Realogics Sotheby's International Realty.
"Everyone wants convenience to work. Amazon takes up approximately 20% of Seattle's office inventory, one of the highest concentrations in the country by a single corporate entity. By 2022, Amazon says it could occupy 12 million square feet across 40 buildings in Seattle, up from 8.5 million square feet as of the middle of last year," adds Schneider.
"We are also seeing foreign investors snatch up a lot of the inventory, all cash. And are they living there? No. They want the zip codes for their public schools. And these aren't $500,000 cash offers. We are talking about over a million dollars. It's hard to be a buyer with traditional financing in our market."
How does property value vary by state?
The median value per square foot in the United States was $125 in May 2017, according to Zillow. Washington D.C ($505) and Hawaii ($477) had the highest median prices, while West Virginia ($72) and Mississippi ($69) had the lowest.
The differences become even more dramatic when you compare the metropolitan areas within states.
"While the house itself is often the focus of many home buyers, it is important to remember the land the house sits on plays a pivotal role when determining the resale value," says Evan Harris, co-founder and CEO of SD Equity Partners. "The value of the land is determined by local supply and demand, making location such an important component.
"When evaluating a property's location, consider the future development or infrastructure that might be put in place," explains Harris. "Building of new housing developments, schools, and roads is an indication that a location may be in higher demand in the future, and therefore is a great investment in the present."
2. Amenities
Location may be king, but amenities are also important when pricing a property. However, the amenities buyers are interested in also vary widely by, well… location.
"So while outdoor kitchens here in Tampa will really add value to a home, at the end of the day, anyone can add a hot tub or granite countertops," says Brett Maternowski, a RE/Max Marketing Specialist.
Amenities help with property values but only up to a point. As Maternowski adds, "A 5,000 square foot home in Funkley, Minnesota can be given every amenity available plus a golden sink and have a much lower cost per square foot than an 800 square foot bungalow in Tampa's SOHO district."
Desirable amenities vary by location
When buying a new home, many variables get factored in when deciding upon the value of the property. Although the home itself is a critical variable in the equation, the location and its overall accessibility are even more important.
Interestingly enough, "the amenities that are important to buyers also vary greatly by location," says Sasha Ferrandi, founder of Source Capital Funding.
In Alaska, for instance, homes with southern exposure are at a premium because they make the most out of a scarce resource: sunlight. In areas where natural disasters are common, such as Louisiana, Florida, and Oklahoma, houses located in low-risk flood zones, with hurricane shutters, and storm shelters will fetch higher prices.
This graph provided by Zillow categorizes the most popular phrases included in listings by state.
"When balancing out the value of a home based on location, size, and amenities, be sure that you also factor in how close the property is to the 'bare necessities,' like shopping centers, major freeways outlets, parks, and schools. If a home is not easily accessible or convenient in regard to carrying out day to day tasks, it should play a role in decreasing the property's value," explains Ferrandi.
In Washington D.C., for instance, buyers seem to be obsessed with the proximity of grocery stores. The Zillow study highlighted above noted that D.C. listings are 92 times more likely to mention a nearby Harris Teeter and 71 times more likely to include a nearby Safeway.
"With that said, it's important to have a discussion with your realtor about the current climate of the neighborhood you're looking at," adds Ferrandi. "While there may not be major shopping options nearby today, if the area has been experiencing development and an influx of residents, you could be getting a good property at a good price that will only go up over time."
3. Population Density
Two other factors to consider when looking for a bargain are population density and income growth.
How does property value vary by population density?
According to Susan Bozinovic, a Realtor with Century 21 Town and Country that works out of Michigan, "Population density and growth in income of that population are the most influential variables that determine the cost of real estate in a particular area."
A 2017 report by the Federal Reserve Bank of St. Louis looked at housing costs from 2010 to 2015 to determine what percentage of households are "burdened." The term "burdened" is used by the U.S. Bureau of the Census to describe a household that spends 30% or more of its income on rent or mortgage payments.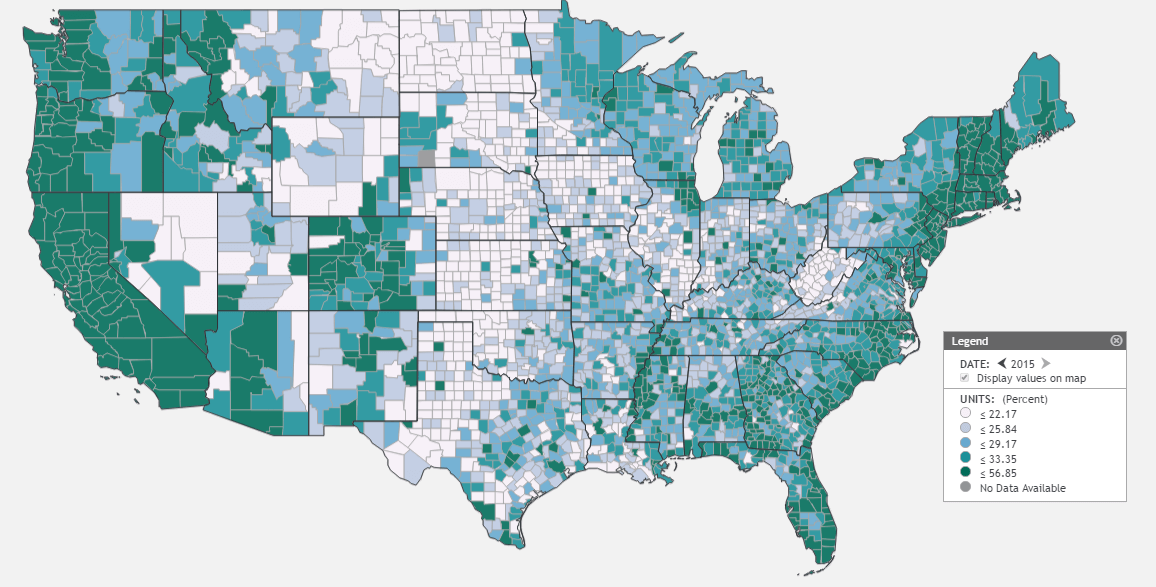 Source: GeoFRED
As you can see from the graph above, the areas with the highest concentration of burdened home coincide with the major population basins in the coastal areas.
How does population density affect property size?
Let's have a look at how house size varies by location. The average price for a house in the United States is $200k, which gets you a 1,433-square-foot property. The tile map below shows the median square footage you could expect to get if you only had $200k to spend in the 25 largest cities in the United States.
The effect of population density is even more noticeable when you take a more granular look at housing prices and compare the prices of neighboring cities and subdivisions.
"For example, in the city of Novi, Michigan, where I help sell homes, an average price per square foot is $164, and the population is 1,825 people per square mile," explains Bozinovic. "However, in the neighboring city of Northville where my office is located, the price per square foot is $180, and the population density is 3,239.1 people per square mile."
4. Income Growth
The rise in these prices also corresponds to the rise in income in Novi. For example, between 2014 and 2015, the median income in Northville rose 1%, along with a 4.3% rise in house prices. On the other hand, Novi income rose by 1.6%, and home prices went up 6.9%, hence more sales there.
How does property value vary by average income?
Bozinovic's anecdotal data aligns nicely with a 2017 report by Trulia that found a direct correlation between income growth and home value recovery. The study looked at the home values in the 100 largest U.S. metro areas and compared their pre-Great Recession (Dec. 2007) value to their value as of March 2017.
A 1% increase in income growth correlated with a 3.5% increase in the percentage of homes that had recovered their pre-Great Recession value. A 1% increase in population growth correlated with a 2.8% increase in the share of homes that have recovered.
Bottom Line
So, what can you do to maximize profits when investing in a property? How can you get the best deal possible when buying a new home? Here are some key takeaways.
Create a list of your absolute "must-haves" in a property
Make a list of what is important to you and compromise on amenities and luxuries that aren't deal breakers. If you're buying a home you plan to live in, you can save a lot of money by buying a house that doesn't have some of the most popular amenities in your area that aren't part of your shortlist of "must-haves."
For instance, if you work from home and you don't care about living close to a big city, you could take advantage of the lower prices found in towns that aren't close to a big city.
Live on the edges of expensive neighborhoods
Just a few blocks can make a huge difference in property prices. Some buyers are willing to pay premium prices for a prestigious address. You can often enjoy the benefits that come with pricey neighborhoods, such as top school districts and safer neighborhoods, by living as close as possible to upscale neighborhoods without triggering the premium price of a fancy address.
Population and income growth drive property prices
Invest in areas that are projected to grow in population and are attracting high-income residents.
Poor neighborhoods can be great investments
Rough neighborhoods that are relatively close to downtown can make great investments. These are the properties that local authorities are most likely to invest in, which could trigger gentrification: the process of renovating and improving a neighborhood to conform to middle-class tastes.
When investing in property, favor areas with high rental yields
If you're not buying a house for your personal use, choose locations based on rental yields. However, diversify your portfolio by also investing in low-yield real estate properties. "Retail property prices grow faster than office and industrial estate," says Yulia Kozhevnikova from Tranio.com. "However, low-yield real estate loses the least value during market crises; and price growth usually makes up for low yields."
Next Step
Having the right financing in place is always important, regardless of what property you decide to buy.
Shopping for a loan can be time-consuming and frustrating, but it's an excellent way to save money on a home purchase. Closing fees range from 2% to 4% of the loan amount, and using a mortgage broker will cost you an additional 1% to 2%. Reducing your costs by 2% will save you $6,000 on a $300k mortgage.
Investing time in searching for a loan with lower rates or refinancing your existing loan can also save you a small fortune in interest payments. For example, a 0.5% Annual Percentage Rate (APR) reduction on a 30-year $300k mortgage will save you more than $30,000 over the life of the loan.
SuperMoney can help you compare rates and terms without having to pay mortgage broker fees. Click here to compare the fees, rates, and terms of leading mortgage lenders.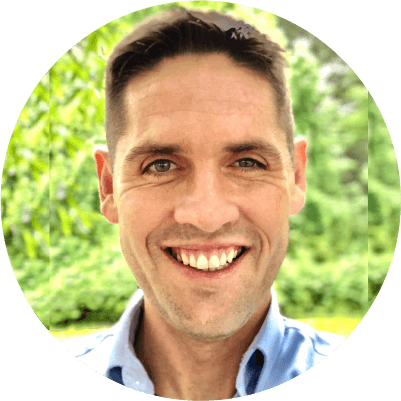 Andrew is the Content Director for SuperMoney, a Certified Financial Planner®, and a Certified Personal Finance Counselor. He loves to geek out on financial data and translate it into actionable insights everyone can understand. His work is often cited by major publications and institutions, such as Forbes, U.S. News, Fox Business, SFGate, Realtor, Deloitte, and Business Insider.