Identity theft occurs when a criminal steals someone's personal information to impersonate them. Most identity thieves use that information for financial gain — for example, withdrawing money from your bank account or using your credit card to make purchases. Others have more elaborate schemes. Some even try to open insurance policies, buy homes, or get jobs using their victim's identity. And for the victim, the consequences can be debilitating. So how can you avoid getting your identity stolen? Read on to learn how to protect yourself against identity theft.
Identity theft trends
How to protect yourself from identity theft:
Identity theft insurance.
Freeze your accounts.
Don't share personal information.
Shop wisely online.
Keep computer security updated.
Check on your financial accounts.
Monitor your credit report and score.
Use secure passwords.
Protect your mail.
Shred documents containing personal information.
Limit the information you carry with you.
In 2018, the Federal Trade Commission received about 3 million complaints about fraud and identity theft. Identity theft claims were the third most common after imposter scams and accounting scams. They accounted for about 15% of all claims and came out to just under 450,000 reports. The number of identity theft reports decreased from 490,112 in 2015 to 371,034 in 2017 but spiked again in 2018 with 444,602 reports.
Which are the most common types of identity theft?
The most common types of identity theft in 2018 (source) were credit card fraud: 40.5% of cases on new accounts and 10% on existing accounts. Other common types of identity theft are tax fraud (12%) and mobile telephone fraud (10.3%).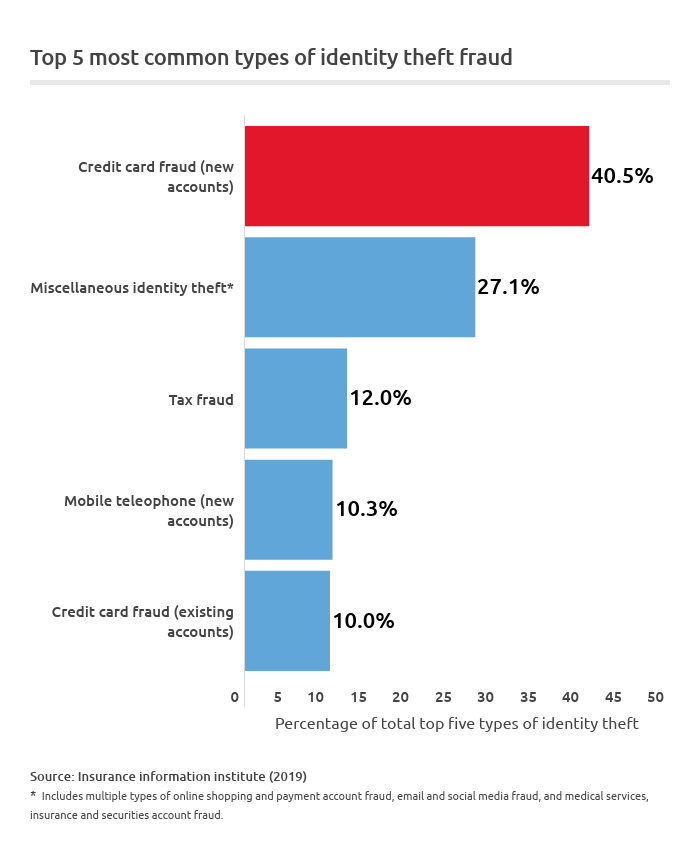 How do identity thieves get your information?
Identity thieves use multiple strategies. Some dig up physical documents or steal hardware. Others coerce their targets to share personal information over the phone or hack into your accounts online.
The rise in cybercrime
As businesses become more reliant on electronic data and computer networks, more personal and financial information is transferred and stored online. As such, our personal information is more vulnerable to privacy violations and data security breaches now than ever before.
By November of 2018, the following breaches occurred, exposing the personal records of millions (source):
500 million records from Marriott International.
340 million records from Exactis.
150 million records from Under Armour.
92 million records from MyHeritage.
87 million records from Facebook.
In total, 1,244 breaches were reported in 2018, exposing an unprecedented breadth of personal information. The most common methods of breaching data include hacking, unauthorized access, and accidental exposure.
How to protect yourself against identity theft
Victims of identity theft often spend months or even years recovering from the event. To recuperate, victims must file reports, correct records, and recover as much of their lost funds as they can. But of course, the best way to protect your identity is not to get it stolen in the first place.
In the new digital age, how can you best protect yourself against identity theft?
1. Identity theft coverage
With the growing threat of cybercrime, many U.S. insurance companies now offer identity theft insurance coverage. In 2017, 19.7 million policies were written, which included identity theft coverage as part of a package policy. Plus, insurers wrote 232,893 stand-alone policies specifically to protect against identity theft. These stand-alone policies averaged $81.60 per policy, and adding identity theft coverage to a package policy averaged $11.
What's covered by identity theft coverage? Most policies include:
A dedicated case manager.
Replacement of government IDs.
Assistance with legal action.
Reimbursement of attorney's fees, administrative fees, and expenses.
Resolution services to restore credit and reestablish identity.
Below find the top 10 writers of identity theft insurance in the U.S. (by direct premiums written).
| Insurance Company | Identity Theft Coverage Direct Premiums Written | % of Total U.S. Market |
| --- | --- | --- |
| State Farm | $30,507,000 | 13.50% |
| Travelers Companies Inc. | $24,636,000 | 10.90% |
| Liberty Mutual | $11,278,000 | 5% |
| Allstate Corp. | $10,761,000 | 4.80% |
| Farmers Insurance Group | $9,291,000 | 4.10% |
| Erie Insurance Group | $8,926,000 | 4% |
| American Insurance Group (AIG) | $5,793,000 | 2.60% |
| Auto-Owners Insurance Co. | $3,697,000 | 1.60% |
| Munich Re | $2,927,000 | 1.30% |
| Markel | $2,849,000 | 1.30% |
2. Freeze your accounts
Worried that an identity thief is looking to open a new account in your name? The best protection against new account identity theft is to freeze your credit report. When your accounts are frozen, no new accounts can be opened. Then, when you want to open a new account, you can unfreeze your reports, open it, and then freeze them again.
Federal law now lets individuals freeze their credit reports at the three main credit bureaus (Transunion, Experian, and Equifax) and the National Consumer Telecommunications and Utilities Exchange (NCTUE) for free. Further, all three credit bureaus let you freeze and unfreeze your credit with their smartphone apps. It's fast, convenient, and secure!
3. Don't share personal information
To protect yourself against identity theft, you'll have to be cautious with your personal information. If you didn't initiate contact with a given person or business, don't share any vital information over the phone, through email, in person, on a website, or anywhere else. Why? Because many criminals pretend to be a trusted person or organization to "phish" for information.
4. Shop wisely online
Before making a purchase online, ensure you are on a secure, authenticated website. A few things to look for are a padlock image on the status bar of your browser, and "https" rather than "http" at the front of the web address. The "s" means the site has a higher level of security.
5. Keep computer security updated
If your computer isn't secured, it could be vulnerable to attacks. Make sure that you have current (not outdated) anti-virus programs, anti-spyware, and firewalls installed.
6. Check on your financial accounts
It's a good idea to keep tabs on your bank accounts, credit cards, and any other financial accounts you have. Every couple of days, you should scan your accounts for any transactions that you don't recognize. Also, you can set up push notifications for your purchases so that if anything suspicious happens, you'll find out right away.
7. Monitor your credit report and score
Like monitoring your financial accounts, it's wise to keep an eye on your credit report for any foul play. You can get at least one free report per year from each bureau, and many companies now offer credit monitoring (some for free). Also, you can receive weekly updates on your credit report activity, as well as notifications of any changes.
Compare top-rated credit monitoring tools.
8. Use secure passwords
If you want to protect yourself against identity theft, use passwords that are difficult to guess. Avoid things like the names of your family members, your birthdate, simple words, part of your phone number or social security number, or any series of consecutive numbers. Instead, use a random combination of letters, upper and lower case letters, numbers, and special characters. Also, be sure to update your passwords every three months. And never use the same password for different accounts!
Your password for your primary email address should be especially secure. Why? Because most of your accounts let you reset your passwords via email. So if a hacker acquired your email password, they could easily take control of your other accounts by resetting your passwords.
Additionally, be sure to password-protect your computer and all of your other devices.
9. Protect your mail
One of the easiest ways for thieves to get your personal information is by stealing your mail. If your mail is easily accessible, like in a mailbox on the street, be sure to collect it as soon as possible every day. Also, if you're going on vacation, you should have your mail held or ask a friend to pick it up for you.
10. Shred documents containing personal information
If you need to throw away documents that contain your personal information, be sure to shred them first. For example, bank statements, credit card numbers, tax returns, credit applications, and charge receipts should all be shredded before you throw them away.
11. Limit the information you carry with you
Don't keep all of your credit cards and important documents in one place. If all your personal information is in your wallet and your wallet is stolen, you'll be in a tough corner. Only carry the cards you need and keep the rest secure at home. Also, leave your social security card somewhere safe and work on memorizing the number.
Protect yourself against identity theft
Identity theft is a real threat, but you can use these precautions to stay safe. Keep the above tips in mind, and consider enlisting the help of a credit monitoring company to have your back. Ranging from free to $130 per month, these companies offer services such as access to your credit reports, online education, identity theft insurance, triple bureau credit monitoring, and more.
Review and compare leading credit monitoring companies here.
Jessica Walrack is a personal finance writer at SuperMoney, The Simple Dollar, Interest.com, Commonbond, Bankrate, NextAdvisor, Guardian, Personalloans.org and many others. She specializes in taking personal finance topics like loans, credit cards, and budgeting, and making them accessible and fun.