Tax liens are the nuclear option in the IRS's arsenal. They can affect all property you own, including your home, your vehicles, and other personal property. Even financial assets and businesses you might own are not safe. What's more, they can attach to assets that you buy once the IRS issues the lien but before you pay to pay it off.
However, tax liens can no longer hurt your credit directly. That is because tax liens are not included in credit reports any longer. Tax liens, or any outstanding debt you owe to the IRS, do not appear on your credit report, so they can't impact your credit scores.
There was a time tax lien notices appeared in credit reports and could lower your credit score by as much as 100 points. They would stay on your credit report for up to seven years. Even paying off all of your tax debt wouldn't remove the lien from your credit report.
Having a tax lien on your credit report could prevent you from getting a job for as long as it stayed on your credit report. This applied particularly to the financial and tax administration sectors. It could disqualify you from certain professional licenses (e.g. realtor and financial advisor licenses).
In 2011, the IRS created a procedure that allowed taxpayers to request the removal of a tax lien notice from their credit report. This "undo" button wiped the tax lien notice from your report. Once removed, it was wiped from the public record.
What is a tax lien?
A tax lien is a legal claim to all the property of a delinquent taxpayer up to the amount owed in back taxes.
What is a tax lien notice?
The IRS used tax lien notices to inform current and future creditors that they had dibs on whatever property a delinquent taxpayer owned.
For example, in 2014, singer Vanessa Williams incurred a federal tax lien on all her property for $369,249.89 in unpaid income tax. The IRS then filed a tax lien notice at the New York County register office, which made the lien public. In Vanessa Williams' case, the lien was only for one tax liability, income tax for the 2011 financial year. However, a tax lien notice could include up to 15 different tax liabilities.
The rest of this article discusses how you could remove a tax lien. However, as mentioned above, tax lien notices no longer appear on your credit report.
When can you remove a tax lien notice?
There are four scenarios in which the IRS will consider removing a tax lien:
The IRS jumped the gun and didn't have its paperwork in order when it filed the notice.
You have an installment agreement with the IRS and you are current with your payments.
You convince the IRS that removing the lien will make it easier for you to pay your taxes.
It is in the best interests of the IRS and you to do so, such as when the tax debt has already been paid.
How to remove a tax lien notice from your credit report
Step 1: find out if the lien is on your credit report
When a tax-collecting agency files a tax lien, it becomes a public document and will usually find its way to your credit report. However, there are three different credit reporting agencies that matter, Experian, TransUnion, and Equifax. You need to know which credit bureaus (if any) have reported the lien notice.
You can check all three credit reports for free by registering with Credit Sesame (Experian) and Credit Karma (TransUnion and Equifax). If the tax lien is attached to your business, consider using Nav. Nav specializes in providing credit advice to the business. Its free version only provides access to Experian's credit report but it's a good place to start.
Step 2: Complete IRS form 12277, "Application for Withdrawal of Filed Notice of Federal Tax Lien."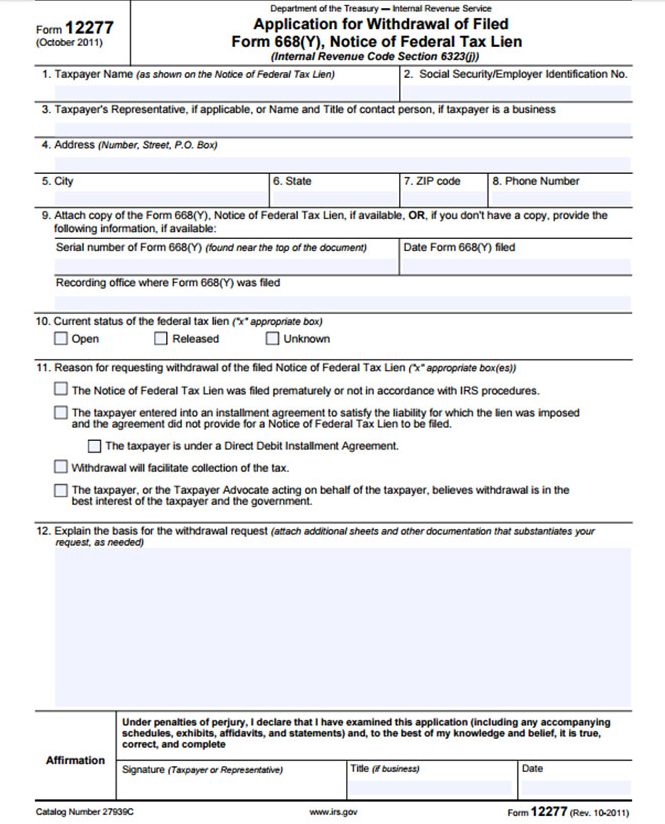 To complete IRS Form 12277, follow these steps:
Provide basic personal identification, such as your name, SSN, and address (items 1 to 8)
Attach a copy of the tax lien notice, Form 668(Y) (item 9), you want to remove from your credit report. If you don't have it, provide whatever information you do have so the IRS can identify the notice of federal tax lien you want to remove. Note that the IRS may have filed more than one tax lien notice.
Specify if the tax debt that triggered the tax lien is open, released, or unknown (item 10).
Give a reason for requesting the withdrawal of the tax lien notice (item 11). If your reason is that the IRS already released your tax lien, check the last box. Include a detailed explanation of why you think the IRS should remove the notice and attach any documents that support your claim (item 12). Make sure you write "see attached" in the box if you're providing additional documents.
Sign and date the document.
Step 3: Attach a short letter to the form authorizing the IRS to send a copy of your tax lien notice release to any credit-reporting agency, financial institution, or creditor you want to inform. This is important. Without this authorization, the IRS cannot share the information with other institutions.
Specify in the letter the name and address of each third party you want to notify, in this case, all three credit reporting agencies. Click here for the addresses of Equifax, TransUnion, and Experian.
Step 4: Send the IRS Form 12277 to your local advisory group manager.
You can find the address for your local advisory group manager in Publication 4235.
Step 5: Send the notice withdrawal to all three credit reporting agencies (address above).
The IRS may send a notice to the credit bureaus and financial institutions you attached to your Form 12277, but don't hold your breath. To be safe, send the tax lien withdrawal to every credit bureau reporting the tax lien notice.
Should you hire a professional to remove your tax lien?
Absolutely. It's always smart to get a tax attorney to look over any documents you send the IRS, especially if you're being audited or applying for tax relief. Any information you provide to the IRS can be used against you. This will help you avoid expensive mistakes, and protect you from handing over self-incriminating information. This goes doubly if you've received a tax audit notice, or if you're dealing with a large tax debt.
At least find out what your options are under the IRS Fresh Start Program. If the IRS filed a tax lien on your property, you may qualify for a free consultation with a tax professional.