Finding a lender when you have to deal with unexpected expenses, such as medical bills or car repairs, can be a daunting experience. Particularly if your credit is not great and you need the money fast. RISE is a lender offering an alternative to millions of Americans who don't have access to lower-cost credit products and need cash in their account as soon as the next business day. Interest rates are high when compared to prime lenders, but RISE lends to people who don't have the luxury of access to prime loans.
Statistics show that nearly 50% of Americans don't have $2000 saved for an emergency. RISE targets this market by offering loans to help these people address cash short-falls when they occur.
How Does RISE Work?
RISE personal loans come in the form of an installment loan. These loans are what most people think of when they think of a loan. You borrow a set amount of money and then repay it along with interest at regular intervals over a set period of time. Applying for a RISE loan is easy and secure. Applicants receive a quick decision and, if approved, often receive cash in their accounts the next business day. As of October 2015, RISE operates in 15 states.
What Are RISE's Credit Rates And Terms?
The APR of RISE loans generally ranges from 125% to 365% depending on the customer's state of residence and approval rate. There are no prepayment penalty fees or any other type of hidden fees. Rates and terms are customized to each customer and their financial situation. They are based, among other factors, on the customer's credit, employment and loan repayment history. Specific rate and terms are unique to each customer's financial situation and are provided once a loan application is approved.
To illustrate, a typical RISE loan in the state of California is $2,600 with 32 bi-weekly payments of $241.44 (last payment may vary), and an APR of 224.36%.
Rates are calculated using the simple interest method. APR calculation is based on a first payment being 14 days from the loan effective date. Annual percentage rates (APRs) may vary based on loan term. The shorter the term, the higher the APR.
Relative to loan products available to prime credit borrowers, RISE can be an expensive form of credit. However, borrowers in the poor credit market, which is the market RISE personal loans cater to, generally do not have many good options. RISE personal loans may be a better alternative to more expensive options like overdraft fees (which can exceed 2000% APR), payday loans (average APR of 339%), late fees and utility re-connection fees.
For more information on RISE's rates and terms, read SuperMoney's RISE review page.
How Much Can I Borrow With RISE?
RISE offers loans from $100 to $5,000. However, actual loan amounts will vary widely depending on where you live due to state lending restrictions. For example, in California RISE offers loan amounts from $2,600 to $5,000 and repayment terms of 11 to 26 months. In Delaware, on the other hand, loans range from $100 to $5,000 and repayment terms go from 4 to 25 months.
What Is RISE'S Application Process Like?
RISE has a fast and easy online application form with minimal credit eligibility requirements. Applicants must be 18 years old (19 if they live in Alabama) and live in a state where RISE operates. They must also have a regular source of income and an active checking account. In some cases applications are approved in a matter of minutes. Other times applicants will need to provide additional proof of income and identity by sending relevant documentation.
Here is an in-depth description of RISE's application process.
1. Basic Information
To get started, clients must specify where they live, their full name, date of birth, Social Security Number, and email address. They must also create a password to ensure their personal information is safe.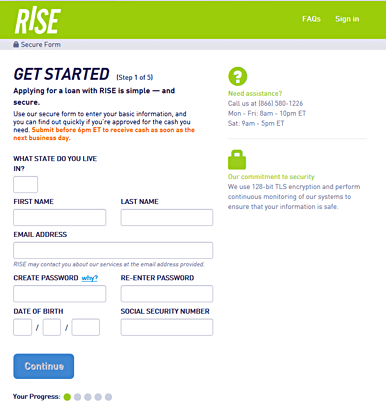 2. Contact Information
RISE then requires applicants to provide their full residential address, mobile phone and driver's license (or State ID). They must also specify whether they rent or own their home.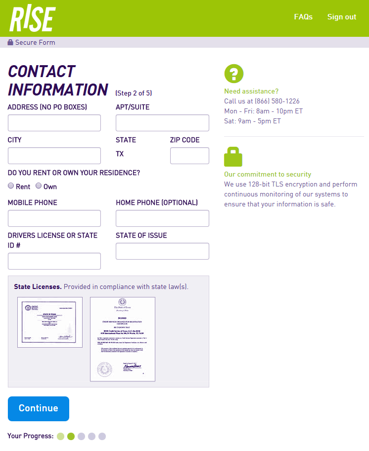 3. Income
RISE considers the income of applicants when determining maximum loan amounts. This step requires a description of their main source of income. Applicants don't have to include all their sources of income but it will help with their approval chances and affect the maximum loan amount they are offered.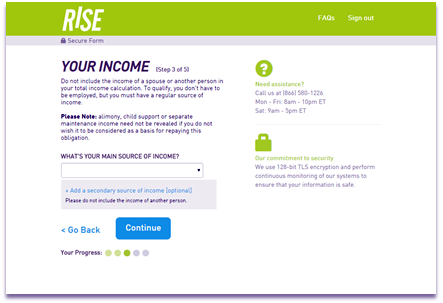 4. Checking Account
All applicants must provide RISE with an active checking account. Prepaid and saving accounts are not accepted at this time (October 2015). The form asks for the routing number and account number of applicants, as well as how long the account has been open.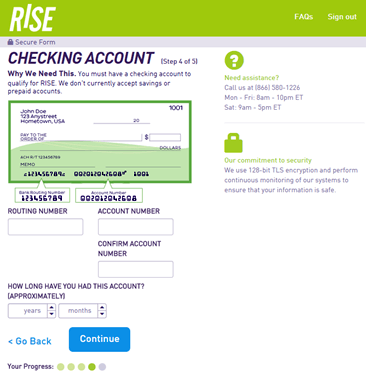 5. Electronic Signature
In this step, potential borrowers must consent to all the disclosures (small print) and electronically sign the application form.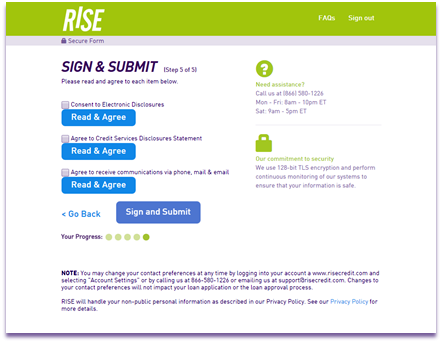 6. Payment Method
The final step in the application process is to decide how your loan will be deposited: either by direct deposit to your bank account or through a paper check.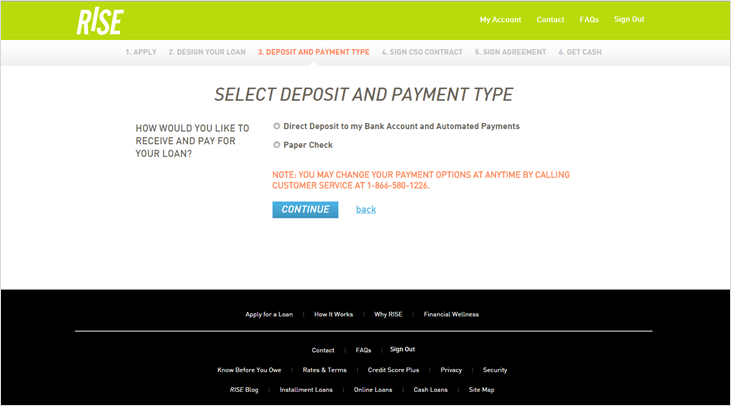 How Is RISE Different From Other Lenders?
No matter what kind of challenges occur in life, RISE gives sub-prime lenders the chance of getting the money they need fast — as soon as tomorrow — with rates that go down over time. These are some features that differentiate RISE from other lenders.
Rates that go down over time:
Unlike payday loans, which create a cycle of debt, RISE gives borrowers an incentive to pay their loans as soon as possible by not charging prepayment penalties. However if they do need additional credit they see a 50% drop in rates on future loans after making 24 months of scheduled payments. After 12 additional months of payments, they qualify for a 36% rate. The only catch is that this offer is not available for customers who received starting rates of less than 75%.
Flexible Terms:
RISE gives borrowers flexibility on the amount they borrow and the loan's terms. It offers a flexible payment schedule — even allowing borrowers to pay the loan off early with no extra fees.
5-Day Risk Free Guarantee:
Customers can change their minds. They have five business days from the time they take a loan. If they decide that the loan isn't right for them, they simply call and repay the principal. There are no additional fees charged.
Free Credit Score Plus:
Improving your financial health starts with knowing where you stand, which includes knowing your credit history and credit score. RISE gives customers free access to their Trans Union® credit score and sends them credit alerts for free. This gives borrowers the tools they need to improve their credit and work toward a better financial future.
These features may help borrowers build good credit and learn new money habits. RISE also provides free financial education material on its website to help borrowers improve their financial standing.
Don't apply just to one lender. You may qualify for better rates and terms elsewhere. SuperMoney's loan offer engine allows you to apply with multiple leading lenders without hurting your credit.
Andrew is the managing editor for SuperMoney and a certified personal finance counselor. He loves to geek out on financial data and translate it into actionable insights everyone can understand. His work is often cited by major publications and institutions, such as Forbes, U.S. News, Fox Business, SFGate, Realtor, Deloitte, and Business Insider.