Self Lender provides credit-builder loans to people who want to improve their credit score. It was founded in 2014 by James Garvey and Conor Swanson and is based in Austin, Texas. This article provides an in-depth review of the benefits and disadvantages of getting a loan with Self Lender.
Self Lender offers a fix to a problem in our credit system. If lenders don't give your loan applications a second look because of your limited credit history, you know what I mean. For people who have never had a loan or credit card or who have been through financial difficulties, it can be a challenge to build or rehabilitate their credit history. This wouldn't be such a big deal if it weren't for the fact your credit score affects nearly every aspect of your life. Your credit score has an impact on your insurance policy premium, job application, property lease, and even your love life.
It's way too easy to fall in a classic catch-22 situation. Lenders won't approve your loan you because you don't have a credit history, and you can't build a credit history because lenders won't approve a loan.
What is Self Lender
Self Lender provides an alternative by offering people with limited credit history a way to boost their credit scores. Credit score algorithms reward consumers who have a record of paying their bills regularly and on time. Self Lender allows you to give yourself a loan and save money at the same time.

Until recently, consumers had to rely on opening a bank account with a credit union or bank and requesting a secured credit card to build their credit history. This option works fine, but it requires consumers to place a chunk of cash upfront. Additionally, not everyone qualifies to open a bank account or receive a secured card. Self Lender only requires a small investment to start improving your credit score, and everyone is approved.
How does Self Lender work?
Self Lender is a savings plan disguised as a loan. You choose how much money you want to "pay" every month and the term of the loan. Self Lender limits the maximum monthly contribution based on your income. Self Lender deposits your money in an FDIC-insured bank. The government provides insurance for every account in an FDIC bank up to a maximum of $200k.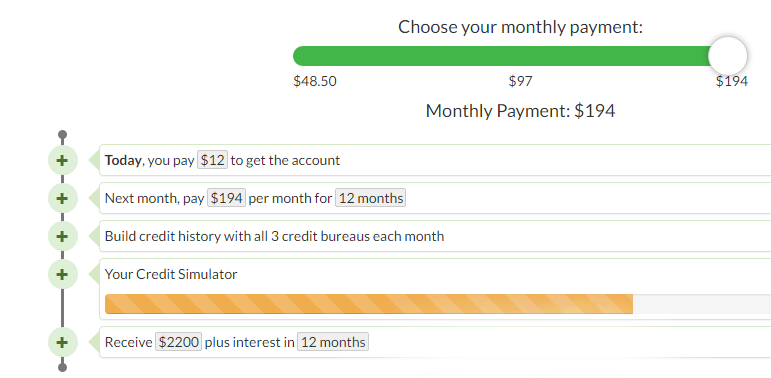 Every month you contribute to your savings/loan account, Self Lender reports it to the three national credit bureaus: Experian, TransUnion, and Equifax. After the term has ended, you get access to your money plus interest.
What's the catch? The only downside to using Self Lender is you have to pay a fee to open an account and a small maintenance fee. This fee is small compared to what many consumers pay credit counseling agencies every month.
What additional benefits does Self Lender offer?
As well as access to credit-building loans, Self Lender also provides free access to your TransUnion TransRisk score (not your FICO score). It also includes a free analysis of the credit factors you can improve and compares your credit score with the national average of your state average credit score.
An important advantage of using Self Lender is that it will never require a hard pull on your credit. Most secured cards and savings accounts require you to agree to a hard credit pull, which will ding your credit by 5 points.
How much does it cost to get a Self Lender loan?
As of January 2019, opening an account with Self Lender has an administrative cost of $9 to $12 depending on your monthly commitment. Here are a couple of scenarios.
If you make monthly contributions of:
$48.5 for 12 months you will pay a total of $46 in fees.
$89 for 12 months, you will pay a total of $80 in fees.
$150 for 12 months, you will pay a total of $112 in fees.
What are the pros and cons of getting a Self Lender credit-building loan?
Self Lender offers a valuable credit-building service we are excited to share with our readers. There isn't much to complain about and plenty to love.
WEIGH THE RISKS & BENEFITS
Here is a list of the benefits and the drawbacks of Self Lender
Pros
Everybody qualifies for a credit-building loan.
Fees are inexpensive.
Great way to save money and improve your credit score.
Free access to your TransUnion credit score and a personalized credit report analysis.
Reports "payments" to all three credit bureaus every month.
You choose the monthly payments.
It adds an installment tradeline to your credit report. Having a different type of credit account is ideal for consumers who only have credit card accounts on their credit report.
Cons
You have to pay a fee, albeit a pretty small one.
You need to have a bank account and provide your Social Security Number.
No access to your cash until the term ends.
For the price, Self Lender is an excellent way to rebuild your credit while saving some money for a rainy day. Visit Self Lender's profile to learn more and open an account.
Andrew is the managing editor for SuperMoney and a certified personal finance counselor. He loves to geek out on financial data and translate it into actionable insights everyone can understand. His work is often cited by major publications and institutions, such as Forbes, U.S. News, Fox Business, SFGate, Realtor, Deloitte, and Business Insider.