The decision to refinance your mortgage can be challenging, especially when you're trying to accomplish two different objectives at the same time.
Rather than evaluate your term and rate together, let's break it down and look at these objectives separately to understand whether they make sense for your financial situation.
Should I switch from a 30-year mortgage to a 15-year one?
Refinancing with a shorter term sets you up to pay off your loan faster, which could save you a lot of money. How much you'll save depends on how long you've had your loan, and how much lower your new rate would be.
"Fifteen-year mortgages are fantastic as the rates are lower, but the payments are higher," explains Adam P. Smith, president of The Colorado Real Estate Finance Group in Greenwood Village, Colo.
If you're paying for mortgage insurance and could refinance without it, that would eliminate that extra charge, offsetting your higher payment.
The catch is that you won't be able to use the additional money for other financial goals. Instead of paying off your mortgage faster, it might be better for you to pay off other debt, build up your emergency fund, or save for your retirement, healthcare, or children's' education.
An alternative to refinancing a mortgage
Another option is to keep your 30-year loan and pay it off faster by making extra payments instead of refinancing. If you had a $250,000 loan with a 30-year term and a fixed rate of 4.2%, and you paid an extra $600 every month, you'd pay off your loan in 15 years and seven months.
You wouldn't get the lower rate, but you'd still save $98,900 in interest expense.
If you refinanced that loan into a 15-year term with a fixed rate of 4%, your payment would be almost the same, and you'd save an extra $8,357, but you wouldn't have the flexibility to make the higher payment only when you didn't need the money for something else.
"Someone could take a 30-year mortgage, make 15-year payments, pay it off nearly as quickly, and not be bound to the higher payment if cash flow becomes a temporary issue," Smith says.
Thinking about refinancing? Here are some top lenders to consider:
Should I switch from a variable rate mortgage to one with a fixed rate?
If you refinance from an adjustable rate into a fixed rate, your rate and payment will be higher.
That's because a fixed rate is less risky for you and riskier for your lender. In effect, you're more paying for the peace of mind that your rate will be somewhat higher, but won't be a lot higher.
Your decision depends on your expectations for market rates to be lower, higher or the same in the future, and your tolerance for the risk of a higher rate and payment.
If rates drop or stay the same over time, you could save a lot of money with a lower variable rate. If rates rise and you can't afford to make a much higher payment, a variable rate could lead to damaging your credit and even losing your home.
How much it costs to refinance
Whether you decide to refinance with a shorter term, fixed rate, or both, you'll have to pay closing costs.
Costs you might have to pay to refinance include: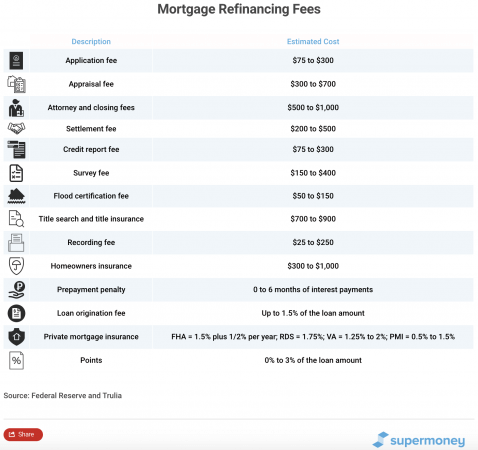 These costs can amount to thousands of dollars. Your total will depend on your loan amount, where you live, and your lender's charges. A closing costs calculator can help you get an idea of how much you might pay to refinance with various scenarios.
You can pay closing costs upfront in cash, add them to your loan amount or choose a no-closing-costs loan with a higher rate.
Ready to get started?
If you're unsure whether or not you should refinance your mortgage, start by doing some research. Review details on various mortgage refinance lenders to see what they can offer you. Make a list of your top options and compare their terms side-by-side to see how they stack up against one another.
Cut your research time in half with SuperMoney's mortgage refinance review page, where you can easily review top lenders side-by-side and compare their terms all in one place.
Marcie Geffner is an award-winning freelance reporter, editor, writer and book critic. Her work has been featured online and in print by The Washington Post, Los Angeles Times, Chicago Sun-Times, Urban Land, Business Start-Ups and Fox Business Network Online, among many other newspapers, magazines, and websites. With a bachelor's degree in English from UCLA and MBA from Pepperdine University in Malibu, Geffner has impressive credentials in both story-telling and business management. A second-generation native of Los Angeles, Geffner now lives in Ventura, California, a surf city northwest of her hometown.