Small businesses are the beating heart of America's economy. Not only do small businesses employ half the nation's private-sector workforce, but they have also been responsible for two out of every three new jobs, since 1995. However, only 36% of small businesses received all the financing they applied for. It is even worse for microbusinesses, companies with a revenue of less than $250k a year. Only 25% of microbusinesses received the financing they applied for, and 52% did not get any at all.
So why is it so hard for small businesses to find funding?
Spoiler alert: a loan program that was designed in 1953 and has failed to keep up with the times is partly to blame. SmartBiz Loans and a select group of similar companies are helping small businesses bridge the finance gap and qualify for SBA-backed business loans with prime rates.
SmartBiz Review – SmartBiz Loans And The SBA
The Small Business Administration was created back in 1953 to help small business gain access to business loans. Sure enough, SBA loans are among the least expensive financing option for small businesses. As of March 2016, SBA loans have APRs ranging from 7.21% to 8.44% for 7(a) loans.
The catch is that only 0.4% of business loans made in the United States were SBA loans and only 0.2% of small businesses looking for credit received a 7(a) loan. One of the reasons why so few companies receive SBA-guaranteed loans is that many business owners are intimidated by the long and tedious SBA application process.
The SBA has two principal loan programs: SBA 7(a) loans and CDC/504 loans. SBA 7(a) loans can be used for a variety of business expenses while CDC/504 loans are exclusively for the purchase of real estate.
How does SmartBiz help?
SmartBiz Loans was founded in 2009 with the purpose of leveraging the latest financial technology to help small businesses qualify for prime loans faster and with minimum hassle.SmartBiz streamlines the SBA to make the process more manageable. Mind you; Manageable does not mean easy. More on how SmartBiz works below.
How Does The SBA Work?
The SBA is in the business of guaranteeing loans not issuing loans. It works with banks and other lenders that issue and service the loans. If a borrower defaults on an SBA loan, the SBA will reimburse the lender up to 85% of the loan amount. The idea is that reducing the risk for lenders will help to reduce interest rates and increase the availability of business loans. As you can see from the SBA rates above, the interest rates are certainly low.
Who Can Qualify For A SmartBiz Business?
As you probably guessed from the fact only 0.4% of small business loans are SBA loans, not everyone qualifies for an SBA loan. Here are the key indicators SmartBiz uses to determine eligibility:
Revenue: Revenue requirements vary depending on the size of the loan. If your loan amount is less than $150k, your annual revenue must be at least $120k. Businesses applying for loans over $150k will require an annual revenue of around $300k.
Personal Guarantee: Each principal owners (20% or more stake in the company) must personally guarantee the loan.
Time in Business: Eligible companies must have been in business for at least 2 years.
Credit History: The business must have no outstanding tax liens and no bankruptcies or foreclosures in the last 36 months. The business must be current with government-related loans and have no recent settlements or charge-offs.
Credit Score: SmartBiz does not provide a minimum credit score, but lenders usually require a credit score of at least 600.
Revenue is used interchangeably with income, but in a financial context they have different meanings. Revenue, also known as net sales, is the total amount of cash generated by a company within a set period of time, usually a year. Income – also called net profit – is the balance left once you deduct expenses from your net sales or revenue. Use your revenue, not your income, when applying for a SmartBiz loan.
So those are the minimum requirements, but what does a typical SmartBiz borrower look like?
The average SmartBiz borrower has an annual revenue of $1 million, has been in business for 10 years, and has an average credit score of 705.
What Are SmartBiz Business Loans' Rates and Terms?
SmartBiz loans have interest rates ranging from 6.25% to 7.25%. These rates are based on prime rate plus 2.75% to 3.75%.
The total cost of a SmartBiz loan is 7.21% to 8.44% APR, once all fees and costs are included.
To illustrate the cost of a SmartBiz loan, borrowers can pay as little as $1,123 a month for a $100k loan with a 10-year term.
Borrowers must also pay a 4% fee to cover SmartBiz's costs. Loans that are above $151k, also include a 2.25% SBA Guarantee fee.
Loan amounts range from $30k to $350k.
Borrowers can obtain terms of up to 10 years. There are no prepayment fees so borrowers can pay off their loan anytime with no fees or penalties.
Prime rate is the lowest rate of interest at which money can be borrowed commercially. It is based on the federal funds rate and is reported by the Wall Street Journal's bank survey.
How Do SmartBiz Business Loans Work?
Businesses can use SmartBiz Loans to finance business expansion, new equipment, debt refinancing, a business acquisition, or as working capital.
Step 1. Get Pre-Qualified. Complete a short form and SmartBiz will immediately tell you if you qualify for a loan from $30k to $350k. SmartBiz only performs a soft pull on your credit report. So applying will not hurt your credit score. This step can take as little as five minutes.
Step 2. Submit Financial Information. SmartBiz will need details on the purpose of the loan. You also need to submit detailed financial documents (about 10 of them). If you have all the information ready, you could provide this information within the same day.
Step 3. Receive Your Cash. Once you have completed the application and submitted the required financial documents, SmartBiz will review and confirm your financial information. Funds could be in your bank in as few as seven days.
SmartBiz is not a direct lender. Instead, SmartBiz leverages its financial technology with three banks that are preferred lenders for the SBA. The edge SmartBiz gives customers is a streamlined application process that cuts down waiting times to weeks instead of months. If borrowers have all the necessary documentation (and that is a big if), the entire process from application to funding can take as little as seven days.
However, many businesses require several weeks to submit the 10 documents (sometimes more) SmartBiz needs from companies.
SmartBiz Required Documents
If you are considering a SmartBiz loan, you may be asked to provide the following documents:
Business tax returns for the last two years (You can request this from the IRS online)
Personal tax returns for principal owners for the last two years
Certificate of business property insurance
Certificate of general liability insurance
Assets list of business
Articles of incorporation of the company and other business entity certifications
A corporate resolution to borrow
Photo ID of principal owners
Title policies or lease agreements for real estate used by the business
Home mortgage statement of business owners
SmartBiz may ask for additional documents, such as resumes of business owners, business projections, and the company's loan application history. However, these documents are not strictly required to qualify for a loan.
What Is SmartBiz's Application Process Like?
SmartBiz's application form has been designed to navigate SBA's minefield of loan requirements as quickly and painlessly as possible. Here is an in-depth review of SmartBiz's pre-qualification process.
1. Choose How Much You Want to Borrow And Provide Basic Information On Your Business
This includes information such as your business' name, structure (sole proprietorship, corporation, LLC), the date the business was launched, the number of employees, and your company's industry.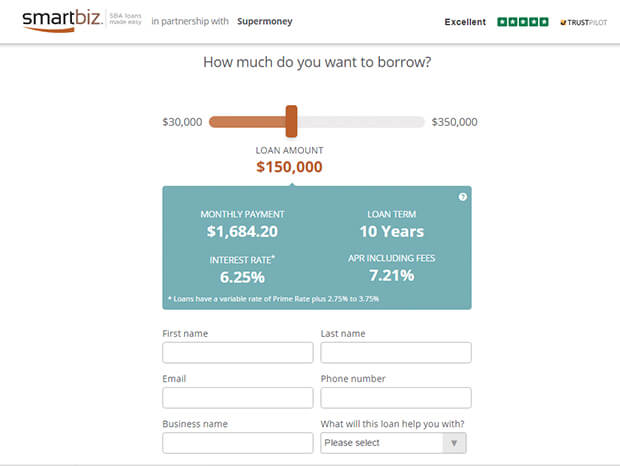 2. Submit Your Personal Information
This includes your full name, address, date of birth, SSN, whether you own or rent your home, and how much you pay in rent or mortgage.
3. Additional Personal Information
Principal owners must provide additional personal information, specify what stake they have in the company and whether they are authorized signers.
4. Receive a Pre-Qualification Decision
If your business meets SmartBiz's credit criteria, you will receive a pre-qualification decision. SmartBiz will assign you with a "Relationship Manager" who will assist you with the rest of the loan process.
5. Provide Financial Documents
SmartBiz requires up to 10 financial documents from borrowers (See section above for more details). These include tax transcripts from the IRS (4506-T), income statements, and balance sheets. Requesting your IRS documents only takes five minutes.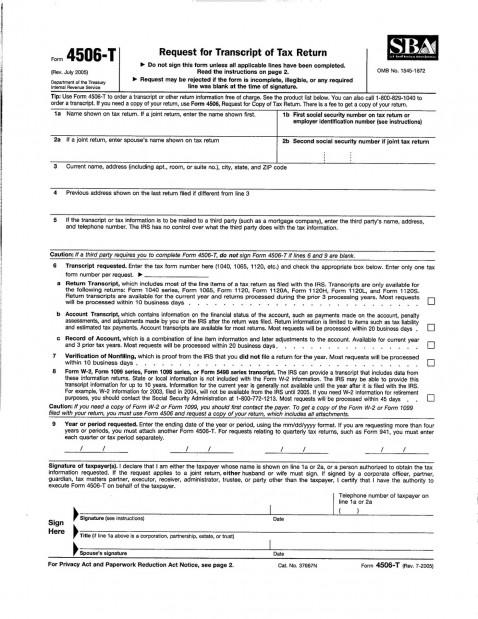 6. Verification Process
Once SmartBiz reviews your business and personal information, your loan application can be finally approved. Part of the verification process is to submit the contact information of your business' insurance agent. This stage only takes five minutes, if SmartBiz has the necessary information.
How Is SmartBiz Loans Better Than Other Lenders?
SmartBiz has managed to pare down the funding time for SBA loans from months to a week. Note that a week is the absolute minimum and assumes borrowers have all the required documents ready to submit. In reality, businesses take a few weeks to provide the necessary documentation.
SmartBiz's interest rates range from 7.21% to 8.44% APR. Those rates are among the lowest rates offered by online small-business lenders and are competitive even when compared to traditional banks.
It Increases chances of approval for small businesses.
SmartBiz streamlines paperwork. The entire application form can be completed in minutes if you are a paperwork guru. Regular business owners will still take less than an hour.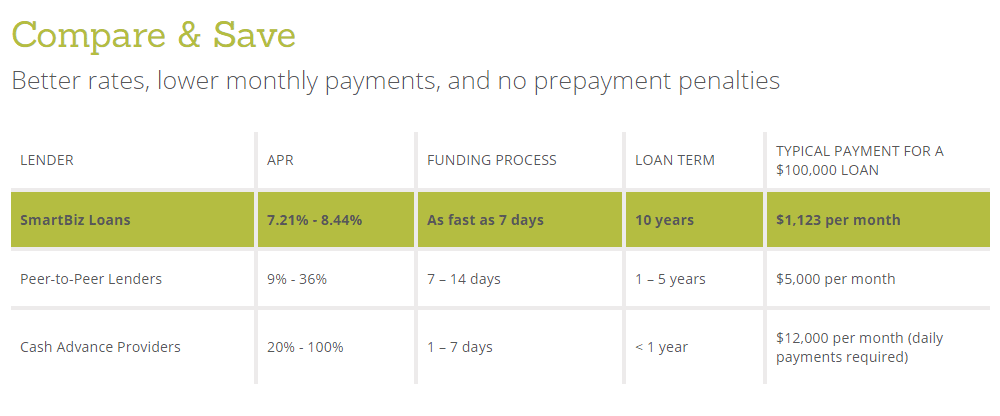 The Bottom Line: SmartBiz Loans
The Good: SmartBiz loans provide real value to small businesses who qualify for an SBA loan. Notice that you have to be a strong business and have access to the documents the SBA requires. SmartBiz is not for companies with wobbly finances or who have owners with bad credit. However, if you do qualify, you could land a loan of up to $350k for an APR as low as 7.21%. Try getting that somewhere else.
The Bad: On the flip side, you have to be patient enough to navigate the SBA's slow and tedious approval process. Even with the help of SmartBiz's platform, it could take weeks to find the necessary documents. SmartBiz loans are not an option for startup companies. If you've been in business for less than two years, you will not qualify. However, SmartBiz will put you in touch with other lenders that do serve newer companies.
The bottom line: You will be hard-pressed to find business loans with better rates or terms, but qualifying for a SmartBiz is not easy. The good news is SmartBiz only performs a soft pull on your credit report when you apply. So applying for a loan will not hurt your score. What is there to lose? Nothing. On the other hand, if you do qualify for an SBA loan, you could save big on interest rates and fees.
Andrew is the managing editor for SuperMoney and a certified personal finance counselor. He loves to geek out on financial data and translate it into actionable insights everyone can understand. His work is often cited by major publications and institutions, such as Forbes, U.S. News, Fox Business, SFGate, Realtor, Deloitte, and Business Insider.