Summary:
Split-level and bi-level houses share some similar characteristics in that they both have multiple levels. However, there are some distinct differences. The primary difference is that split-level homes have three or more levels and bi-level houses have only two floors.
As you begin house hunting, you really start to notice how many styles of homes there are on the market. Do you want a ranch, Cape Cod, colonial, contemporary, craftsman? The choices are endless and can be overwhelming. That's why it's a smart move to begin by doing a little research before you start shopping.
Today we'll look at split-level houses and bi-level homes and what these home styles mean. We'll also discuss the pros and cons of the (often vastly) different types of architecture.
What is a bi-level house?
A bi-level home, which is sometimes known as a raised ranch, is characterized by a split staircase at the entryway. This means when you walk in the front door, you have the option of taking a half flight of stairs to the upper level or a half flight of stairs to the lower level. This differs from a traditional two-story house where the levels are stacked on top of one another rather than staggered.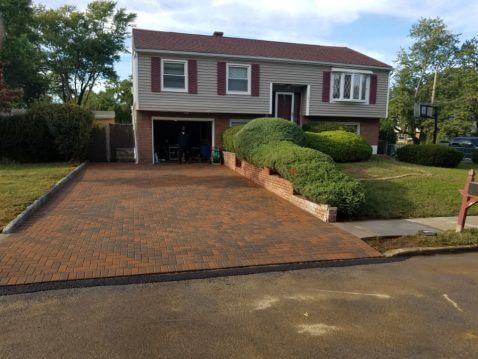 In bi-level homes, the main living spaces are usually located on the top floor, including the kitchen, dining room, living room, and bedrooms. The lower level, which is typically finished (and technically a basement), may have a laundry room, recreation room, bathroom, and possibly another bedroom or two. Sometimes there will also be garage access from this level.
What are the benefits and drawbacks of a bi-level house?
The downside of a bi-level house is the necessity of having to use stairs every time you enter or exit the home. This can sometimes be tedious when you have a lot to carry — think bags of groceries, small children, or large packages. However, it can also be prohibitive or even hazardous for some people. For example, older people or those with mobility issues may not even want to consider a bi-level house because of the stairs alone.
On the other hand, bi-level houses have a certain degree of separation and privacy that many other homes typically don't offer. This can be particularly appealing as people now have a tendency to spend more time at home, whether it's working remotely, taking online classes, or using their new home gym.
As many are looking for home offices, this style could end up being attractive, as the spaces are more isolated, providing a quieter (work from home) environment," says Alex Caras, a Real Estate Agent at Magellan Realty.
A bi-level home can also be ideal for entertaining purposes. For example, families with kids might want to have guests over and the adults could socialize with their friends on the upper level while the younger people hang out downstairs which is relatively private from the main floor.
What is a split-level house?
A split-level home deviates from a bi-level house most notably because it has at least three levels — which are staggered in a variety of ways — and has a much wider range of floor plans. In general, though, the front door is located on the main level of most split-level houses, where you'll also find the majority of communal living areas, such as the kitchen, dining room, and living room.
On one side of the main living space, you'll have a few steps or half stairs up to some bedrooms and bathrooms, which are sometimes located over an attached garage. On the other side of the mid-level living area, you might also have steps up to an office, den, another bedroom, or other rooms.
Split-levels, like bi-level houses, are often also characterized by half-stairs down to a lower level from the main floor. Here you might have a family room, utility room, bathroom, or guest bedroom. Similar to a bi-level house, you may also have access to an attached garage.
"Split-level homes offer a unique design that maximizes space, resulting in more living area than ranch-style homes of the same square footage. The split levels provide a separation of spaces, which can add a sense of privacy and allow for different levels to have different functions," says Ben Kuhl, CEO at Shelf Expression. "However, the multiple levels can make it difficult to move large items like furniture between floors."
Pro Tip
Think about your time horizon when considering a split-level or bi-level house. If you plan to live there long-term, it could be a great move. On the other hand, if you're hoping to flip it in a couple of years, you may want to consider a house with quicker and better resale value.
Types of split-level houses
As mentioned, there is a wider variety of styles within split-level homes than you'll find with bi-level houses, which allows buyers a better choice of floor plan. It can also make them difficult to describe because of the many variations. These are some styles you might encounter while house hunting.
Standard split
A standard split-level house has the main entrance at ground level with small sets of stairs leading to upper and lower levels. Typically a standard split will have three levels, but it can have more than that. Bedrooms are usually on the uppermost level, living areas on the middle level, and basement rooms (and perhaps a garage) are on the lowest level.
Stacked split
A stacked split-level house is one of the larger versions of split-level houses. This style is good for big families or multi-generational families and sometimes has four or five levels of living space connected by short flights of steps.
Miscellaneous rooms like a den, guest room or playroom are often on the uppermost level, with bedrooms below that and the main living rooms on the middle level.

IMPORTANT! The main downside of stacked split-level houses, even in terms of a standard split, are the number of stairs you have to traverse to get from one area of the house to another. On the other hand, you'll have more square footage than a lot of traditional homes, and your family can each have their own space.
Side split
A side split-level house means there is a single level on one side of the house and two levels on the other side, just like the Brady Bunch house. You'll enter the house at ground level and that's where the main living areas are located.
On the other side of the house, you have steps up to the bedroom and stairs down to the lower rooms or basement. Sometimes a side split will have bay windows or an attached or built-in garage but not always.
Split entry
A split entry, also called a split-foyer home, is sometimes confused with a bi-level house. However, it has three floors rather than the standard two floors of a bi-level. You may see different variations of this floor plan, but the entryway or foyer is on its own level with stairs leading off in both directions.
In this case, you might go down a small set of stairs to the kitchen and dining areas, for example, with a door to the garage or basement rooms. Other stairs off the foyer will typically lead up to other living areas with, perhaps another level up to bedrooms.
Back split
A back split-level house is similar to a side split, but from the street it often looks like it's only one floor. You won't notice until you see the sides or back of the house that it's actually a split-level home. A back split will look a lot like ranch-style homes from the front.
Pro Tip
If you're interested in purchasing a split-level or bi-level house in a particular area, be sure to have your real estate agent research nearby comparable houses to see if these house styles can get you more space for your dollars. Once you're ready to buy, use the tool below to see what mortgage rates and loan terms you qualify for.
Pros and cons of split level vs. bi-level
Bi-levels and split-level homes have some basic commonalities — they tend to have low-pitched roofs, two or more distinct levels, multiple half stairs, and a finished basement level that's at least partially below grade.
Different buyers may take these features as either advantages or disadvantages. Here are a few other pros and cons of split-level and bi-level homes.
WEIGH THE RISKS AND BENEFITS
Here is a list of the benefits and drawbacks to consider.
Pros
Affordability
More privacy
Well-suited for larger families
More space than the square feet listed
Cons
Multiple flights of stairs
Remodeling challenges
May be more difficult to sell than traditional homes
Older homes like these may be out-of-date
Should you buy a split-level or bi-level home?
Both bi-level and split-level houses were more common in the 60s and 70s, but they're still out there. Interested buyers may be able to get a pretty good deal on a bi-level or split-level house, as long as they don't mind multiple flights of stairs.
These house styles can be particularly well-suited as multiple-family homes. For instance, if you have in-laws, grandparents, or adult children living at home, the unique layout and separate areas can more easily accommodate various household members' privacy.
You might also get a better price than other, comparable, homes with (technically) more square footage. This is partly because basements, even if they're finished, aren't always included in the gross living area.
So while a house might only be listed as having 1,000 square feet, for example, it may actually have significantly more living space than that. This usually translates to a lower price tag because even though you have more space, most real estate rules can't include that extra area in the appraised value of the house.
And, for various reasons, split-level or bi-level houses are just not as popular as they once were.
Another consideration is that these home styles are also in lower demand, generally, so the potential home buyer may face lower competition for bi-level or split-level homes," Caras explains.
Other considerations
As mentioned, split-level and bi-level houses tend to be older, which could mean they're more old-fashioned and require some updating. Many buyers may not want a giant home improvement project on their hands as soon as they move in.
And, finally, they can also be difficult to remodel into the often more-favored open concept style because of all the stair flights. So if you're looking for a move-in-ready home, you may want to consider other options.
Key Takeaways
Bi-level houses and split-level homes both feature staggered levels with multiple flights of stairs.
The primary difference between bi-level and split-level houses is that a bi-level house has only two floors and a split-level home has at least three levels.
Both bi-level homes and split-level houses typically have low-pitched roofs, half stairs, and one level that's half underground.
Split-level homes have unique layouts and floor plan options with multiple stories that provide privacy and separation for families.
It could be difficult to resell a bi-level house or split-level home, but you might get a great deal if you're interested in buying.