Update 2019:
Springboardauto was purchased by
Oportun Inc
. in 2018 and is not currently accepting new applications.
Springboardauto.com is a company that leverages big data and advanced analytics to provide consumers with auto loans through an online platform. It was designed by automotive finance and technology experts with simplicity as the primary goal, and it aims to make the whole process of buying a car easier.
SpringboardAuto.com's CEO and Founder Jim Landy says, "Our mission is to transform the retail automotive transaction experience." Is Springboardauto.com actually transforming car loans, and should you consider using it for your next auto loan?
Here's what you need to know.
Springboardauto.com auto loan products
Springboardauto.com provides three options for customers; you can refinance an existing auto loan, get a loan for a dealer purchase, or get a loan to buy your car from a private party.
Refinance
If you're considering refinancing your auto loan, you'll need a new loan that provides an advantage over your existing loan, such as one with a lower interest rate. Typically, you'll apply with different lenders, looking for a better deal than you currently have.
"Customers start with financing and receive a dynamic approval enabling them to shop online to purchase a vehicle through either a dealer or a private party. They can self-serve online throughout the entire process."
On Springboardauto.com's platform, you apply and provide information about your car (such as the year, model, make, VIN, and mileage). If approved, you'll gain access to a loan configurator tool that allows you to adjust the terms of the loan (such as the loan length and the amount of cash down) and see how it will impact the total price and monthly payment.
This allows you to easily analyze whether a new loan with Springboardauto.com will be beneficial or not. If it is, you can complete the loan process online.
Dealer purchase
If you want to buy a car from a dealer, you can apply online. If approved, you'll gain access to the loan configurator tool so that you can adjust the auto loan terms to best suit your needs.
Document signing can be done electronically. When closing, you'll schedule a dealership appointment, Springboardauto.com will issue the funds directly to the dealer, and your new car will be delivered to you.
Private party
You'll also apply online when buying from a private party. If you're approved, you can personalize your loan using the configuration tool.
When it comes to the inspection of the car, Springboardauto.com will inspect it and send both you and the seller the results. Then, on the day of closing, you and the seller will need to agree on an address at which to meet, and a closing agent from Springboardauto.com will join you to sign all the paperwork.
The funds for the car will be electronically deposited into your account.
"Customers start with financing and receive a dynamic approval enabling them to shop online to purchase a vehicle through either a dealer or a private party. They can self-serve online throughout the entire process," says Landy.
What you need to apply
To apply for an auto loan with Springboardauto.com, you'll need to provide the following information:
Full name
Current address
Phone number
Date of birth
Income information
Car details
Co-borrower information (if applicable)
Living situation details
Click here to discover Springboardauto's eligibility requirements.
Why choose Springboardauto.com?
The main advantages that Springboardauto.com offers are that it simplifies the application process, provides instant credit decisions and offers prequalification which doesn't impact the applicant's bureau score.
Furthermore, it streamlines the car buying process to save you time and energy. One example is how Springboard sends out an inspector to look at a car when you're buying from a third party. Another is how it enables you to sign documents electronically, so you don't have to run around town. A third is how the company makes it easy to coordinate with other parties and schedule meetings. All of these and more can take a load off your shoulders when buying a car.
Landy adds that factors which set them apart include full transparency into all of the transaction elements (to include tax and license) and online self-serve features. He says, "The result is an empowering experience for our customer that enables them to spend less time at the dealer, improving the overall vehicle buying experience."
The only drawback is one that is not specific to Springboardauto.com, but which occurs anytime you only apply with one company. That is, you don't know if you could have gotten a better rate elsewhere.
One way to overcome this is to apply using SuperMoney's auto loan offer engine, which provides you with personalized rates from a number of lenders without hurting your credit score. This way, Springboardauto.com and other lenders are competing for your business.
If Springboardauto.com provides you with the best rate, rest assured that it's an overall good company with a high success rate in making auto loans easier for car buyers.
How to apply with Springboardauto.com
1: Visit the Springboard Auto home page and click "Apply Now."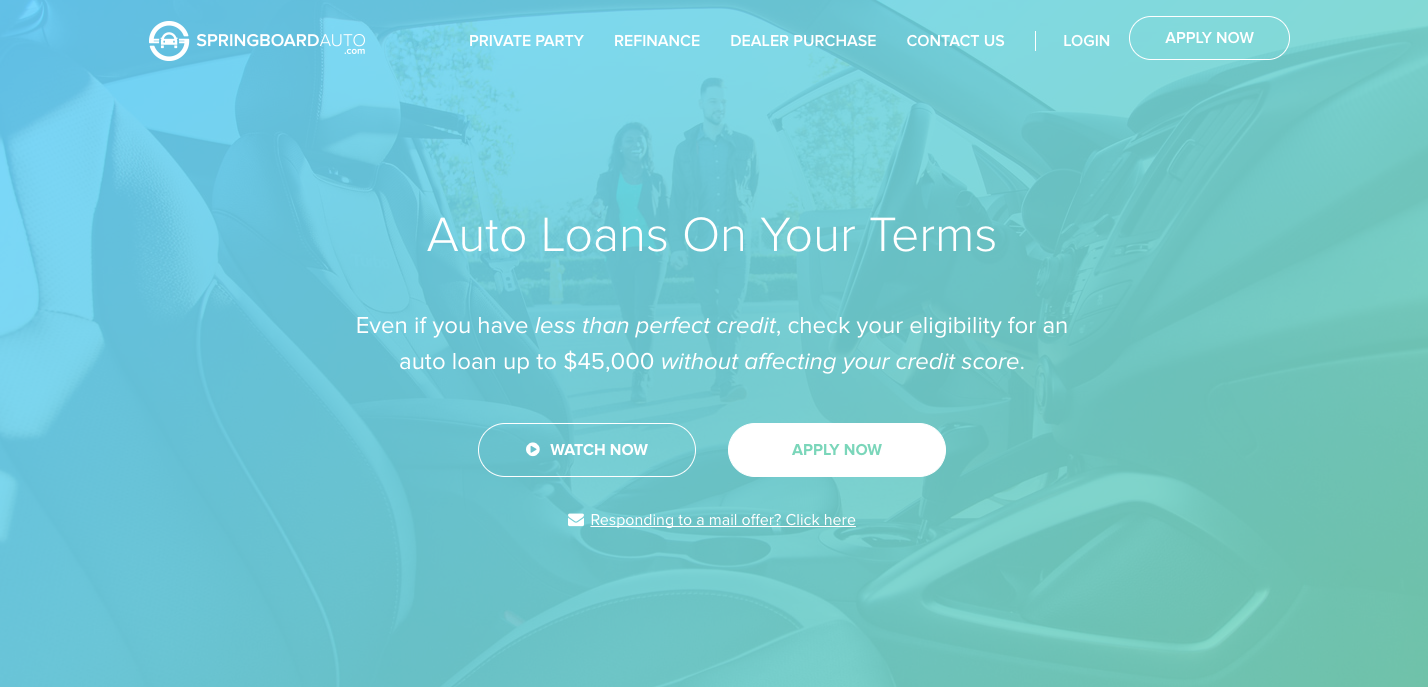 2: Choose between 'Purchase' or "Refinance."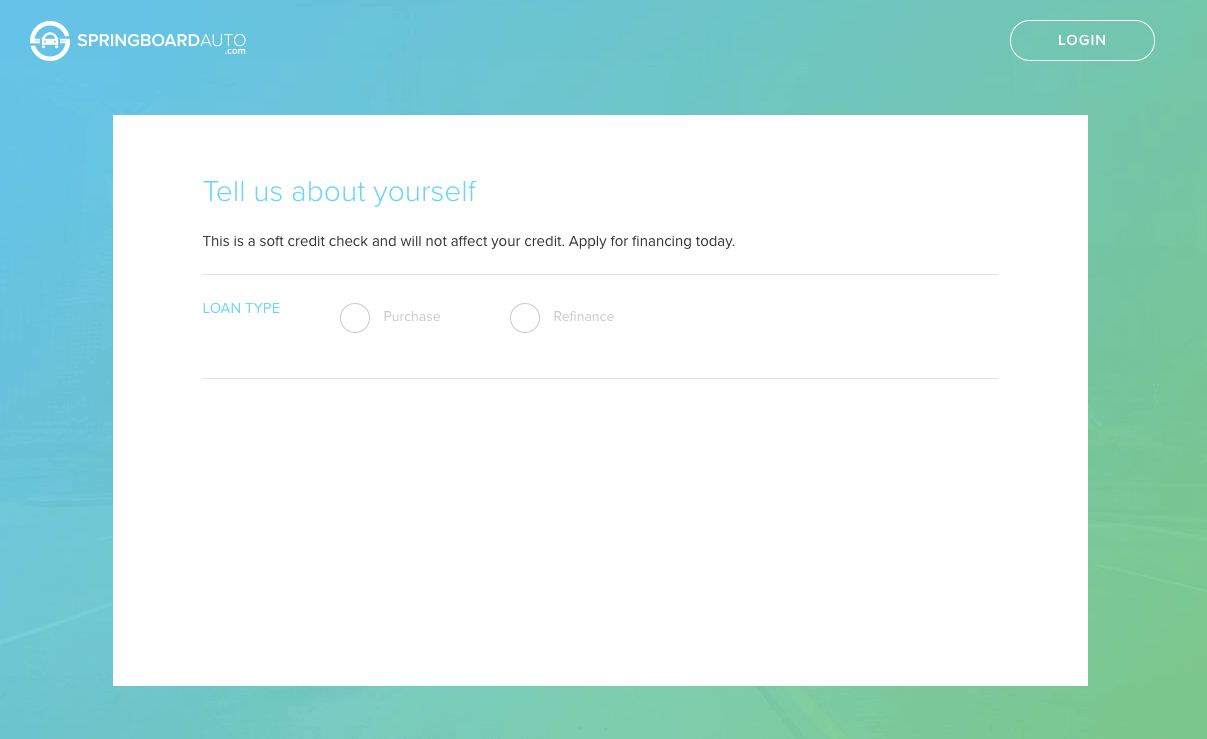 3: If you choose 'Purchase," select the seller type. If you are refinancing, skip to step 4.

4: Answer whether you are applying with a co-borrower or not.

5: Provide information on the vehicle.
For a purchase:

For a refinance:

6: Give your personal information and details about your living situation.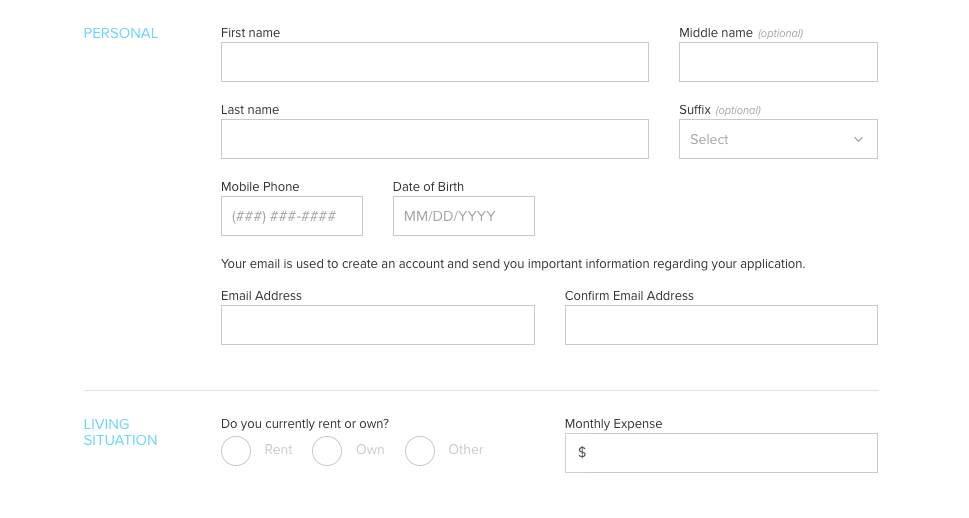 7: Provide your address and income information.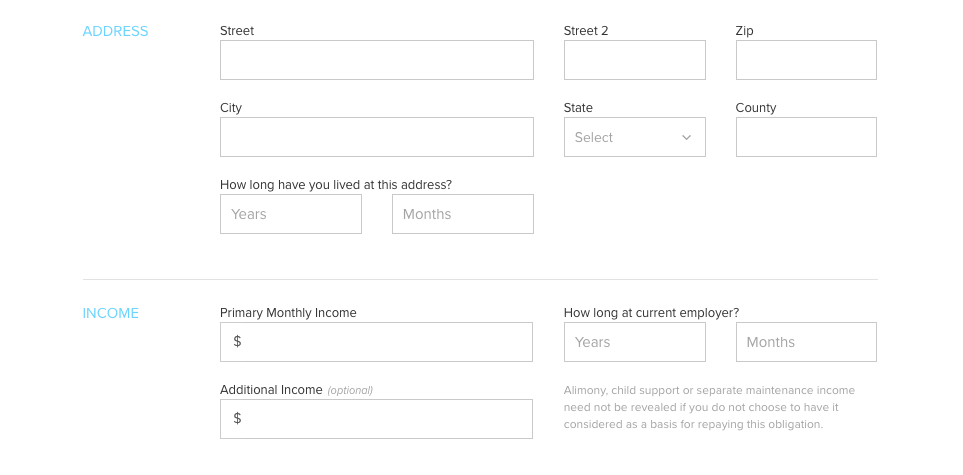 8: Agree to the terms and conditions and click "apply now" to find out what you qualify for, without hurting your credit score.
Next step
If you are interested in partnering with Springboardauto.com to get your next car, Start the application process.
Springboardauto.com does provide a simple and fast way to get an auto loan. However, if you have excellent credit, there may be other lenders with even lower rates. Get prequalified offers and compare the rates and terms from leading auto lenders by filling one form. It's fast and it won't hurt your credit score.
Jessica Walrack is a personal finance writer at SuperMoney, The Simple Dollar, Interest.com, Commonbond, Bankrate, NextAdvisor, Guardian, Personalloans.org and many others. She specializes in taking personal finance topics like loans, credit cards, and budgeting, and making them accessible and fun.