For the second consecutive year, SuperMoney was recognized on the 2023 Deloitte Technology Fast 500™ list, further cementing our position among North America's fastest-growing and most innovative fintech companies.
Celebrating its 29th anniversary, the Deloitte Technology Fast 500 continues to recognize the efforts of North American companies in technology, media, telecommunications, life sciences, fintech, and energy tech sectors based on their revenue growth over three years. The year's winners were chosen based on the fiscal year revenue growth percentage from 2019 to 2022.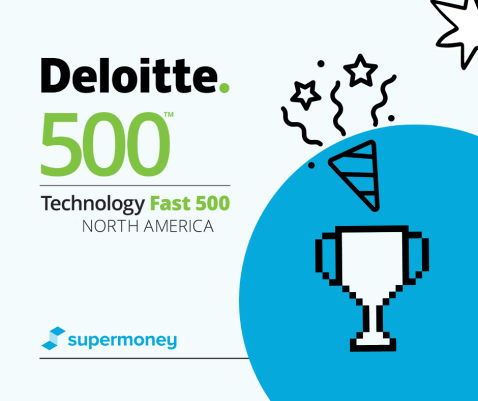 "The greatest reward in life is the chance to work hard at work worth doing."
"It is a real honor for SuperMoney to be recognized, again, among Deloitte's 2023 Technology Fast 500 list of leading tech companies of our time," said SuperMoney's founder and CEO, Miron Lulic. "Our exceptionally talented team continues achieve these recognitions simply because the greatest reward in life is the chance to work hard at work worth doing. As we continue to execute on our mission, our team will positively impact the lives of millions of people."
This recognition follows a record-breaking year for the company, which celebrated its 10th anniversary with some significant milestones: $10 billion in loan requests processed and 1 million registered members. SuperMoney operates in over 50 financial product verticals, including personal loans, checking, savings accounts, and home equity financing.
What does this mean for you?
The SuperMoney team is thrilled we made it to the Deloitte 2023 Technology Fast 500™ list, but we are even more excited about what these milestones mean for our users.
We stand by the principle that financial clarity and impartiality are wealth-building foundations. Understanding personal finance can be daunting, but we're dedicated to offering accessible, valuable financial tools to everyone, helping them reach their fiscal targets. Our progress enables us to broaden our partner network, secure better deals, and craft more sophisticated tools for our users, aligning with SuperMoney's core purpose.
It is telling that many of our partners, such as Upgrade, Point, and Remitly, who share our mission of empowering consumers, are also repeat members of the Deloitte 2023 Technology Fast 500™ list.
About SuperMoney
Founded in 2013, SuperMoney is a leading platform for financial decision-making. Through its financial services marketplace and embedded finance solutions, SuperMoney provides a one-stop platform for consumers to discover, compare, and transact with leading financial service providers such as Chase, Discover, and Citi. SuperMoney's marketplace has been built to reach every American consumer in a way that gives them more choices, greater transparency, and the chance to build long-term financial health. SuperMoney is SOC2/Type II certified for data security by the AICPA and was named to the Inc. 5000 list of fastest-growing companies for 2021, 2022, and 2023.