Are you struggling with tax debt and feel like you'll never get out? You're not alone. Every year, countless Americans face tax bills that they can't afford to pay. Fortunately, the IRS has tax settlement programs that can help. Here's what you need to know.
What is tax settlement and is it available to you?
Tax settlement occurs when you come to an agreement with the IRS which allows you to pay less than your total unpaid tax debt. The federal program for this called an offer in compromise (OIC).
In 2018, the IRS accepted 24,000 offers-in-compromise — a total of $261.3 million — out of 59,000 requests. That is an acceptance rate of 40.7%.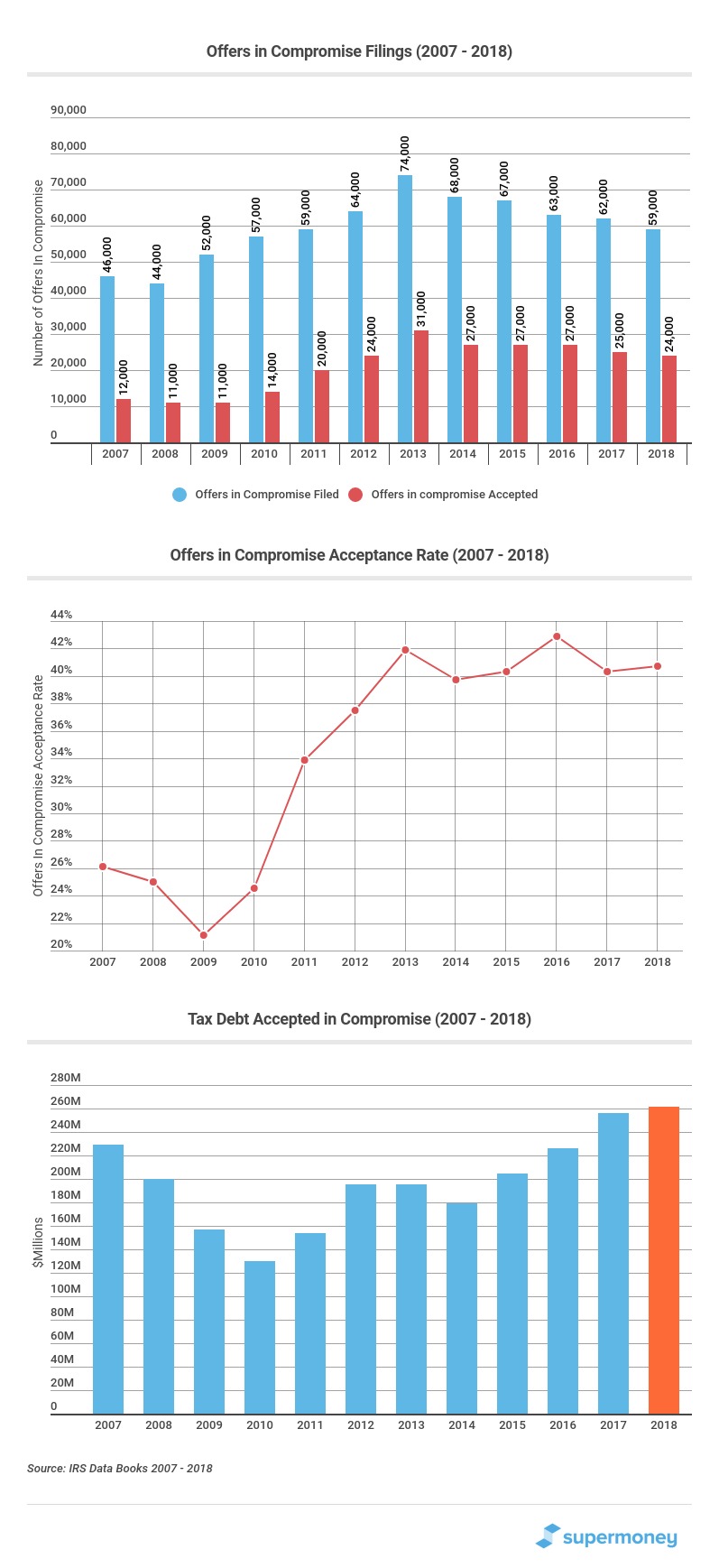 Who can get an offer in compromise?
Offers in compromise are available for:
Taxpayers who can't afford to pay their full tax liability, as well as penalties and interest.
Taxpayers who would undergo a financial hardship if they attempted to pay their full tax liability.
Of course, the IRS won't simply take your word for it. When you apply for an offer in compromise, the IRS evaluates your ability to pay, with a focus on your income, expenses, and asset equity.
Additionally, you must meet a few other requirements. To qualify for an offer in compromise, the following must be true:
You're up to date on your tax return filings.
You made all estimated tax payments for this tax year.
You have a tax bill for at least one IRS debt on your offer.
You're not in a current bankruptcy proceeding.
However, an offer in compromise is the IRS' last resort. The IRS will not turn to tax settlement offers until they've explored all other options (e.g. monthly installment plans, etc.).
How are offers in compromise paid?
When making an offer in compromise, you'll usually need to pay a $186 application fee and submit an initial payment. The size of that payment depends on whether you choose to pay your taxes in a lump sum or a series of periodic payments to achieve tax resolution.
Lump-sum
The lump-sum cash option requires you send an initial payment, equal to 20% of the total amount of your offer, with your application. If accepted, you'll pay the remaining debt in up to five payments.
Periodic payment plans
The periodic payment option requires an initial payment. Then, you'll make monthly payments while the offer is considered. If the IRS approves your request, you'll continue to pay until the full amount of the debt is paid.
Note that if your proposal is rejected, the money you sent will not usually be returned. However, the IRS will make an exception if you meet their Low-Income Certification guidelines. In this case, the application fee, initial payment, and payments during evaluation can be waived.
How much should you offer?
When you apply for an offer in compromise, you'll propose the tax settlement — the amount that you'd like to pay in lieu of your full debt. But the IRS only accepts about 40% of OIC offers. How can you improve your chances of getting approved? How much should you offer to pay?
In order to decide how much you should pay, the IRS looks at your available assets and income. Then, they subtract the money required for your necessary living expenses. The resulting figure is what the IRS believes you're able to pay. As long as your offer matches their calculation, you've got a great chance of getting approved.
In other words, as long as you use the IRS' formula to calculate your offer, you'll almost certainly succeed in your negotiation.
How does the IRS evaluate offers in compromise?
The IRS has its own measure of what living expenses are "necessary," and it may not match yours. After deciding how much you should spend on basic living expenses, they will calculate your disposable cash flow, which will help them determine what a fair OIC offer will be.
Calculating living expenses
According to the IRS, the current National Standards for living expenses are as follows:

| Expense | One Person | Two Persons | Three Persons | Four Persons |
| --- | --- | --- | --- | --- |
| Food | $386 | $685 | $786 | $958 |
| Housekeeping supplies | $40 | $72 | $76 | $76 |
| Apparel & services | $88 | $159 | $169 | $243 |
| Personal care products & services | $43 | $70 | $76 | $91 |
| Miscellaneous | $170 | $302 | $339 | $418 |
| Total | $727 | $1,288 | $1,446 | 1,786 |
To calculate costs for households with more than four people, the IRS adds $420 for every additional person.
Calculating cash flow
Then, to calculate your disposable cash flow, the IRS subtracts your living expenses from your income.
If you can pay off your settlement within five months, the IRS will multiply your cash flow by a factor of 12 to get the minimum amount due. If you need more time, they may give you 24 months to pay. However, they'll also multiply your cash flow by 24 instead of 12, doubling the amount you owe.
Adding assets
Do you have assets? If so, the IRS will determine their settlement value and add about 80% of that to the value of your cash flow to get your tax settlement amount.
For example, say you make $2,000 per month and your necessary living expenses come out to $1,800. You would have $200 in disposable cash flow per month. Now say that you also have $5,000 in assets.
If you opt to pay your offer in compromise in a lump sum, you'll need to pay the value of your cash flow ($200 x 12 = $2,400) plus the value of our assets ($5,000 x .80 = $4,000) for a total of $6,400 within five months.
With the periodic payment option, you would owe the cash flow value ($200 x 24 = $4,800) plus the asset value ($5,000 x .80 = $4,000) for a total of $8,800. Split into a 24 payment plan, you're looking at about $370 per payment.
Putting it all together
Put simply, if you're looking to calculate a viable offer in compromise, simply solve the following formula:
(Monthly Income – Living Expenses) x (12 or 24, depending on how long you'll take to pay) + (Asset Value x 0.8) = Offer in Compromise
How to submit an offer in compromise
To apply for an offer in compromise, you must submit the following documents:
Form 656, Offer in Compromise.
$186 application fee paid to the United States Treasury unless you are considered Low-Income Certified.
Initial offer payment.
Form 433-A (OIC), completed and signed.
Any required supporting documentation.
Be sure to make copies of everything and then mail off the package to the applicable IRS facility.
How do you negotiate a tax settlement with the IRS?
Negotiating a tax settlement with the IRS sounds challenging, but once you understand how the IRS evaluates OIC applications, you can seriously improve your chances. Simply use the IRS' own formula to calculate your offer in compromise.
The IRS will deny an offer in compromise that doesn't meet their standards. As long as your offer matches their own evaluation, you'll succeed in your negotiation.
How else can you deal with tax debt?
If an offer in compromise doesn't work for your situation, pursue the following alternatives:
Installment agreement: Split the amount due up into payments over a timeframe of up to six years.
Not currently collectible: A status for delinquent taxpayers which pauses active collections temporarily.
File bankruptcy: Income taxes are eligible for discharge in a Chapter 7 Bankruptcy.
If you fall behind on taxes, you still have options. It's in your best interest to stay in touch with the IRS, whether directly or through a representative. By doing so, you can prevent undesirable collection actions while finding the best tax debt settlement option for your situation.
Hire a tax relief expert
If you need to settle tax debt and get the best possible results, you may want to bring in a tax professional. The best tax relief firms specialize in representing taxpayers and helping them settle their taxes while protecting their best interests. Review and compare firms below to find the best one for you!
Jessica Walrack is a personal finance writer at SuperMoney, The Simple Dollar, Interest.com, Commonbond, Bankrate, NextAdvisor, Guardian, Personalloans.org and many others. She specializes in taking personal finance topics like loans, credit cards, and budgeting, and making them accessible and fun.