Looking for a used car? If so, it won't be long before you begin the search for the best annual percentage rate (APR). Each lender has a different method of evaluating applicants, so your rate will vary from one to the next.
Being that a small difference can translate into hundreds (or even thousands) of dollars over the course of your loan, the lender you choose is important.
To help you find the best deal, we'll look at the average rate for a used car loan in the U.S. and six of the top lenders in the industry. Also, look out for the helpful tool that can get you several auto loan quotes within minutes without hurting your credit score.
Let's get started!
What you should know about used car loan rates
What is the interest rate on a car loan?
When you get an auto loan from a lender, it's not free. The lender makes money on the transaction by charging you interest and fees.
U.S. auto loan lenders are required by law to provide borrowers with annual percentage rates (APRs), which show the percentage of the loan amount that the borrower has to pay toward interest and fees each year of the loan term.
This makes it easier to compare lenders.
How are APRs calculated?
APRs are influenced by the current market conditions and the costs of borrowing for lenders. The Federal Reserve adjusts the interest rates that it charges banks, and these adjustments eventually trickle down to the consumer.
Additionally, APRs will vary from one lender to the next as each has its own method to analyze the risk of borrowers.
Common factors that are taken into consideration include:
Employment situation
Loan amount-to-down-payment ratio
Loan term
Vehicle type
Vehicle age
The lower risk you present to a lender, the lower your rate and cost will be.
Many companies will advertise their absolute best used car rates. However, these will only be available to those who fit the best-case scenario. To find out what each lender will offer you, you will need to apply.
The interest rate and term you choose will cause your monthly payments and overall cost to change. You can use an auto loan rate calculator to plug in various numbers and see how the different options will impact your costs.
Learn more about auto loan rates
Average interest rates for used auto loan
To figure out what a good rate is, you first need to answer, "What are the current auto loan rates?"
As of January 2018, the average cost of a used car in the U.S. is $21,084, the average term is 66.8 months, the average down payment is $2,473, and the average APR is 7.8%.
To illustrate how your credit score can impact your auto loan APR, here's a look at the average APRs for six different classes of credit scores according to myFico. In this example, we are looking at a 48-month loan for a used vehicle that costs $20,000.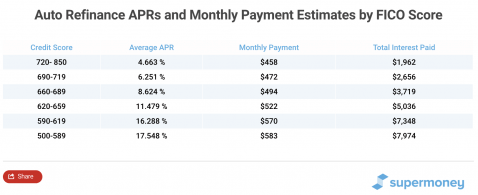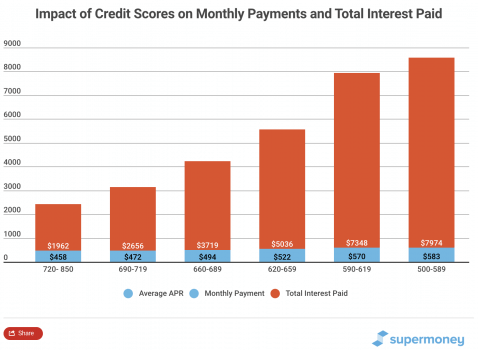 Next, let's look at how term length impacts your APR and monthly payment. According to the estimations found by using U.S. Bank's auto loan calculator, the starting APRs on a $20,000 used vehicle will vary as follows: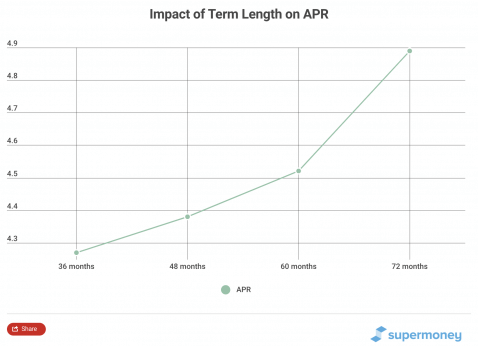 So, what is a good rate on a used car loan? Overall, it's one that is equal to or less than the current average. However, a good rate for you in your current situation is going to be the lowest used car rate you can get.
Here's how to find it.
How to find the lowest used car loan rates
Where is the best place to get a car loan for a used vehicle? It's going to be the lender that offers you the lowest auto loan rates and best terms. However, that lender is not going to be the same for everyone.
Since lenders vary in the way that they evaluate borrowers, it's necessary to shop around to see what you can get from various companies.
Here's a look at six of the best auto loan companies.
Top 6 auto loan lenders
Springboardauto.com streamlines the process of getting an auto loan for borrowers. You can apply online and get an instant decision which won't hurt your credit score.
Further, the company will send out an inspector to check out the vehicle you want to finance, and you can sign documents electronically.
Funds from the loan can be used to purchase a car from a dealer or private party, as well as to refinance an existing loan.
Jim Landy, SpringboardAuto.com CEO, says, "Our entire company was designed to give customers confidence by being transparent and making the process as simple as possible."
Auto Credit Express specializes in financing applicants with bad or no credit. It matches applicants with auto dealerships from its network which offer flexible financing. For those who are getting turned down from most other lenders, ACE is one to try.
On the other end of the spectrum, LightStream rewards those who have excellent credit with great rates and terms.
It offers very competitive rates, as well as a "Rate Beat" program that will beat any other companies APR by .10% (fine print applies, of course).
The company also offers unsecured auto loans to well-qualified customers, which means there are no restrictions on the vehicles they buy. Those with less-than-prime credit can still qualify, but the terms will reflect the amount of risk you present.
Todd Nelson, Business Development Officer at LighSstream, says, " LightStream was designed to offer a simple, transparent means to borrow money for almost anything, rewarding consumers with great credit."
Autopay is a helpful platform that connects buyers with lenders. You can apply online for a loan to purchase a new or used vehicle, or to pay off your lease. After applying, you may qualify to receive offers from multiple lenders in Autopay's network.
Prosper is a marketplace lending platform that offers an easy online application process. Borrowers apply and, if approved, their loans are funded by investors.
It does not have vehicle eligibility requirements for its auto loans and you can purchase from a dealer or private party. If approved, your loan will be deposited directly into your account. It's an easy and reputable platform.
Lastly, LendingClub is the largest loan marketplace in the U.S., and its operation is entirely online. It cuts costs by using proprietary technology to streamline the underwriting process and passes on the savings to borrowers through competitive rates. Loans are funded by investors.
There you have our top picks, but remember, it's best to prequalify with a few lenders before choosing one so you can compare several offers.
FAQ on used car loan
Why are used car loan rates higher?
Used car buyers tend to have lower credit scores, according to Edmunds, which is another reason interest rate are higher on used vehicles. Lenders make up for the inherent risk in offering subprime loans or refinance deals by charging higher interest rates, which is why auto refinance rates are often quite high.
Is it worth it to finance a used car?
The final thing worth mentioning about financing a used car is that your monthly payments are probably going to be higher — even without factoring in the cost of money (interest). This is because the duration of the loan is typically much shorter, 2-3 years vs. the typical 5-6-year new car loan.
How long should you finance a used car?
Loans for used cars are about as long: The most common term for a used car in 2018 was 72 months. Even though people are financing about $10,000 less for used cars than they do for new cars, it takes them roughly the same amount of time to pay off the loan.
What is the best way to finance a used car?
Best way to finance a used car:
Know your credit score and make sure your credit report is up-to-date.

Work on improving your credit first if your score is below 650.

Know what you can afford.

Shop around for the lowest financing rate at local banks and credit unions.

Use that rate to negotiate with the dealership.
Can I finance a 10-year-old car?
In general, large lenders will not approve a loan for a vehicle that is more than seven years old or that has more than 100,000 miles. If you have a long-term relationship with a small regional lender–either a bank or credit union–then you may be able to finance the vehicle through them.
Find your best used car loan rates
Ready to find the lowest APR on a used auto loan?
Cut down the time and effort it takes to shop around by using SuperMoney's auto loan engine. Within a few minutes, you can get quotes from multiple vetted lenders without hurting your credit score.
Then, easily compare lenders to find the best deal and get into your next set of wheels.
Jessica Walrack is a personal finance writer at SuperMoney, The Simple Dollar, Interest.com, Commonbond, Bankrate, NextAdvisor, Guardian, Personalloans.org and many others. She specializes in taking personal finance topics like loans, credit cards, and budgeting, and making them accessible and fun.