Do you have a Visa credit card? If so, you're probably curious about what perks your card offers. SuperMoney is here to help. We'll break down each Visa benefits level so that you can get the best value out of your card.
It may surprise you to learn that Visa doesn't provide many of your credit card's benefits. That's because Visa is a payment network, not a bank. If you earn points or cashback on your credit card, you're earning them with the bank that issued your card, not with Visa.
That said, Visa does provide some benefits to its cardholders. These benefits come in three different levels, which Visa calls "Traditional," "Signature," and "Infinite." Read on to learn what you can expect from each level. Plus, we'll teach you how to identify the Visa benefits level of your credit card.
Visa's three benefits levels
Note that for each of the following levels, there are exceptions — cards which lack one or more of the perks of its benefits level. Why? Because the banks that issue Visa credit cards have a good deal of freedom in the design of their card offerings.
Also, your credit card's benefits aren't limited to this list. The bank that issued your card may offer additional benefits, such as cashback, air travel miles, etc.
Traditional Visa benefits
These are the basic benefits most if not all Visa cards offer.
Cardholder inquiry service. Visa's inquiry hotline has the answers to any burning questions you have about your card. And they don't only know about their own perks — Visa's hotline can provide info about issuer-provided features as well.
Lost/stolen card reporting and emergency card replacement. If your credit card goes missing, Visa will work with your issuer to cancel the card and send you a replacement.
Emergency cash. Your credit card is your primary source of day-to-day spending money. That means that until you receive a replacement, a lost or stolen credit card can put your whole life on pause. Luckily, Visa will work with your issuer to get you some cash to tide you over until the replacement arrives.
Car rental collision coverage. Say you rent a car with your Visa credit card and the someone steals or damages the vehicle in a collision. If you fulfill certain criteria, Visa will cover the costs of the damages. Click here for more details.
Zero fraud liability. If someone steals your credit card number to make fraudulent purchases, you won't be liable.
Roadside assistance. If you blow a tire or run out of gas on a road trip, you can call Visa to bail you out. However, Visa won't comp the costs of a tow truck — you'll have to pay for the help you receive.
Signature Visa benefits
Signature Visa cards include all the traditional Visa benefit and the following perks:
Extended warranty. Visa extends the warranties of certain products that you buy with your credit card. For example, if a manufacturer's warranty spans less than one year, Visa will double it. If you want to take advantage of this benefit, be sure to keep your receipts. You'll need to share them with Visa's Benefit Administrator along with the claim form. Read here for more details.
Year-end summary. Visa provides a detailed summary of your spending at the end of every year.
Travel and emergency assistance. Need help while overseas? Call Visa's hotline. They can help with everything from basic logistics (trip planning, lost luggage) to dire emergencies (prescription deliveries, medical transport).
Travel accident insurance. Purchase your airline ticket with your covered Visa Signature® card and you can enjoy Travel Accident Insurance.
Some Signature Cards also come with the following perks. Check with your card issuer to confirm what benefits they include.
Lost luggage reimbursement. If you use your card to buy an airline ticket, you can get reimbursed for your checked luggage or carry-on baggage.
Baggage delay reimbursement. If your checked baggage is delayed or misdirected for more than four hours, you can be reimbursed for necessities you purchase up to $300.
Global entry statement credit. Apply for Global Entry, a U.S. Customs and Border Protection program and use your Visa Signature card to pay the application fee (currently $100) to receive a $100 statement credit.
Trip delay reimbursement. Anticipate delays when you purchase air travel with your covered Visa Infinite® card. With Trip Delay coverage, you can receive up to $500.00 when you're stuck for more than 6 hours due to a covered hazard.
Discount Air. Save $100 when you book a qualifying itinerary for 2 to 5 travelers through the Visa Signature Discount Air website.
Trip cancellation. If you purchase your travel ticket with a covered Visa Signature card and you have to cancel or interrupt your trip, this benefit can help reimburse for the non-refundable cost of your passenger fare. This coverage applies to more than air travel. It also can be in place when a covered Visa Signature card is used to purchase a ticket for travel via other forms of eligible transportation, such as a ferry, rail, bus or cruise ship.
Airline incidental fees. Rebates for air travel-related fees like accelerated airport security, checked-luggage charges, in-flight food and more.
Lounge access (priority pass). VIP access at over 850 airport lounges worldwide.
Hotel theft protection. You can get reimbursed for your stolen stuff if you pay for a room with your card.
Cell phone protection. If you pay your monthly wireless bill with your card, you can get reimbursed if your cell phone is stolen or damaged ($50 deductible).
Emergency medical. Purchase travel tickets with your card and yo could get reimbursed for emergency medical or dental expenses you incur when traveling ($2,500 maximum).
Price protection. If an item that you purchased with your covered Visa Signature® card appears in a print advertisement at a lower price, you can be reimbursed the difference. Certain terms, conditions and exclusions apply. In order for coverage to apply, you must use your covered card to secure transactions.
Platinum Visa benefits
Platinum Visa cards are the fourth type of Visa card that is practically identical to standard Signature Visa cards when it comes to benefits. The two main differences are that Signature cards typically don't report a set maximum credit line to credit bureaus and they don't charge over-limit fees.
Infinite Visa benefits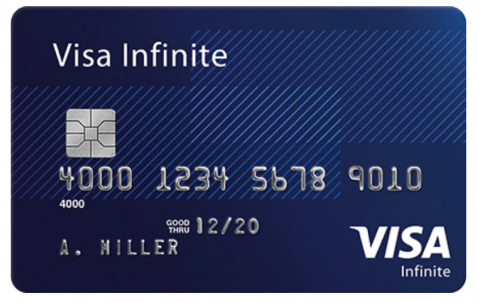 Infinite Visa cards offer all the benefits that come with a Signature Card plus these:
Return protection. Say you're trying to return some merchandise, but the merchant refuses to accept. As long as it's been 90 days or fewer since the purchase, Visa will cover the cost (up to $300).
Purchase protection. If you buy an item with your Visa card and someone steals it, Visa will cover the cost. Like return protection, this only applies for 90 days after the purchase.
Trip cancellation insurance. If you have to cancel a trip (or cut it short), Visa will help to cover the cost of any nonrefundable tickets.
Travel accident insurance. Visa provides up to $500,000 in accidental death and dismemberment insurance.
Trip delay reimbursement. If your flight is delayed overnight, Visa will cover your costs (up to $500).
Lost luggage reimbursement. If your checked or carry-on luggage gets lost or stolen, Visa will cover your losses.
How do you identify the Visa benefits level of your credit card?
Just look at your card! If you have Signature or Infinite benefits, you'll see it right on the Visa logo. On the other hand, if your card just says VISA, you probably have Traditional benefits.
Want more info? Then go to your bank's website and find the page for your credit card. Here you can learn about your card's other benefits, and whether there are any Visa benefits that your card lacks.
Choosing the right credit card
Are you shopping for a new credit card? Well, not all credit card offers are created equal. Each provides a unique set of benefits. If you want to find the perfect card for you, you'll need to examine each card's perks and choose one that suits your spending behavior.
For example, if you travel a lot, a card that lets you earn miles could be a great fit. If you don't fly much and just want to minimize your losses, a cashback card is a great bet.
Not sure where to start? Click here to compare dozens of top personal credit cards side by side. Or click here for a primer on how to find the perfect card for you.