Volkswagen (VW) Credit has been extending auto loans and leases to drivers of Volkswagen vehicles for more than 30 years. It is part of the VW Group and is the only financial institution endorsed by Volkswagen of America Inc. If you are considering a Volkswagen for your next vehicle, you may be wondering if this company will get you the best deal. To find out, here is an in-depth review of VW Credit's offerings, incentives, customer service, and application process.
Volkswagen Credit Offerings
VW Credit offers auto loans and leases for new Volkswagen vehicles, and auto loans for certified pre-owned (CPO) vehicles. The auto loan terms range from 12 to 72 months, and the lease terms range from 12 to 48 months.
Compare the option to lease vs. the option to buy.
VW Certified Pre-Owned vehicles
What benefits do the Volkswagen CPOs have to offer? They come with a model-specific warranty, 24-hour roadside assistance, 100+ point dealer inspection, 3-month all access trial subscription of Sirius XM, and a free CARFAX vehicle history report.
Shop online
Not sure which vehicle you want? On the VW Credit website, you can view all of the Volkswagen models and search the inventories of dealers near you. Find prices and specifications (exterior, interior, safety, technical, and accessories), and get quotes. Or, if you want to build your vehicle, you can do that, too.
Now that you know the basics let's look at the perks for which you may be qualified.
Volkswagen Credit Incentives
Volkswagen offers some incentives to help customers save money or get approved for financing. The current programs include:
College Grad Program:  Receive a $500 contract bonus when you buy or lease a new VW vehicle. To qualify, you must have graduated from a U.S. or Canadian accredited university/college within the past two years (or will graduate within six months), and have a full-time job or a written commitment from a future employer.
First-time Buyer Program: If you have never had a vehicle loan before, this program can help you get approved for a new or certified pre-owned Volkswagen. While credit history is not required, any existing credit must be in good standing.
Loyalty Program: VW Credit rewards loyal customers who lease twice in a row by waiving their disposition fee and security deposit. If a lessee decides to buy with VW Credit, the disposition fee on an existing lease will also be waived.
Corporate Program: Qualified corporate entities can get lease options, retail financing, and more by visiting a VW dealership.
Foreign Business Professionals Program: VW Credit will help business professionals from other countries lease or finance a vehicle during their time in the U.S.
If you are interested in any of these programs, it's best to check in with a dealer near you to find out about the details and specific eligibility requirements.
Next, let's look at the customer service support VW Credit offers.
Volkswagen Credit Customer Service
If you need help with your VW Credit account, you can call the VW Credit phone number at 1-800-428-4034. Representatives are available Monday to Friday from 8 a.m. to 10 p.m. EST. You can also create an account on the website and send a secure email. Unfortunately, many customers report having negative experiences with the customer service department, citing poor communication, mistakes, and difficulty resolving issues.
To learn more, read Volkswagen customer service reviews here.
Account Management
Within two weeks of buying or leasing from VW credit, you will receive a welcome packet in the mail that contains all of your account information. Then, you can sign up to manage your account online with VW Credit's "My Account." You will be able to view your account history, request a payoff quote, set up paperless billing, update contact information, make payments, and more.
Payments
In addition to making payments through My account, you can also:
Set up scheduled payments that automatically withdraw funds from your bank account
Pay over the phone using the 24/7 Interactive Voice Response system at 1-800-428-4034
Send in your payments by mail
Pay via MoneyGram® Express Payment or Western Union® Quick Collect
When it comes to the options available for making payments, VW Credit offers a wide selection.
Tools and resources
Additionally, VW Credit offers online tools and resources to help customers work out the details of their transaction. For example, the value estimator tool tells you how much you can expect to get for your trade-in, and the monthly payment estimator will help you figure out how different factors will affect the amount you pay each month. You can also find answers to frequently asked questions and guides to other topics, such as what to do at the end of your lease.
Overall, the company's customer service gets a poor-to-fair rating from us. If you like to self-serve, there is online account management, tools, resources, and various ways to pay your bill. However, if something comes up and you need to work with representatives from the company, you may run into some difficulty. This can be a major drawback because, when something goes awry financially, you'll want to have a competent and reliable support team that works to quickly resolve issues.
Next, let's look at the online application process.
Online credit application
If you have found the perfect vehicle and want to buy or lease through VW Credit, here's how you can do so online.
First, you'll need the following information:
Social Security number
Phone number
Address (current and previous)
Employment status (current and previous)
Valid email address
Information for a co-applicant (if applicable)
Once you're ready, head over to the VW Credit website and click "Apply for credit."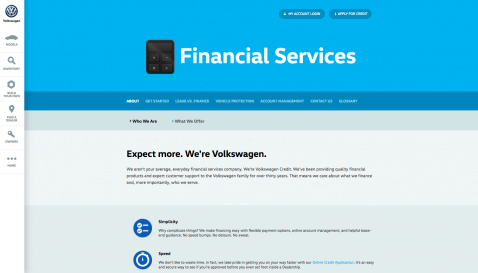 Select the vehicle you want.

Provide your financing information, including whether you are applying alone or with a co-signer, if you want a loan or a lease, the length of the loan or lease you're seeking, the amount of your down payment, and if you have a trade-in.

Enter your personal information, including your name, social security number, phone number, and address.

Share details about your living situation and expenses.

Share your employment information.

Select a dealer near you.

Review all of your information to ensure it is correct, accept the terms and conditions, and submit the application.
That's it. Then, check your email for a message from VW Credit to find out if you are approved. You may also be contacted by a Volkswagen Dealership representative near you. If you are approved, the next step is to visit the dealer you selected, finalize the loan or lease, and get your vehicle.
Note: If you do go to a dealership, be sure to bring the following documents: a current pay stub, proof of residence, your driver's license, proof of insurance, the contact information for your insurance agent, the title if you are trading in a vehicle, and your vehicle pay-off information (including the contact details for the agency).
The verdict: Is Volkswagen Credit right for you?
Is VW Credit the best option for all people thinking of buying or leasing a Volkswagen? Not necessarily. Could it be best for you? Yes. The company has its strong and weak points. Here's a summary of the pros and the cons:
WEIGH THE PROS AND CONS
Compare the pros and cons to make a better decision.
Pros
Inventories of local dealers are online
Prices are listed online
Ability to build your vehicle online
Multiple incentive programs
Online tools and resources for customers
Many payment options
Over 30 years in business
Specializes in Volkswagen vehicles
Competitive interest rates
Cons
Customers must work with a dealer to obtain financing
Interest rates may not be the best
Bad reputation for customer service
FAQ on Volkswagen Credit
What is Volkswagen Credit?
VW Credit offers auto loans and leases for new Volkswagen vehicles, and auto loans for certified pre-owned (CPO) vehicles. The auto loan terms range from 12 to 72 months, and the lease terms range from 12 to 48 months.
What credit score does Volkswagen require?
Applicants with a credit score of at least 650 and up to 850 are eligible for Volkswagen credit auto loan.
Can you extend VW lease?
You can, in most cases, extend your lease for one or more months at the same monthly payment. Contact Volkswagen Credit and one of their customer service representatives can provide details about extending a lease.
Is VW Credit the same as Audi Financial?
VW Credit, Inc. (VCI) is the captive finance subsidiary of Volkswagen Group of America (VWGoA), and serves the Volkswagen, Audi and Ducati brands in the United States.
Does VW offer extended warranty?
Volkswagen offers Volkswagen Drive Easy Program. The program is endorsed by Volkswagen and offers extended warranties for both new and used Volkswagen vehicles that can cover you up to 100,00 miles, depending on the age and mileage of your Volkswagen.
If you think VW Credit may be the right fit for you, you can find out by applying online. Upon approval, you will receive the rates and terms for which you qualify. If you are looking to lease, you should check with other dealers to compare the deal VW Credit offers you. If you are looking to buy, you can use SuperMoney's auto loan engine to find out if you qualify for financing from many other lenders. It takes about two minutes, and it doesn't hurt your credit score in any way.
By doing your homework, you will be able to compare companies and their offers to see which one would truly be the best deal for you.
See your personalized auto loan offers here!
Jessica Walrack is a personal finance writer at SuperMoney, The Simple Dollar, Interest.com, Commonbond, Bankrate, NextAdvisor, Guardian, Personalloans.org and many others. She specializes in taking personal finance topics like loans, credit cards, and budgeting, and making them accessible and fun.