Despite my age (suffice it to say I'm older than 12), Walt Disney World is still one of my favorite places on the planet…and it's a pretty big planet! Disney always impresses me with their cleanliness, efficiency, awesome staff, and their awe-inspiring ability to take a theme and run with it. I'm probably as hard-core as you can get as a Disney fan; the nightly fireworks almost reduce me to tears.
That being said, it's an expensive place to hang out, so over the years I've found some great tricks for shaving a few bucks off the cost of our stay.
More is Better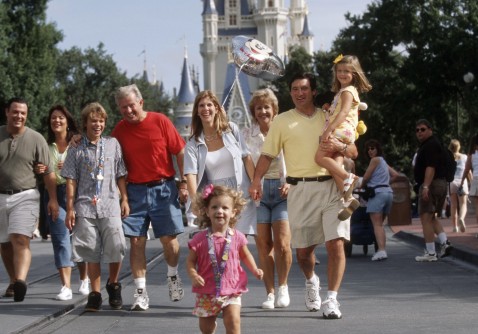 Buying park tickets can get a little overwhelming because of all the combinations and options available, but you can apply a couple of rules of thumb. For one thing, the longer you stay, the cheaper the per day rate gets on the tickets.
For example, a one-day park pass is about $94, but by the time you get to the 10-day pass, you're only paying $35 per day for the same access. Also, the more options you buy, the cheaper each option gets. The park hopper and waterpark options are sold separately for $60 each, but you can buy both for only $86.
The park hopper option seems steep, but the flexibility it allows you is amazing. Not all the parks open and close at the same times, so you can maximize your park exposure by park hopping.
Also, it opens up all your possibilities for restaurant reservations. In other words, you can spend the day in the Magic Kingdom and have dinner at Epcot without having to pay an extra entry fee to Epcot. Similarly, you can spend the day at one park and still enjoy an evening show, parade, or fireworks at a different park.
Purchase the Dining Plan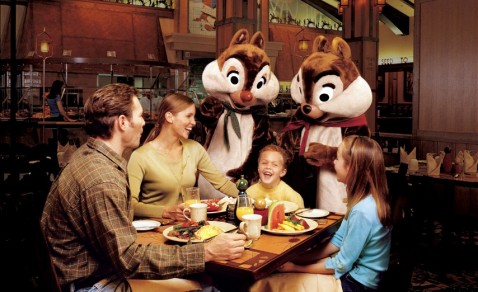 The dining plans are available to visitors staying at Disney resorts or using Disney Vacation Club points. Again, there are many options to consider, but it's the most flexible and affordable meal plan I can think of.
For example, a family of 4 (with 2 kids under 10), can buy the "plus dining" plan for about $160 per day. This sounds expensive, but you'd be hard-put to feed your family for this little each day. This plan includes one table service meal, one quick service meal, and one snack per day per person.
Quick service means cafeteria style, table service means restaurants with a waiter, and snack is basically anything worth up to about $4 at any of the kiosks or shops in any of the parks, including drinks and ice cream sundaes, among other things.
Both the quick service and table service meals include an entrée and a dessert. The plan is flexible, meaning that you can spend those meals in any order or capacity per day; you could literally eat all of your meals the same day if you wanted to.
Already, it's an awesome deal, but pair that with the fact that the meal portions are so huge, you can easily share the quick service meals between two people. That way, you can purchase both breakfast and lunch at quick service restaurants each day, using up only one adult and one kid meal each time. Trust me, you won't go hungry…have I mentioned the portions are huge?
Another tip for stretching out the meals and maximizing your experience is to use the table service meals as your lunches instead of your dinners. Some of the pricier, more popular, and more expensive restaurants require a reservation (some are booked months in advance) and lunch reservations are often easier to come by than dinner reservations.
When we took a two-week trip a few years ago, we had driven to Florida from our home, which was about a two-day drive. We had so many unused meals left on our plan at the end of our vacation, we were able to stock up on sandwiches, muffins, fruits, and drinks to fill our cooler for the long drive home!
Take Advantage of the Disney Vacation Club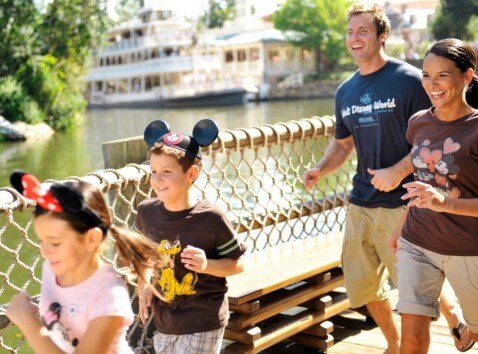 Disney Vacation Club is the timeshare program for access to Disney resorts. Don't get me wrong here, I'm not trying to sell you a timeshare. I'm saying you can benefit from Disney Vacation Club members not using their annual allotted points.
When members aren't going to be using their points, they can sell them to a third party (called "renting" points). There are websites dedicated to the renting of these extra points. You'll have to do some research, though, because each different Disney resort costs a different number of points per night, and you may not find all the points you need from one seller. Because these are private sales, you'll also have to do your due diligence (like when you're buying off Ebay or Craig's List), and you may not pay the same price for all the points, even though you'll be using them at the same resort.
Remember, members have already paid their annual dues, so you can make an offer less than they're asking for the points; they may be glad to recover even just some of their money.
With a little extra time put into it, you could potentially be staying at a top-notch Disney theme resort for as little as half price!