Wells Fargo is an American financial services company headquartered in San Francisco, California. According to Forbes in 2018, Wells Fargo is the
seventh largest public company in America. Being a large financial services company, it comes to no surprise that the company has a branch of services specific to student loans. If you're researching about Wells Fargo student loans and student loan refinancing, read ahead on our in-depth student loan refinance review.
In this analysis, we will look at the loan product, what it entails, the application process, the pros and cons, and the verdict on whether it is a good deal for students.

Wells Fargo Student Loan Refinancing Overview
If you are a student with multiple student loans from private lenders, you can consolidate them into one loan from Wells Fargo. Moreover, the potential benefits include easier management and a lower cost.
You may be wondering, "Are there Wells Fargo federal student loan refinance options?" At this time, there are not. Wells Fargo student loan consolidation is strictly available for private student loans.

What is refinancing a loan?
Refinancing a loan is when you get a loan from a new lender and use it to pay off your old lenders. For example, if you have private student loans from three separate companies, you would add up the total amount you owe on all of the loans.
Then, you would get a new loan for the full amount. Your old loans will be paid off in full, and you'd only owe one monthly payment to the new lender.

How does a student loan refinance work?
It works by paying your old student loans in full and then closing them out. You still owe the same amount; it is just all to one lender now. The goal for borrowers is to find a new lender that will help lower the cost of the debt.
Not only should you focus on a lower monthly payment, but also a lower total cost over the life of the loan.
A common mistake is to extend the repayment term to lower the monthly payment. Consequently, this causes the total amount you pay in the long run to increase. For this reason, it is important to look at loan repayment terms as well as interest rates and fees.
Ideally, the refinance will achieve the following three things.
There will be no fees
The interest rate will be lower than the average of your current loans
The loan repayment period will be equal to or shorter than the average of your current loans
Now, let's look at how Wells Fargo fares.

Wells Fargo Student Loans: Terms and Rates
Wells Fargo offers an online application process so you can find out what terms and rates you qualify for without visiting a branch. Mark Kantrowitz, Publisher and VP of Strategy at Cappex, says the interest rates are competitive.
However, the rate you get will depend on your credit history. In addition, the rate is dependent on whether you opt for a fixed or variable rate, and if you qualify for a discount.
There is a 0.25% interest rate discount available for borrowers who set up auto pay and another for those who have a Wells Fargo qualifying account.
As for fees, Wells Fargo does not charge any application, origination, or prepayment penalties. The only fee is for late payments. Also, to note, the repayment periods are either 15 or 20 years.
When it comes to loan amounts, Wells Fargo places their terms based on the following three factors. Firstly, Wells Fargo places limits on how small a loan can be. Secondly, the company will look at how much you can borrow at one time. Lastly, the company will look at how much you can borrow in your lifetime for educational loans. Your total loan amount will have to fall within the set limits.
Furthermore, Kantrowitz says Wells Fargo offers death and disability discharge and allows the release of cosigners after 24 months.
Can you refinance private student loans with Wells Fargo?
To qualify for a private consolidation loan with Wells Fargo, you must meet the following basic eligibility requirements:
US. citizen or permanent resident
Meet employment, credit, and debt-to-income criteria (or have a cosigner who does)
Total loan balance must exceed $5,000
Each loan must have a balance of at least $1,000
Total balance can not exceed $120,000
Wells Fargo has a lifetime limit on education related debt of $250,000 per borrower
The specifics of the employment, credit, and debt-to-income ratio criteria are not specified, so the best way to find out is to apply.

Wells Fargo Student Loans Refinancing: Benefits And Drawbacks
WEIGH THE PROS AND CONS
Compare the pros and cons to make a better decision.
Pros
Competitive interest rates
Fixed or variable interest rate options
No origination, prepayment, or application fees
Interest rate discounts for autopay and Wells Fargo customers
Large, reputable bank that is available nationwide
Allows release of cosigner after 24 months
Easy online application
Cons
Federal student loans are not eligible
Credit check with hard inquiry required to get rates
Less flexible with payment options if you fall behind
Wells Fargo Student Loans Refinancing: Application Process
You can apply with Wells Fargo over the phone, or you can follow these steps to apply online.
1: Visit the Wells Fargo "Consolidate or Refinance Private Student Loans" page. Click "Apply Now."
2: Answer a few questions to get more information about Wells Fargo's student loans consolidation. Click "Find my loan."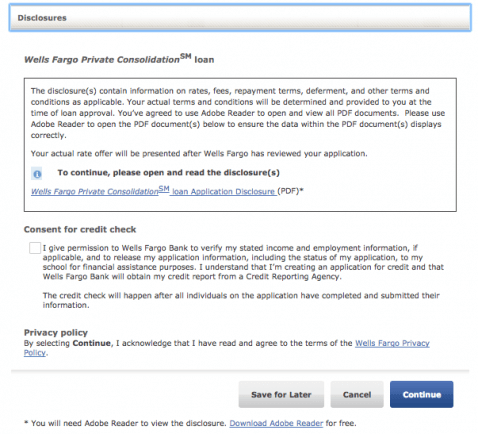 3: Review the basics of the loan product and click "Get Started."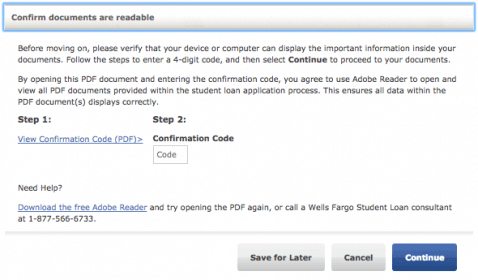 4: Provide your state of residence, name, social security number, and birthday and click "Continue."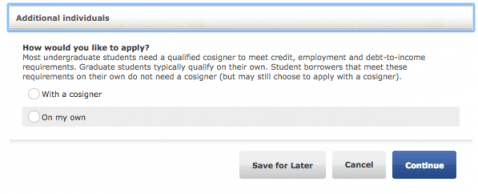 5: Provide your contact information.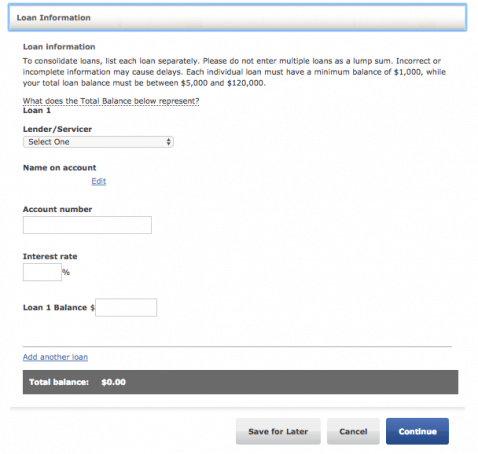 6: Provide employment and employer information.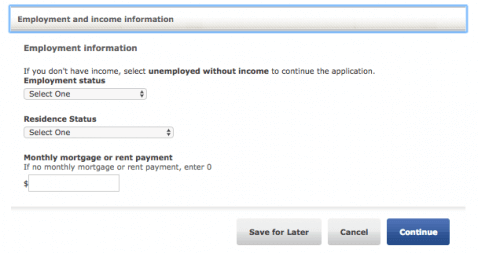 7: Provide information on your existing loans.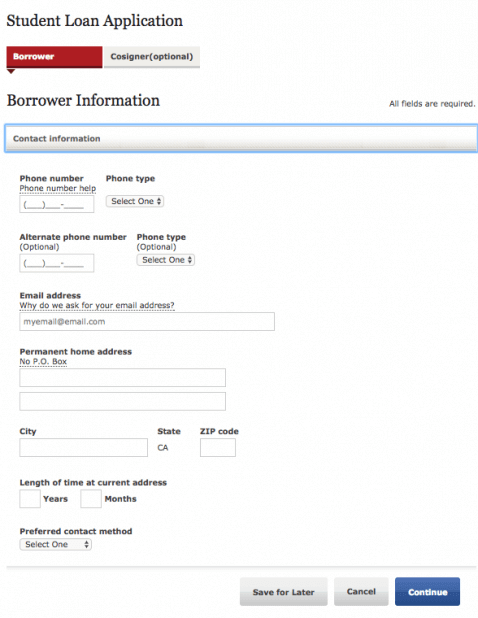 8: Share whether you will be applying on your own or with a cosigner.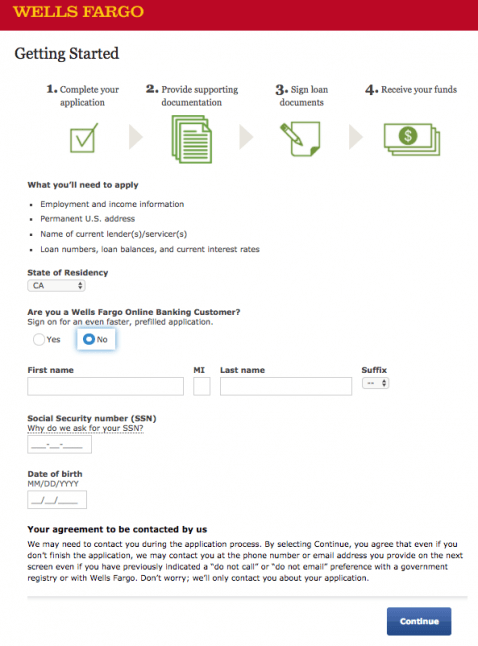 9: Confirm that you can read the documents that will be provided (PDFs).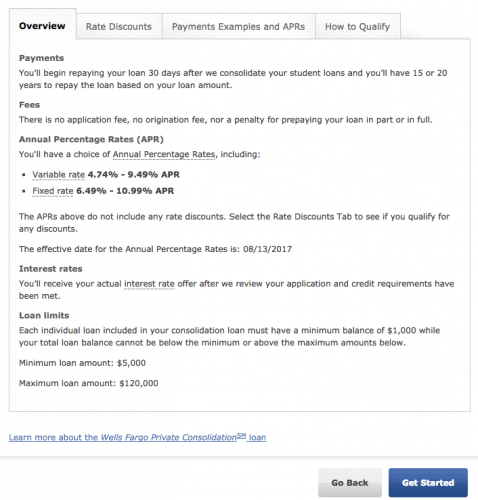 10: Agree to the disclosures and apply.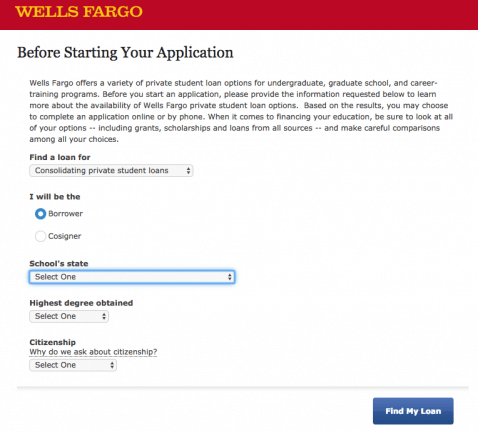 At this point, Wells Fargo will check your credit and verify the information you have submitted. You will then get an offer.
Before accepting the offer, you may need to send in supporting documentation. Once the company verifies everything and approves you, they will deliver the funds to your account.
Wells Fargo Student Loans Refinancing: The Verdict
Wells Fargo is best for those who have great credit and are strictly looking to consolidate private student loans. You will likely get a competitive interest rate and decent terms. Also, if you have a cosigner, there is the possibility you might be able to release them after 24 months.
However, for people with a mix of both Federal and private loans, Wells Fargo won't be the best choice. Other lenders can consolidate both types of loans.
Also, if you don't have good credit, you may struggle to qualify or may get a quote for a higher interest rate than you currently have. In this case, it will be best to shop around or stick with your existing loans.
To read Wells Fargo student loan consolidation reviews, learn more about the company, and apply, click here.
Jessica Walrack is a personal finance writer at SuperMoney, The Simple Dollar, Interest.com, Commonbond, Bankrate, NextAdvisor, Guardian, Personalloans.org and many others. She specializes in taking personal finance topics like loans, credit cards, and budgeting, and making them accessible and fun.