Summary:
When you apply for a credit card, financial institutions will most likely pull your credit report from at least one of the three major credit bureaus — TransUnion, Equifax, or Experian. But the fact is, it's tough to predict which credit card issuers will use TransUnion data over another credit bureau. Either way, it's important for you to be aware of the data in all of your credit reports and how that information impacts your ability to obtain credit.
Your credit report is one of the most important factors that credit card issuers or other lenders use to decide if you're a good risk to extend credit and make your monthly payments. Whether they pull TransUnion data or use another credit bureau, your credit reports carry important information about your credit history.
Read on to learn more about which financial institutions pull TransUnion credit scores (possibly) and how your credit report from each of the three major credit bureaus can vary. To keep a close eye on your credit history, it's important to know that TransUnion credit reports and other credit bureaus may have different information about consumers' credit histories.
Credit cards that pull TransUnion credit reports
As mentioned, it's virtually impossible to know which credit bureau a financial institution or credit card company will pull reports from. Really any of the three major credit bureaus could be used at any time, says Derek Sall, a personal finance expert and the founder and lead at Life and My Finances.
"All credit card issuers change it up from time to time. It's in their best interest to anyway. While people can't necessarily game the system, if they know American Express tends to pull from Experian and that's the bureau that shows their highest score, they'll apply with American Express (vs. applying to Capital One that might discover their lower score through TransUnion, for example)."
But, Sall adds, card companies will usually just pull one credit report at a time except under certain circumstances.
"Issuers typically only pull your credit through one of the bureaus. If there is a red flag on one that puts you on the edge of approval/non-approval, then they may pull your credit through another issuer just to be sure. This doesn't happen often, but it can. Very rarely would an issuer pull credit from all three bureaus, though."
Having said that, several financial institutions and credit card companies may pull your TransUnion report including Capital One, Barclaycard, U.S. Bank, and Fifth Third Bank.
Other credit cards that use TransUnion credit reports might also include the Apple Card (Goldman Sachs Bank), Southwest Rapid Rewards credit cards (JPMorgan Chase Bank), and Amazon (Synchrony Bank).
Credit reports explained
If you have any credit, you have a credit report. It could consist of traditional credit cards, retail store cards, loans (student loans, car loans, or mortgages), or a combination of all of these.
Your credit report not only shows the type of credit you have but also details how you've managed your existing credit. Your credit score is essentially a summary of your credit that weighs various factors such as the following.
Payment history
Age of credit
Credit card utilization rate (how much credit used in relation to your available credit)
Credit mix
Hard inquiries from banks or issuers
Any collections or judgments on your credit report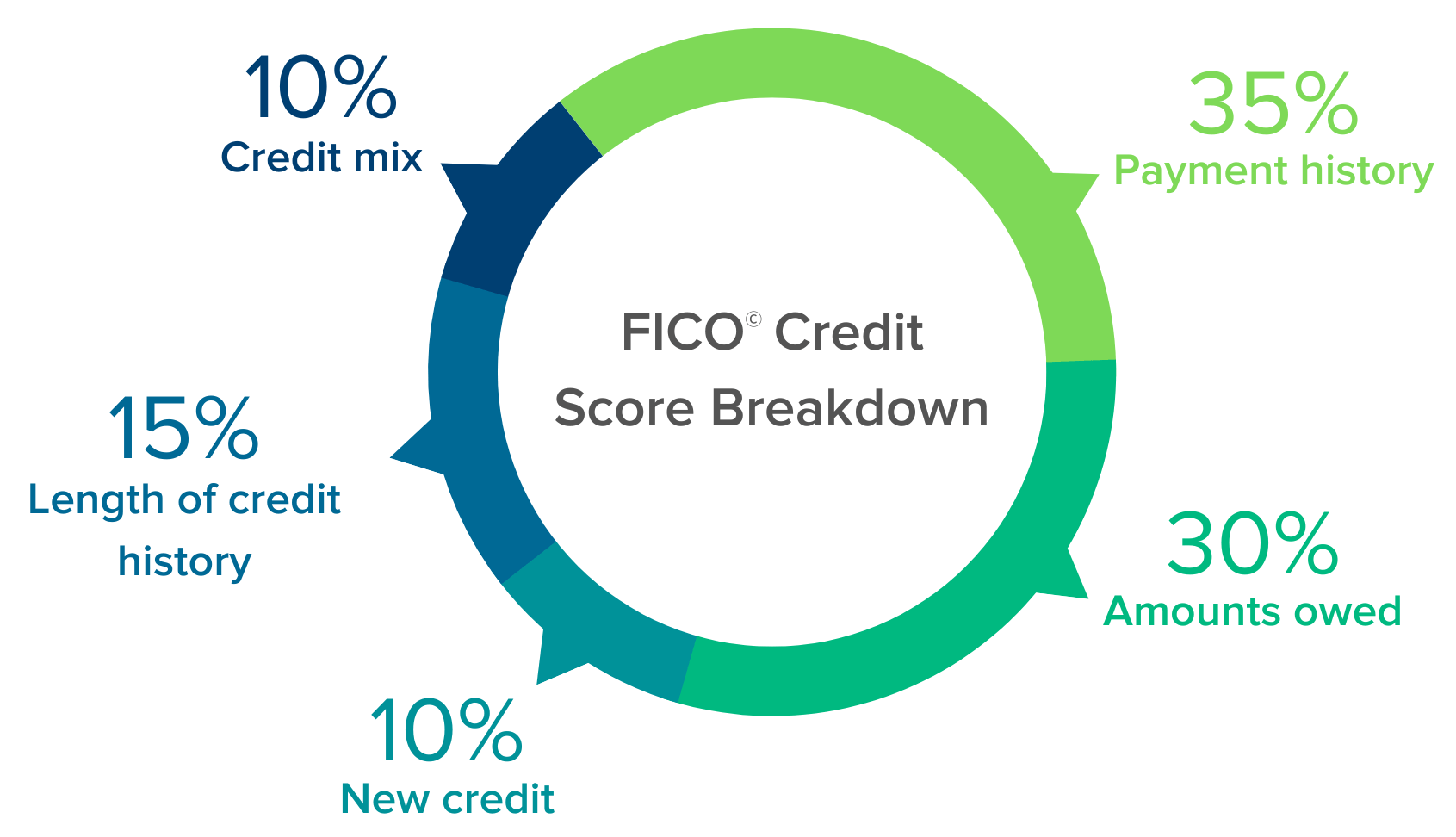 The credit bureaus use scoring models to weigh each of these elements to come up with your credit score. Then creditors use the score to decide whether an applicant's credit history is good enough to qualify for a credit card.
What counts as a "good enough" score varies by credit issuer. However, the two most used scoring models, FICO and VantageScore categorize scores on their credit reports in the following ranges.
| VantageScore | FICO |
| --- | --- |
| Excellent: 781 – 850 | Exceptional: 800+ |
| Good: 661 – 780 | Very Good: 740 – 799 |
| Fair: 601 – 660 | Good: 670 – 739 |
| Poor: 500 – 600 | Fair: 580 – 699 |
| Very Poor: 300 – 499 | Poor: 579 and below |
Clearly, credit scoring is tricky and a little bit subjective, but it essentially amounts to the same thing and credit issuers know this.
Why credit scores vary
You might think that your credit score should be the same across each of your three credit reports. However, your credit score can vary because of a few differences. First, credit bureaus may take different approaches to how they score your credit. Second, not every creditor reports to each credit bureau.
For example, your TransUnion credit score might be different than the score you have with another credit bureau because, say, your Wells Fargo credit card doesn't contribute to your TransUnion credit score. Your scores also vary because of when different creditors report to the bureaus.
It's important to note that even though your credit score may vary slightly between the three credit bureaus, each one is considered a reliable credit score by creditors and other types of lenders. In most cases, minor variations shouldn't affect your ability to obtain credit cards if you have a decent credit score.

Related reading: To see when different financial institutions report to credit bureaus, take a look at some of our articles discussing this topic.
Keeping an eye on your credit report
Another thing to keep in mind is that your credit score can be impacted by inaccurate information reported to the credit bureaus. You might also be a victim of credit card fraud or identity theft. One of the best ways to avoid this, or at least catch it early, is to review your reports regularly to ensure that nothing is amiss.
You can get copies of your reports at AnnualCreditReport.com or your financial institution or credit card company may also offer you free reports from time to time. If you see any activity that you didn't authorize, you can dispute the errors, get them taken off, and immediately raise your credit score.
Pro Tip
If you suspect you're a victim of identity theft, act quickly. In addition to reviewing the reports yourself, consider hiring a service that
monitors your reports
(like those below) or getting a fraud protection plan. You may also want to put a
fraud alert or freeze
on your reports.
Things to look for in a credit card
These days, there are so many options when you're looking to apply for a new credit card besides the bureau the issuer reports to. With that in mind, it's especially important to carefully review each card's details to make sure you get the one that makes the most sense for you.
Foreign transaction fees
If you're an adventurous world traveler or frequently go overseas on business, you probably want to choose a card with no foreign transaction fees. The average rate of foreign transaction fees is around 3% generally, which may not seem like a lot right now, but can really add up if you use your credit card a lot.
Balance transfers
Cards that come with an introductory APR of 0% and accept balance transfers can be a great option for those who are trying to pay off existing high-interest debt on other credit cards. This means the balance transfer fee is going to be an important consideration. Typically balance transfer fees are between 3% and 5%.
So if you're choosing between credit cards, you'd be smart to look for one with a 3% balance transfer fee, for example, over one with a 5% fee. Depending on how much debt you're transferring, it could save you hundreds or even thousands of dollars.
Rewards credit cards
People who use their credit cards frequently often want a rewards credit card. They can be especially valuable for those who make a lot of travel purchases or for those who want to use their credit card spending to take advantage of cashback rewards.
Just make sure to find out what purchases are considered eligible to earn the best rewards. For example, a rewards credit card that weighs its rewards heavily toward gas stations and grocery stores might not be the best deal for someone who doesn't drive and frequently goes out to eat.
But other credit cards will let you choose your rewards categories or even let you change them up as your needs evolve. Other institutions offer rotating bonus categories with higher rewards (up to 5% sometimes), but you'll need to keep track of when these offers are available to take advantage of them. Plus keep in mind you usually need to manually "activate" these offers from your online account.
Keep in mind that sometimes a rewards credit card comes with an annual fee, so that should be another consideration when choosing the best card for yourself.
Pro Tip
Eligible purchases can also refer to how you use your credit card. For instance, balance transfers, fees, interest charges, and cash advances generally don't qualify as "eligible purchases" to earn rewards.
Annual fee
Some credit cards that come with an annual fee have great perks, but they're not always worth it depending on your priorities.
For example, Chase Sapphire Reserve has an annual fee of $550, which is quite steep. And while you'll receive 60,000 bonus points for signing up (the equivalent of $900 when redeemed for travel, Chase's website says), first you have to spend $4,000 in the first three months. That just might not be feasible for some people.
Another rewards credit card, the Capital One Venture Rewards credit card also offers a one-time bonus — 75,000 miles once you spend $4,000 within the first three months. However, its annual fee is only $95. Of course, there are other benefits of credit cards to consider, like travel insurance, a statement credit, or other details, that may tip the scale in your favor.
Ultimately, it's up to you to decide if paying an annual fee is worthwhile. Ask yourself if you spend enough to justify the annual fee, or if you'll actually take advantage of the particular credit card rewards offered by the card issuer.
Key Takeaways
Part of the credit card application process (or if you ask for a credit limit increase) is for creditors to pull at least one credit report from one of the three major credit bureaus — Experian, Equifax, or TransUnion — to determine if you're qualified for the credit.
Many credit card companies use TransUnion data to assess credit card applications. That said, they may also pull reports from one of the other three credit bureaus.
Your credit report, and thus, your credit score, may vary a bit from one credit bureau to the next.
It's important to review your credit report from each credit bureau on a regular basis to make sure the information is accurate and up to date and to protect against identity theft.