Are you thinking of making a move to a new city? You're not alone. Residents of the Big Apple, Los Angeles, and other major metropolitan areas often think the answer to making their paycheck go further is to move out of the big city. Some are leaping a faith and relocating in pursuit of a new job.
After several stagnant years, the percentage of workers relocating for a new job in 2013 (the most recent numbers available) rose 35% from 2012, according to a survey by outplacement firm Challenger, Gray & Christmas. Whether you're eyeing a move to a new city or region, or wondering why it feels like your paycheck doesn't stretch as far as it used to in your hometown, it's essential to understand the actual purchasing power of your income.
It used to be Americans would have to guess at how far their hard-earned dollar would stretch. Now there is data from the Bureau of Economic Analysis (BEA) that can help you know how much your paycheck is worth across the U.S. The BEA recently released real, price-adjusted estimates of personal income for states and metropolitan areas for 2008-2012.
"For the first time, Americans looking to move or take a job anywhere in the country can compare inflation-adjusted incomes across states and metropolitan areas to better understand how their personal income may be affected by a job change or move. Businesses considering relocating or establishing new plants also now have a comprehensive and consistent measure of differences in the cost of living and the purchasing power of consumers nationwide. The Commerce Department's 'Open for Business Agenda' prioritizes making our data more accessible and understandable so that it can continue powering both small and large businesses nationwide," said U.S. Secretary of Commerce Penny Pritzker in a press release.
To help you pinpoint exactly how far your paycheck goes—or doesn't—NPR graphed data for 356 cities to illustrate the disparity between income and what it feels like. Curious city dwellers can plug in their metro area, or one close to them, to see the average median income and just how much it feels like that paycheck is worth.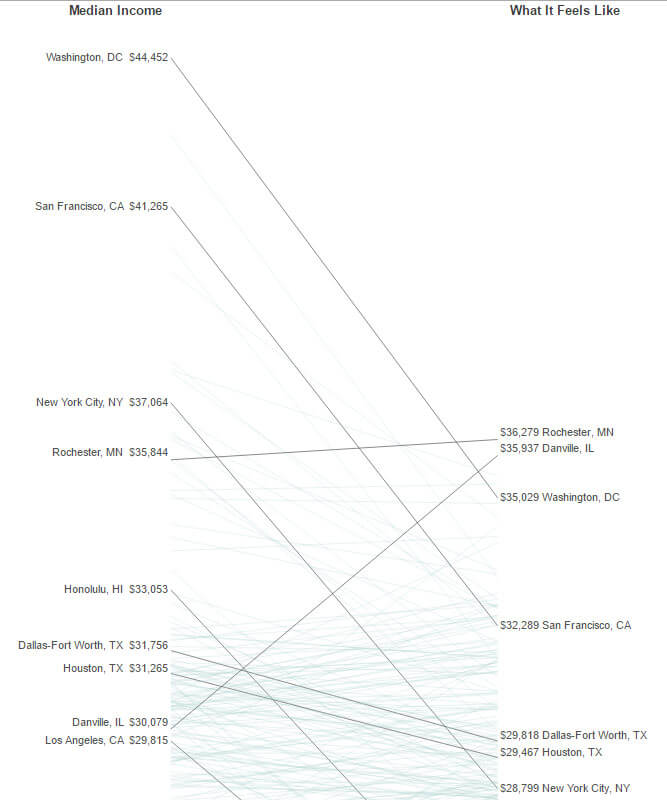 As you would expect, in many big cities like the nation's capital, the City by the Bay, and the City of Angels, there's a significant difference between the average annual income and what that money "feels like," once you take into account the cost of living.
The price Angelenos (Angelinos or Angeliños) pay for all their sun and blue skies is a paycheck that feels $6,000 lighter than it should. In other areas, that gap can widen to nearly $10,000. The states with the highest costs of goods and services are Hawaii, New York, New Jersey and California. This isn't the first we've heard about how expensive living in cities like Tinsel Town can be. Recently a study found that a household income of at least $85,964.88 was needed to purchase the average home in Los Angeles.
You can always move to areas like Danville, Illinois, where the median income is practically the same as Los Angeles, $30k, but the low cost of living makes it feel like you got a $6k raise. Or try out zip codes in other parts of the country like Hot Springs, Arizona and Muncie, Indiana where despite being paid less, that salary will go further.
Who Makes The Most?
The city with the highest median income and where your paycheck stretches further is Rochester, Minnesota. The tradeoff is you have to deal with frigid temperatures and lots of snow during winters that last 8 or 9 months of the year. In addition to pricey booming metropolitan areas, some smaller regions will also eat up your paycheck. Bloomington, Indiana, has the lowest median wage after adjusting for the cost of living.
What About Workers With Wages Below The Median Income?
If workers with a median wage struggle with the high cost of living in big cities, what about people with minimum-wage jobs? The graph below is a survey based on data sourced from MIT's Living Wage calculator. It illustrates the discrepancy between the cost of living and the minimum wage in major US cities. The worst city for low-income workers is Boston, Massachusetts, with an $11k discrepancy between the minimum cost of living and the minimum wage for a full-time worker. Seattle, Washington, offers the best deal for minimum wage workers, but even in Seattle minimum-wage workers only get to keep $36, once they pay for their basic living expenses.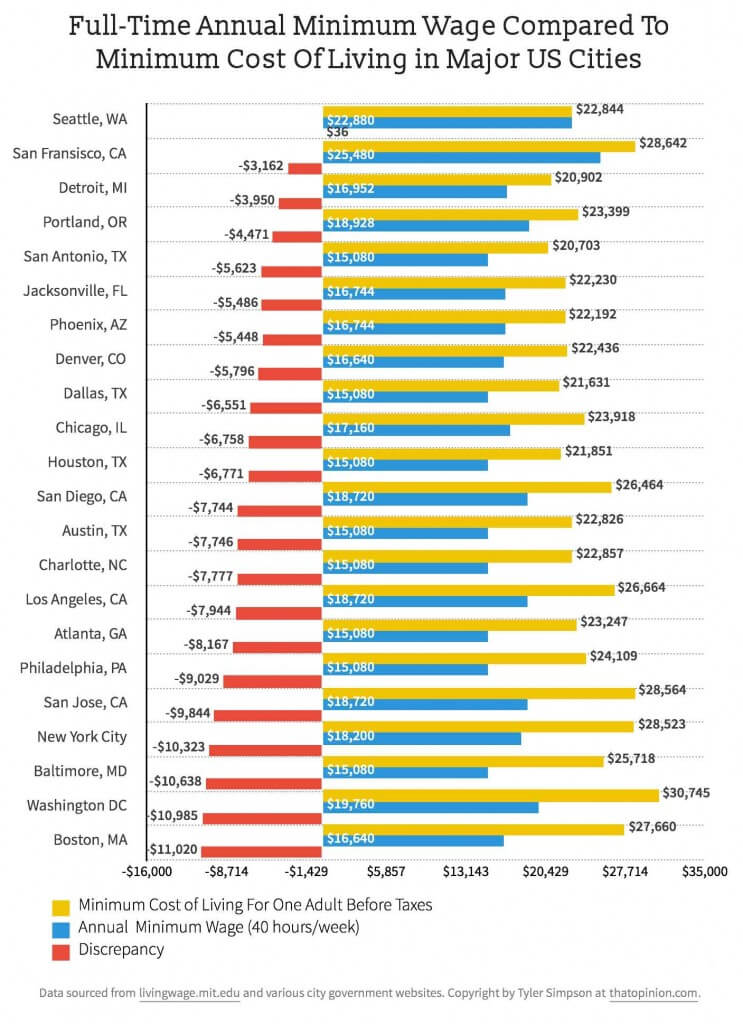 Regardless of our wage bracket or salary, we all want to make our paycheck go further. Keep these budget-friendly ideas in mind to help stretch your hard-earned dollars.
Get Rid Of High-Interest Debt
Living paycheck to paycheck is a red flag for an unbalanced budget. As a result, you're probably using credit cards or payday advances to get by. Making minimum payments on these accounts means you're accumulating a lot of interest that will eat up those dollars you're trying to extend. Make a dent in all that debt by consolidation your loans with a low-interest personal loan. Lenders like PenFed and Upstart target borrowers looking to pay off their credit card debt with a lower interest rate loan.
 Lower Your Insurance Costs
Cut your annual premiums by shopping for a better deal or opting for a higher deductible. Consider insurance as financial protection for catastrophic events, not just minor disasters. Your emergency fund, not an insurance policy, is the best tool to cover unexpected expenses. Having a higher deductible will lower your premium and free money for more lucrative ventures.
Lower Your Student Loan Payments
Consolidating student loans through the Federal Direct Loan Program can trim your monthly payments by refinancing your loan at a low fixed rate.
Avoid Unnecessary Bank Fees
Living on a tight budget can easily cause you to miss a payment. Every late credit card, utility, a loan or other payment triggers a late fee being tacked on to your balance. And many banks charge fees for the privilege of having one of their checking accounts. Then there are those pesky ATM fees you're slapped with every time you take cash from your account at a machine that's not in your network. On their own, one or two fees a month don't seem to add up to much. But, when you tally up all the nickels and dimes you pay in one month, it may be surprising to learn that you could probably pay a bill or buy a few bags of groceries with the money you spend on fees.
Frequent contributor of health and caregiving, personal finance, mortgage, and insurance articles, as well as celebrity interviews and Q&As to MSN, Realtor.com, Credit Sesame, Fortune, USA Today, Women's Health, Family Circle, Essence, Lifescript, Health Monitor Network, and more. Gina's work has been featured on the covers of numerous titles including Glamour, Live Happy, Neurology Now, and many other national and international publications.