Article Summary:
The Hurricane Season in Florida occurs during the months of June through November in the United States. It runs in tandem with the Atlantic hurricane season, which is the peak time for hurricanes and tropical storms. Proper preparation from a real-world and financial perspective is a must for Florida and other hurricane-prone areas.
Sometimes planet earth produces natural events that reveal the awesome power that this blue spinning ball of land and oceans can wield at any given moment. Typhoons, monsoons, tropical storms, and tornadoes are all relatively rare natural events that can be at once beautiful and devastating, potent representations of nature's amazing power.
Among the weather events always possible in places like the Caribbean, Southeast Asia, and the Atlantic Coast of the United States is the hurricane. Hurricanes combine the power of warm air, cold air, water, and pressure systems to create a perfect storm of elements. The result? Large storms that can envelop whole coasts and cities. Among the most famous locations for hurricanes in the United States is that little, tropical, sock-shaped state located in the southeast corner of the country, commonly called Florida.
Why hurricane season matters
Although "Florida Man" is always present in Florida regardless of the time of year, the case isn't so with hurricanes. Hurricane season in Florida runs from the beginning of June (June 1st) to the end of November (November 30th). During this period, Florida is at a much greater risk of hurricanes, particularly in the state's coastal areas.
There are several ways that Floridians need to prepare for the event of a hurricane. Many practical preparation methods, such as defining a safe space for people and things, are necessary. From a financial perspective, having the proper insurance and financial plans and protection before a hurricane appears can be a crucial factor in determining how you make it out of the hurricane.
Florida's hurricane season
The hurricane season in Florida typically works in tandem with the total hurricane season on the Atlantic Coast, as defined by the National Hurricane Center. This storm surge time frame runs from June 1st to November 30th. That being said, in recent years, Florida has been receiving notifications about possible hurricanes as early as the middle of May.
When Florida's hurricane season occurs is particularly important because Florida runs a higher risk of hurricanes than any other state due to its position near the Atlantic Basin. The reason for this is that Florida resides in a region of the world that has all the climate elements needed to create that "perfect storm" that is a hurricane.
How do hurricanes work?
Trropical revolving storms (TRS) form hurricanes. TRSs form around the globe, around 5–10 longitudinal degrees north or south of the equator. They form in areas with low pressure and warm water. The rising warm air from the seas around this region is the first element needed to create a hurricane. The rising warm air eventually condenses and forms clouds, which then release massive amounts of heat, which in turn drives the formation and movement of storms. These tropical storm conditions create ferocious tropical cyclone storms with extremely high wind speeds. If the wind speed exceeds 74 mph, this tropical revolving storm becomes a hurricane.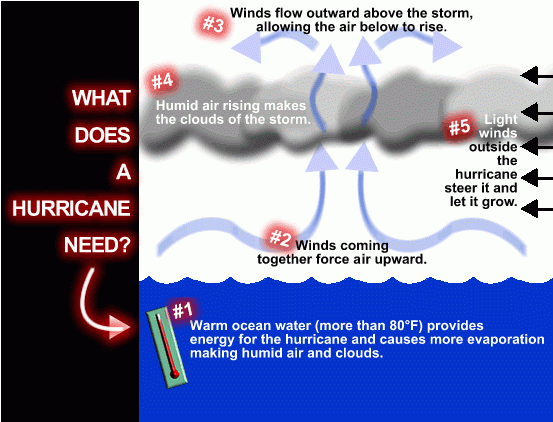 So why does Florida get all of these hurricanes and California does not? I mean, they have in common a long coastline and southerly locations, and are located on the southeastern and southwestern coasts of the United States, respectively. So they should have some similar weather patterns, right? Not quite. Unlike California, Florida has a perfect mixture of ingredients that form hurricanes, including the right water temperature and wind direction. Such factors expose Floridians to ongoing risk from hurricanes that form in the Caribbean sea.
Water temperature
Hurricanes will typically form and be fueled by warm water that originates in the tropics. The reason why hurricanes hit the East Coast of the United States and not the West Coast partially relates to water temperature. Temperatures on the East Coast of the U.S. during hurricane season will reach as high as the 80 degrees mark. On the West Coast of the United States, they tend to stay in the low 70s. This is why the tropical storm watch in the United States focuses heavily on the Atlantic Coast.
Wind direction
As the Earth rotates beneath its atmosphere, the winds move west, relatively speaking. (This is "relatively speaking" because the atmosphere in fact, rotates with the Earth, just not rapidly enough to keep up. The winds are the resulting relative movement of the atmosphere toward the west.) The winds nearest the equator move west the fastest because that is where Earth is widest, meaning the surface there moves past the atmosphere above it the most quickly. The difference in wind speed as you move away from the equator creates what is known as the Coriolis effect.
Obviously, that the winds move west is an overall tendency, not something true at ground level in any specific place at any specific time. Even if you never did get around to taking that meteorology class you were planning, you know from your local weather forecast that all sorts of factors go into determining wind direction at the local level.
The Coriolis effect creates clockwise cycles in the northern tropics and counter-clockwise cycles in the southern tropics. Hurricanes that form in the Pacific subtropics near the United States will tend to move northwestward or westward. This means that rather than ending up in the United States, they are much more prone to travel to places like Taiwan and the Philippines. If tropical storms form in the Atlantic subtropics, moving northwest or westward sends them to various places in the continental United States.
How to prepare for a hurricane
If you are in Florida or another location on the Atlantic Coast of the United States, it's probably a good idea to prepare for the worst. Here are some ways that you can prepare for a hurricane.
Create a plan before the hurricane
Have a safe place for you and your family to travel to in case there is a large hurricane on the horizon. Make sure that all the important documents in your possession can be placed in waterproof containers at a moment's notice.
Sign up for alerts
Sign up for the severe weather alerts and emergency alerts that are offered by your city or county. You can inquire directly with the government or download one of the apps available that track storms in Florida. A tropical storm warning can be your best friend when the probability of hurricane activity rises.
Have the proper insurance
If you are going to reside in Florida or any other state on the Atlantic Coast of the U.S., you are going to want insurance to protect you from damage caused by hurricanes. You should keep in mind two types of insurance relating to your home, homeowners insurance and flood insurance.
Homeowners insurance
By law, homeowners insurance that covers property in Florida must cover damage that wind causes during a major hurricane. For instance, if a hurricane takes the roof off your home in a torrent of wind, then the homeowner's insurance will cover a roof replacement.
Remember, Florida does not require you to have homeowners insurance by law. But, in reality, it's an absolute necessity if you want to protect yourself from catastrophic loss due to climatic events such as hurricanes. Furthermore, if you are carrying a mortgage on the property, you will be required to have homeowners insurance.
Whether or not you live in a state where hurricanes are a risk, homeowners insurance is pretty much essential for every homeowner, possibly excepting that rare one whose personal wealth makes self-insuring a calculated risk worth taking.
Homeowners insurance alone will not provide all the protection you need if your live where hurricanes happen. This is because homeowners insurance will not cover damage caused by floods related to hurricanes. For that coverage, you need flood insurance.
Flood insurance
If you have sustained damage due to a flood, no matter if it was or wasn't caused by a hurricane, then you will need flood insurance. Luckily, this insurance is commonplace on a national level and can be purchased through the National Flood Insurance Program, or NFIP. However, if you lost items due to flooding, this insurance will typically only pay out an estimation of the cost of the items after depreciation is taken into account. If you desire compensation in full, you might want to opt for replacement-cost coverage that does not include depreciation when calculating your compensation.
Pro tip
Many auto insurance policies will offer a "comprehensive insurance" policy that insures your vehicle for damage caused by a storm. However, you need to opt specifically for this comprehensive insurance policy. If you live in a region of the U.S. prone to hurricanes, consider a
comprehensive
policy.
Florida's hurricane deductible
Most people know what a deductible is as it relates to insurance. The deductible is the amount of money that you need to pay out of pocket before you are eligible to receive money from the insurance company covering the rest of your claim. You will find that your homeowners insurance in Florida will have both a regular deductible and a hurricane deductible.
The Insurance Information Institute, an industry-supported trade association that commonly calls itself "The Triple-I," breaks down the hurricane deductible as follows:
Hurricane deductibles and their triggers are set by law and are the same for the private, or regular market, as well as Florida's Citizens Property Insurance Corporation (CPIC), the state-run program which provides property insurance to consumers. The hurricane deductible applies only once during hurricane season. All insurers must offer a hurricane deductible of $500, 2 percent, 5 percent, and 10 percent of the policy dwelling or structure limits. The percentages are based on the total value of the home. By Florida law, property insurance rate filings must include mitigation discounts or credits. These are applied to property insurance premiums. These discounts are available for personal and commercial residential property only."
In the case of citizens who are unable to purchase a private home insurance policy, the Triple-I's breakdown continues:
The CPIC (Citizens), Florida's state-run insurer of last resort will insure new homeowners in high-risk areas and others who cannot find coverage in the open private market. Under Florida law, Citizens may write a new insurance policy only if no comparable private market coverage is available or comparable private market policy premiums are more than 15 percent higher than a comparable Citizens policy…."
FAQ
Will this be an active hurricane season?
Yes, the National Weather Service predicts an active hurricane season. The average number of named hurricanes every year is 14.
What part of Florida gets hit the most by hurricanes?
Northwest Florida's panhandle has the greatest susceptibility to tropical cyclones and hurricanes.
Will there be a hurricane in Florida this year?
Although we can't predict the future exactly, the common refrain of experts is that there probably will be.
What part of Florida is safest from hurricanes?
Inland Florida, near the border with Georgia, is the safest place from hurricanes in the state.
What is the hurricane prediction for this year?
There are 20 named Atlantic storms, which is above the average of 14 for Florida. One of these predictions could turn into one or two major hurricanes.
What months are the worst for hurricanes?
The season for hurricanes that originate in the Atlantic Ocean peaks in August through October.
Key takeaways
Hurricane season in Florida runs from the beginning of June through the end of November, historically.
A mixture of things in the tropics causes hurricanes, but the water temperature and wind direction on the Atlantic Coast make it much more susceptible.
Preparing for a hurricane is important if you live in Florida or another hurricane-susceptible region.
Homeowners insurance will cover wind damage from a hurricane, but it won't cover water damage caused by flooding. You will need separate flood insurance for that.
There is an extra hurricane deductible to consider when looking at insurance.