It's no secret: the cost of a college or university degree is skyrocketing. In fact, the price rise threatens to shackle an entire generation of young people to years of debilitating debt.
Today, the average cost of a private four-year college is $32,410 per year, according to the College Board, not including personal expenses. Graduates take, on average, 10 years to pay off their student loans.
And it's not just the scarily high prices. Many college graduates are finding themselves without a job after they leave campus. The economic reality has many questioning: is the cost of a traditional college even worth it? Instead, some people advocate an equally traditional alternative: the trade school.
What is a trade school?
A trade school, also known as a vocational school, teaches students specific, practical skills for a single profession. Those professions include electrician, welder, technology specialist, plumber, or nurse. It's different from a traditional college, which focuses on teaching analytical skills.
Trade schools offer certificate, diploma, and associate degree programs, as opposed to the bachelor's degree that four-year colleges offer.
There's also more hands-on training as opposed to reading. "The best vocational programs also provide hands-on training to help you become familiar with the best practices in your trade," according to New Castle School of Trades in Pennsylvania.
The skills you learn in a trade school are more directly applicable to an entry-level job than many majors in a traditional liberal arts college, which teaches subjects such as English, History, and Science.
Training takes place in a classroom but may have less of a campus feel than a traditional college. And most trade schools take just two years to complete (or even as little as 10 months). The short amount of time is beneficial because it means you can enter the workplace and start earning a salary faster.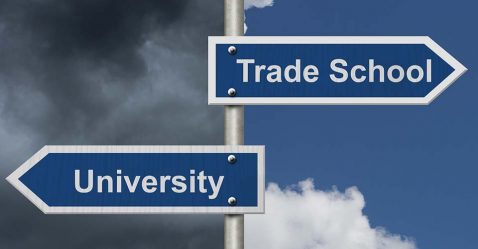 Trade school vs. college jobs
Because it does often generate a certificate or degree, a trade school will likely provide a bump in earnings, similar – though not necessarily equal – to one that comes with receiving a more-traditional higher education. Trade schools also tend to prepare students for jobs that are less likely to be outsourced. For example, careers in the construction trade, food services industry, or health care field, for example, require the type of extensive hands-on training that trade schools provide.
According to Glassdoor, many of the most in-demand jobs require technical skills. Those include IT manager, supply chain manager, software engineer, and data scientist.
The average yearly salary for a trade school graduate is between $40,000 to $58,000, according to Payscale. The average salary for a bachelor's degree holder in the class of 2016 was $50,359, according to the National Association of College and Employer's  Spring 2017 Salary Survey. That can be as low as $47,000 for a Philosophy major compared with $68,445 for a Chemical Engineering major.
When considering the return on investment for a trade school versus college, it's wise to take a look at the most in-demand jobs for the future.
Plan for tuition
Trade schools, while less expensive than traditional universities, are still not cheap. They cost around $33,000 for the entire education, roughly the same as just one year of a private four-year college.
If you are considering attending a trade school, you still might need to get creative about funding your education. Some ways to do so include exploring the various scholarships available and filing for financial aid.
And of course, nothing can beat your personal savings.
But what can you do if you don't qualify for a scholarship or the savings to pay for tuition at a trade school? Typically, it is difficult (or impossible) to qualify for federal or private student loans at a trade school. However, you can finance your trade school education with specially designed personal loans.
Trade school may be a good fit for you
There is little question that a traditional college can be a rewarding experience, widening your perspective, introducing you to new ideas, and instilling in you a deeper appreciation for literature and the humanities. But then what? With the sky-high costs, the burden of debt, and a potential dearth of good-paying jobs, it's worth asking about alternatives to college.
There are some downsides to attending a trade school, however. While starting salaries just out of trade school are attractive, it may be hard to move up to more senior positions. Starting salaries may be competitive, but down the line, it may limit your salary growth and promotion to a managerial position because you don't have a bachelor's degree.
The return on investment for a traditional college remains as high as 15%, despite soaring costs, according to the New York Federal Reserve.
Still, if you're interested in improving your future opportunities, trade school should be a serious consideration. It's more affordable, takes less time, and often leads to higher salaries after school. Before you decide on it, though, consider how much you're willing to spend on education and what your life goals are. Then, do as much research as possible. That's the only way to decide if it's the right choice for you.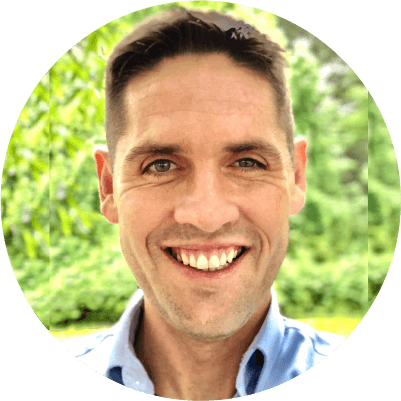 Andrew is the Content Director for SuperMoney, a Certified Financial Planner®, and a Certified Personal Finance Counselor. He loves to geek out on financial data and translate it into actionable insights everyone can understand. His work is often cited by major publications and institutions, such as Forbes, U.S. News, Fox Business, SFGate, Realtor, Deloitte, and Business Insider.