Whether you love him or can't stand him, there's no denying the fact that Adam Sandler is one of America's greatest comedic geniuses of our time. He is probably best known for his funny and sometimes raunchy comedic films that seem to have no point other than to make us laugh until our sides ache. While this may be true, there are a surprising number of life and money lessons hidden in some of his greatest hits. In case you were laughing too hard to catch them while you were watching these great movies, here are a few you may have missed:
Money and power aren't everything (Mr. Deeds, 2002)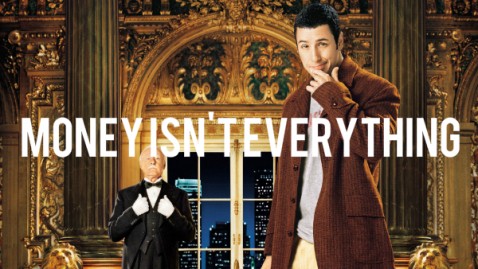 In this film, Sandler's character plays a small town man (Longfellow Deeds), who learns that a wealthy uncle he never knew he had has passed away. He needs to go to New York to collect on the $40 billion inheritance, but once in the big city, Deeds finds himself surrounded by money hungry opportunists who all want their hands on his new fortune. Deeds learns that money truly does have the power to change things, but it doesn't necessarily need to change him.
Lesson Number One: Even if you have all the money in the world, it won't necessarily buy you happiness. You should never let money change who you are at your core. No matter how much money or power you have, stay humble and true to yourself.
Don't ever let anything stand in your way (The Waterboy, 1998)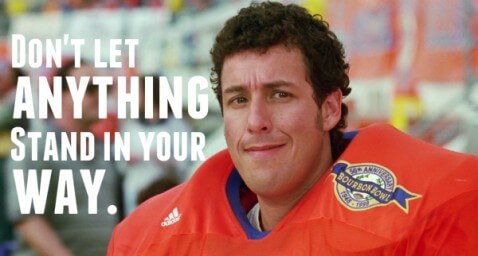 In this movie Sandler plays Bobby Boucher, a Louisiana-born-and-bred kid who lives in the swamps with his strange and overbearing mother. Bobby is a water boy for the local college football team, and despite the constant ridicule he gets from the players and coach, he enjoys his job thoroughly. He ends up getting fired and moves to a rival college with a losing team so that he can continue being a water boy.
The coach of the new team teaches Bobby to channel his anger and discovers that this seemingly meek and innocent water boy can actually tackle like no other player he has ever seen. He joins the college as a student and member of the football team, leading them to victory in the big championship game against his former rival school.
Lesson Number Two: In our lives and careers, we will often come across people who underestimate us and think that we are not capable of achieving great things. But sometimes it is easier to work harder when we know that people are not expecting much from us, and the simple act of proving them wrong can often offer all the motivation we need.
Make the most of second chances  (Billy Madison, 1995)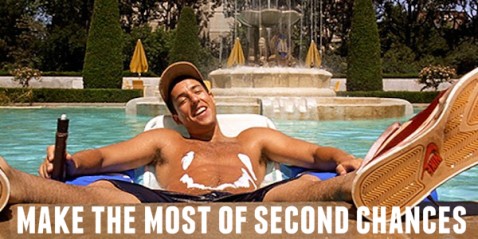 Sandler plays Billy, a grown man who didn't make the most of his education while growing up and is given an opportunity to go back through grades 1-12 to do things right as well as earn the respect of his father and the right to inherit his multi-million dollar hotel empire. Along the way, Billy discovers it is a lot more difficult than he imagined it would be. First and second grade were fairly easy, but when he hits 3rd grade he ends up falling in love with his teacher. He continues to struggle when he hits the high school years and is constantly made fun of by the kids. It prompts him to recall when he was in high school (the first time) causing him to reach out to each of the kids he once bullied and apologize.  Throughout the entire experience, Billy learns what it means to be a good person and to have compassion for others, as well as the value of doing a job well done.
Lesson Number Three: There are times in life when we are faced with an opportunity for a second chance at something we may not have enjoyed the first time around, but also may not have gained everything that we could have from it. When given this rare opportunity, it is important to do our best to make it better than the first. Learning from our mistakes is often the biggest life lesson of all.
Never judge a book by its cover (Funny People, 2009)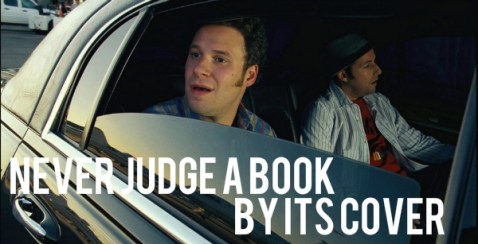 In this movie, Sandler plays a man by the name of George who is an extremely successful actor and comedian that is diagnosed with an untreatable blood disorder and given less than a year to live. He becomes estranged from his family and falls into a dark depression. After becoming isolated in his big fancy house with nobody to turn to, he ends up watching some of his old stand-up comedy routines and decides to return to his roots as a stand-up comedian.
George ends up hiring a fellow comedian named Ira as his assistant. With Ira's encouragement, George eventually starts telling people about his condition and begins learning once again to open up to others. He runs into his ex-fiancée and the two begin to rekindle their relationship despite the fact that she has married someone else. George learns that an experimental medication he is taking has worked and he is now disease free, yet he decides to keep that a secret and use the illness to his advantage. The story goes on and in the end with Ira's help, George learns the lesson of becoming a better person by being honest with himself and others.
Lesson Number Four: You never really know what's going on in another person's head. Even when someone seems to be the playful, happy type, they may be going through difficult times in their life. Even comedians suffer from tragedies in their lives.
Let go of past mistakes and forgive others for theirs (That's My Boy, 2012)
In one of his raunchiest movies to date, Sandler plays a man named Donny who, at age 15, got his high school teacher pregnant. She was charged with statutory rape and sentenced to 30 years in jail, forcing Donny to raise the child on his own. He raises the child, a son he named Han Solo, who grows up to be a bitter and angry overweight man who moves out and doesn't speak to his father again. Fast forward several years later, and Donny learns that his son has not only lost weight, but is a very successful hedge fund manager who changed his name to Todd, and is about to get married.
Donny attempts to reunite with his son right before the wedding, but Todd refuses to admit that this embarrassment of a man is his father. When Donny learns that his son's wife-to-be is cheating on him with several other men, she offers to pay him off to keep his mouth shut. He desperately needs the money so he agrees, but ultimately does the right thing by forcing her to come clean at the wedding. His son leaves her at the alter, quits his job, and for the first time proudly accepts his name of Han Solo, leaving the venue with his dad at his side.
Lesson Number Five: I'll admit that this one is a bit of a stretch on teaching life lessons, but it does illustrate the importance of letting go of past mistakes and learning to forgive others for the things that they have done as well. Without learning these important life skills, you never know what you might be missing out on. People can change as time goes by, and it is usually worth it to give people a second chance.
Know when it's time to take a stand (Anger Management, 2003)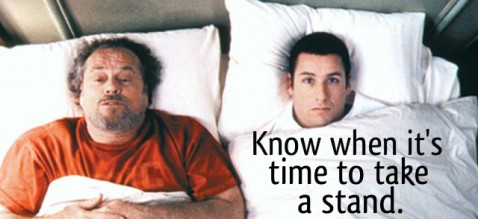 In this hilarious comedy, Sandler plays Dave, a mild mannered businessman who works for a pet clothing company. His boss is a horrible man and is always putting Dave down while simultaneously taking credit for all of his hard work. A simple misunderstanding on an airplane results in Dave, a pacifist by nature, being ordered to undergo anger management therapy. Dave ends up with a somewhat psychotic therapist named Dr. Rydell, who ends up moving in with Dave for some "intensive" therapy.
Through a series of unorthodox and questionable tactics, Dr. Rydell tries to teach Dave to deal with his inner demons and finally stand up for himself. Although during several of these "exercises" Dave ends up back in front of the judge facing harsher punishment. Dr. Rydell even goes as far as stealing Dave's long time girlfriend from him, telling Dave that the two of them are in love and he needs to move on. That ended up being the final straw, and while at a Yankees game, Dave ends up running out onto the field and proposing to his girlfriend. She accepts his proposal, confessing that the whole thing was a ploy to get him to have a little more self-confidence and learn to stand up for himself more.
Lesson Number Six: Be proud of who you are and what you've accomplished. Don't let anyone walk all over you or take credit for your hard work. Never be afraid to take a stand for what's right and always be willing to stand up for yourself.
You can prevail through life's most challenging times (Reign Over Me, 2007)
In a rare dramatic film, Sandler plays Charlie Fineman, a man who once had everything until his wife and children were killed on 9/11. The grief of this tragedy caused him to quit his job and become completely isolated from everyone else around him. His former college roommate, Alan Johnson has everything any man could ever want in life including a great job, loving wife and wonderful children, yet he feels isolated because the one thing he is missing is someone he can relate to. The two of them are reunited after a chance encounter one night, and Alan finds everything he needs in Charlie and becomes determined to help Charlie come out of his deep and very dark inner depression.  After helping Charlie through this ordeal, Alan finds new strength and meaning for his own life, and is able to repair the relationship between him and his own family members.
Lesson Number Seven: Life can throw you the most unexpected curve ball at times, but no matter how bad it may seem, there is always a light at the end of the tunnel. Sometimes you may just need help from an unlikely source to get you through it all. Ironically, by accepting the kind gestures of a friend, you may end up helping them as much as they help you.
Slow down and enjoy the important things in life (Click, 2006)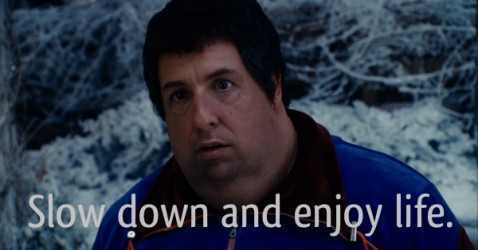 Sandler plays Michael Newman in this great movie about a hard-working man who loves his wife and children, but must work demanding overtime hours to please his boss so that he can get the promotion he deserves. Realizing that the time he gets to spend with his loving family is becoming shorter and less often, he makes a wish for a remote control that will allow him to control his life. He soon gets his wish when he stumbles upon a strange and unique store, and is finally able to fast forward through every argument with his wife, skip forward to his long overdue promotion, mute other unpleasant moments, and more.
At first this seems like the perfect solution to Michael, but he quickly discovers that what he thought was most important wasn't that important at all, and the things he should have been paying closer attention to were moments that were too quickly slipping by him.
Lesson Number Eight: Life is too short already. While it is good to be dedicated to your job or other responsibilities, being completely obsessed can mean you will undoubtedly miss out on important events and life moments. There is nothing worse than having regrets over things you've missed out on.

Jennifer Leonhardi was born and raised on Catalina Island, giving her a unique small town perspective and focus on community. With a degree in Sociology, she now primarily enjoys writing, largely based on her own experiences, on topics such as financial assistance programs, issues concerning the home and family, and socioeconomic trends.