Credit cards are an excellent financing tool for startups and small businesses. They offer a fast source of credit, generous reward rates, and large sign-up bonuses. Business credit cards can also help you build your company's credit and solve cash flow problems. However, there are hundreds of small business cards to choose from. Which are the best small business credit cards?
Before we dive into our top picks, let's cover the basics every business owner should know about credit cards.
What are small-business credit cards?
Small-business credit cards are cards that are marketed particularly for small companies. Credit card companies don't have fixed rules on what qualifies as a small company. They do look at revenue, the number of employees and years in business to determine eligibility, but even a sole proprietorship — the simplest and most common business structure — with one employee can qualify for a business credit card.
The Small Business Administration does set standards on what qualifies as a small business, but these don't apply to business credit cards.
What's the difference between personal and business credit cards?
Personal and business credit cards may look similar, but there are important differences to consider.
Credit Card Act of 2009 protections
Credit card companies don't have to follow the same rules when dealing with businesses. The Credit Card Act of 2009 granted consumers important protections, such as a limit on fees and restrictions on interest rate hikes. In most cases, credit card issues offer the same protections to businesses as a courtesy. However, it's worth checking the small print as these provisions don't always apply to business credit cards.
Credit reporting
Business credit cards report your activity to commercial credit bureaus. Some credit card companies, such as American Express® and Capital One, will also report to both consumer and business credit bureaus.
Credit limits
Credit limits for business credit cards tend to be larger than personal credit cards. This can help business owners build their personal credit score, as some credit bureaus – such as Experian and Equifax – consider your business line of credit when calculating your personal as well as your business' credit score. In the case of your FICO score, 30% of your credit score depends on your credit utilization ratio (amounts owed).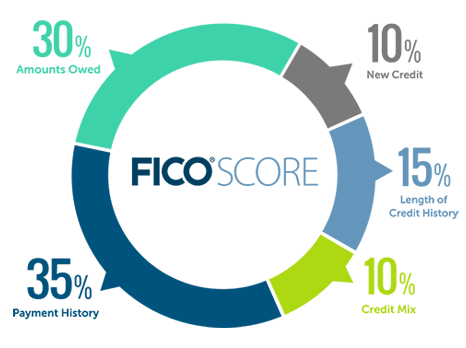 Source: myfico.com
Personal liability with business credit cards
In most cases, credit card companies require business owners to sign a personal guarantee and provide their Social Security number. If you do this, you are promising to pay the credit card debt if your business doesn't.
Read the small print in your credit card agreement. If you had to agree to a personal guarantee or a "joint and several liability" when applying for the card, you're personally liable for your business' credit card debt.
Typically, only the owners of larger companies who apply for corporate cards with commercial liability are off the hook if their business is unable to repay its credit card debts.
Here are SuperMoney's Best Small Business Credit Cards right now. We have focused on credit cards with low annual fees that still offer high reward rates and generous perks.
Best all-around: Chase's Ink Cash Business Card
The Chase Ink Cash It has no annual fee but it gives you a long 0% intro APR on balance transfers and purchases, a $300 signup bonus cash back, and reward rates of up to 5%. The 0% intro APR is a lifesaver for small companies looking for and interest-free loan for large purchases. The Ink Cash also comes with prime perks, such as extended warranty protection, auto rental collision damage waiver, and purchase protection. You don't have to be a big or established company either. Even micro-businesses with one or two employees can qualify.
Pros
No annual fee
$300 signup bonus
0% intro APR on balance transfers and purchases
Cashback rates of up to 5%
Purchase protection
Extended warranty protection
Auto rental collision damage waiver
Employee cards at no additional cost
Cons
Bonus reward rates have a $25,000 limit
You need good credit to qualify
Best for travel: Capital One Spark Miles for Business
How does a signup bonus of 50,000 miles sound? If your business spends $4,500 on purchases in the first three months, Capital One Spark Miles gives you that as a sign-up bonus. Add to that 2x miles for every $1 you spend on all purchases with no limits and you'll be on your next and you can see why this is one of our favorite business travel cards. It only has a $59 annual fee (waived the first year), which makes it perfect for small business.
Thera are no foreign transaction fees and extra employee cards don't cost you a dime. The card also includes auto collision damage waiver, travel and emergency assistance services, purchase security, and extended warranty protection. You (or your accountant) will appreciate how Capital One sends quarterly itemized reports of credit card spending.
Pros
Low annual fee $59 (waived first year)
50,000 miles signup bonus
 No foreign transaction fees
2x miles for every $1 (no limits)
Purchase protection
 Extended warranty protection
Auto rental collision damage waiver
Employee cards at no additional cost
Cons
No 0% APR intro period

Late payment fees of $39

Has an annual fee
Best for not-so-great credit: Capital One Spark Classic
The Capital One Spark Classic is the ideal card for business owners that don't have great credit and don't want to spend money on annual fees. If your personal credit history is not good, you will struggle to qualify for most business credit cards. The reward rates are low, just 1% cash back. But you get valuable perks and there is no limit to how much cash back you can earn. There's no extra cost for additional cards. Capital One also offers itemized statements every quarter to help with tax preparation with this card.
This card does not include 0% APR periods and the interest rates are high. However, it is a great way to build your business' credit history while you earn rewards on your business purchases.
Pros
No annual fee

Travel and emergency assistance

Auto rental insurance

Itemized statements

Employee cards are free
Cons
Low reward rates

No intro 0% APR

High interest rate (23.24% APR)
How to find the best card for your small business?
Still looking for a card that fits your needs? No problem. SuperMoney has reviews and customer comments on hundreds of credit cards. SuperMoney's credit cards database allows you to filter credit cards by the features that matter the most to you.
Andrew is the managing editor for SuperMoney and a certified personal finance counselor. He loves to geek out on financial data and translate it into actionable insights everyone can understand. His work is often cited by major publications and institutions, such as Forbes, U.S. News, Fox Business, SFGate, Realtor, Deloitte, and Business Insider.