Recreational boating is a popular activity enjoyed by approximately 87 million U.S. adults. Whether heading out on the water to travel, fish, water ski, or just enjoy the outdoors, it's a great way to spend time with friends and family.
However, all that fun comes with a few risks. The U.S. Coast Guard reported 4,463 recreational boating accidents in 2016, which caused $49 million of property damage. Beyond that, the accidents involved 701 deaths and 2,903 injuries.
It's situations like these when boaters insurance comes in handy. The problem is, according to Allstate agent Brent Jablonski, 40% of boaters do not have boat insurance.
Not only are they vulnerable if they get into an accident, but they may also not be able to pay for damages that they cause to others. It's wise to have coverage that protects you and offers liability. But which boat insurance is best?
Here's everything you need to know, including a few of the best boat insurance companies of 2019.
How does boat insurance work?
Boat insurance helps to protect your boat or personal watercraft (PWC), the people who ride on your boat, and others around you. You'll pay an annual premium split into monthly payments, which is based on several factors (the coverage you need, your boat, your usage, your driving record, etc.).
If you need to file a claim, you only pay the deductible, and the company pays the rest up to your limits. This enables you to handle the ramifications of accidents without breaking the bank.
Let's take a closer look at how the boat insurance policies work.
Eligible boats
Insurance companies often have limits on the costs and types of boats they will insure, so remember to check for restrictions.
Commonly eligible watercraft include sailboats, bass boats, other fishing boats, ski boats, jet boats, bowriders, center consoles, houseboats, jet skis, sport boats, yachts, kayaks, and canoes.
Covered perils
Boat insurance policies define the specific situations that will be covered. In most cases, they cover damage that results from fires, storms, sinking, theft, capsizing, explosions, stranding, and collisions.
This is good news as the five most common types of accidents in the most recent report from the U.S. Coast Guard were:
Collision with another recreational vehicle.
Collision with a fixed object.
Flooding/swamping.
Grounding.
Capsizing.
On the other hand, damage from sharks, other creatures, mold, zebra mussels, insects, wear and tear, defective machinery, or machinery damage is often not covered.
Standard coverage
Standard boat insurance coverage includes the following in the event of a covered peril:
Medical payments coverage: Covers medical bills if you or others are injured while operating or occupying your boat.
Property and bodily injury liability: Covers the costs if you cause someone else to get hurt or damage someone's property.
Collision and comprehensive coverage: Covers your property if it is damaged by an accident or covered peril.
Wreck removal: Covers the cost to remove your boat if it is wrecked.
Temporary repairs: Covers reasonable repairs to protect covered property from further loss.
Newly acquired watercraft: Covers brand new boats against covered losses.
Emergency service: Covers any emergency services that are required if your boat becomes disabled (including on-water towing).
Uninsured/underinsured watercraft coverage: Covers if someone without insurance causes damage to you or your boat.
Fuel spill: Covers the cost of cleaning up a fuel spill.
Optional coverage
For those who need coverage above and beyond a standard policy, the availability of optional coverage types will be important. Examples include:
Boat rental liability: Covers you when driving a rental boat on a short-term basis.
Boat rental reimbursement and liability: Covers the cost to rent a boat when your boat is being repaired due to a covered loss and also provides you with proper liability insurance when operating the rental.
Fishing tournament reimbursement: Covers the cost of entry for a fishing tournament if you paid but can't compete due to a covered loss.
Special fishing equipment: Covers your specialized equipment.
Programs to reduce your deductible: A program that helps to reduce your deductible over time.
Ice/freeze coverage: Covers if your boat is damaged due to freezing.
These will vary by company, so if you are concerned about a specific situation that isn't very common, you will need to look for special endorsements.
Coverage limits and deductibles
Each coverage type within an insurance plan will have coverage limits, which are the maximum amount a policy will pay out in an approved claim.
Before your insurance pays, you typically have to pay a deductible. Your insurer should provide you with coverage limit and deductible options when choosing your plan.
Note, you'll need coverage limits high enough to cover the type of boat you own properly (e.g., a speedboat should have more coverage than a cruising boat).
Perils
Each insurance company typically has a list of perils it will cover. For example, State Farm covers sinking, explosions, stranding, collision, capsizing, storms, theft, and fire.
If damage to your boat occurs from a peril that is not included in your policy, the losses won't be covered.
According to USCG Boating, the most common types of accidents are as follows: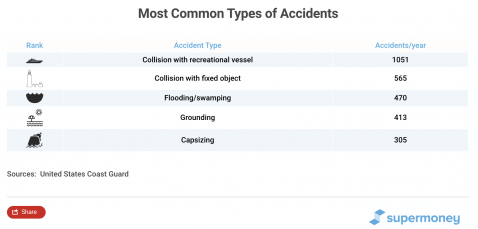 Being so, it's a good idea to look for these in policies:
Boat types
Many insurers will have restrictions on the types of boats they will cover. For example, State Farm insures kayaks, canoes, houseboats, jet skis, sailboats, bass boats, yachts, and sport boats.
Speak with the insurers you are interested in to confirm that they will cover your type of boat.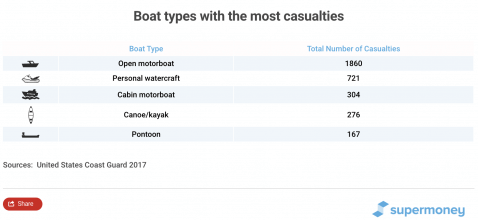 Discounts
Many companies will offer you discounts on your boat insurance, such as:
Multi-policy discounts: Save by combining boat insurance with another policy like homeowners insurance.
Homeownership discount: Save by simply being a homeowner.
Autopay: Get a discount for setting up automatic payments from your bank account.
Upfront payment: Save when you pay your entire premium up front.
Boat safety certified: Save by completing a boat safety course.
No claims: After a period of no claims you may get a discount on your premium.
Diesel-powered: Save by having a boat that uses diesel fuel.
Be sure to look around to find the company that can offer the lowest premium with discounts factored in.
Those are the basics of boat insurance policies and how they work.
Does my homeowners insurance cover my boat?
According to the Insurance Information Institute, homeowners insurance policies sometimes offer property damage coverage for small boats with less than 25 horsepower.
However, limits are low, commonly in the ballpark of $1,000 or 10% of your home's value. Larger boats, faster boats, and personal watercraft typically require a dedicated boaters policy and most will want more coverage even for smaller boats.
What makes a good boat insurance company?
A good boaters insurance company will:
Offer all of the standard coverage options listed above.
Cover many causes of damage.
Offer a variety of discounts.
Have the optional coverage types you need.
Offer competitive premiums, coverage limits, and deductibles.
Additionally, consider the following factors:
Accessibility
When comparing companies, you may also want to look at their online accessibility. Do they have an up-to-date website and mobile app? Can you get a quote online? Apply online? Get answers to your questions online? Make claims online?
All of these help to make for a more convenient experience.
Customer service
Further, how does the company rate with past customers? A company can say a lot of great things about itself, but a large sampling of past customers will reveal the truth.
It's better to find out in advance about problems like frequently denied claims or unhelpful customer service representatives.
Financial strength
It's also important to analyze the financial strength of a company to determine how reliable they are and if they will be able to cover your claim. There are several rating agencies: each with their own scoring system. SuperMoney's financial strength rating combines the rating from leading risk assessment agencies to help you get an overall idea of a company's financial reliability.
Perks
Lastly, look at other feature and benefits. Some companies go above and beyond to stand out among their competitors, so be sure to check what extra perks you can get from each company you consider.
Best boat insurance companies of 2019
SuperMoney makes it easier to compare dozens of boat insurance policies and filter for the features that matter to you. We have included our three top boat insurance companies and a brief explanation of why we chose them. These short reviews provide an idea of the coverage, features, and cost you can expect from a boat insurance.
Progressive has been offering boat insurance for over 35 years and insures more than one million watercraft. It may be one of the most affordable carriers in the industry.
One of the main advantages is that the company does not require navigation plans and doesn't inspect your boat. You are covered in all lakes and rivers in the U.S. and Canada, along with all waters within 75 miles of the coast.
Rates start at $100 per year and many discounts are available for reasons like being an original owner of your boat, taking a safety course, having no accidents, and more.
The coverage types are comprehensive, and there are many add-on options.
Easily get an online quote here
American Family Insurance provides comprehensive coverage types, coverage for most boats under $250,000, and interesting add-on options. You can even speak with the company about getting coverage while taking your boat to Mexico.
There are also many discounts available. Save by completing a boat safety course, adding safety features to your boat, setting up automatic payments, and paying your full premium up-front.
The company focuses on making the insurance process easy on customers through a fast claims process and 24/7 support.
Allstate offers boat insurance, and its average national premium in 2018 was $20 per month. Further, if you have homeowners insurance with the company, you can save 20%, and the discounts don't end there.
The coverage covers all the bases, plus more. Policyholders can get repair work done on their boat, motor, or trailer without deductions for depreciation.
Furthermore, they can opt for the "agreed upon option," which enables them to get reimbursed for a loss based on what the boat was worth at the start of their policy.