Article Summary:
The statement date is the end of your billing cycle and the start of your payment grace period. The due date is the last day your credit card company will accept a payment towards your balance. It is the end of your monthly grace period.
If you want to maintain a healthy relationship with your credit card company and a good credit score, you must make your credit card payments on time. Even with this in mind, it can be difficult to tell when exactly you need to make your payment. What is a statement closing date? Is this the due date for your credit card payment?
In this article, we'll discuss what a card's statement closing date is, the difference between a statement and payment due date, and how to make sure you avoid paying late fees.
How does a credit card work?
When you use a credit card, you're drawing from an unsecured line of credit from your credit card issuer. In other words, your issuer gives you a certain amount of money you can spend that you must pay back over time. You can continue to draw from this line of credit until you reach the maximum, or credit limit.
Each month (approximately), your issuer tracks your spending throughout a billing cycle. You don't have to pay back all of your purchases at once. Credit cards allow you to owe the lender money from month to month, carrying unpaid credit card balances forward. However, you typically have to pay the credit card company interest for this service.
You can see how much you owe your issuer on your credit card statement. In addition to how much you owe, the statement lists two important dates: the statement closing date and the payment due date.
Statement date vs. due date
Your credit card's due date and statement date are two of the most important figures on your bill. To stay out of credit card debt and in good standing with the issuer, it's important to keep these dates separate.
The statement date is the closing date for that billing period. Any charges you make after that date will appear on your next credit card bill. The due date is the latest day the credit card company expects their payment.
| Statement closing date | Payment due date |
| --- | --- |
| Last date of the billing cycle | The date you must pay your credit card issuer |
| Start of grace period | End of grace period |
| Typically 20 to 25 days before due date | Any remaining balance incurs interest charges |
Should I pay by the due date or statement date?
You should make your payment by the due date at the very latest. You should receive your statement about 20 days before the due date so you have plenty of time to schedule your payment.
Statement closing date
The statement date is the last day or closing day of your credit card's billing cycle. Most credit card billing cycles are between 28 and 31 days (about a month).
Charges you made before that date should appear on your current monthly statement. Some charges might not be posted immediately because of processing delays.
How long after the statement closing date is payment due?
You typically have 20 to 25 days to pay your credit card bill after receiving your statement. This is known as the grace period, which can vary by credit card company. While credit card companies are not required to have a grace period, most of them offer one.
Payment due date
The payment due date is the last day you have to pay your credit card bill. You must make a payment by this date for your issuer to consider it an on-time payment. If your payment arrives after the payment due date, you are subject to a late payment penalty.
If you don't want to pay any interest on your balance, you must pay off your credit card in full. Otherwise, you can simply make the minimum payment. The minimum payment is the smallest payment you can make to the credit card company while remaining in good standing with them.
Pro Tip
When you charge purchases on your credit card account and pay off the entire balance on or before the due date, you avoid paying interest charges. If you can't pay off the entire balance, make at least the minimum payment by the due date.
Do late payments affect your credit score?
Your credit card company reports will report missed payments to credit bureaus. When your credit report is generated, it shows your credit card payment history. If you are late in paying, the credit bureaus are notified. This can hurt your credit score. If the credit card company doesn't get a payment and 30 days pass beyond the due date, your credit score could drop by 100 points.
Important terms for credit cardholders
If you've never seen a credit card statement before, it can look a little confusing. Consider the following cheat sheet of credit card terms so you know exactly what your statement is saying.
Grace period. The time between the statement closing date and the due date. This is often 20 to 25 days from the end of the billing cycle, but it varies by company.
Minimum payment. This is the smallest amount of money they are expecting you to send them. It includes two portions, one representing interest and the other the principal.
Previous balance. What you owed at the start of the billing period.
New balance. What you owe on your new credit card balance.
Total credit limit. This is your credit line—the maximum that the lender will allow you to borrow.
Available credit. The difference between your total credit limit and the amount you have already borrowed.
Opening/Closing dates. The range of dates that make up the statement billing cycle.
Account anniversary. It is the day of the year that you opened your account, and the day your credit card's annual account fees are applied.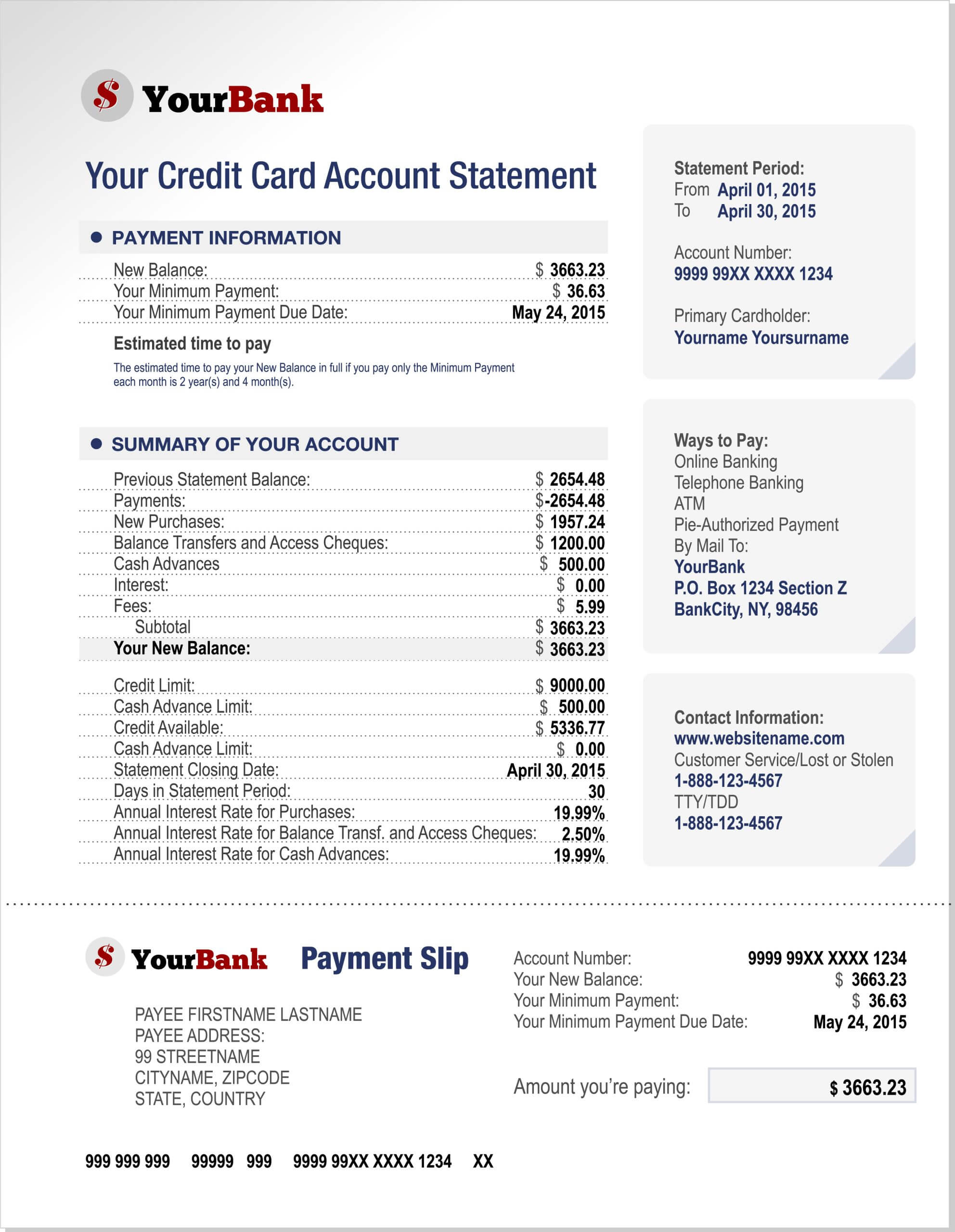 How to make your credit card payments
Your issuer provides several options to pay your credit card bill, but you are expected to make your credit card payment on time.
Pay online. All major credit card companies offer safe online payment portals on their company website.
Automatic payment. If you prefer online payments but struggle to remember the payment due date, you can also set up automatic payments. Your credit card company will ask for a debit card or bank account information and deduct a specified amount each month.
Pay by mail. Paying online isn't an option for some people. If you prefer to pay through the mail, you can write a check and mail it in using the envelope provided. (But you'll have to pay for your own stamp.)
Pay by phone. If you feel that your payment might not arrive through the mail on time, you can call the credit card company and pay over the phone.
Pay in person. If your credit card is issued by an institution with brick-and-mortar branches, you may be able to visit one of their branches and make a payment with a teller.
IMPORTANT! Most credit card companies won't waive late fees for slow mail delivery. If you prefer paying your balance through the post office, make sure to get your payment in the mail fast to avoid any late payments from affecting your credit score.
Credit card consolidation loans
If you have too many credit cards or too much debt on your credit cards, it can get expensive and stressful. Once you fall behind on payments, interest and fees can add up and you may get into a hole you can't get out of. All the while, your credit score will be dropping. In such cases, it might make sense to consolidate your credit card debt with a personal loan or a
Here's a list of SuperMoney's list of the best debt consolidation loans.
FAQs
When is the best time to pay your credit card bill?
The best time to pay your bill is on or before your payment due date. If you pay the entire balance, you will avoid any interest charges. If you are carrying a balance, paying early won't prevent you from paying interest, but it could reduce the amount of interest you'll be charged. Paying early may also lower your credit utilization ratio, which is a factor when calculating your credit score.
Can you make more than one payment on your credit card?
You can absolutely make more than one payment within one billing cycle. Most companies don't have a limit on how many payments you can make, which could allow you to reduce your debt if you come into a little extra cash.
Key Takeaways
The statement date is the credit card closing date for transactions posted during the current billing period.
Your card's due date is the last moment your credit card company wants payment before they start charging late penalties and interest.
You'll often have 20 to 25 days between your statement closing date and payment due date, known as the grace period.
The credit card company and the credit bureaus keep in touch. If you pay your balance late, it will show up on your credit history.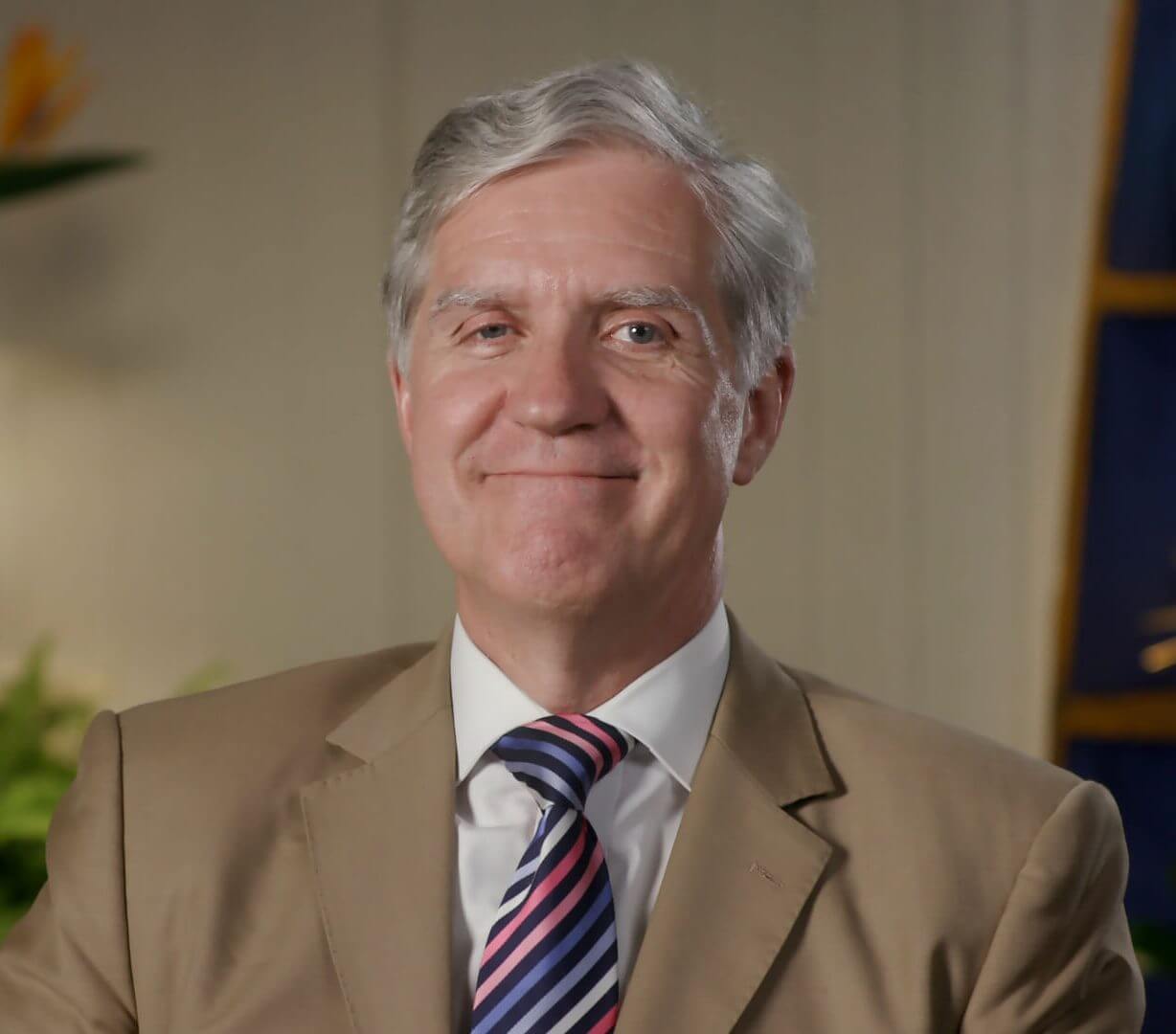 Bryce Sanders is president of Perceptive Business Solutions Inc.  He provides HNW client acquisition training for the financial services industry.  His book, "Captivating the Wealthy Investor" is available on Amazon. Bryce spent twenty years with a major financial services firm as a successful financial advisor. He has been published in 40+ metro market editions of American City Business Journals, Accountingweb, NAIFA's Advisor Today, The Register, LifeHealthPro, Round the Table, the Financial Times site Financial Advisor IQ and Horsesmouth.com.