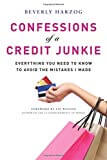 It's tempting to bury your head in the sand when it comes to credit errors, blunders and faux pas. Or to keep mum, deceiving even yourself about the health of your credit and finances. But keeping secrets and ignoring your credit can lead down a path of debt that ends in bankruptcy or financial ruin.
So staff writer Gina Roberts-Grey sat down with author of the new book Confessions of a Credit Junkie and credit expert, Beverly Harzog. She learned why Beverly came clean about her credit, how her confession impacted her credit life and financial health and the roles personality and emotion play in managing credit. Beverly hopes her experiences will keep readers from making similar mistakes.
Gina Roberts-Grey: It's said that confession is good for the soul, but credit and finances are such a personal "taboo" topic. Does it feel good to have 'confessed' your mistakes? And what made you do so?
Beverly Harzog: I actually had a lot of sleepless nights over this. It was a big decision to go public with all the details because it's so personal. It does feel cathartic to talk about it, but the main reason I decided to go ahead and "confess" to my credit card mistakes was because I thought it would help others in the same boat.
When you're in credit card debt, you feel like you're the only person who's ever made such huge mistakes. So I hope to make others feel like this can happen to anyone. And I want them to know that you can recover from it as well.
Gina: What role did denial play in your relationship with money/credit?
BH: It played a very big role! And this how a small amount of debt mushrooms into a big one. Once you start ignoring your interest rates and calls from debt collectors, it goes from bad to worse in a hurry.
Gina: What would you say was your biggest or most costly credit/money mistake?
BH: You know, they're all big. But I have to say that if I'd had a budget and tracked my spending, my purchases might not have gotten so out of control. I'd like to think that, anyway!
Overspending also has an emotional component. So you have to get your emotions as well as your wallet in check to be successful with money and credit.
Gina: What was your wake-up call that put you on the path to confessing to yourself?
BH: One night, my credit card from my favorite department store got denied when I tried to make a purchase in the store. I was maxed out on my other cards. I could barely pay my bills and I couldn't get approved for any more credit. This was my "rock bottom" moment.
From that point on, I worked on fixing my life.
Gina: And how did you overcome or reverse your credit life?
BH: I read everything I could get my hands on about personal finance. I created–and followed–a budget for the first time. I tracked my spending. I eliminated every possible expense that I could so I could throw every penny I saved at my debt.
Once I had enough cash flow to make minimum payments, I knew I'd be okay.
As my income increased, I doubled and then tripled my monthly payments. I drove an old car and got rid of my expensive health club membership. I was single at the time so I only went out if it was a date or a Happy Hour (we had these in the 80s!) with a free buffet.
I really developed great self-discipline. It took a lot of sacrifice, but as I paid down my credit card balances, it was easier to keep going and reach my goal of zero debt.
Gina: You're 'confessing' to millions of readers, but who might a consumer worried about their credit score, money, etc., 'confess' to?
BH: These days, consumers have a vast amount of resources right at their fingertips. There are fabulous sites that educate people about their scores and personal finance in general. There are also a lot of great books written by personal finance experts.
If anyone feels like they're overwhelmed with debt, though, it might be a good idea to talk with a reputable credit counselor.
Gina: You talk about credit personalities, what's yours? And why is knowing your personality type important?
BH: In my book, I identify five credit card personalities. At this point, I'm proud to say I'm a Power User. I take advantage of every benefit I can squeeze out of my cards. I travel for free using reward miles. And I don't ever carry a balance on my cards.
One of the reasons it's important to know your personality, or style, is because it helps you choose the right cards. If you think you'll carry a balance now and then, you wouldn't want to get a rewards card because the interest rates are high; you'd want to focus on a no-frills credit card with low rates.
The quiz in my book is designed to help people get a feel for the type of card that fits with their lifestyle. In the end, choosing the right card helps them save money, and in some cases, even profit from them.
Gina: You mentioned that emotions factor into overspending. What role do you think they play?
BH: There's definitely an emotional component and I had to overcome that so I wouldn't end up in debt again. In my case, I bought a lot of expensive clothes because they gave me confidence at work.
And then my spending started including lavish vacations because I became used to an expensive lifestyle. It's very easy to go from an occasional splurge on yourself to becoming a shopaholic. But if you're happy with yourself–and you track your spending and follow a budget–you'll be able to keep your spending under control.  Really, once you end up in debt, you never want to go there again. It's a terrible, terrible feeling.
Gina: If you could give your former "junkie" self advice, what would that be?
BH: I'd tell my younger self that I was fine just the way I was. That I didn't need clothes or designer shoes to impress others or feel good about myself. I'd also tell my former junkie self to learn about money and credit. Just empowering yourself with knowledge goes a long way toward keeping you in a good place financially.
Photo: PT Money
Frequent contributor of health and caregiving, personal finance, mortgage, and insurance articles, as well as celebrity interviews and Q&As to MSN, Realtor.com, Credit Sesame, Fortune, USA Today, Women's Health, Family Circle, Essence, Lifescript, Health Monitor Network, and more. Gina's work has been featured on the covers of numerous titles including Glamour, Live Happy, Neurology Now, and many other national and international publications.