When shopping around for a home equity loan, getting one with the lowest costs and interest rate should be your top priority.
While it's important to consider the big traditional lenders, new lenders like LoanDepot are not only making it easier to get a loan, but they're also helping make it cheaper.
Who are LoanDepot home equity loans designed for?
Home equity loans can be used for just about anything.
Whether you need to consolidate some high-interest credit card debt, make some improvements to your home, or cover some other large purchase, a home equity loan can provide you with a much lower interest rate than you'd get with an unsecured personal loan.
The problem is that many traditional home equity loans take weeks to get approval and funding. With LoanDepot, the process can take just days. So, if you're in a hurry, using a lender like LoanDepot can speed up the process.
About LoanDepot
LoanDepot was created in 2010 by founder Anthony Hsieh. In the past, Hsieh also founded two other online lending companies, LoansDirect.com and HomeLoanCenter.com.
Since its founding, LoanDepot has become the fifth largest retail mortgage originator and second largest nonbank consumer lender in the U.S. It operates in more than 180 locations across the country and has more than 5,400 lending experts.
In addition to home equity loans, LoanDepot offers other loan products, including:
Home purchase loans
Personal loans
Home builders loans
Home refinance loans
LoanDepot: Home equity loan
Also known as a second mortgage, LoanDepot's home equity loan allows you to get access to up to 90% loan-to-value of the equity in your home. For example, if you have $50,000 in equity, you can borrow up to $45,000 from the lender.
LoanDepot offers fixed interest rates on loans from $25,000 to $250,000, depending on your equity amount. You can choose repayment terms up to 15 years.
"LoanDepot was great from the beginning," says John Foster, an operations manager in Tallahassee, Florida. "The application process went smoothly, and they answered all my questions quickly and thoroughly."
What are LoanDepot's home equity lines of credit interest rates and fees?
Like most mortgage lenders, you have to go through the pre-approval process with LoanDepot to get an idea of the interest rate you'll qualify for. That's because interest rates depend on several factors, including your credit history, job and income, and how much you want to borrow.
Fees can also be tricky because they depend so much on the terms of the loan. For example, there's a loan origination fee that can range from 1% to 5%, depending on the loan. Other fees you might incur include appraisal fees, document preparation fees, and other various fees.
What are the eligibility requirements
LoanDepot doesn't have any published eligibility requirements for its home equity loan. As with other mortgage lenders, you have to apply to get that information.
The good news is that you can go through the process online rather than having to meet with a loan officer and do it in person.
When you submit your application, LoanDepot will review your credit history, income, and employment information to determine whether you qualify and at what rate.
How to apply for a LoanDepot home equity loan
If you're interested in applying for a home equity loan online, LoanDepot's process can be fairly simple.
1. Go to LoanDepot and click on get started.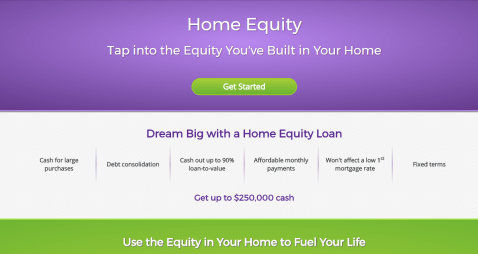 2. Provide your zip code and remaining mortgage amount.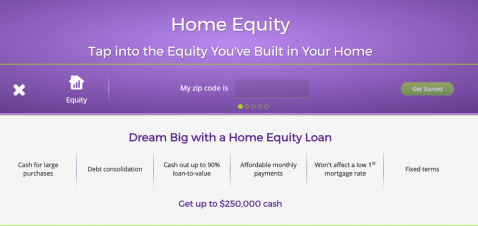 3. Provide your name and other personal details.

There's one problem, though.
As of September 2017, the lender's online application for home equity loans isn't working properly. Instead of directing you to the correct application, it sends you to the application for refinancing a mortgage loan.
We reported the error to LoanDepot, who said it would fix the problem. Until that happens, you can search for one of the lender's loan officers or branches via its website.
Working directly with a loan officer makes it possible to get quick answers to your questions throughout the process.
Should you get a LoanDepot home equity loan?
LoanDepot has a leg up on the competition because of its online presence. When the online application is working properly, the process is simple and quick. The closing process also goes a lot more quickly than what you'd get with a traditional lender.
That doesn't mean you'll always get the best deal, though. "Because I needed the money fast, I actually spent a little more with LoanDepot in terms of the interest rate and fees," says Andrus.
So, unless there's an emergency situation, be sure to check out other mortgage companies to compare rates and fees. While getting your money fast is important, you might save more over the long run if you can find a lender with better terms.
Ben Luthi is a personal finance writer and a credit cards expert who loves helping consumers and business owners make better financial decisions. His work has been featured in Time, MarketWatch, Yahoo! Finance, U.S. News & World Report, CNBC, Success Magazine, USA Today, The Huffington Post and many more.