In the world of home mortgages, PMI – private mortgage insurance — has a terrible reputation.
Articles and experts warn home buyers not to pay for it. But why all the fuss?
And if PMI isn't for you, how exactly can you avoid it? Let's take a closer look.
3 things you should know about PMI
There are three things you should know about PMI:
It's paid for monthly by borrowers who make a down payment that's less than 20% of the home's purchase price or equity if they refinance.
It protects the lender's interest in the loan in case the borrower stops making the payments.
It incentivizes lenders to make loans to borrowers who can't afford a larger down payment or don't want to tie up their cash. This tradeoff enables more people to own a home.
5 ways to avoid PMI with a small down payment
Avoiding PMI isn't difficult. Here are five ways to do it:
1. A conventional loan with lender-paid mortgage insurance
To get a conventional loan without PMI, you'll need a 20% down payment. If you don't want to put down that much or pay for PMI yourself, lender-paid mortgage insurance (MI) might be an option for you.
With this strategy, the lender pays for MI on your loan and charges you a higher rate. The cost of the MI is, as lenders say, "baked into" your loan.
"Lender-paid MI usually results in a lower overall payment, but borrower-paid can be removed when your loan reaches 80%. Lender-paid gives you a higher rate for the life of your loan," says Andrew S. Weinberg, principal of Silver Fin Capital Group, a mortgage company licensed in Connecticut, Florida, New Jersey, and New York.
2. 80% conventional loan with 10% piggyback loan and 10% downpayment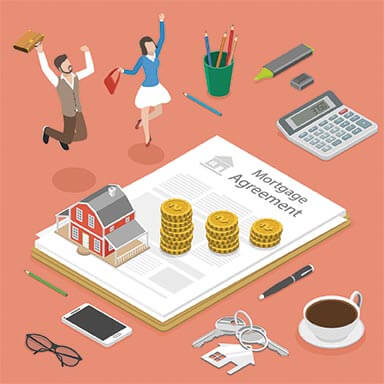 With this strategy, you get a second loan for 10% of your home's purchase price, cutting your out-of-pocket down payment to 10% with no PMI.
The second, or "piggyback," could be a second mortgage with a fixed rate or HELOC with a variable one. The piggyback rate will be higher than the first mortgage rate.
"Once the second is paid off, you're left with a traditional conventional loan without PMI," says Evan Roberts, owner of Dependable Homebuyers in Baltimore, Md.
Ready to buy a home with 10% down? Check out our review of mortgage lender SoFi
3. FHA loan
The FHA loan, insured by the Federal Housing Administration (FHA), allows a down payment as low as 3.5%.
PMI isn't required, however you'll have to pay an upfront mortgage insurance premium (UFMIP) of 1.75% of your loan amount and an annual mortgage insurance premium (MIP), paid monthly.
MIP ranges from 0.45% to 1.0%, depending on your loan amount, term, and down payment. Unlike PMI, which can be removed, MIP is required until you refinance or pay off your loan.
4. VA loan
The VA loan, guaranteed by the U.S. Department of Veterans Affairs, requires no down payment, no PMI, or any other type of mortgage insurance. Instead, you'll pay an upfront funding fee that can be financed as part of your loan amount.
The VA funding fee depends on the type of loan, your military service, down payment, and whether the loan is your first or subsequent VA loan. For some borrowers, the VA funding fee is waived.
VA loans are designed for veterans, but active-duty personnel, military spouses, Selected Reverse and National Guard members, and certain other government employees may be eligible.
Looking for a VA lender? Read our review of Veteran United Home Loans
5. USDA loan
The USDA loan, insured by the U.S. Department of Agriculture, allows a minimum down payment of 10%. PMI isn't required. Instead, you'll pay an upfront fee of 1% of your loan amount and an annual MIP of 0.35%, paid monthly. The USDA loan is limited to low- and moderate-income borrowers in rural areas.
FAQ on Mortgage with smaller down payment
What is the most common type of low-down payment mortgage?
The most common type of low-down payment mortgage is the government-backed Federal Housing Authority or FHA loan. Even though they usually require only a minimum of 3.5% down, they come with the huge downside of requiring mortgage insurance for the life of the loan for anyone who puts down less than 20%.
Can I buy a house with low down payment?
FHA loans are the main option for home buyers with bad credit. USDA and VA loans require zero down payment. FHA and conventional loans need just 3.5% or less down, but 100% of the down payment can be a gift. This would make it possible to buy a house with no money down.
Can you get a mortgage with low down and no PMI?
They are able to match your down payment funds if you have enough cash for a 10% down payment. With a home ownership investment, your monthly mortgage payment will be lower, and you can avoid PMI — without taking on additional debt. Your monthly payments still go toward building your equity in the home.
How much is a down payment without PMI?
One way to avoid paying PMI is to make a down payment that is equal to at least one-fifth of the purchase price of the home; in mortgage-speak, the mortgage's loan-to-value (LTV) ratio is 80%. If your new home costs $180,000, for example, you would need to put down at least $36,000 to avoid paying PMI.
Is PMI required by law?
It's not a law, it may be a requirement from the mortgage company to ensure the money they are loaning you. Generally, if you are putting down less than 20% the lender is making you pay the insurance so they lessen the risk they are taking. There are programs that allow you to put down less than 20% and not have to pay mortgage insurance.
Find a PMI-free home loan
How can you avoid paying for PMI? Ask a lender to help you shop for a PMI-free home loan.
Head over to SuperMoney's home mortgages review page to compare lenders side-by-side and find the best plan for you.
Marcie Geffner is an award-winning freelance reporter, editor, writer and book critic. Her work has been featured online and in print by The Washington Post, Los Angeles Times, Chicago Sun-Times, Urban Land, Business Start-Ups and Fox Business Network Online, among many other newspapers, magazines, and websites. With a bachelor's degree in English from UCLA and MBA from Pepperdine University in Malibu, Geffner has impressive credentials in both story-telling and business management. A second-generation native of Los Angeles, Geffner now lives in Ventura, California, a surf city northwest of her hometown.