Patch Homes (dba Noah) is a company that offers home equity financing without any monthly payments. Yes, the concept is new. However, shared equity agreements are becoming more and more popular with homeowners who want to access their equity without getting a loan. If you're wondering what the catch is and how it actually works, you're not alone. This Patch Homes review explains in detail how home equity loans without payments work, who they are designed for, and how to apply for one.
First, here's a little background on the company. Patch Homes was founded in May of 2016. In April of 2017, it raised $1 million in seed funding from Ventures, KIMA Ventures, Airbnb co-founder Nathan B., and other prominent fintech investors.
The company's mission? "Making homeownership more affordable and accessible for everyone," says Co-founder Sahil Gupta. He adds, "Patch Homes is replacing a debt-based financing model (traditional loans, etc.) with a partnership-based financing model." In 2020, Patch Homes was renamed as Noah.
Let's take a closer look at Noah's partnership-based financial model.
How Noah home equity sharing works
Typically, when you want to borrow against the equity in your home, you apply for a home equity loan or home equity line of credit (HELOC). It usually involves a lengthy approval process and expensive closing costs. Once complete, you start borrowing and make monthly repayments (which include interest) for a set term.
Noah is replacing a debt-based financing model (traditional loans, etc.) with a partnership-based financing model."
With Noah, you apply and receive a conditional offer sharing how much the company will lend you and what percentage they will charge (more on this in a moment).
If you accept, Noah will send out a licensed third-party appraiser to determine the actual value of your home. Then, they'll send you the final offer. If you choose to move forward with their offer, the money will be transferred to your bank account usually within two weeks. The loan contracts are currently for ten years.
Now, here is where things get interesting. You pay back the money borrowed when you sell your home, move out, perform a cash-out refinance, or reach the expiration of the contract with Noah.
When one of those events occur, your home will be appraised again and the appreciation or depreciation will be calculated (in the case of a sale, your home's sale price will be used). "Instead of charging interest or monthly payments, we share in the future appreciation or depreciation of the property," says Gupta.
How to calculate the costs with Noah home equity sharing
The amount you repay will be calculated by multiplying the percentage you qualified for in the beginning by the amount of appreciation or depreciation on your home. Then, you will add or subtract the product from the total loan amount.
Here is an example:
Noah share in gain/loss: 25%
Loan amount: $50,000
If your house appreciates by $100,000, you would repay $75,000, which is an equivalent rate of 5.2%.

If your house depreciates by $100,000, you would repay $25,000, which means Noah gave you $25,000.
In cases where the house value stays the same, you would just repay the $50,000, which would mean you got a 0% loan.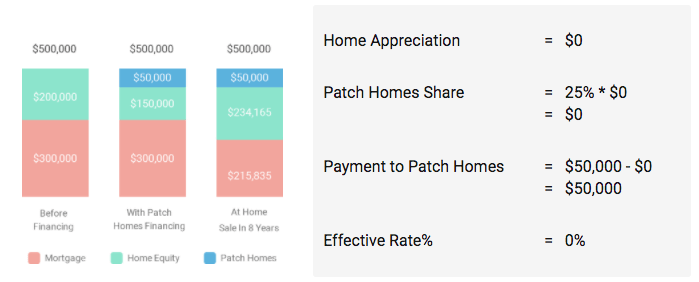 "So if, over time, the home's value increases, Noah earns a percentage of the appreciation on top of the original financing amount. The homeowner pays back more than the original amount," explains Gupta.
He adds, "If the property's value decreases, then Noah shares in the depreciation, which is taken out of the initial financing. The homeowner pays back less than the original amount."
Lastly, if the home value doesn't change, the homeowner would only pay back the original amount borrowed. The above rates and figures illustrate how the system works, but note that actual rates and terms will vary for each customer.
Noah also charges a one-time servicing fee which is due when the loan closes. Additionally, homeowners will be responsible for title and escrow charges and appraisal fees.
How to pay off the loan
If you sell or refinance your home within the 10-year contract, repaying Noah is easy because you'll have the cash available.
However, what if you don't sell your home before the contract expires, have spent the money you borrowed, and owe the full repayment all at once? How does one repay that? Noah has options for this situation, which include refinancing the amount and getting on a payment plan (with interest).
Gupta says, "In addition, we're also working on ways that will allow the homeowner to pay us back directly via the platform." You may think that sounds a lot like a traditional home equity loan, and it does.
The advantage of using Noah instead of getting a traditional mortgage is that you have 10 years without monthly payments. And if your home equity drops or stays the same, you wouldn't pay any financing charges and may even repay less than you borrowed.
However, if your house appreciates over a period of 10 years, you will pay a percentage of the appreciation to Noah. You'll also pay interest on the new loan used to refinance the amount due at the end of the contract.
Is Noah (Patch Homes) right for you? Five considerations
Noah home equity sharing may be a smart option for you. Here are a few things to consider.
1. Where do you live?
Noah is only available in select states and cities. Check if it's available in yours.
2. What is the loan for?
Second, what are you going to use the money for? In this model, it is in the best interest of the homeowner to minimize the amount of equity gained over the period of the loan.
Therefore, if you want to remodel your home and subsequentially increase its value, this may not be the best option. You will have to see what you get approved for, calculate your expected appreciation, and compare it to other financing options.
3. How is the housing market?
Third, how is the market and what is it predicted to do? 10 years is a long time and a lot can happen. If a California resident had signed a Noah contract in Q1 of 2007, in Q1 of 2017 their home would have depreciated by 6.60% (average California appreciation rate).
This would leave them repaying less than they borrowed. However, we also had a huge housing market crash during that time, which was unusual. Over the past five years, the average total appreciation sits at 54.64%, which is on track to result in an increase.
It would be wise to seek out an advisor who can tell you whether your home will likely appreciate or depreciate in the coming decade, and get an estimate on how much it is likely to change. You can then estimate how much the loan is likely to cost you and whether or not it's worth it.
4. How long will you live in your home?
Fourth, how long do you plan to live in your home? If you plan to sell within 10 years, this can be a great option. You can get the money quickly and easily, make no payments, and settle the amount out of the profits of the sale.
The shorter the time period, the lower the cost will likely be.
5. What is your financial situation?
Fifth, what is your financial situation? If you are on a path to make more money in the future but need money now, Noah can be a good option because it allows you to borrow without any repayments for 10 years.
Even if you can't pay off the full amount when the contract expires, you can start making payments at that point when you are more financially secure.
Note that this can involve some risk, so you will want to carefully weigh how much you expect your income to increase, how much your home is expected to appreciate/depreciate, and how much it will cost to refinance the amount after the 10-year contract (if you plan to do that).
Noah Homes review of pros and cons
Noah may be an advantageous route, depending on your situation. Here's a summary of the advantages and disadvantages.
WEIGH THE PROS AND CONS
Compare the pros and cons to make a better decision.
Pros
Borrow against your home's equity and make no payments for 10 years
No interest charges
Pay the agreement out of the sale price if you sell your house within 10 years
No prepayment penalties
Partnership-based financing model means your costs depend on the total equity in your home
If your home depreciates, you will repay less than you borrowed
If your home value stays the same, you will have no financing costs
Financing costs only come with increased equity
Can refinance the total amount owed after the contract expires
Quick closing process (normally within two weeks of approval)
Comprehensive underwriting with homeowners of various financial profiles
No restriction on the use of funds
Cons
If your home appreciates, you will owe a percentage of the appreciation with no caps
Borrowers who don't sell or refinance within 10 years will owe the entire loan amount plus a percentage of the appreciation in one lump sum
If you refinance the lump sum, you may pay financing costs twice
You have to get approved, and the percentage you are charged on appreciation/depreciation will depend on your evaluation (could be a pro if your credit is good)
You will be charged a service fee to initiate the loan
Why use a partnership-based financial model?
Gupta says, "Patch Homes is solving a key problem for homeowners."
He explains, "The core idea behind Patch Homes stems from the fact that many homeowners are 'Asset Rich and Cash Poor'. This problem has been compounded by the continuous rise in home prices met by traditional lenders cutting down on home equity lending, which has created a liquidity gap for homeowners."
He adds, "With traditional loans, many homeowners face either rejection or a high interest rate, which makes their debt problems worse. As a result, homeowners feel wealthy due to home equity, but face significant cash shortage when it comes to paying their bills, spending on home improvement, taking care of family members, retirement, etc."
Gupta explains that Patch Homes aims to help solve this problem for homeowners without adding to their debt burden or monthly cash flow problems.
Noah shared equity review: Eligibility requirements
"We work with homeowners with varied financial profiles," says Gupta. Here's a brief overview:
Credit scores from 630 to 850
Job profiles of W2, 1099, business owners, retired, etc.
A debt-to-income ratio of up to 70%, in some cases
We underwrite primary homes as well as rentals and investment homes
Gupta says, "Our flexibility is in contrast with traditional lenders that primarily underwrite primary homes and focus on homeowners with good credit (700+) and low DTI.[debt-to-income ratio]"
How to apply for with Noah
Interested in finding out what you qualify for with Noah? Here is how to apply.
1: Head to the Noah's website and click on "Am I eligible?"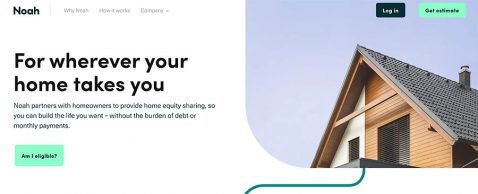 2: Enter your basic information, read/agree to the terms and conditions, and click "Sign up."
3: Enter your address.
4: Review your estimated home value, adjust it if needed, and click "Next."
5: Enter information about your home.
6: Share information about your financial situation.
7: Receive your conditional offer and schedule an appointment for the next steps.
It's as easy as that.
Noah review: Bottom line
Noah is forging a new path in the equity lending industry through partnership financing. As Gupta says, "This really comes down to helping improve the financial health and well-being of homeowners by solving their liquidity needs."
However, Noah is not for everyone. Remember, if your home appreciates, you will owe a percentage of the appreciation with no caps. That could get expensive fast if you live in an up-and-coming neighborhood. And if you don't sell or refinance within 10 years, you will owe the entire loan amount plus a percentage of the appreciation in one lump sum. No problem if you have the cash to pay it off. But if you need to refinance the lump sum, you may pay financing costs twice.
On the other hand, Noah gives homeowners the chance to borrow against their home's equity and make no payments for 10 years. There are no interest charges and no restrictions on the use of funds. Financing costs are based on the increase (or decrease) in the value of your home. That's great news if you don't think your home value will not increase or may even drop. Because if your home's value drops, you will repay less than what you borrowed.
If you are interested in learning more and finding what you qualify for, visit Noah's profile. Other new players in the shared equity sector to consider are Point, Unison, and Hometap.
Jessica Walrack is a personal finance writer at SuperMoney, The Simple Dollar, Interest.com, Commonbond, Bankrate, NextAdvisor, Guardian, Personalloans.org and many others. She specializes in taking personal finance topics like loans, credit cards, and budgeting, and making them accessible and fun.