Table of Contents
How to shop for auto loans
Looking for an auto loan? You've come to the right place. But what should you look for in an auto loan? And how should you go about finding the right lender for you? 
Read on to discover the smart way to compare auto loans.
This method does require doing some research. But don't worry we'll teach you how to cut out hours of research and get your lowest rate in minutes. Spoiler alert. It involves letting our free AI loan offer engine do the heavy lifting and leveraging the wisdom of the crowd courtesy of SuperMoney's community auto loan reviews.
Want to find the best auto loan? You have to shop around
If you want to get the best rate on your auto loan, you have to shop around. Car buyers who don't check their rates with at least three lenders won't get the best APR available to them. In other words, if you take the first offer you see, it's likely that you're missing out on a better deal. And the more lenders you check with, the better your odds of getting a great rate.
This may seem obvious but seven out of 10 auto loan borrowers accept the first loan and interest rate they see without even trying to negotiate.
The online lending marketplace has grown, making shopping for a loan much easier than in the past. You don't have to drive from place to place to apply. You don't even have to leave your couch! Many lenders have an online pre-qualification process which lets you check your rate in minutes.
But how can you compare auto loan lenders to find the best value?
How do you compare auto loans?
Want to find the best deal? These are four features you need to consider:
Competitive APRs
Low fees
Loan amount ranges
Positive consumer reviews
Let's look at each one of the these features a little closer.
Competitive annual percentage rates (APRs)
The main cost of an auto loan is its interest rate, or annual percentage rate (APR). The APR indicates the percentage of the total loan that you'll pay your lender every year. For example, if you borrow $10,000 with a 5% APR, you will pay about $500 per year in interest.
When you compare auto loan lenders, look for lenders with competitive APRs -- the lower the better. Note that within the offered range, the specific rate you qualify for will depend on your creditworthiness.
Low fees
Next, find out what the fees a lender charges. These fees may include:
Loan origination fee
Prepayment fee
Late penalty fee
Ongoing fee
What is an auto loan origination fee?
Loan origination fees are also known as establishment or application fees. The loan origination fee covers the costs involved with processing a loan. Auto loan origination fees typically range from $100 to $500. Not all lenders charge this fee.
What is an auto loan prepayment fee?
If you pay off your loan early, you cut down on your interest cost, which means less profit for the lender. This fee helps to cover the lender's loss. Again, not all lenders charge this fee.
What is a late penalty fee?
If you are late on a monthly payment, you'll have to pay a late penalty fee. Lenders typically charge $5 to $50, though some offer first-time late payment forgiveness or other similar features, which can minimize the cost. Although nobody goes into a loan planning to default, accidents happen. So it is important to understand the terms of your loan before you make a choice.
What is an ongoing maintenance fee?
Lenders may charge a recurring maintenance fee that appears monthly, semi-annually, or annually. Be sure to look at which fees a lender charges, as well as the cost of each fee. Fees contribute to the overall cost of the vehicle purchase, so they can make or break a deal.
Positive auto loan reviews
Getting an auto loan is a multi-step process, involving application, approval, funding, repayments, payoff, closing, and receipt of the title. Ideally, each step should be smooth and efficient. But not all auto loan lenders provide a seamless, pleasant experience. And if a problem does arise, the quality of the lender's customer service will become very important. How can you find out what you're getting into? Reading unbiased reviews from a lender' past customers is a great start. These perspectives can give you a sense of what kind of experience you can expect from a given lender -- both good and bad. When you compare auto loans, seek out lenders with mostly positive feedback. Watch out for multiple customers of a given lender mentioning the same problem, as this increases your odds of encountering the same issue.
Auto loan amount ranges
Lenders set minimum and maximum limits on how much they'll lend to a borrower. For example, a lender may offer loan amounts ranging from $2,500 up to $100,000. While another may lend from $5,000 to $55,000. Be sure to check the lender's loan amount range to ensure it covers the amount you need. Also, if the lender you choose charges an origination fee, make sure you take that into account when calculating how much you need to borrow. In addition to a lender's limits, your creditworthiness will determine the loan amount that you qualify for.
A wide range of auto loan terms
A loan's term is the amount of time you have to repay the money that you borrowed. Terms often range from as little as 12 months to as long as 84 months. The longer the term, the lower your monthly payment amount. However, longer loan terms also mean paying more interest overall. It's best to choose a lender with a range of term options so you can find the right fit for your needs.
Accessibility
Lenders may not serve all 50 states. Ensure your auto lender of choice originates loans in your area. Additionally, consider the ease and convenience of the application process. Many lenders let you apply online and manage much of the origination and loan process through an online dashboard. Look for companies that make it easy to apply for and manage your loan.
Vehicle compatibility
Auto loan lenders vary in the vehicles they will finance. This can be an issue if the make, model, year, or value of your car is restricted by a lender. For example, some lenders won't finance cars that are made before 1985, while others won't finance certain brands, like Subaru. Be sure to read the fine print to confirm that a lender will, in fact, finance your vehicle.
How do you qualify for an auto loan?
Check a lender's minimum criteria for borrowers to ensure you qualify. Requirements vary depending on the lender and type of credit. Most lenders will include the following credit requirements:
Credit history length.
Debt-to-income (DTI) ratio.
Income.
Bankruptcies.
Open credit accounts.
Credit bureau inquiries.
Credit score.
For example, a lender may require:
A debt-to-income ratio (DTI) below 50%.
An annual income greater than $24,000.
Less than five credit inquiries in the last six months.
Three open credit lines
No bankruptcies in the past 12 months.
Check the eligibility requirements of lenders before you apply. This will save you time and avoid unnecessary inquiries on your credit report. Even better, use SuperMoney's auto loan offer engine to check your rates without hurting your credit score. There you have it! You should consider all of these factors when shopping for an auto loan.
How to negotiate an auto loan
The process of buying a car notoriously involves haggling. The thought of negotiating is enough to make some people put off buying a car until the absolute last minute. Only 31.6% of car buyers negotiate the interest rate on their loan
A survey by the Federal Reserve reported that 76.1% of car buyers negotiated the purchase price with the seller, but only 31.6% negotiated the interest rate on their loan. It gets worse. 27.1% of car buyers considered the monthly payment on their auto loan as the most important factor, but only 6.1% considered the interest rate on the loan as the most important factor (source).
There are good reasons why car buyers are so bad at negotiating loan rates and terms.
First, comparing financing costs is complicated. Many lenders are not transparent about the total cost of a loan or you have to complete extensive application forms before you get a rate. Second, many car buyers don't understand how to calculate to total cost of auto financing.
SuperMoney solves both of these problems through its transparent auto loan offer engine.
In a recent study, about 54% of borrowers did not choose the loan with the lowest available interest rate. In other words, their credit score should have allowed them to get a better interest rate, if they had shopped around.
There are several ways borrowers can lower their auto financig costs without spending hours visiting dealerships and completing multiple application forms.
First, let's look at which parts of an auto loan are negotiable: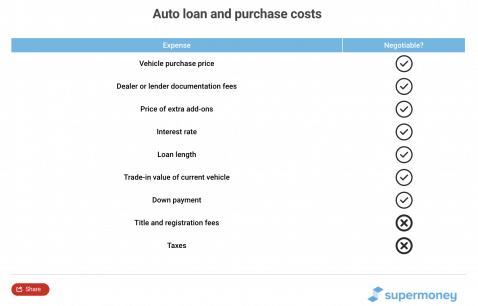 As you can see, most of the costs related to financing a vehicle are negotiable. However, it's important to keep your eye on the big picture throughout the negotiationn to avoid saving in one place while paying more in another. For example, a lender might lower your interest rate but extend your loan term, which could increase the overall cost of the loan.
Where can you get an auto loan?
Many financial institutions extend auto loans to borrowers including dealers, banks, credit unions, and online non-bank lenders.
Dealers and car manufacturers
Dealers and car manufacturers often work with a network of financing companies to offer buyers a one-stop shop. Once you find the car you want, you can apply and the dealer will come back with a financing solution for you.
While this can be convenient, it's not always the best option. Dealers can be biased and may work your financing in their best interest rather than yours. Further, they may not have the best deal, so it's always good to shop around.
Banks
Most banks, from large to small, offer auto loans as well. You can often apply online or by visiting a branch.
Credit unions
Credit unions also offer auto loans and are known for their competitive interest rates. However, you will have to be a member to apply for their loans.
Online non-bank lenders
Lastly, a large number of non-bank financial companies that offer auto loans have cropped up. You can easily apply with many of them in just a few minutes and can get funding directly deposited into your account within days.
With so many lending options, how do you decide which is best for you? There's only one way to find out what you can get, and that is to get pre-approved.
Various lenders advertise low APRs and attractive terms, but those are not always going to be available to you. It's best to perform some research, build a short list of lenders with good reputations, and get quotes from each of them.
After doing so, you can compare the offers to the offer you received from a dealer and see which provides the best value. No matter what, never take the first offer you get – always compare at least three.
Factors that auto loan lenders consider when approving borrowers
When you apply for an auto loan, what will the lender consider? Well, lenders can vary in their eligibility requirements and standards. However, the two common factors that will play a role in the decision are your debt-to-income ratio and your credit.
Debt-to-income ratio
Your debt-to-income (DTI) ratio represents the amount of debt you have compared to your income.
For example, if you make $4,000 per month and pay $1,000 to your mortgage, $200 to your credit cards, and $300 to an installment loan, your DTI  would be 37.5% ($1,500 divided by $4,000).
Most lenders will generally want your DTI to be 40% or less, including the debt you will owe them. This reduces the risk that you will default on the loan.
Credit
Secondly, one of the best ways for lenders to understand the level of risk you present is to look at how you have handled credit in the past. Being so, they will check your credit report and credit score.
The credit score is determined by looking at your payment history, amount owed, length of credit history, credit mix, and new credit. Lenders will use this information to decide if they will lend to you and what interest rate you will have to pay.
Many lenders have minimum credit requirements around 620. However, there are those that specialize in helping people with subprime credit as well as those with super prime credit.
So, it's good to shop around.
Find the best auto loan for your needs
Ready to find the best auto loan for your situation? SuperMoney is here to help with our auto loan engine.
How does it work?
After you answer a few basic questions, we check the requirements and rates of leading lenders.
Within minutes, we present you with any and all offers available to you. You can see the rates and terms side-by-side on one page. For even more information, you can read real unbiased customer ratings and in-depth auto loan reviews.
Ready to find the best auto loan and get on with purchasing your next vehicle (or refinancing your existing one)? Get personalized rates now!