Quicken Loans, the second-largest mortgage lender in the U.S., is no longer just for home loans. In February 2016, the Detroit-based company launched RocketLoans, a new online service that provides fast personal loans of $2,000 to $35,000 to borrowers with good credit.
If you are wondering whether RocketLoans is a good fit for you, read on. This review will answer the following questions:
• What Are Quicken RocketLoans' Interest Rates And Terms?
• Are There Any Hidden Fees To Consider?
• How Does RocketLoans Work? What Is The Application Process Like?
• How Does Quicken RocketLoans Compare to Other Lenders?
Quicken RocketLoans stands out because it can fund loans within a few hours and still offer competitive interest rates and terms. There are other lenders with lower rates, but few of them – if any – can deposit your cash within an afternoon. Not that all loans are funded that quickly. Depending on your bank, it may take 1 to 3 days to get your money.
Checking your rate with Quicken RocketLoans will not hurt your credit, and completing an online application only takes a few minutes. So there is no downside to seeing what APR you qualify for.
What Are Quicken RocketLoans' Interest Rates And Terms?
Quicken RocketLoans offers:
Loan amounts of up to $35,000
Fixed interest rates
36- or 60-month repayment terms.
Interest rates vary depending on your FICO Score, monthly income, debt-to-income ratio, whether you rent or own your home, the number of credit inquiries on your credit report, and the length of the loan's repayment term.Your debt-to-income ratio, also known as DTI, is calculated by adding all your monthly debt payment and dividing the total by your gross monthly income. Borrowers with lower DTI ratios receive better interest rates.  Typically, you can expect lower interest rates if you own your home, have few credit inquiries, and choose shorter repayment terms.
Unfortunately, RocketLoans does not provide a range of interest rates. This is certainly a disadvantage when compared to other lenders that do offer maximum and minimum APRs to potential borrowers. When we called RocketLoans customer care line, agents were friendly and helpful, but would not provide a minimum or maximum rate.
However, we ran a few scenarios to compare RocketLoans with other lenders. A typical borrower with excellent credit (750+), who rents a home, and has an annual income around the national median income of $52,000, can expect interest rates ranging from 8.52% to 13.48% APR. The lower end of the range is for smaller loans with 36-month terms. Borrowers who own their homes and have a higher income can qualify for better rates.
What Other Rates and Fees Does RocketLoans Charge?
RocketLoans charges borrowers a one-time origination fee of 1% to 6% of the loan amount. This fee is deducted from the loan before you receive the money in your account. For example, if you borrow $35,000, and you are charged a 5% origination fee, RocketLoans will deduct $1,750 and only deposit $33.250 in your bank. Unfortunately, you still will have to pay interest on the total amount of $35,000. Consider the cost of the origination fee when deciding how much you need to borrow.
If you choose to pay by check, RocketLoans charges a $5 check processing fee. There are only two other fees, and they only apply to borrowers who miss or are late with their payments. These include a $15 late payment fee (or 5% of the monthly payment) and a $15 returned payment fee.
How Does RocketLoans Work?
RocketLoans works entirely online. There are no documents to mail or fax, and you can complete the entire process in a few hours.
Interest rates for RocketLoans are fixed, which means you know precisely what your monthly payments will be before you sign the loan agreement. Fixed loan payments help borrowers manage their budget and avoid the risk of unexpected interest hikes.
RocketLoans can be used to consolidate high-interest debt, make home improvements, pay for medical expenses, start a small business, cover auto expenses, and practically any other purpose. There are two exceptions: RocketLoans' personal loans cannot be used as student loans or legal activity. All loans offered by RocketLoans are personal loans, regardless of their purpose. So even if you use the cash for business expenses, you still will be personally liable for the debt.
What Is RocketLoans' Application Process Like?
Quicken has applied to RocketLoans the same principles that made its mortgage business: fast and painless delivery of decent rates. Unlike other lenders that promise a quick application process, RocketLoans delivers the goods with a two-page application form you can complete in less than 10 minutes. This section reviews the steps you must take and the information you must provide. Remember. RocketLoans does not perform a hard credit check until you sign the loan contract. So your credit score will not take a hit for checking your rates. To view your rates, you will only need to submit your name, address, income, SSN, and date of birth.
Choose The Amount And Purpose Of Your Loan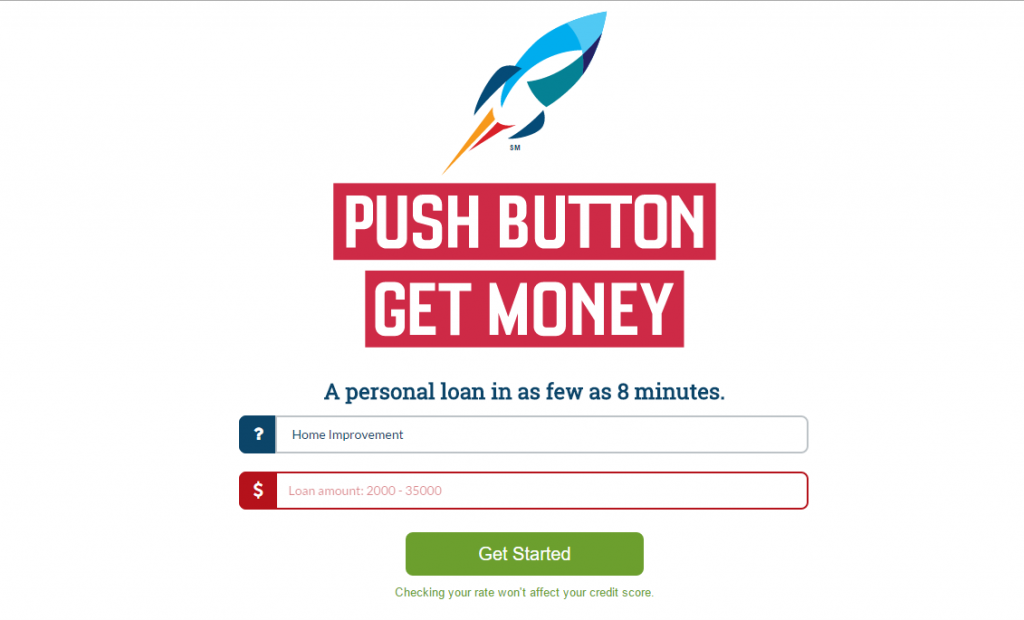 2. Provide Your Personal and Financial Details
Just the basics. Submit your full name, address, whether you rent or own your home, your employment status, and SSN.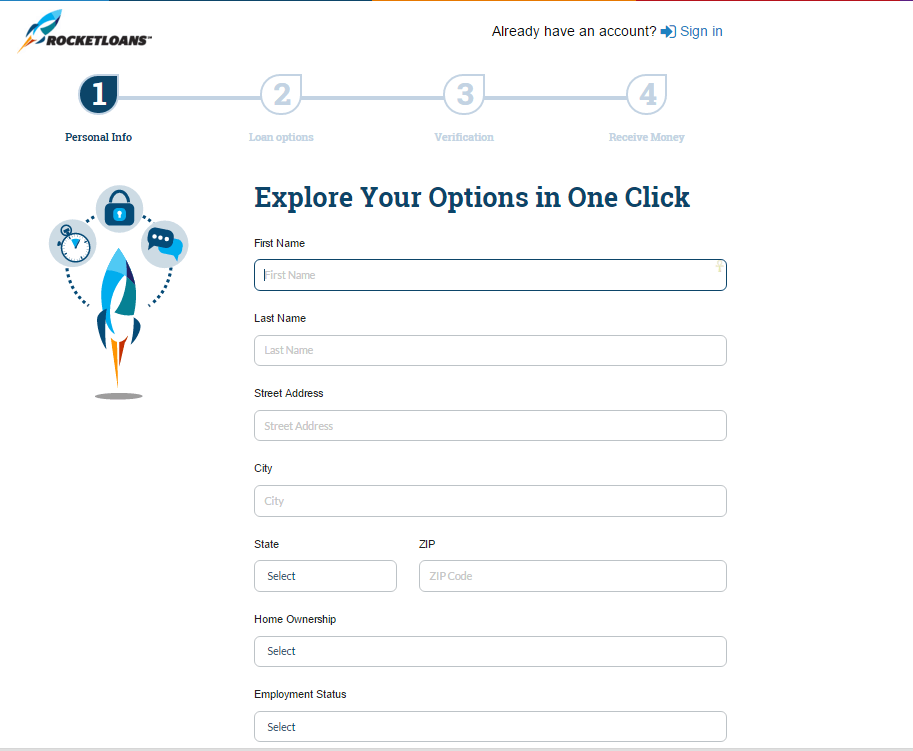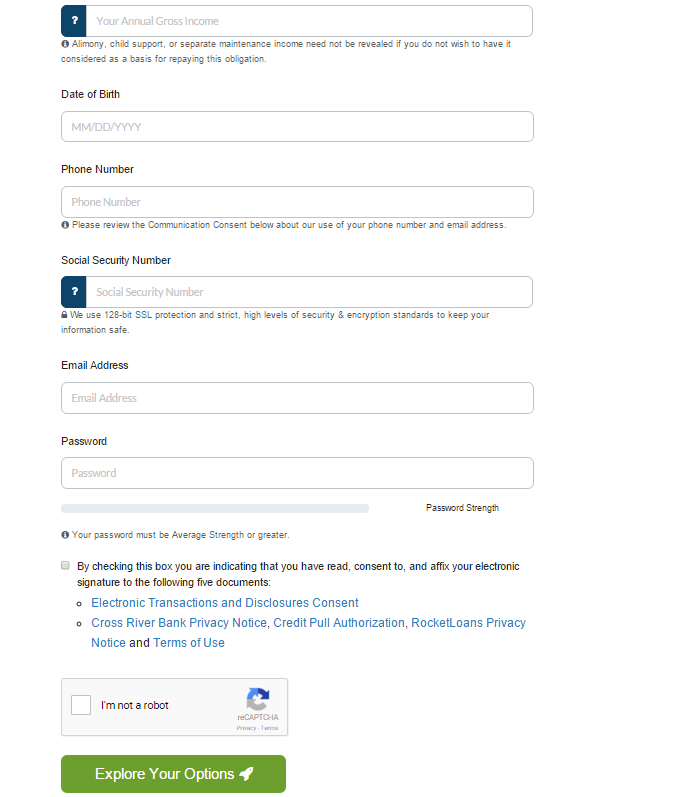 3. Choose Your Loan Offer
If you meet RocketLoans' criteria, you will receive a range of rates, loan amounts, and terms you qualify for.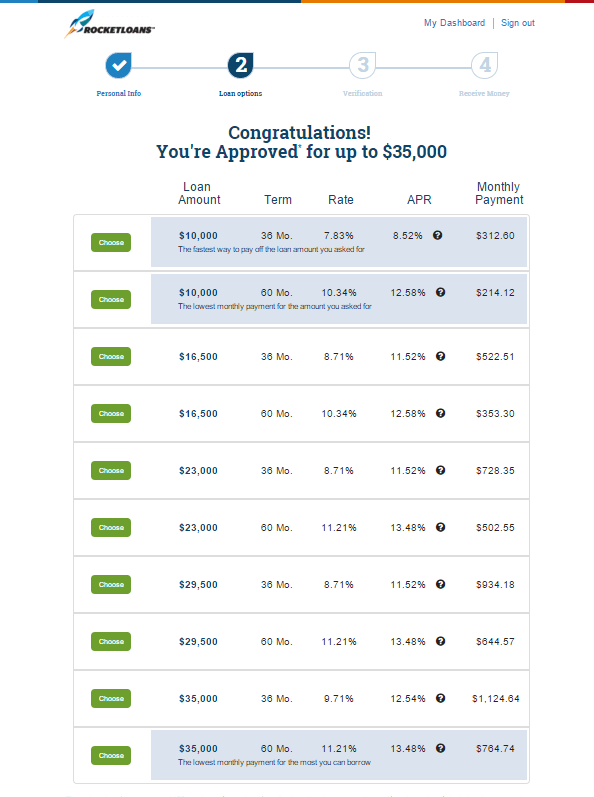 4. Review Rates, Origination Fees, And Loan Terms
Check your rate, term, and fees. If you are in agreement, submit your loan application.
How Does Quicken RocketLoans Compare To Other Lenders?
RocketLoans is still a new to the personal loans business, so we will probably see changes as it finds its niche. For instance, RocketLoans will be launching an "immediate funding" feature in March 2016, which will allow customers to get loans of up to $10,000 deposited in a matter of minutes. RocketLoans' ability to offerr fast loans at low rates with minimal hassle is its main advantage over similar lenders.
RocketLoans has competitive interest rates and terms when compared to established leaders in the consumer loans sector, such as LendingClub and Prosper. It has significantly lower interest rates than Avant, Vouch, and OneMain Financial, but those lenders are more forgiving to borrowers with poor credit. Quicken RocketLoans cannot yet compete with super-prime lenders, such as SoFi and LightStream, which have lower interest rates and don't charge origination fees, but it has less stringent eligibility criteria and a faster application process.
The bottom line is that if you are looking for a fast loan and you have good to excellent credit, RocketLoans is a smart place to start. Checking your rate will not affect your credit score, so you should find out what rate you qualify for before you commit to a loan with another lender.
Andrew is the managing editor for SuperMoney and a certified personal finance counselor. He loves to geek out on financial data and translate it into actionable insights everyone can understand. His work is often cited by major publications and institutions, such as Forbes, U.S. News, Fox Business, SFGate, Realtor, Deloitte, and Business Insider.