The Travelers Companies, Inc. is the third largest writer of U.S. personal insurance through independent agents and has 14,000 across the country. With roots dating back to 1864, it is one of the longest standing insurance providers.
In addition to several types of personal insurance, Travelers also offers business insurance and bond and specialty insurance. In this in-depth review, we will cover the company's home and renters insurance offerings.
Traveler's home insurance coverage types
Traveler's home insurance policies include the following types of coverage:
Dwelling coverage
Dwelling coverage will cover the costs to repair or rebuild your home due to damages that result from hail, lightning, windstorms, fire, and vandalism. You will need to make sure to get high enough limits to cover the full costs for your home.
Other structures coverage
Other structures coverage covers the cost to repair and rebuild structures that are separate from your home. Examples include fences, stand-alone garages, or sheds.
Personal property coverage
Personal property coverage will cover the replacement costs for personal items. Items may include clothes, sporting goods, furniture, electronics, etc. Limits apply to specific items so that additional coverage may be necessary.
Loss of use coverage
If your home becomes uninhabitable, you will have to spend money on temporary housing. This type of coverage will reimburse you for those costs.
Personal liability coverage
In the case that you or a member of your household is found liable for causing bodily injury or property damage to someone, personal liability coverage will help to cover the costs you incur as a result.
Additional coverage options
The standard homeowner's policy may not be enough for all situations. For that reason, Traveler's offers the following additional coverage options:
Special personal property coverage: This goes beyond the coverage for personal property that is available on a homeowner's policy. It will provide more protection in the event of a loss.
Contents replacement: Contents replacement coverage replaces personal property in the event of a loss at the cost of replacement without factoring in any depreciation. Special limits still apply to expensive jewelry like furs and watches.
Jewelry and valuable items: If you have expensive items like furs or high-end jewelry, this is the coverage you will likely want. It provides higher limits and expanded protection.
Personal articles floater: A personal articles floater can be useful to cover specific valuable items that require a higher coverage amount.
Additional replacement cost protection coverage: If the dwelling coverage limit you have on your homeowner's policy isn't high enough, this coverage can cover the gap.
Identity fraud: If someone steals your identity and it incurs costs, this coverage will cover up to $25,000 in losses.
Green home coverage: Protect your green materials in the case of a loss.
Sump pump overflow and water backup: In the case of water backing up from a drain or sewer in your home, or water overflowing from a sump pump, this will cover the costs to repair damages (doesn't cover floods).
Now, let's take a look at the coverage for renters insurance.
What does Traveler's renter's insurance coverage include?
Traveler's renter's insurance includes the following:
Renters personal property coverage
Personal property coverage for renters will protect your possessions both at home and away from home in the event of a covered loss. Covered losses include theft, fire, hail, lightning, windstorms, explosions, smoke, and vandalism.
Renters personal liability protection
This coverage will protect you if someone sues you or makes a claim against you. It covers the costs for legal services and other damages. Most policies include a minimum of $100,000 of financial protection.
Medical payments coverage
If someone gets hurt on your property in a qualifying accident, this coverage will pay for their medical bills.
Additional living expenses
If the home you are renting becomes uninhabitable and you need to pay for temporary housing, this coverage will reimburse you for the costs (i.e., hotels, laundry, meals, etc.)
Additional coverage
Like home insurance, there are additional coverage options for those who need more protection.
Contents replacement cost: If you would like to receive the full replacement cost for your possessions at the time of loss, without any depreciation, you will need this coverage.
Valuable items plus: For higher coverage limits on special items like art or musical instruments, this coverage can be helpful.
Now you know what kind of coverage Travelers offers to homeowners and renters. You can work with an agent to build a policy and tailor it to your needs.
Next, let's look at how you can save.
Traveler's Discounts
Here's how you can save on Travelers home and renters insurance:
When you have multiple insurance policies with Travelers
By owning devices that protect against smoke and fire
By not having any previous home or renters insurance claims
Additionally, home insurance offers discounts if you:
Sign up for the policy within 12 months of purchasing a new home
Have a Leadership Energy and Environmental Design (LEED) certified "green "
Your agent can help you figure out which discounts will be most beneficial to you.
Traveler's home insurance claims process
If an unfortunate event happens and you need to file a claim, here's how it works.
Prepare the following information: contact information of you and anyone else involved, policy information, loss type, date, and a description of the incident.
Login to report the claim online or do so by calling the claims phone number. A claims customer service agent from Travelers will document the details, assign you a claim number, and refer you to a claims professional.
Next, the claims professional will contact you to explain what your policy covers and answer any questions you have. When necessary, they will also arrange a time to inspect the damage in person.
4. Then, Travelers will inspect the damage and investigate the claim.
When the investigation is complete, the Travelers professional will contact you to explain the result. If you get a settlement, you will be sent a check based on their estimate of the damage.
Next, here's how to find out how much Travelers will cost you.
Get a quote from Traveler's
Follow these steps to get a quote:
Visit the Traveler's website, select the type of insurance you want, enter your zip code, and click "Start Quote."

Answer whether you are a Traveler's customer or not and click "Continue." (For the sake of demonstration, we clicked no.)

Provide your basic information, read and agree to information disclosures, and click "Yes, start my quote!"

Provide your email address. Your phone number is optional.

Answer basic questions about your home or the home you are renting and click "Continue."
Homeowners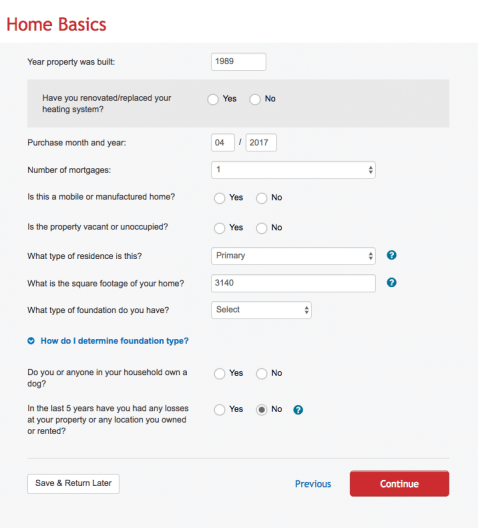 Renters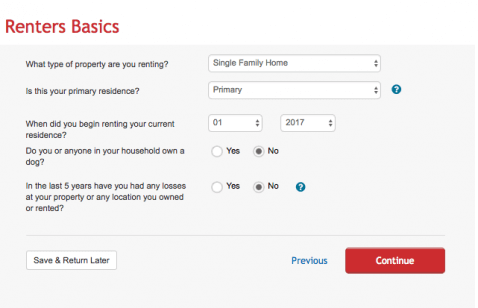 Share about the interior of your home or the home you are renting and click "Continue."
Homeowners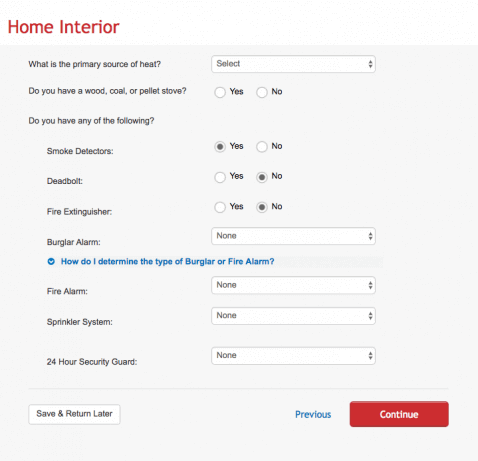 Renters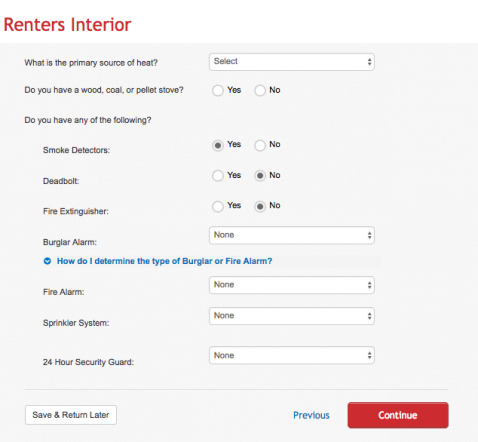 Lastly, share details about your home's (or the home you're renting) exterior and click "Continue."
Homeowners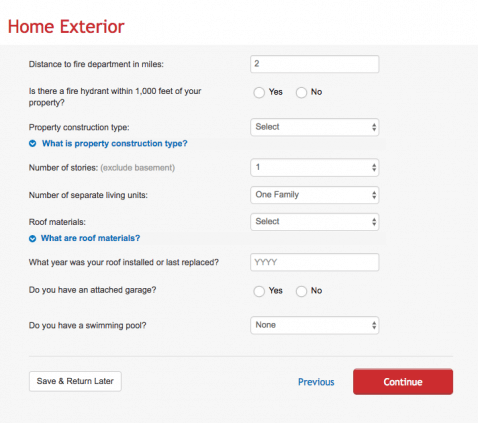 Renters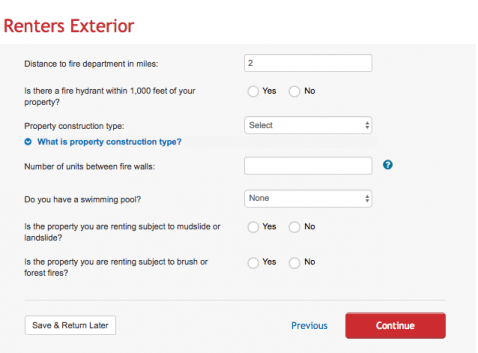 That's it. Then, you will receive a quote or will be directed to call in for further information.
FAQ on Traveler's home and renter insurance
What is Travelers Home Insurance?
Travelers Home Insurance offers reliable insurance products to protect your home from the damage life, nature, and man can do to your home.
What does Travelers home insurance cover?
A typical home insurance policy through Travelers Insurance covers damage from specific perils, such as fire, hail, lightning, theft, vandalism, and wind storms. They offered many types of coverage including dwelling, liability, loss of use, personal property and other structures coverage.
What are not covered in Traveler's home insurance?
Damage from floods and earthquakes are typically not covered by a standard homeowner's insurance policy. You must purchase separate policies to cover damage from these incidents. In the instance of flood insurance, you must purchase your general flood insurance from the National Flood Insurance Program (NFIP).
Does renter's insurance cover theft away from home?
Renters insurance covers your possessions from theft, after you pay your deductible amount. Renters policies typically cover your belongings, whether your rental home is burglarized, or the items are stolen from your car or while you are traveling.
How does renter's insurance work with roommates?
A renter's insurance policy will not cover a policyholder's roommate, unless they are listed on the policy. Roommates are excluded from all renter's insurance policy coverages including personal property, liability and loss of use in the event a rental becomes uninhabitable.
Traveler's home and renters insurance review and summary
Travelers is a reputable insurance provider that offers comprehensive coverage and competitive premiums for homeowners and renters.
Home insurance offers coverage for the house and separate structures. It also covers possessions in the house and protects homeowners against liability for accidents they cause to people or property. If you need extra coverage, many add-on policies are available.
One standout drawback is that Travelers does not insure mobile homes, so if you have this type of home, you will want to shop elsewhere. Otherwise, Travelers is worth checking. The online quote process is very easy and convenient, and you can also speak with someone over the phone if you prefer.
The renter's insurance from Travelers can be pricier than other companies, but it offers comprehensive coverage. It will protect your belongings, cover costs if you temporarily lose the use of your rental home, and will protect you if you are liable for damage to a person or their property.
Again, the process to get a quote is very easy and convenient. Further, Travelers is known for providing high-quality customer service.
To read Travelers home insurance reviews, learn more about the company, or apply, click here. Or if you are interested in reading Travelers renters insurance reviews and possibly applying, click here.
Jessica Walrack is a personal finance writer at SuperMoney, The Simple Dollar, Interest.com, Commonbond, Bankrate, NextAdvisor, Guardian, Personalloans.org and many others. She specializes in taking personal finance topics like loans, credit cards, and budgeting, and making them accessible and fun.