Dealing with the IRS can be a nerve racking and painstaking process for taxpayers but it doesn't have to be. The Internal Revenue Code is so complicated and convoluted that most people feel completely in the dark when approaching the IRS to resolve their tax debt problems.
The less taxpayers know about the inner workings of the IRS, the more intimidated they feel when it is time to resolve their tax problems. There are certain facts that the IRS would never readily share with consumers that shed light on their internal strategies and processes. To better educate and assist consumers, SuperMoney has compiled the following 10 Facts you have to know when dealing with the taxman.
1. There is no percentage limitation on what the IRS can garnish from your paycheck
When the IRS garnishes your paycheck, there is no set amount or percentage that they take out of your paycheck. Instead, there is an amount that is "exempt" from garnishment. It is extremely important to understand what this means:
Simply put, there is no limit on how much the IRS can take from your paycheck. Instead, there is a limit on what you can take home. Anything that you earn that is above that limit, the "exempt" amount, will be sent to the IRS.
The amount of your money that is exempt from the garnishment is based upon the filing status on your last tax return, how often you are paid, and the number of exemptions that you claim on your payroll. It's typical for the IRS to garnish 70% or more of an employee's wages, largely in an effort to convince the employee to contact them to resolve the debt.
2. The IRS would rather settle your case than have it go to trial
The IRS periodically audits the difference between what taxpayers should be paying and what the IRS collects in taxes. Even when accounting for costly enforcement actions, the IRS only collects around 80% of what it says taxpayers owe. IRS agents know this and are willing to negotiate with reasonable taxpayers who are making an effort to repay their tax debt.
It's reputation aside, the IRS is actually a poor bill collector. The IRS is an incredibly overworked and underfunded agency. If they have an opportunity to settle your case before it goes to the courtroom, it's an option they will consider. In fact, there's an official Offer In Compromise program that handles just that.
The Offer in Compromise (or OIC) program, is an Internal Revenue Service (IRS) program which allows qualified individuals with an unpaid tax debt to negotiate a tax settlement of less than what they owe. In 2012 as part of its Fresh Start initiatives, the IRS greatly liberalized the standards that it uses for acceptable offers. The statistics for the most recent fiscal years are:
IRS Offer-In-Compromise Acceptance Rate Trend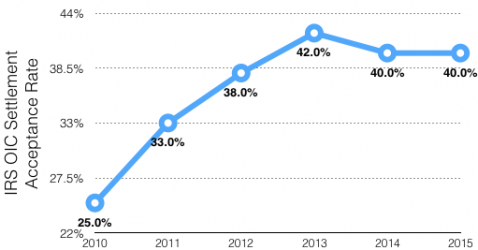 Source: IRS Data Book (various years) https://www.irs.gov/uac/soi-tax-stats-irs-data-book
3. Tax professionals maintain way higher OIC acceptance rates
Submitting an Offer in Compromise (OIC) is a very intricate process, and there are many underwriting guidelines that need to be met to be successful. An Enrolled Agent, CPA or Tax Attorney with sufficient experience in the OIC process knows the eligibility requirements and what the IRS is looking for. Hiring professional tax help to negotiate a settlement with the IRS on your behalf can greatly increase your chances of qualifying for a tax relief settlement. It's common for professional firms to maintain OIC acceptance rates over 90%.
In addition, if you owe a lot of money to the IRS, it can help to have a tax relief company on your side. The best tax relief companies have tax lawyers and enrolled agents on staff, provide a money-back guarantee and charge competitive rates. Check out which tax relief company is the best fit for you.
Tax resolution professionals are trained to take advantage of these settlement opportunities on your behalf. Most reputable firms will review your case and provide a consultation for free. It's a good idea to at least speak with a professional experienced in OIC work before trying to take the challenge on your own.
4. The IRS criminal case indictment rate is up 40% over the last 10 years
While the over all count of IRS criminal investigations is on a downward trend over the last 5 years, the IRS has gotten a lot more aggressive in its indictment rate for IRS investigations. In other words, the IRS is moving forward with criminal charges and legal proceedings in a much a higher percentage of IRS investigations.
IRS Criminal Indictment Rate Trend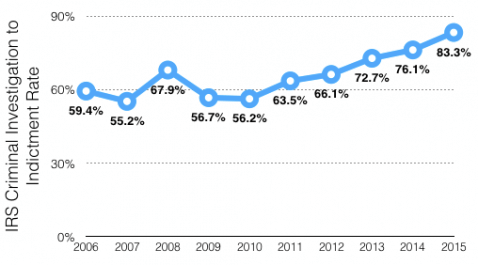 Source: IRS Enforcement Statistics https://www.irs.gov/uac/enforcement-statistics-criminal-investigation-ci-enforcement-strategy
If you are facing civil or criminal tax charges from the IRS, getting a professional legal representation is recommended.
5. The conviction rate of IRS criminal cases is over 95% in recent years
When it comes to criminal cases the IRS has a very high success rate. Over the last ten years, the IRS has maintained an average conviction rate over 80% for its criminal prosecutions. What's more, the percent of those convictions that received prison time as part of their sentence is an average of 80% for 2013-2015.
IRS Criminal Conviction Rate Trend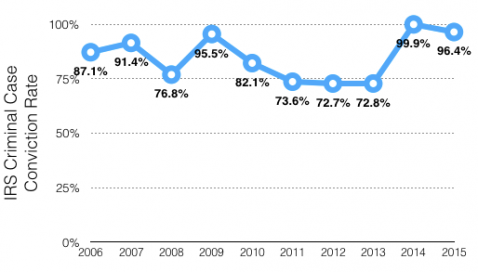 Source: IRS Enforcement Statistics https://www.irs.gov/uac/enforcement-statistics-criminal-investigation-ci-enforcement-strategy
6. The IRS has a conflict of interest
No, this is not another conspiracy theory about the IRS being unconstitutional. The IRS has two mandates from Congress that aren't completely aligned.
First, the IRS must ensure taxpayers follow the law and pay all the taxes they are due. That is, after all, how the government is funded. Even with the IRS's "enthusiastic" tax collection methods, the federal government was still $439 billion in the red, in 2015.
Second, Congress has also mandated the IRS to provide and administer programs that give taxpayers who are behind on their taxes a fresh start.
These conflicting orders send mixed signals to employees and require a constant balancing act from IRS employees. It is in your best interest to begin the settlement process with the IRS as soon as possible so that you demonstrate that you are willing to resolve your back tax issues. Showing that you are prepared to engage the IRS will help you retain your assets while you are in the process of negotiation.
7. The U.S. Tax Code is unbelievably complex
As of 2016, federal tax rules span 75,000 pages. That is three times bigger than when President Jimmy Carter called it a "disgrace to the human race" in his 1976 acceptance speech. The size and complexity of tax law can work in taxpayers' favor because IRS auditors don't understand it all that well either. In many instances, entry level auditors and collection agents do not have tax or financial backgrounds. Be very selective whom you choose to help you in IRS tax resolution assistance.
Typically, tax preparation companies and accounting firms are not trained in handling IRS resolution strategies. To resolve past due taxes and become compliant with the IRS, you want to work with a professional that has in-depth knowledge and has successfully represented numerous clients in IRS negotiations.
8. The IRS has 10 years to collect taxes from the date you file your tax return, but the statute of limitations can be extended
Filing an amended return, requesting an appeal, or submitting an offer in compromise will put a pause on the statute of limitations. Just because the IRS did not come calling after a couple of years of missed taxes does not mean you are in the free and clear. They most likely have not gotten around to processing your file yet. You should be proactive about becoming compliant now, to avoid worse problems down the road. Eventually, your file will rise to the top of their stack.
9. Taxes are tough to remove through bankruptcy
Even through bankruptcy, unpaid taxes may stay with you and bankruptcy may not be the best solution to your unresolved tax issues. Even if you have filed bankruptcy, or are considering it, make sure to get legal advice on how that might affect any back taxes you owe to the IRS or state agencies.
10. Anything you write or say to an agent can be used against you
The DIY approach may be good for things like home improvement, but not always so great when negotiating with the IRS. IRS examiners are trained to look out for the best interests of the government. If you are able to pay your tax debt with available cash or assets, they will want you to sell property, cash out or get in a payment plan to pay out the bill.
It's easy to inadvertently divulge information that will negatively affect your collection case with the IRS. This is one of the most important reasons to consider hiring an experienced tax relief organization. Good firms will know how to present your case and what information to share (and not share) to achieve an optimal solution. The slightest misinformation or misfiling could set you back to square one.