Trying to expand your investments beyond stocks, bonds, and mutual funds? Consider becoming a landlord.
In 2015, investment home purchases rose for the first time in five years, surging 7% to more than 1 million sales, excluding institutional investors, according to the National Association of Realtors. The median investment home sales price rose 15.3% to $143,500.
Steadily increasing home prices and strong rental demand appear to be giving more individual investors assurance that purchasing real estate will diversify their portfolios and generate additional income if they decide to rent out the home.
Lawrence Yun, Chief Economist, Association of Realtors.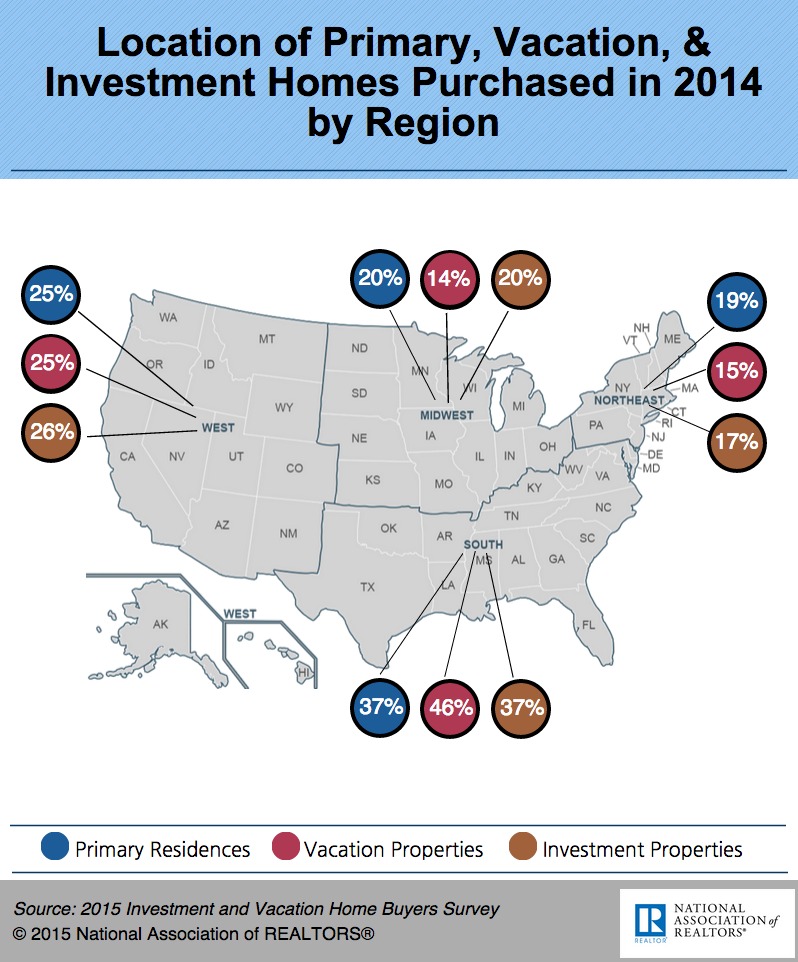 Ideally, rental income from tenants will eventually pay off the mortgage and allow you to recoup pure profit once you sell the home. But first, you'll have to convince financiers to front you the funds to buy the property.
Here's what you need to know about financing multiple residential investment properties with one to four units (any more, and we'd be wading into commercial loan territory).
What lenders want
Fewer investors are plunking down cash and instead using loans, according to the Realtors association. Of those who went the mortgage route, 56% financed more than 70% of the purchase price.
These loans tend to be pricy. Lenders consider investment properties to be riskier than primary residences because borrowers are more likely to walk away. With each additional property, the risk increases. And considering that mortgage insurance doesn't cover investment properties, you're unlikely to find lenders willing to underwrite 100% of an investment home's purchase price.
Borrowers with plenty in the bank and more on the way are preferred. Investment-home buyers last year had a median household income of $95,800 — up from $87,680 the year before. (Source)
Lenders frequently require at least 30% down on investment properties, compared to 20% for owner-occupied residences.
Wei Min Tan, Real Estate Agent, Castle-avenue.com
Interest rates tend to be around 4% for fixed rate loans and a bit lower for adjustable-rate mortgages. Some lenders will tack on extra fees to finance multiple properties.
The paperwork may be brutal. Lenders will want to pore over your tax returns — particularly the Schedule E section that covers rental property income and expenses. They'll want to know how much the monthly mortgage is on your primary residence. Each property will have its set of mortgage documents. You'll have to produce W-2s and other financial data so that lenders can calculate your debt-to-income ratio,which — by the way — changes with each new property you buy.
Recommended Lenders for Mortgages and Real Estate Investments
| Lender | Maximum Loan |   |
| --- | --- | --- |
| | $200 million | Apply |
| | up to $625,000 | Apply |
Financing four or fewer investment homes
You have a decent chance at getting a conventional loan if you have a solid FICO credit score of at least 630, liquid financial reserves equal to three months of the mortgage payment and the willingness to plunk down at least 20% upfront. Major institutions — Bank of America, U.S. Bank — choose borrowers cautiously. But smaller banks, "because they are hungrier for business, are more flexible in terms of accepting people outside of the plain vanilla profile," Tan said.
Here are tips on finding the best mortgage company for you.
You can also try tapping your home equity through a home equity loan, cash-out refinance or HELOC.
Five to ten homes
Often in this situation, a bank originates your loan and continues servicing it but shunts ownership (and risk) to Fannie Mae under its 5-10 Financed Properties program. This option, which launched in 2009 to galvanize buyers, concerns investors with five to ten homes — including primary residences and properties not financed by Fannie Mae.
To qualify, investors will need six months of reserves to buffer against vacancies. They must shell out 25% in down payments for single-family properties and 30% for properties with up to four units. Late mortgage payments within the past 12 months are a no-go, as are bankruptcies or foreclosures within the past seven years. More details here.
To finance the seventh to tenth home under this program, borrowers need to have a minimum 720 credit score.
"If they don't have a prime credit score, chances are they're not getting a traditional loan," Tan said.
More than ten homes
In this bracket, you're at the mercy of the big bank portfolio lenders, because your loans — if approved — are likely remaining in their portfolios. Lenders in this category are especially wary of the risk of default.
U.S. Bank and Wells Fargo offer loans specifically for investment properties and suggest using current home equity as a financing tool in certain situations.
You can also try a blanket mortgage, which is a popular option for property management firms and institutional landlords. Some brokers are open to working with individual investors as well.
But Tan cautions against this umbrella strategy. Although it shows up as a single mortgage in financial reports, unloading properties under a blanket loan can be difficult because the borrower would have to sell each home included.
Other "creative" financing exists, but Tan said that many involve "taking a lot of unnecessary risks." Buyers can seek financing from the property's previous owner rather than from the bank holding the mortgage, but will likely feature resistance from the seller or demands for high interest rates.
Hard money lenders — often rich individuals or small banks that offer up funds in exchange for double-digit rates — can also seem appealing. But terms often require the borrower to pay back the loan quickly or face foreclosure.
Financing by borrower type
If you're a self-employed business owner without full-time employees, you can flesh out your retirement fund using investment properties. Sign up for this plan and then opt for "checkbook control," which allows you to bypass a plan custodian and serve as trustee yourself. You'll be able to use the plan to purchase property that will be owned in the name of your Solo 401(k).
Any rental income earned through these properties must be deposited back into the plan, which must also be used instead of your personal account to pay for all rental expenses and repairs. This plan also allows you to finance property purchases via a non-recourse loan or mortgage, which treats only the home and not the plan as collateral. Plan participants can borrow up to $50,000 or 50% of their account value.
This option allows buyers to postpone taxes on gains from the sale of investment property by taking the equity from the original property and reinvesting it into a new property. Each step is a mutually dependent part of an integrated transaction. Within 45 days of the sale, you'll have to identify a replacement property of equal or greater value and close on the purchase within 180 days.
The properties can't be for personal use, which disqualifies primary residences, second homes, and vacation pads. Here's an extensive field guide to 1031 exchanges from the National Association of Realtors. And here's a list of tax deductions for rental property owners.
Self-directed IRA
Here, an investor can buy property through a custodian while tapping the tax benefits of a traditional IRA. Participants can also apply for non-recourse loans.
Parting thoughts
While juggling multiple properties and tenants, keep an eye on expenses such as property taxes and damages, otherwise you might end up looking for loans to cover surprise holes in the bottom line.
Consider forming a limited liability company, which can shield you from personal vulnerability to potential lawsuits and can also protect your anonymity. Going this route involves more paperwork, but it offers another layer of protection and more flexibility in splitting ownership of the property.
Going it alone? End-to-end services such as HomeUnion can help you identify investment properties to buy and work with you to finance, acquire, rehab and manage them. The startup vets rental properties based on each investor's needs and risk tolerance then helps the investor through the purchase documentation and eventually suggests a good time to sell.
Or try using a mortgage broker instead of seeking out different direct lenders. It makes your life significantly easier.
Dittiman Singh, Software Developer
Singh lives in a rental condo in Boulder, Colo. but owns three properties in Arizona. He uses the Scottsdale home as his primary residence — which he bought for 20 percent down in 2011 — but rents it out as an Airbnb vacation home when he isn't in town for work.
Using funds from a 2013 cash-out refinance negotiated through his credit union employer as well as rent payments from two roommates, he was able to afford two townhouses in Scottsdale and Phoenix with 25 percent down. Those properties, which he reserves for long-term leases, are both empty at the moment.
"It's definitely very stressful," he said. "Don't try this unless you have the time, the cash flow and the financial savings to back yourself up."
If the landlord life sounds like the way to go, start by checking out our ultimate guide to home loans and mortgages. Throughout the process, tap our other resources, including a primer on different types of mortgages, a monthly mortgage calculator and tips for finding the best mortgage companies and lenders.