Article Summary
Our list of the 25 most expensive pens in the world includes everything from pens made from materials reclaimed from the Titanic to a fountain pen with a thousand black diamonds.
The golden age of expensive pens started in the roaring 1920's when pens became works of art and treasured status symbols. Of course, nowadays few of us even carry a pen. Nevertheless, there is still an active market for fine writing instruments — and there are still buyers willing to pay premium prices for the most expensive pens in the world.

The most expensive fountain pen in the world
The most expensive pen in the world is also the rarest. It is the Fulgor Nocturnus by Tibaldi. This work of art was made by Florentine pen maker Tibaldi. Only one was made and it solde for $8 million. See pen number 15 in our list below to see how it looks and why it sold for $8 million.
Of course, your chances of snagging one of these gems are slim to none. Just ask Mauricio Aguirre-Orcutt, who spent five years in federal prison in 2006 after stealing a set of expensive pens. But if your pocketbook is fat enough, there's still hope: several of the expensive pens included below (listed in no particular order) are actually for sale.
1) Conway Stewart Westminster Teal Pen — $1,800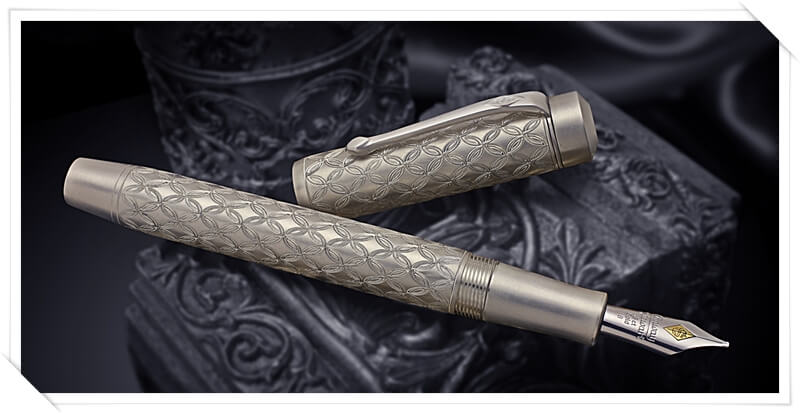 This intricately engraved Gothic beauty features tiny oak leaves, a symbol of jolly olde England. You can choose between convenient ball points or old-school fountain pens – either edition will set you back a cool $1,800 bucks, making it the most affordable out of the most expensive pens in the world.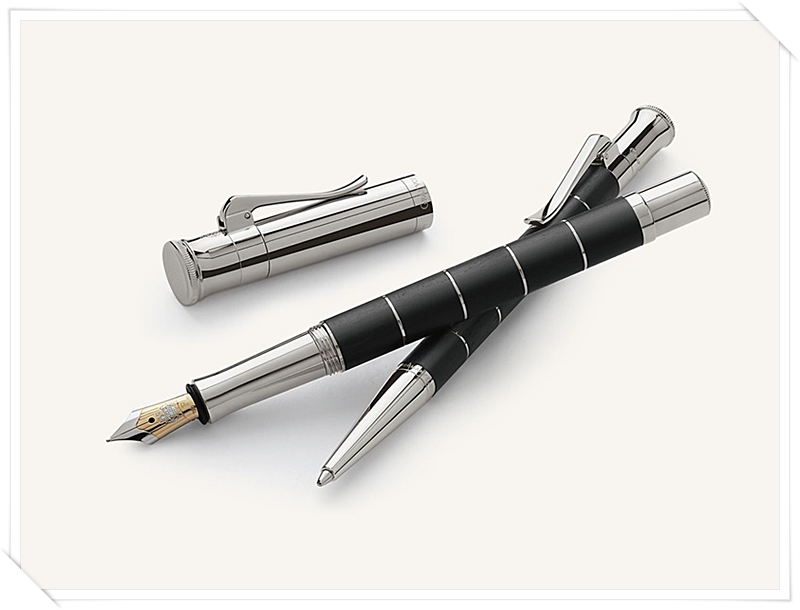 With a name like Graf von Faber-Caster, there had to be gold in these expensive pens. The nib is 18-carat gold, and the barrel is aromatic sandalwood. The pen is sold with a wooden case, a brochure for the lucky recipient, and a tidy $2,000 price tag.
3) The Caran d'Ache "1010″ Fountain Pen — $19,000
The inspiration for the name is simple: 10 minutes after 10 o'clock. This pen has the works. It is crafted from rhodium-plated silver and features a clip that resembles a wristwatch. This limited edition model honors the world-renowned Swiss watch making industry. The pen also features ticking, turning replicas of watch gears on the barrel, studded with rubies and sapphires. A mere $19,000 will make it yours.
4) Diamante by Aurora — $1.28 Million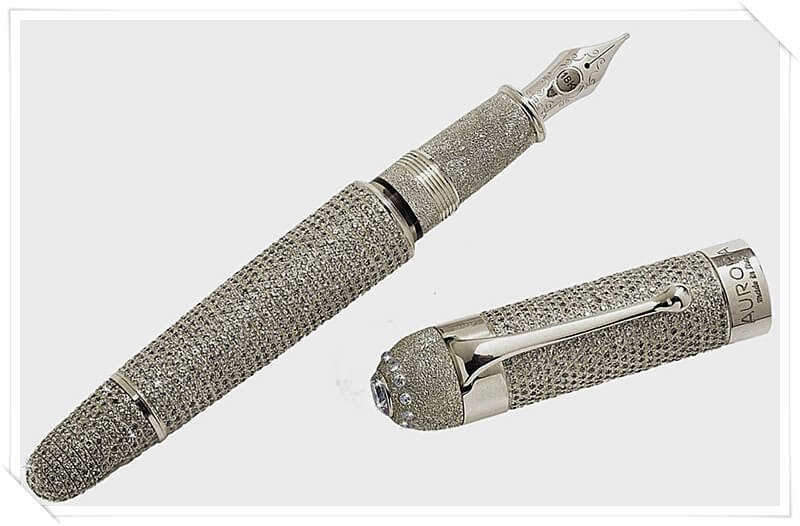 A pen so exclusive that Aurora only makes one every year. 30 carats of diamonds rest on The Diamante's solid platinum barrel. It's topped with an even larger diamond, and has a nib of 18-carat gold. A discerning purchaser can get their pen emblazoned with their family coat of arms, a signature, or a portrait. The pen has no set price, but the best estimate is $1.28 million, making the Aurora Diamante fountain pen, the third most expensive pen in the world.
5) Mystery Masterpiece by Montblanc and Van Cleef and Arpels — $730,000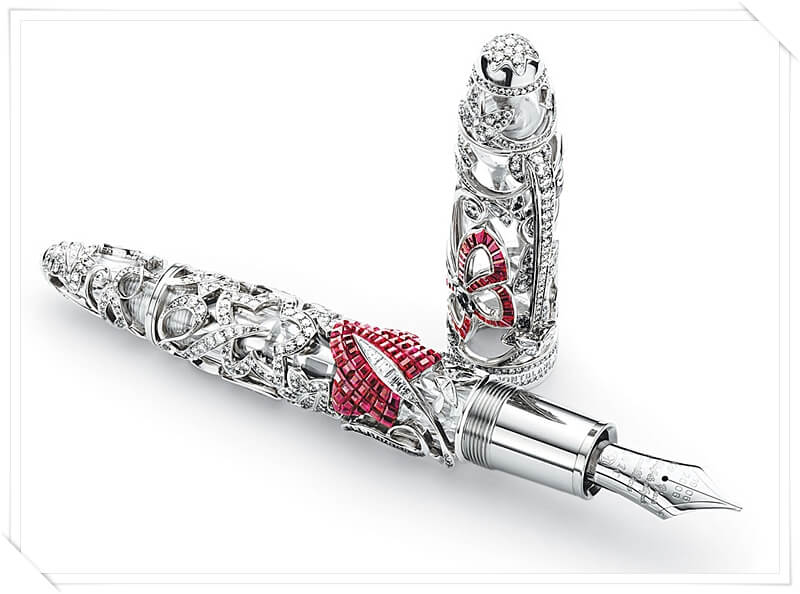 The collaboration behind the creation of the Mystery Masterpiece required more than a year and a half of efforts by skilled artisans. It was available with 30 carats of encrusted gems in your choice of three variations: rubies, sapphires or emeralds. Each edition also featured more than 800 diamond accents. Only three units of each variation were ever made, and they sold for an eye-popping $730,000 per pen.
6) S.T. Dupont Fifth Avenue Rollerball and Fountain Pens — $2,400
S.T. Dupont created fewer than 2,000 of these lacquer-coated brown and taupe writing instruments. Both the rollerball and fountain pen editions of these expensive pens feature gold and silver overlay and a striking globe design. Want one? Get ready to drop $2,400.
7) The Four Seasons Pen — $36,000

This 18-carat gold fountain pen changes color to reflect the changes in seasons: green for spring, red for summer, brown for fall and gray for winter. There were only 33 Four Seasons Pens ever created. Each carried a $36,000 original asking price. But the cost would be higher now – if you can find one available for sale.
8) David Oscarson Pens — $4,900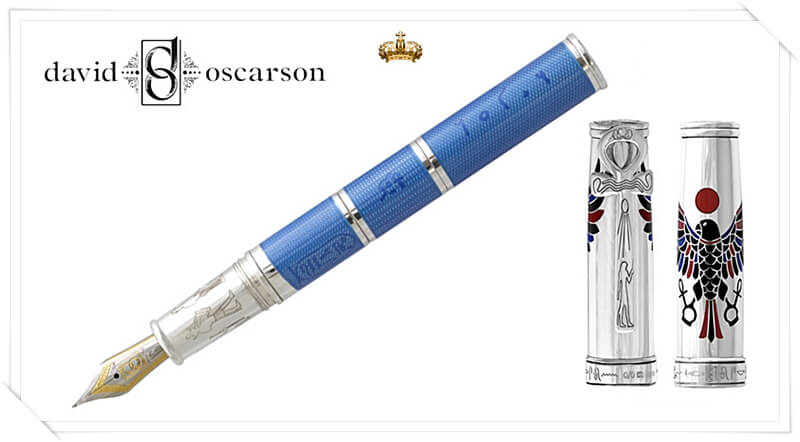 These designer fountain pens feature whimsical circular designs, but there is nothing playful about the price tag, which runs as high as $4,900 for the Pierrot White Fountain pen. Each pen includes three levels of guilloche and five hard enamel colors. Also, each pen is finished with a background crafted from rhodium vermeil.
9) OMAS Limited Edition Pens — $16,500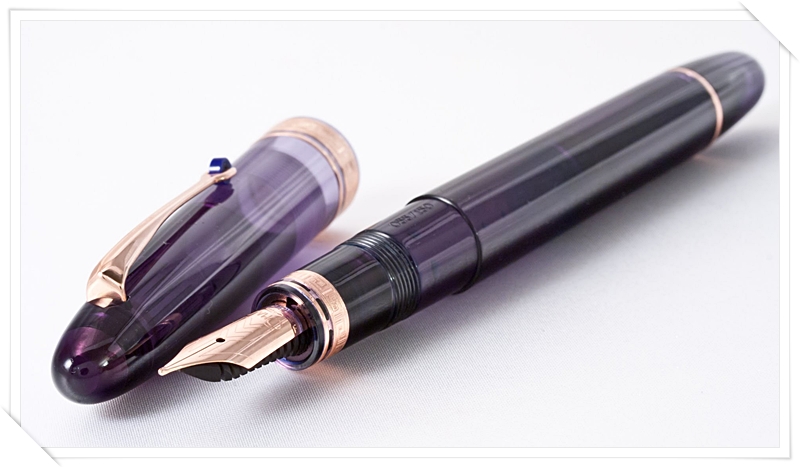 These handsome fountain pens feature a recreation of the monument erected by Lysicrates on the cap and a replica of the Laocoon sculpture on the barrel. The clip cleverly integrates into the overall votive motif of the monument. These limited edition pens also feature a set of genuine diamonds. The price tag? A staggering $16,500.
10) La Dona Menagerie Fountain Pen — $4,000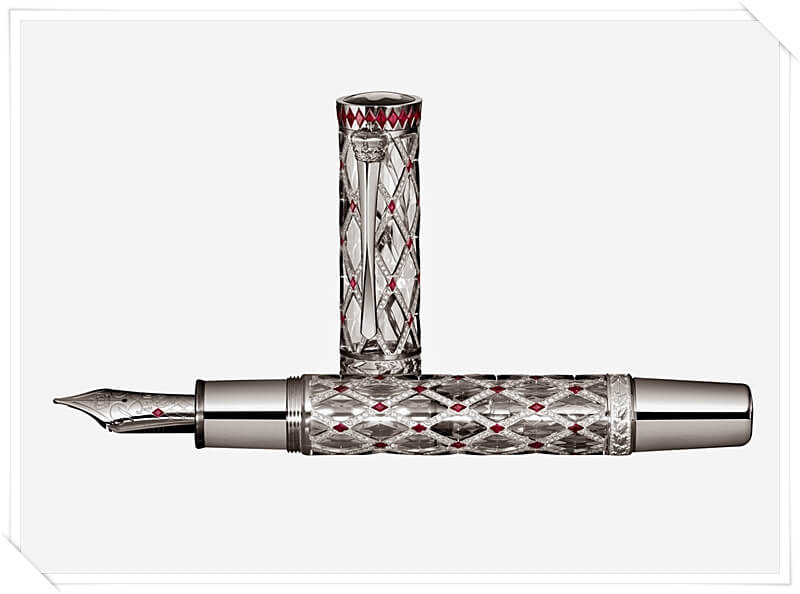 These handcrafted writing instruments are part of the Cartier line, inspired by 1940s Mexican cinema star Maria Felix. Felix requested a gold crocodile necklace from Cartier, who used a similar pattern to create a limited line of expensive pens crafted with a crocodile head design. The original asking price for the La Dona Menagerie Fountain pen was $4,000, a relative bargain considering only 888 individually numbered units were ever made.
11) Grayson Tighe Limited Edition Fountain and Rollerball Pens — $24,000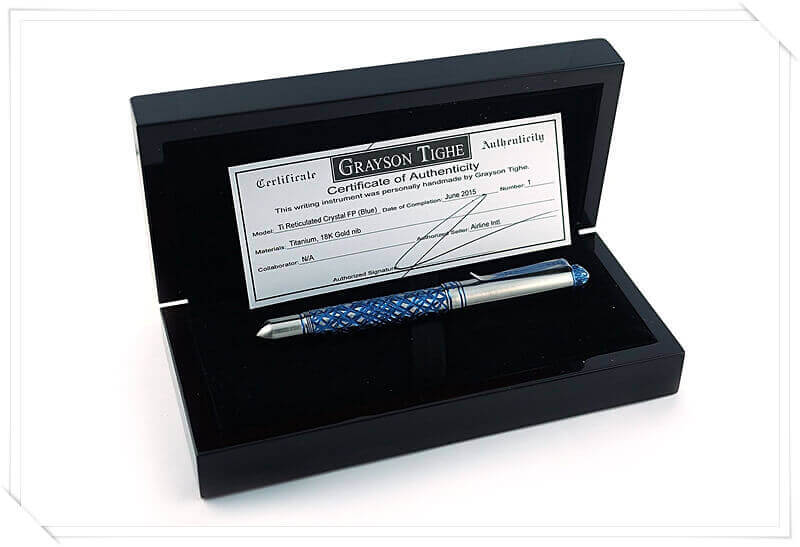 These custom crafted executive rollerball pens prove that expensive pens aren't only confined to fountain instruments. The 18-carat yellow gold nib hales from Germany. Two Acanthus leaves in rhodium and iridium adorn the pen. And the advanced refill system allows for a full year of writing on a single fill. But if you want one, get ready to write a fat check: prices range from $22,000 to $24,000.
12) Ripple HRH Limited Edition Visconti Fountain Pen — $57,000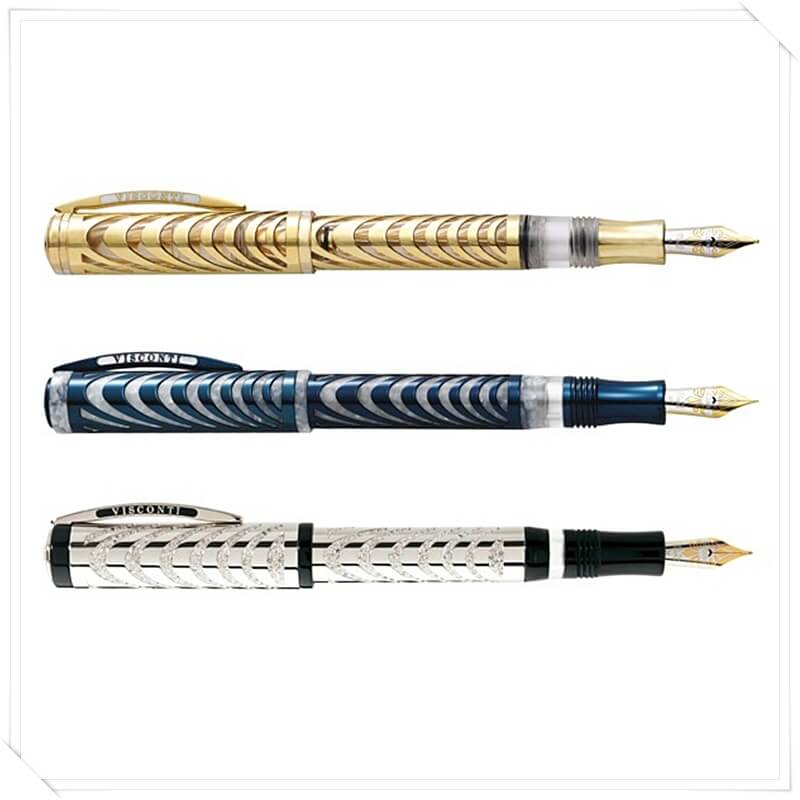 If you live for gold, the Ripple HRH Limited Edition Visconti Fountain Pen was made especially for you. Available in 18-carat white gold or luxurious black, the Ripple glitters with diamonds and ends with an 18-carat gold nib. At $57,000 each, the Ripple HRH Limited Edition Visconti Fountain pen is literally worth its weight in gold.
13) Forbidden City HRH Limited Edition Visconti Fountain Pen — $42,000

This striking black resin pen boasts an innovative Power Filler filling system. The Forbidden City HRH Limited Edition Visconti Fountain pen features 18-carat gold and diamonds, and sells for a $42,000.
14) Caran D'Ache La Modernista Diamond Pen — $265,000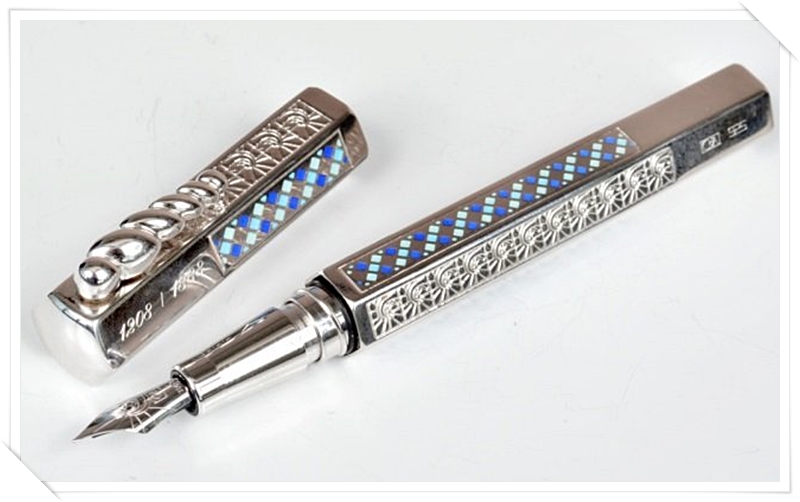 Another offering from Caran d'Ache of Switzerland, this expensive pen honors architect Antonio Gaudi, who died in 1926. Crafted from solid silver components coated in rhodium, La Modernista has an 18-carat gold nib, also coated in rhodium. Encrusted with 5,072 Wesselton diamonds weighing 20 carats and 96 rubies weighing 32 carats, La Modernista diamonds pen required six months of labor by master jeweler Robert Perron. But even if you've got the necessary $265,000 on hand, you can't get a hold of this pen: it sold in 2001 to an anonymous buyer.
15)  Fulgor Nocturnus by Tibaldi — $8 million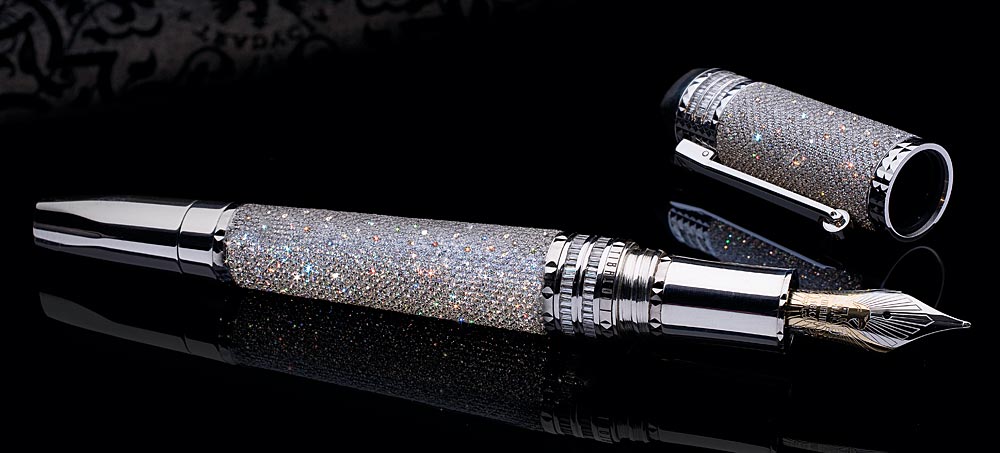 Florentine pen maker Tibaldi specializes in proportion, design, and excellent technical execution making Fulgor Nocturnus the most expensive pen on this list. Based on the Divine Proportion of Phi, the ratio between the cap and the barrel equals exactly 1.618. And the components of the pen are just as luxurious: 945 black diamonds and 123 rubies stud the surface of this gorgeous writing implement. Tibaldi only made one, and it sold for $8 million at a charity auction in Shanghai, making it the most expensive pen in the world.
16) Heaven Gold Pen by Anita Tan — $995,510
Designed by a woman for women, the Heaven Gold Pen draws its inspiration from the changing alignment of the planets. Its design includes 161 brilliantly colored diamonds circling a 43-carat Tsavorite gemstone estimated to be more than 2 billion years old. However, the $995,510 asking price for this expensive pen is hardly heavenly, making it the fourth on the list of most expensive pens in the world.
17) Caran d'Ache Gothica Pen — $406,450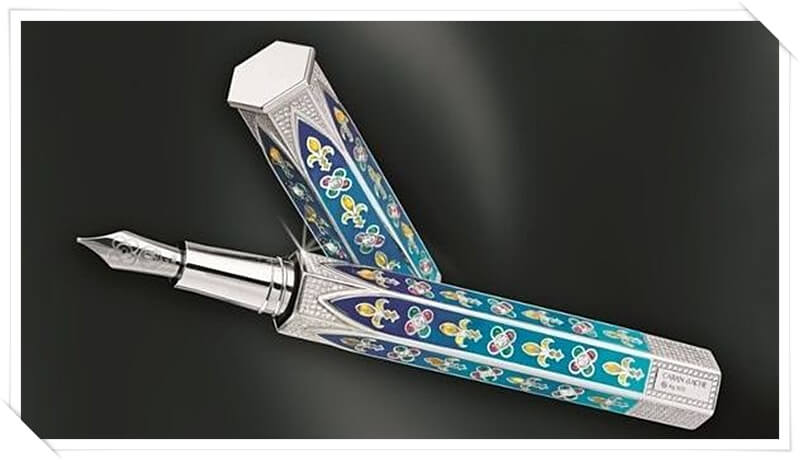 Another offering from Caran d'Ache, the Gotica pen was first unveiled in China. Celebrating Gothic art and architecture, the Gotica is crafted with six rhodium coated solid silver faces, each decorated with Gothic elements such as fleurs-de-lis and rosettes. 892 diamonds (weighing a total of 7.1 carats) cover the Gotica. If that's not enough, the rosettes feature 72 rubies and 72 emeralds. Of course, the asking price of 3.28 million Yuan, or $406,453 puts the Gotica far out of reach for all but the very elite of China.
18) Montblank Prince Rainier III Limited Edition 81 Pen — $256,000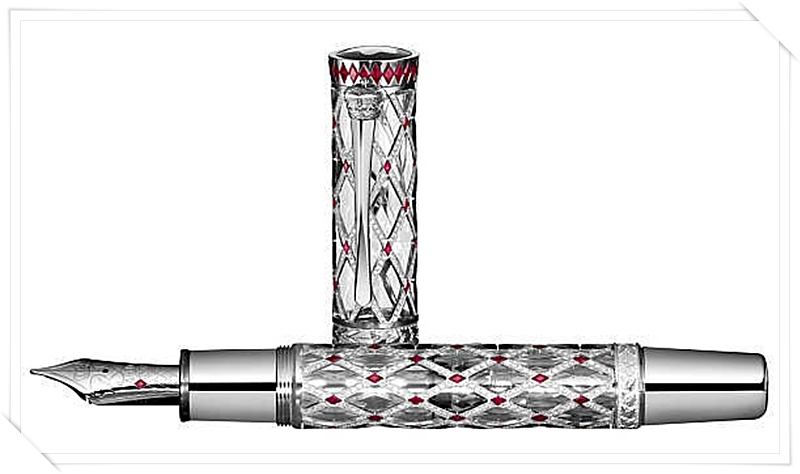 How limited, you might ask? Only 81 individual units of the Montblanc Prince Rainier III pen were made. Each pen is crafted with 18-carat white gold and encrusted with 996 diamonds and 96 rubies, but the inner workings of the pen are still visible. Another 19 rubies attach to the clip ring, and the 18-carat gold nib also features two rubies. The original price was 200,000 Euros each, or $256,010, but the current value is undoubtedly much higher.
19) Limited Edition Boehme Papillion Pen by Montblanc — $230,410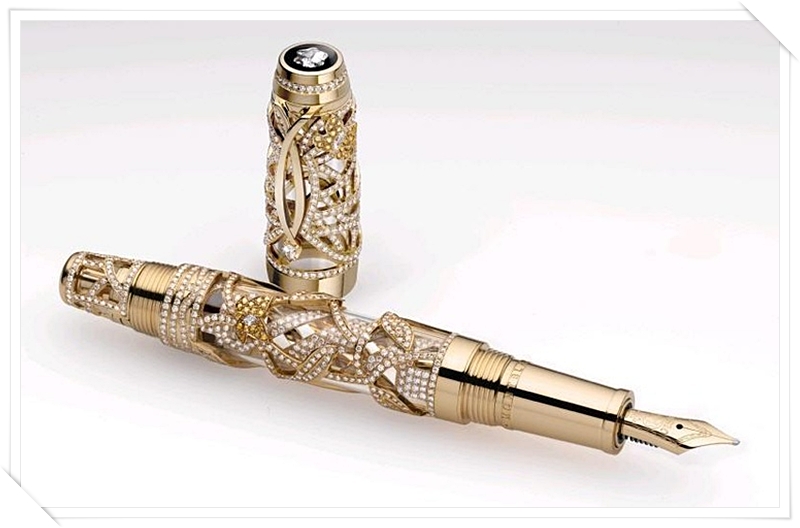 Another limited edition, the Boehme Papillion Pen is available in white, yellow or rose-colored gold, and features more than 1,400 diamonds and sapphires. Butterflies grace the cap and body while the top features a distinctive Montblanc diamond. Each Papillion costs 180,000 Euros, which translates to $230,410 for well-heeled American buyers.
20) Alchemy HRH Fountain Pen by Visconti — $57,000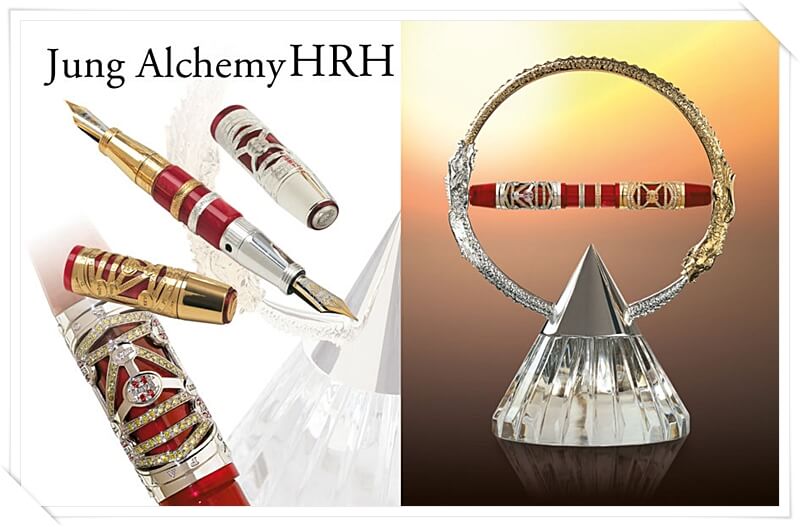 These candy apple red pens feature dramatic dragon ornamentation in gold and silver vermeil. The distinctive Alchemy HRH Fountain pen also features dual gold nibs and ink reservoirs. Affording the $57,000 price tag for the Alchemy HRH Fountain Pen would require real magic for ordinary folk.
21) Montblanc Boehme Royal Pen — $1.5 Million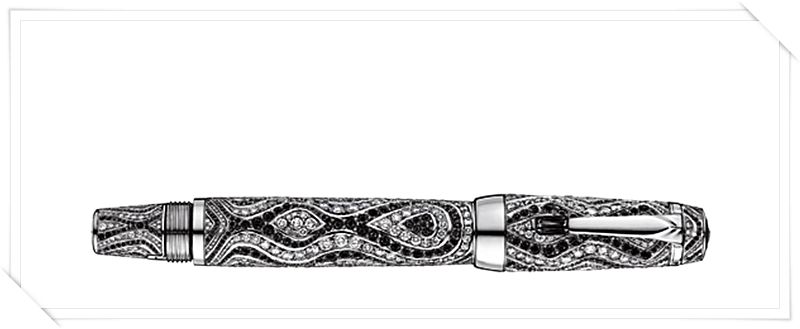 Another offering from the Boehme line from Montblanc, the Royal features an 18-carat gold, platinum plated retractable nib. The 18-carat white gold barrel and cap feature more than 1,430 diamonds. And that's not all: the Montblanc star logo consists of another 18 diamonds and 18-carat white gold rings. A paramount cut diamond highlights the clip. The $1,500,000 asking price places the Boehme Royal Pen among the most elite writing instruments, making it second amongst most expensive pens in the world.
22) Perrier-Jouët Anniversary Edition pen by Omas — $134,700

A collaboration between Champagne maker Perrier and Omas, each limited edition Anniversary pen is hewn from green resin, to reflect the color of Champagne bottles. The bicentennial logo matches the Art Nouveau flower featured on Perrier-Jouët Cuvée Belle Époque bottles. The Anniversary Edition pen also features an 18-carat gold nib engraved with the bicentennial logo. An exclusive lot of 20 pink gold pens are available by special order. The original asking price of $134,700 each has likely been eclipsed. Only 1,811 units of the Anniversary Edition pen were ever created.
23) Samurai Prestige Lighter and Pen Set by S.T. Dupont — $66,000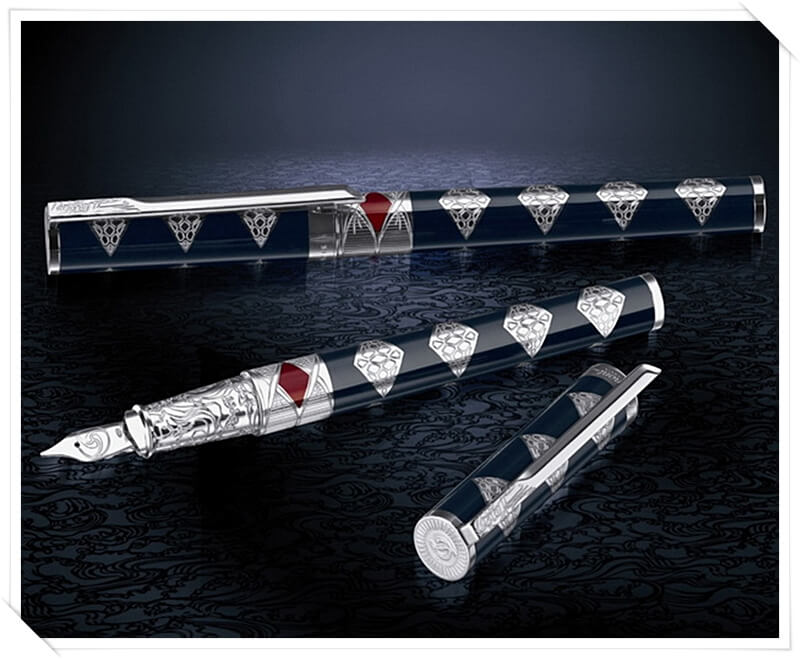 The second offering from S.T. Dupont, the lighter and fountain pen matched set was designed to honor feudal Japan's military nobility. Both the pen and the lighter are made of solid rose gold encrusted with white diamonds, textured black leather and silk ribbon accents. Only 20 sets were created, priced at $66,000 each.
24) Titanic-DNA Fountain Pens by Romain Jerome — $5,000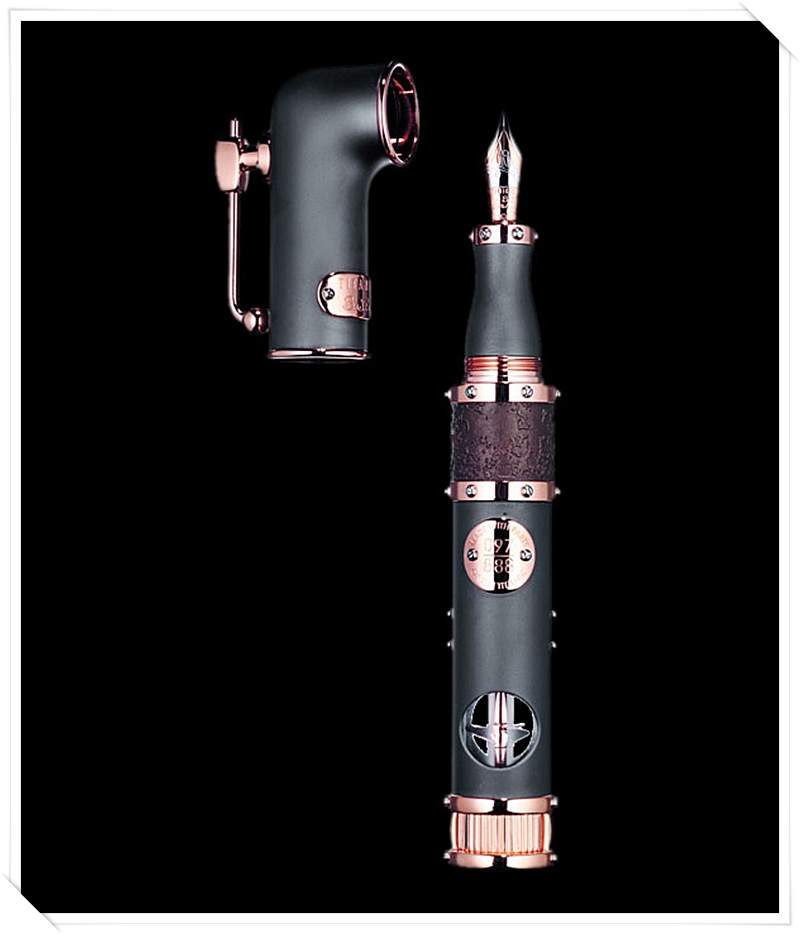 A cooperative effort between Jean-Pierre and Benjamin Lepine and Romain-Jerome CEO Yvan Arpa created the Titanic-DNA Fountain Pen. Each pen includes materials reclaimed from the doomed vessel, along with palladium, brass, gold and stainless steel from the Harland and Wolff shipyards – the same shipyards where Titanic was built. A recent eBay auction featured a Titanic-DNA pen and received a single $5,000 bid.
25) CREW 60TH White Gold Fountain Pens by Tibaldi — $43,000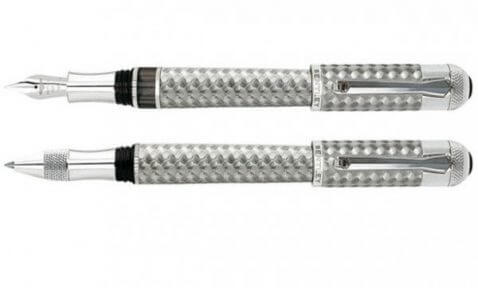 Legendary automobile maker Bentley commissioned its own handcrafted pens in collaboration with Italian pen maker Tibaldi. The barrel of CREW 60TH matches the Bentley dashboard precisely. The tip is 18-carat yellow gold, covered with rhodium and ruthenium. To provide a comfortable writing grip, the pen features a knurled cap and barrel. The transparent window alerts the writer to ink levels, and the clip features Tibaldi's signature. The asking price is $43,000. If you've got more expensive taste, there's a limited edition of 40 solid white gold pens that costs even more.
Audrey Henderson is a Chicagoland-based writer and researcher. She holds advanced degrees in sociology and law from Northwestern University. Her writing specialties are sustainable development in the built environment, policy related to arts and popular culture, socially and ecologically responsible travel, civic tech and personal finance.