Summary:
Like most credit card companies, American Express has a process in place for card member disputes in case of credit card fraud or billing errors. To file a payment dispute with American Express, simply initiate a claim through the company's online dispute center and provide all the requested information. In most cases, American Express customer service will respond to your request within a month, and if your dispute is accepted, your money will be refunded.
From an attractive welcome offer to luxurious travel benefits, being an American Express (Amex) member has its perks. However, Amex cardholders aren't entirely free from erroneous charges and identity theft.
Fortunately, like many major credit card networks, Amex has a zero-liability policy that protects cardholders from incurring a loss due to unauthorized charges. So if you see a payment you don't recognize, or if you are unhappy with the service or good you received after purchase, don't fret; filing an Amex charge dispute is easy and can be done in only a few minutes.
Let's take a look at how Amex disputes work and what you need to do to dispute a charge on your American Express card.
How do American Express disputes work?
If you see an unauthorized charge on your American Express account, you have up to 60 days from the date on the credit card statement to file a dispute. The merchant will then have 20 days to respond to the inquiry and provide additional information.
A merchant can take one of the following steps:
Ignore the inquiry and let Amex completely refund the transaction in question
Accept the inquiry and completely refund the disputed transaction
Issue partial credit with sufficient supporting evidence to warrant the reduced amount
Provide evidence to validate the original amount and have the chargeback reversed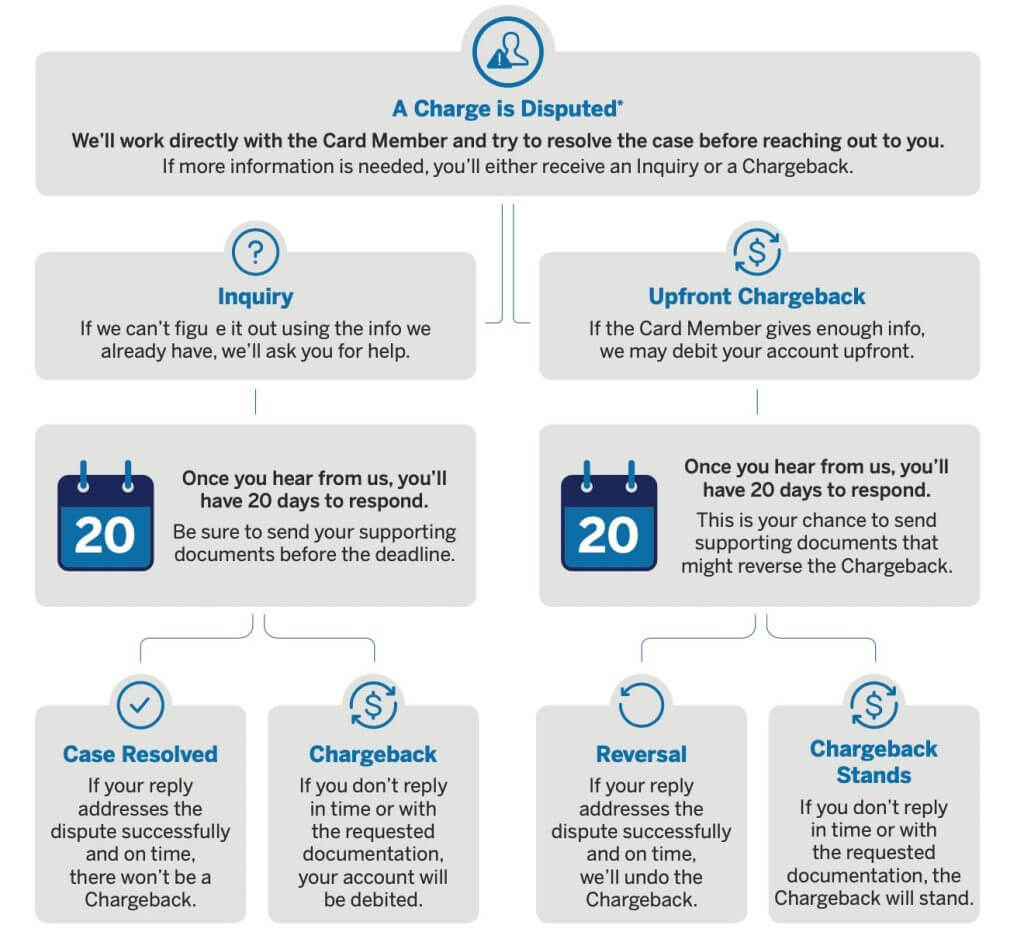 How is the American Express dispute process different from that of Visa or Mastercard?
American Express is an issuing bank and a card network, while most of its competitors (like Visa and Mastercard) are exclusively credit card networks. This means that on top of providing credit cards, Amex also facilitates credit card transactions. Therefore, Amex can access more information regarding transaction details, which streamlines its billing dispute process.
How do I dispute an American Express charge?
Cardholders can file and resolve disputes using Amex's online dispute center. The online portal allows you to file inquiries without having to deal directly with a customer service representative.
If you don't recognize a charge on your credit card statement, it's worth first asking an authorized user if they used your card to make a purchase. You may also want to contact the merchant about the charge in question before opening a case with Amex. Usually, the merchant will resolve the mishap and issue a refund immediately. However, if a merchant refuses to cooperate, you can file a chargeback with Amex in as little as four steps.
Step 1: Use the American Express dispute center
Once Amex posts a transaction to your online account, you have up to 60 days to file a dispute. Take the following steps to dispute a charge online using the American Express dispute center:
How to dispute a charge with American Express
Log in to your Amex account.
Go to "Account Services."
Select "Inquiry and Dispute Center."
Click on "Open a Billing Dispute."
Select the transaction you'd like to dispute, then follow the instructions to complete your request.
Step 2: Provide information to dispute a charge
After you open an inquiry on a transaction, Amex will ask you to provide supporting documentation. Examples include a receipt or a picture of the defective item. The merchant will also have the option to contest the inquiry and present their own documentation to dispute the chargeback. Once all documentation has been received, Amex's investigation team will determine the legitimacy of the charge.
Step 3: Submit a letter of dispute
The Federal Trade Commission (FTC) recommends taking the extra measure of writing a letter of dispute to your credit card issuer.
Your letter should contain the following information:
Personal information: Name, address, and credit card account number
A description of the billing error: Type of charge, the dollar amount of the transaction, the charge date, and an explanation of the error
Supporting documents: Pictures of damaged goods, receipts, etc.
You can draw up your own dispute letter to Amex by following the sample letter provided by the FTC.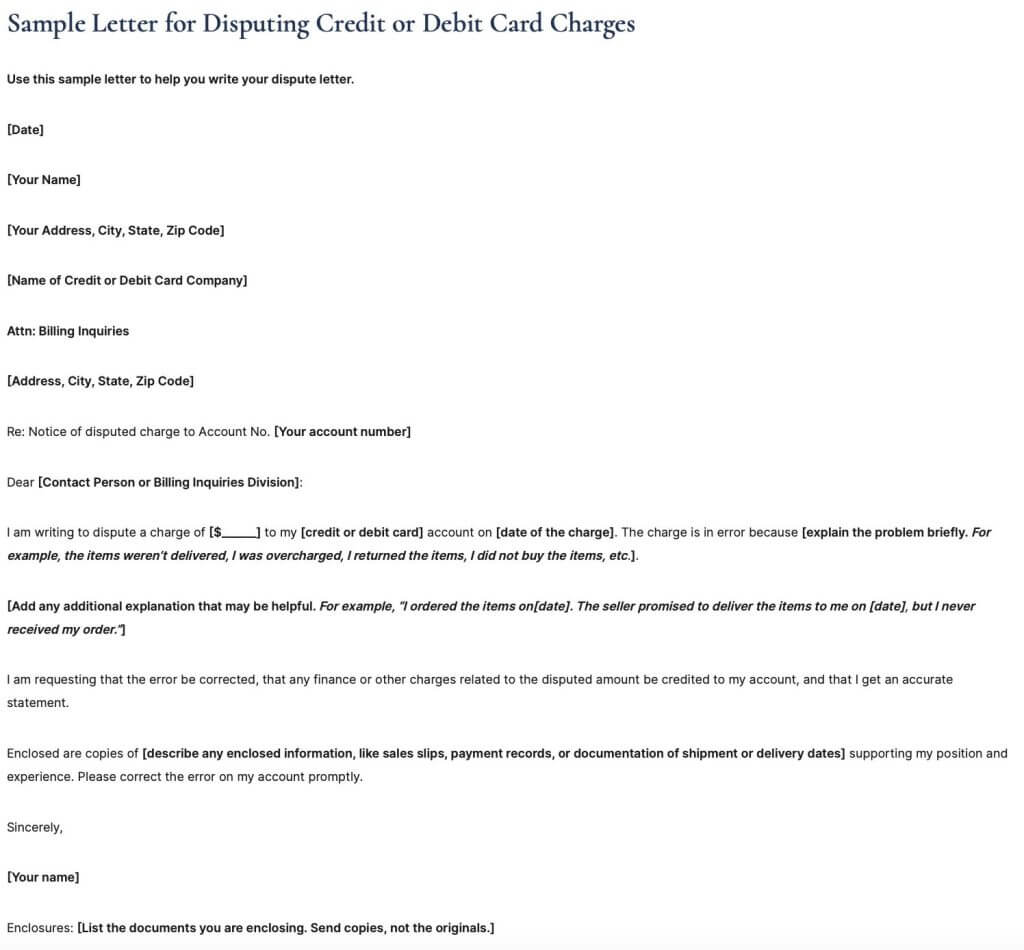 Step 4: Wait for the results of your Amex dispute
American Express resolves most disputes within a month, though depending on your case's complexity, it may take longer.
If Amex finds that the merchant wrongly charged you, the credit card company will refund the charge and any interest you paid.
However, if Amex finds the initial transaction to be correct, you will be denied your request for a refund. You may file a chargeback on the same transaction twice if your request for a reversal was rejected the first time.
According to the Fair Credit Billing Act of 1974, you can withhold payment on the disputed charge. However, keep in mind that Amex may deduct the disputed amount from your credit limit, so you'll want to keep an eye on your credit limit while using your Amex card.
Pro Tip
You can also use the American Express dispute center to check the status of a claim or cancel a billing dispute.
What are acceptable reasons to file an American Express dispute?
While you aren't liable for transactions you did not authorize, there are limited disputes that qualify for refunds. For instance, if you regret purchasing a product and the merchant refuses to issue a refund, you may not have solid grounds to dispute a charge. Legitimate reasons to file a dispute include the following:
Fraudulent charges
You can file a dispute on a charge if you were not the one who made the purchase. However, you should note that the American Express dispute center does not handle identity theft. If you notice a suspicious charge on your American Express card, report it to Amex immediately by calling 1-800-528-4800.
Billing errors
According to the FTC, you can file a dispute if one or more of the following billing errors are present on your credit card statement:
Wrong date or amount
Charges for goods and services you didn't accept or that weren't delivered as advertised
Calculation errors
Omission payments and other credits, such as returns
Transactions for which you have asked for an explanation or written proof of purchase
Poor service
While you may want to try resolving the matter directly with the merchant first, you can dispute a charge if an item arrived damaged or if a good or service was not delivered as advertised.
Can merchants challenge American Express chargebacks?
Merchants can reverse Amex chargebacks if they address the inquiry within 20 business days of the dispute. The merchant must also provide supporting evidence to validate the initial transaction.
While a merchant can reclaim funds in the case of a false chargeback, Amex can't guarantee a chargeback reversal. According to a 2022 report, only about 10% of all retailers who disputed a chargeback were able to recover the revoked funds. Basically, when it comes to charge disputes, banks tend to favor the consumer.
FAQ
What happens when you dispute a charge with American Express?
When you file a dispute, American Express will open a case to investigate the unauthorized transaction. Amex should resolve the matter within a month, though it may take a bit longer if your case is particularly complex.
How do I win a billing dispute with American Express?
First, use the American Express dispute center to open a case on the unauthorized transaction. Amex may ask you to provide proof that the transaction occurred and that the merchant falsely charged you. The FTC also recommends sending a letter of dispute to protect your rights as a credit card consumer.
How long do I have to dispute a charge on an American Express card?
Typically, you have 60 days from the date the transaction was posted to dispute a charge.
Can I dispute an American Express charge that I willingly paid for?
You can dispute a charge you made willingly if your purchase arrived damaged or if you did not receive the good or service as promised. However, it's recommended that you contact the merchant first to see if the matter can't be resolved more amicably (e.g., they may send you a replacement product plus a free item for the inconvenience).
On the other hand, maybe you're simply unhappy with the item you purchased, even though it was delivered as advertised and was not damaged in transit. In this case, Amex won't cover a reimbursement, as regret is not suitable cause for a charge dispute. You can still try to resolve the matter directly with the merchant, but they have every right to refuse your refund request based on their policies.
What qualifies for disputing an American Express charge?
Errors made by the merchant are eligible for reimbursement. Such billing mistakes include incorrect dates or amounts, returns, canceled orders that were not refunded, or goods that were not delivered in proper condition or at all.
How do I contact American Express customer service?
If you'd like more information about a transaction listed on your statement, you can call Amex's customer support line at 1-800-446-6307.
You can also send all written inquiries by mail to the following address:
American Express, P.O. Box 30384
Salt Lake City, UT 84130
Key Takeaways
If you notice an unauthorized transaction or a billing error on your Amex credit card statement, you can dispute the charge online through the American Express dispute center.
You have 60 days from the transaction date to file an inquiry with American Express about the error on your statement.
Once you initiate a claim, you may be asked to provide supporting documentation to prove that the transaction was made in error. It's also recommended that you submit a letter of dispute to the credit card company.
After you dispute a charge, the merchant will have 20 business days to challenge the chargeback by providing sufficient proof that the transaction was correct.
American Express typically takes about a month to resolve card member disputes, though the process can take longer for more challenging cases.
You probably make hundreds, if not thousands, of payments throughout the year, which can make it difficult to notice a single unauthorized transaction in time to dispute it. That's why it's a good idea to have an expense tracking app, as it will make it easier to stay on top of all your transactions — including ones you didn't make yourself.
Fortunately, SuperMoney can help! Start by reading our guide to the best personal finance apps, then use our comparison tool to find the right money management tool for your needs!