Summary:
When looking at mobile homes as an investment, you must first consider if you want to live in the home or if you view it solely as an investment. Furthermore, you'll have to decide between a mobile home and a manufactured home. Exposure to mobile-home-related investment isn't limited to buying mobile homes, though. You can buy mobile home parks and collect money by renting space to existing mobile home owners or investing in related third parties.
These days, mobile homes have become more popular, both as a way to gain freedom while working remotely as well as an investment class. They can be a good investment, as long as you find the right home and can handle any potential repairs. Whether you want to own a mobile home to live your life on the open road or you would like to make a bigger investment in a mobile home park, here is what you need to know.
What is mobile home investment?
Mobile home investment means investing in mobile and manufactured homes or investing in a mobile home park. You can also gain exposure to mobile homes by investing in the manufacturers of mobile homes, as well as third parties who invest in mobile homes.
Mobile homes 101
The U.S. Department of Housing and Urban Development categorizes these homes into two types: mobile homes and manufactured homes. The categorization is based solely on when they were built.
Mobile homes
These are homes built before 1976 and before the passage of the 1974 National Home and Construction and Safety Act as well as the subsequent 1976 HUD Manufactured Home Construction and Safety Act. Pre-1976 mobile homes looked a lot like the standard mobile homes we think of today — trailers with two wheels behind them that can be pulled by a truck. They had become a popular alternative to affordable housing and were manufactured in bulk with little regulation.
Manufactured homes
Manufactured homes are similar but built after 1976 and are much more regulated. HUD has certain rules with all modern manufactured homes pertaining to:

Design
Body and frame requirements
Thermal protection
Plumbing and electrical configuration
Fire safety
Energy efficiency
Compliance with local building codes
Today's manufactured homes don't need to look anything like trailers, but they can. Manufactured homes will sometimes look like much-improved versions of mobile homes and can even resemble site-built single-family homes.
Pro Tip
Modular homes
are also becoming more prevalent. Modular homes look and feel exactly like traditionally constructed homes, but they are constructed differently. Most of the time, some parts of modular homes are constructed using 3D printing. These pieces then fit together, just like you would construct a 3D puzzle or Lego tower. With modular homes, you can even build high-end homes for a lower price per square foot than if you were to construct them traditionally.
Investing in a mobile or manufactured home to live in
Maybe you want to trade in an existing primary residence for a mobile home, or maybe you just want to buy your first property to live in. Either way, you should consider the pros and cons of buying a mobile or manufactured home.
WEIGH THE RISKS AND BENEFITS
Here are some of the benefits and drawbacks to consider.
Pros
The price will be much more affordable than if you were to spring for a traditional or modular home.
You will have less monthly overhead, including expenses such as mortgage fees, property taxes, and HOA fees.
The home is "mobile," meaning it doesn't have to stay at the location where it currently resides. You can pick up and move to another state easily, as a mobile home is your personal property.
Cons
The home might lose value over the course of ownership, particularly if it's a pre-1976 mobile home. Manufactured homes are more likely to rise in value over time.
There is no mortgage financing available for mobile homes, meaning that in most cases, you'll need to pay cash.
The mobile home could come in poor condition and require expensive repairs.
Most people who want to buy a mobile home to live in won't necessarily be looking for a great return on their investment. Instead, they will be interested in both the low overhead, as well as the freedom one can get with a home that is not fixed to the ground.
If you are thinking about buying a mobile or manufactured home, don't forget to factor in the cost of insurance. These companies can help you find a good insurance plan.
Pro Tip
Real estate investor Ryan David prefers mobile/manufactured homes that are built after 1995. "The primary reason being generous portions of formaldehyde and other hazardous chemicals such as asbestos are present inside and around the dwelling," he says. "The cost to remove toxic chemicals in older, pre-1995 mobile homes sometimes outweighs the value of the homes themselves. For this reason, I generally will not make a cash offer unless the mobile home is 1996 or newer."
Investing in a mobile/manufactured home and renting it out
If you don't intend to live in your mobile or manufactured home, you could rent it out instead. As you can see below, there are several upsides and downsides to this strategy.
WEIGH THE RISKS AND BENEFITS
Here is a list of the benefits and the drawbacks of buying a mobile home to rent.
Pros
As the investment is all cash, the net yield will be higher than if you had a mortgage. In general, the yield can be very attractive.
As the home is "mobile," you can move it somewhere that might generate more rental income.
You don't need to deal with several utility companies and pay high fees. You can set the mobile home up to generate electricity by itself, for instance, with a solar panel installment.
Cons
Mobile homes tend to deteriorate quicker than non-mobile homes, so it's possible that the home could lose value due to the condition.
Dealing with mobile home tenants can be troublesome depending on the location.
An all-cash purchase can be a big ask depending on the purchase price of the mobile home.
Other ways to invest in mobile homes
Investing in mobile or manufactured homes doesn't mean you need to go hunting for an actual home to buy. Here are some ways to invest in the mobile home asset class without buying an actual home.
Invest in mobile home parks
Investing in mobile home parks means investing in the land that the mobile homes sit on. One of the big benefits of investing in mobile home parks is that, in general, you aren't responsible for most of the upkeep on the land. You just offer the land for a fixed rental price, and the mobile homeowner who rents the land is responsible for their own yard upkeep.
Below, you can see how a mobile home park investment would work.
| Mobile Home Park with 20 Units | $2,000,000 |
| --- | --- |
| | |
| Monthly Net Rental Per Unit | $850 |
| Total Annaul Net Rental Per Unit | $10,200 |
| Total Annual Income | $204,000 |
| | |
| Occupancy | 80% |
| | |
| Total Net Rental | $163,200 |
| Total Net Yield | 8.16% |
| | |
Invest in mobile home manufacturers
Investing in companies that manufacture mobile homes, manufactured homes, and modular housing is a great way to get exposure to the mobile home asset class without investing in the homes or parks themselves.
UFP Industries (NYSE UFPI) is a company that manufactures wood and wood-alternative products used in manufactured homes. There are many companies that specialize in manufactured housing or the parts needed to build manufactured housing. These brokerages can help you find ways to invest your money.
Invest in a third party with access to mobile homes
Another way to invest in the mobile space is to invest in funds and third parties who invest in mobile homes or mobile home parks. For instance, Blackstone recently dived into the mobile home park space along with Carlyle Group and Apollo Global Management.
In 2003, Berkshire Hathaway acquired Clayton Homes for $1.7 billion. As of 2020, Clayton Homes is generating $1.25 billion in revenue, meaning the company has grown substantially using EBITDA metrics. Sun Communities is a publicly traded stock that manages manufactured housing communities. Investing in funds or companies that have exposure to mobile homes is a smart way to get exposure into the space.
What about mobile homes and mobile home parks in the future?
What will mobile home parks and mobile homes look like in the future? People have a variety of different opinions on this. Some with a more dystopian view of the future figure mobile home parks might look a bit like this.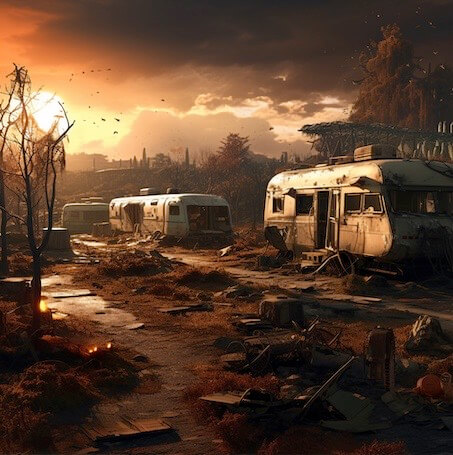 The reality is mobile homes and manufactured homes will most likely be manufactured with advanced 3D printing and look more like this.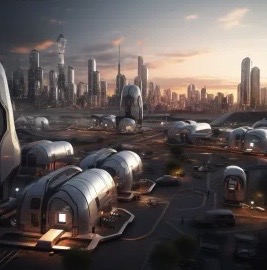 There are several companies trying to conceive of new ways to build residences.
Domespaces
Domespaces is a company that customizes geodesic domes and ships them to the location of your choice. They offer the mobility of a mobile or manufactured home but with modern, sleek geometric designs. Affordable housing options, like Domespaces, are set to become more and more prevalent in the immediate future.
Dyester
Dyester is a lifestyle brand selling everything from "moduspaces" to "yurtspaces" which focus on sustainability in the mobile and modular home space. Dyester offers a great alternative solution to those looking for a less static lifestyle or the ability to stay somewhere in the middle of nature while perfectly comfortable.
FAQ
What are the potential advantages of investing in mobile homes?
From a lifestyle point of view, mobile home ownership can be a way to cut down on living costs as well as live a unique lifestyle. Investing in mobile homes as real estate is similar to other real estate market investments. You hope for the value to appreciate (more with manufactured homes than mobile homes) and achieve rental income.
Furthermore, mobile homes cost considerably less than other real estate investments when purchasing them directly. You can also move them around to different places to see if you can achieve better rental results.
What are the potential disadvantages or risks associated with investing in mobile homes?
A mobile home built pre-1976 might lose value, and a manufactured home might not grow as much value-wise as other real estate investments. A mobile home investor might also be concerned that the mobile home is not tenanted or damaged.
Are there any specific market trends or demographics that affect the investment potential of mobile homes?
Yes, when single-family homes and housing, in general, becomes unaffordable, mobile homes become a more practical choice. Mobile homes will also appeal more to those who want the freedom to move around or perhaps retirees who want a second home in a warm location.
Key takeaways
When looking at mobile homes as an investment, you must first decide if you want to invest in a place to live or a place to rent or sell where profit is more important.
Mobile homes manufactured before 1976 are called "mobile homes." Mobile homes built after 1976 are called manufactured homes.
To gain exposure to mobile home investing, you aren't limited to buying a home; you can also invest in mobile home parks with the goal of renting out space or third parties who invest in mobile homes.
Mobile homes have become increasingly popular for big-time institutional investors, and several are very active in the space.
homeowners